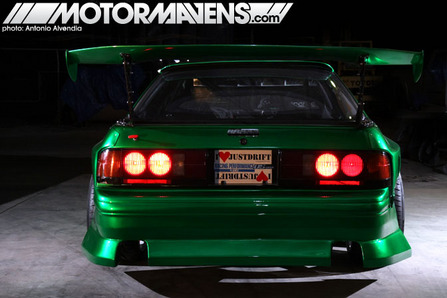 Yes, the rumors are true. The green FC3S RX7 that we all know and love is returning to Formula D competition!
A lot of our Facebook friends have been talking about this for a couple days already… but I just figured I should probably post this on the website too, since there are a lot of people out there who read our blog, but aren't necessarily in the know about the latest news in the world of Formula Drift. Yes again… contrary to popular belief, there are still people out there who aren't checking Facebook every five seconds. It suddenly dawned on me when I casually mentioned the FC's return to a friend of mine today, and he was like, "Whaaaaaaat?! No wayyyyy!"
I just got off the phone with Justin Pawlak, the driver of this awesome green rotary monster. Even though he and Bergenholtz Racing have parted ways in the professional drifting world, Justin is quick to dispel any rumors in the mill by saying, "Ron and I are definitely still cool. In fact, I just spoke to him on the phone earlier today. We just have different ideas and figured it would be best to go split the team up."
While their timing is certainly less than perfect, with the 2010 Formula D season approaching very, very quickly… I'm sure both JTP and Ron B will make it happen for both of their respective drift teams. Justin says, "Ya know what? I just realized I had more qualifying points than anyone else in the 2009 Formula D season." He's sure to make a strong statement this year, whether he has solid financial backing or not.
And Ron Bergenholtz? Well, if anyone has any doubts about Bergenholtz Racing's ability to have a strong presence in Formula D this year, let me just remind you that he (and his brother Ed) didn't win all those NHRA Wally awards and get inducted into the NHRA Museum for nothing. In professional drag racing, Bergenholtz Racing proved that an underdog actually can compete against (and beat) competitors with big dollar corporate funding. As long as there's a will, there's a way.
Bergenholtz Racing will be revealing their official plans for 2010 on Thursday, along with publicly announcing the new driver they've signed to pilot their blue Mazdaspeed RX8.
If you're a fan of JTP and his FC3S, and you want to help him find sponsors for the 2010 season, please visit Justin Pawlak's Official Blog by clicking this link. Justin says, "Please don't mind the ghetto GoDaddy banner, cause my webpage was FREE. haha. I might have a ghetto banner on my blog, but at least I got REAL VOLKS on my car."
Hell yeah, Justin. Word.
:: Antonio Alvendia
---