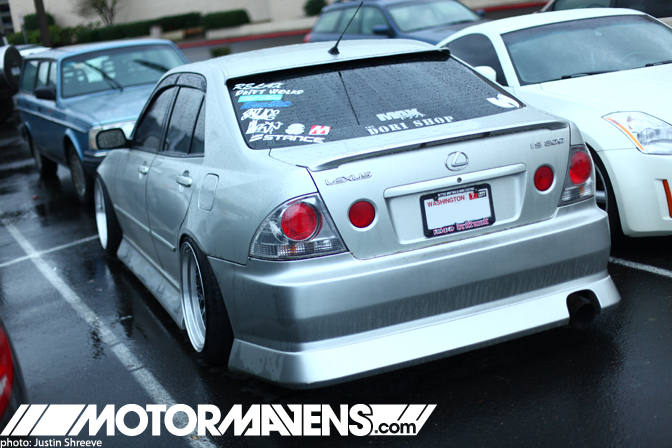 On my way into Xtreme Toys in Portland today, I spotted this BN kitted IS300, which belongs to my friend Nick Rodriguez. I've never been a huge fan of Altezzas, but the first time I laid eyes on this car, I couldn't pull them away. The stance is perfect. The fitment is perfect. The kit, paint, visors, and wings are all perfect. Not to mention, he's repping MotorMavens. It all comes together to look so right. Cars like his are far from common in the cold and rainy winters of the Pacific Northwest.
To tell you the truth, I was a bit surprised when I noticed that Nick is currently rocking a set of XXR 521s. He told me that he sold his Rota Grids, ABC Exclusives, and MRR HR-2s to save up for a set of SSR Viennas. I can't wait! Look out for a full feature on Nick's car this Summer. That is, if he doesn't sell it first. haha
Also, not only can this guy put together a super steezy full-scale vehicle, he's a magician behind the controls of a 1/10th scale RC drift car. Look forward to a full-length RC drift video in the near future, brought to you by myself and the good folks at Xtreme Toys. Jeah!
:: Justin Shreeve
PS – Tandem of Die.

For more than just RC drift cars, visit Xtreme Toys online!
1/10th scale
,
521
,
ABC Exclusive
,
Altezza
,
BN Sports
,
drifting
,
Grid
,
HR-2
,
IS 300
,
IS300
,
Justin Shreeve
,
Lexus
,
MRR
,
Nick Rodriguez
,
Oregon
,
Pacific Northwest
,
Portland
,
RC
,
Rota
,
Shreeve Films
,
SSR
,
Toyota
,
vancouver
,
Vienna
,
Washington
,
Xtreme Toys
,
XXR
---