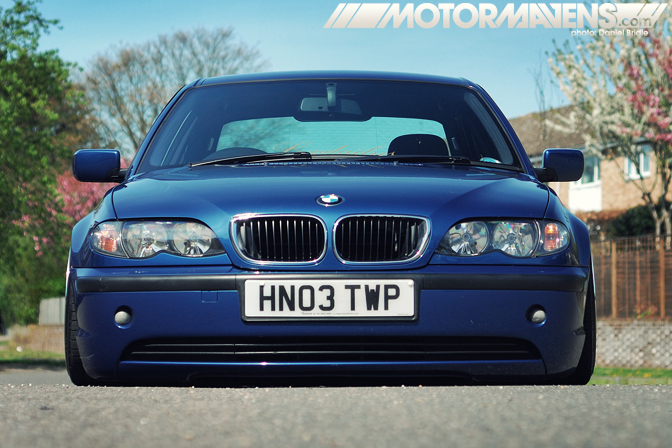 Sometimes in life it's nice to get out of your usual comfort zone and experience something new. I've been involved with and have been shooting drifting for a good few years now and I've reached a point where the excitement to go out and shoot it isn't as great as it used to be. So a few weeks ago I decided that this year I'm taking a little step back from drifting to go capture and expand my knowledge of other car cultures in the UK. If I'm honest I'd been so caught up in my little smoke filled drifting world that I'd almost forgotten that the UK is home to just SO much in the way of car culture. For such a small country it's crammed with automotive goodness, and I'd like to do my best to bring more of that goodness to MotorMavens readers from around the world.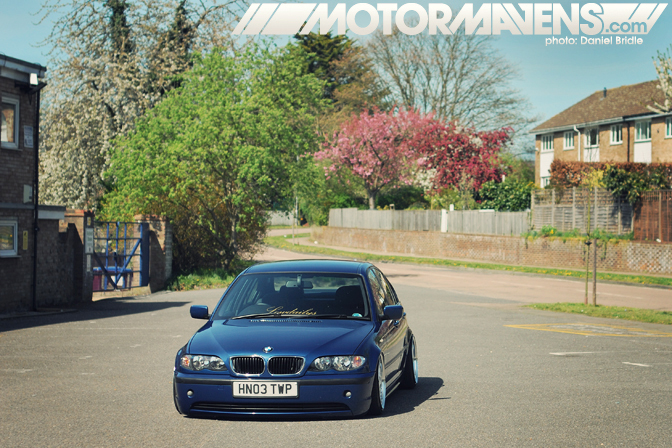 All I needed was my first chance to do something new – and that chance recently came in the form of this BMW E46 3 series owned by Josh Mussell of the Lowdailys crew.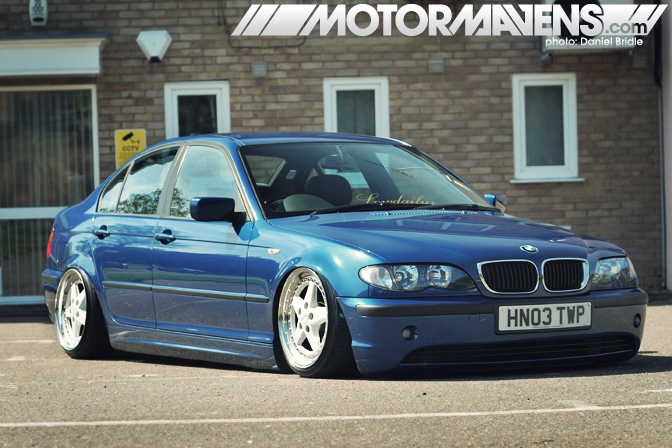 I first layed eyes on Josh's BMW at the Stanceworks UK meet (you can check out the feature here) in February. What I saw was a very simple, very clean and VERY low E46 – and to me that was what made it stand out. It wasn't in your face or trying to make some bold statement, it was just effortlessly cool.
Josh's previous car – a MK4 Volkswagen Polo, was of a similar style, and as Josh explained to me, it was the car that got him hooked on modifying cars. "It started back in '08 when I bought my first car, a little VW Polo. I had no intentions of doing anything to to it, but before I had even passed my driving test (thanks to a few of my mates) I had found myself ordering coilovers, and I had already sourced some wheels. The addiction began and since then it's kind of been one of the only things I think about."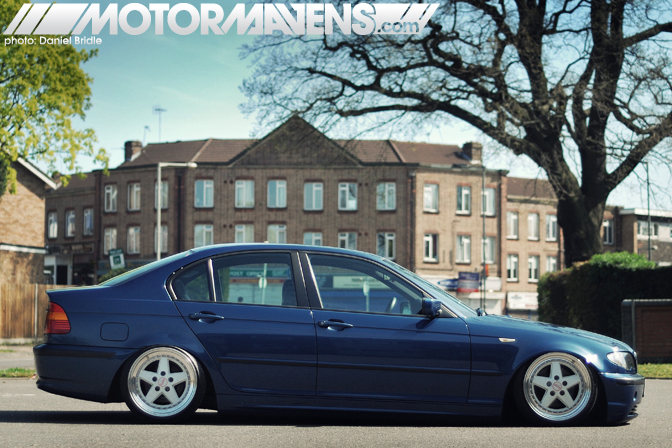 E46 BMWs seem to be a popular choice of car to modify of late and it's easy to see why. They're a good looking car, they feel fairly new still, and are just a great all rounder. The prices have been dropping over the years and they now work out as pretty affordable cars to buy. It's crazy just how much car you can get for a few grand!
Josh had always liked the E46 model after seeing one of his friends' last summer, he loved the presence it had and could see the potential, but didn't think of buying one as he thought he wouldn't be able to afford the insurance for one. About 6 months later when he was searching for his next car he had been looking at MK3/MK4 Golfs, Audi A4s, even Lexus IS200s, but none of them were doing it for him. "They were either too common, overplayed or just too expensive. On the way back from a disappointing viewing on an Audi A4, my dad suggested a BMW. I did a quick search not expecting to find anything for me, and it turned out the 318i wasn't so bad for insurance and running costs. I ended up picking up this one stock a week later!"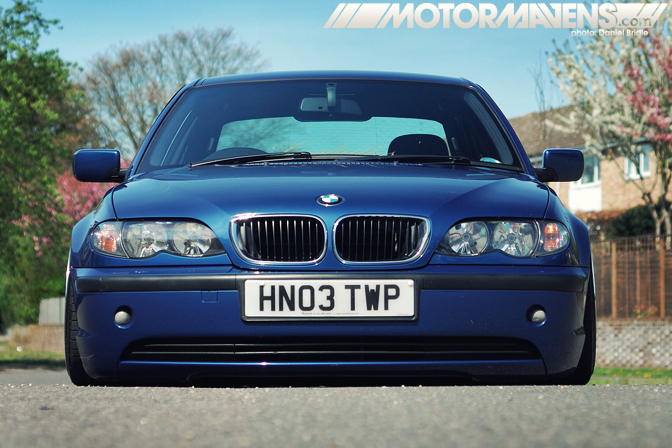 Now, I'm going to cut straight to the chase and show you what has to be my favourite part of this car.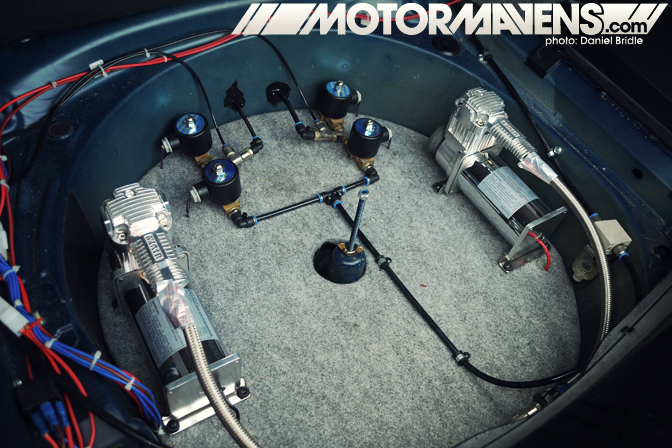 Tucked away under the boot floor is a custom built, two-way electronic air ride system! Josh wanted to be able to run the car laying frame no matter what the cost. So he got in touch with an air ride specialist called Havair, gave them the wheel specs and tyre sizes he was planning on running, and they got to work building his system. They've done an amazing job considering there's no off the shelf kits and the fact that this is (as far as we know) the first E46 in the UK running on airbags!
For those of you who aren't too familiar with air suspension like myself, Josh kindly explained the basics of how it works. "It all works by there being air bags in place of the suspension springs. Air is put into or released from the bags which makes the bags inflate or deflate, allowing me to choose any height I like from a flick of a switch. Which most of the time is a few mm from laying frame ha ha."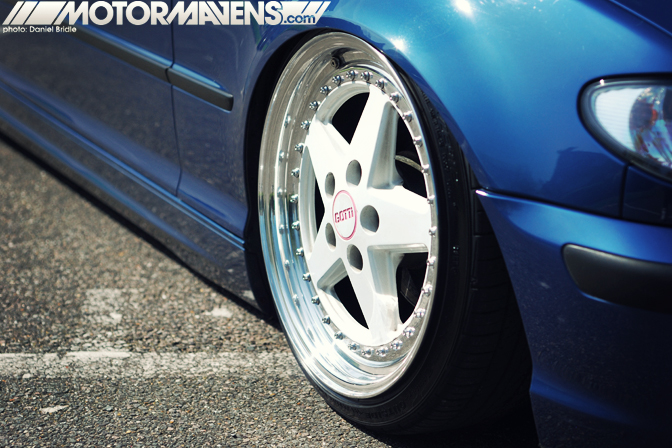 Another one of the most important features of the car are the wheels! These come in the form of a set of sweet Gottis that are no longer in production. The fronts sizes are 17x8J and the rears are 17x9J with an original offset of ET46 all round.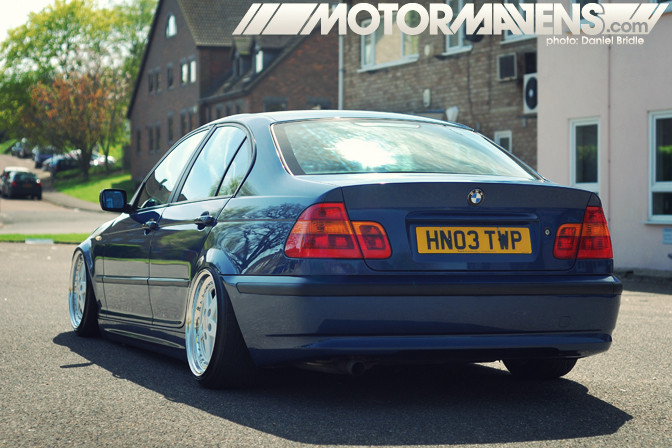 Obviously Josh couldn't have the car sitting with weak offset! So he soon got in touch with a contact off an internet forum and had some very high quality custom sized wheel spacers made up to get the car sitting right. The offset is now ET8 up front and ET0 at the back. However this is only a temporary measure for this season – Josh plans to eventually fit the 9J rims up front and get the 8Js re-built to the biggest width possible depending on how much inner arch clearance he needs at the rear. Nice!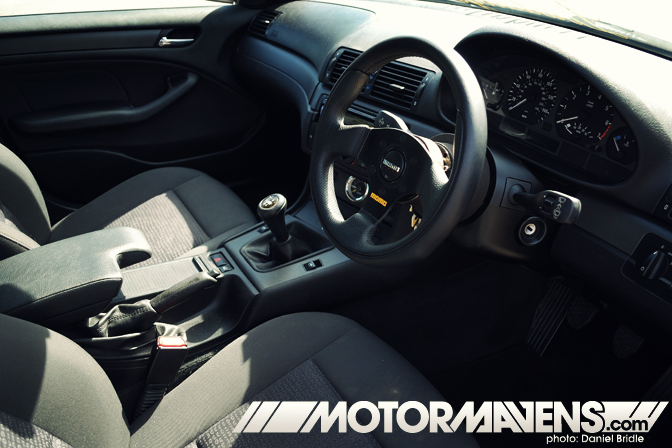 Taking a look on the inside, the BMWs classy and simple interior remains mostly untouched with one or two additions. One being a 220mm Momo steering wheel with a snap off quick release hub.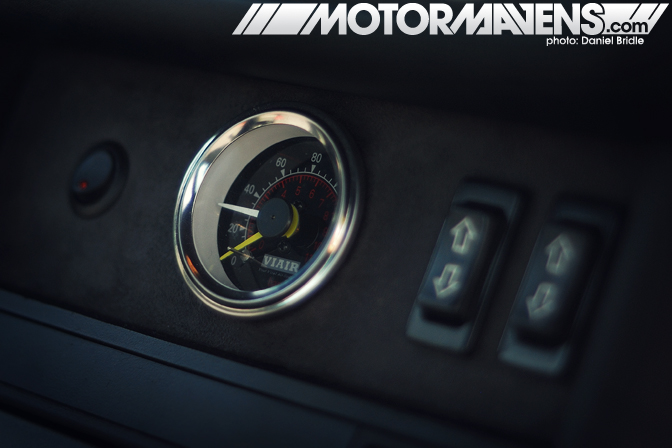 The other is a Viair twin needle gauge and control switches for lowering and raising the cars ride height. Josh also has a little keyfob remote control for the same job!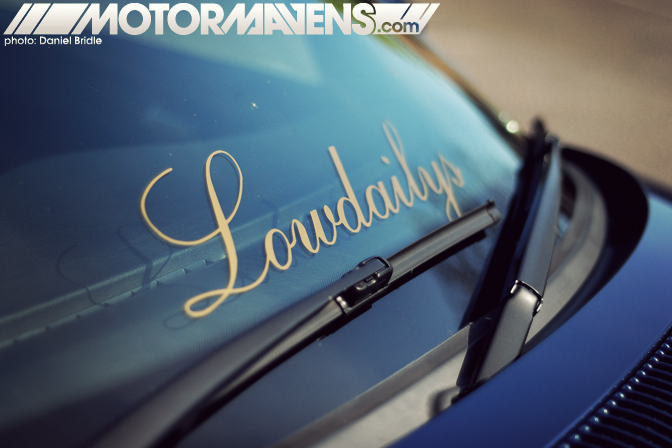 As I finished up shooting the car I noticed this subtle sticker in the middle of the windscreen and wondered what it was about. It turns out Lowdailys is a car club made up of friends from around the UK. The cars consist of VWs, BMWs and a few Japanese cars including an EK chassis Honda Civic and a little red Mazda Eunos Roadster. It's a laid back group and they don't take themselves too seriously, but they all have one thing in common – they drive their cars daily and low as hell!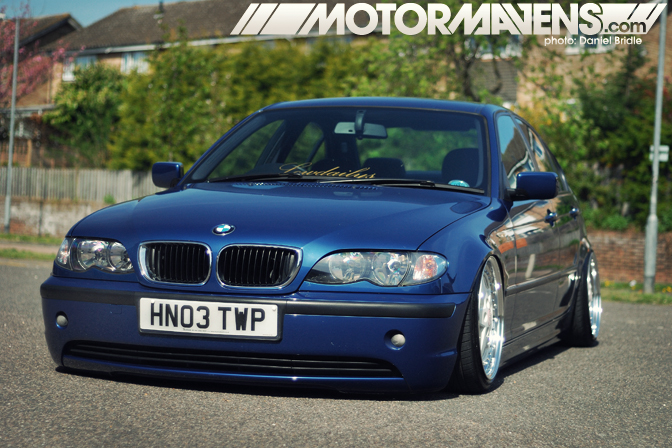 The fitment game in the UK has really started to step up a gear recently, and with more meets from the likes of Stanceworks and later this year Hellaflush UK, more and more people are starting to get the right idea. Cars like Josh's BMW are a great example of this and it's only going to get better!
::Daniel Bridle
3 series
,
Air Bags
,
air ride
,
BMW
,
Daniel Bridle
,
E46
,
Fitment
,
Gotti
,
HavAir
,
Hellaflush
,
homepage
,
Josh Mussell
,
Lowdailys
,
Momo
,
offset
,
stance
,
Stanceworks
,
UK
,
Viair
---