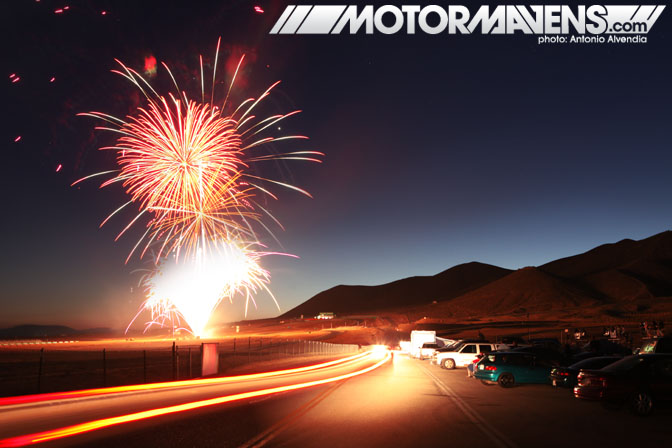 Most of us in the United States are celebrating Independence Day today, the Fourth of July. This weekend, Mike Kim, Larry Chen and I represented the Southern Cali chapter of the MotorMavens Crew were out at Willow Springs International Raceway, shooting photos at the Ziptied/Just Drift All Star Bash drifting festival.
We had an awesome time at All Star Bash (as always), as it's always good to catch up with old friends and meet lots of new drifting friends. This year, I think that the cars that traveled the furthest distance to be at ASB were from Canada's west coast… somewhere near Vancouver. Big ups to the Drift Union guys, driving out with their super sick purple tire eaters.
We're still in the midst of all the July 4th festivities, so we have some more drinking and celebrating to do… sorry for the delay! More photos from All Star Bash coming soon, but we need to head out to a friend's party right now!
Happy 4th of July from the MotorMavens Crew!
:: Antonio Alvendia
PS: Our MotorMavens Northwest crew was out shooting drifting this weekend as well! Stay tuned to MotorMavens for a super cool 2JZGTE feature story from Yoshi Shindo! Great work this weekend, Yoshi!
---