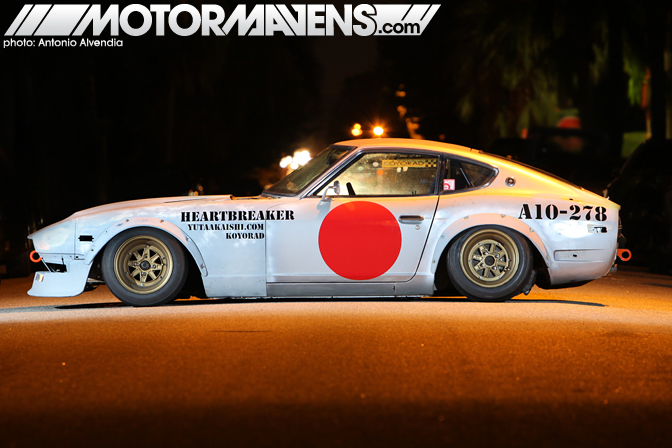 The past few days have been super hectic! I've basically been shooting photos every single day since Friday! I decided not to post up our Formula D and JCCS stories just yet, because I wanted to focus my very limited time on linking up with good friends from out of town and doing some photo shoots with their cars while I was chillin out with them.
I suppose that's the difference between MotorMavens and other websites. Some of the other sites go to the shows just to grab as many pics as they can and then leave quickly so they can post them before anyone else. MotorMavens has a different way of thinking, and a different agenda altogether. Instead of racing to get photos up before the other websites, MotorMavens values quality when it comes to the things published on the site. Posting photos quickly is important to me, but I also make it a priority to spend my valuable time with my good friends in the car scene – after all, I know that without the support of our loyal friends (this includes YOU, our awesome readers!), MotorMavens would not have come as far as it has today.
So here's a teaser photo; this will give you a taste of what I've been up to over the past few days. This is Yuta Akaishi's shakotan S30 240Z from Northern California's Heartbreaker crew. He just got back from spending summer in Japan a few days before the Japanese Classic Car Show. He refreshed the car really quickly, and then scraped pavement all the way from San Jose to Long Beach for JCCS! So dope – I hope you like this, cause I know I do!
Okay then! MotorMavens will return to normally scheduled posting in just a few!
:: Antonio Alvendia
---