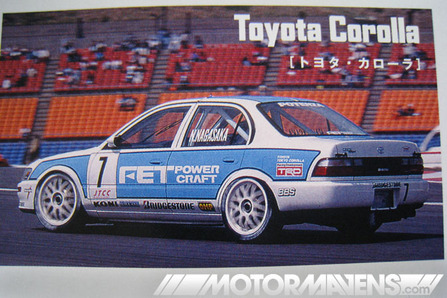 For years and years, we've been real big fans of J's Tipo Magazine, which started life as a Japanese magazine devoted to old school modified cars, or kyusha kai. J's Tipo is a product of Tokyo-based Neko Publishing, which also produces a lot of other cool car magazines. Since J's Tipo has a different chief editor than when it first started, the magazine's content shifted slightly to reflect the tastes of the new editor-in-chief, so unfortunately, we no longer see as many old school cars in J's Tipo as we used to.
Looking through a 2008 issue of J's Tipo in our magazine stack, we noticed a feature on JTCC (Japanese Touring Car Championship) cars, which featured a JTCC race car built from a model of Corolla that many people wouldn't normally consider to be cool!
Honestly, just how cool can you look in a normal, bone stock, front wheel drive, 7AFE powered Toyota Corolla (AE102) like this one? Just face it, cars like this are usually champagne colored, driven by old ladies with a tissue box on the rear deck and lace seatcovers.
However, we think this particular FET (Far East Trading) AE102 Corolla from the JTCC series looks AWESOME. Check out the super expensive center lug wheels, which allow the wheels to be changed very quickly at pit stops.
Aside from the wheels, are you wondering why else this FET AE102 looks a lot cooler than the Corolla parked down the street from your house? Notice the Japanese kouki bumpers (late model Japanese bumpers), which are also much shorter and better looking than the ones we have in the USA, which have ugly, extended 5mph crash bumpers. Yuck.
The FET AE102 also has a different taillight panel, which look slightly different than the ones we received here in the USA. Either way, we think this particular Corolla looks AWESOME. The FET livery, rollcage, and those bad ass center lug wheels… very, very cool!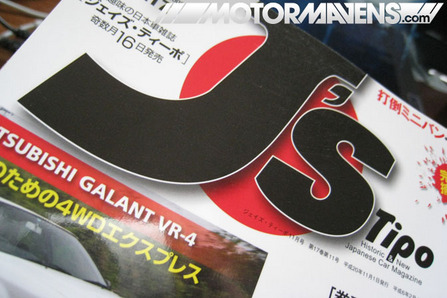 Anyway, next time you're near a Asahiya or Kinokuniya bookstore in the USA, try to pick up a copy of J's Tipo, and see if you can find any cool cars in it!
What we're wondering now, is how many people will want to fix up their aunt's old Corolla to make it look as cool as this one?
::Motor Mavens
---