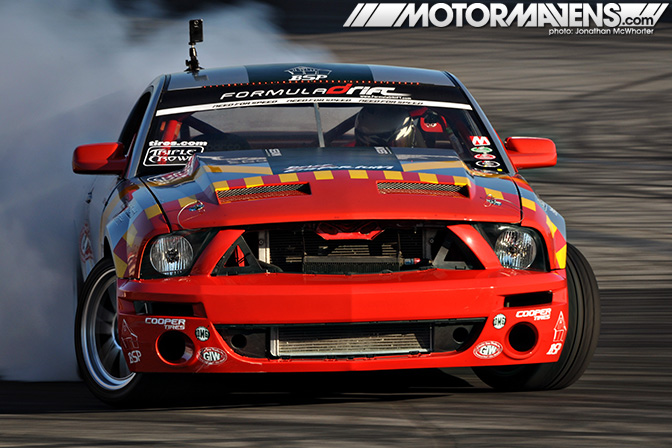 This past weekend, the Formula Drift Season Finale at Irwindale Speedway went by quicker than I could ever have planned.  Whether it was the severe lack of sleep, being on the move at all times, nonstop action, or the three hour time difference, I wouldn't have changed a thing.  It all started at 5am EST in Atlanta when I woke up to head to the airport in hopes that I could catch a flight to LA.
Flying standby, which may be cheap, is very risky and can be stressful when flights that were empty the night before, are full in the morning.  Luckily, only the first flight out of Atlanta that morning was full and I could hop on the second flight to John Wayne at Santa Ana.  If time had not been an issue, I could have arrived much later and taken an easier flight, but since I had to be there by 1:30pm PST to make it to the (all-caps) MANDATORY media meeting, I was starting to stress when I noticed the flights starting to fill up.  I'm no stranger to the pre-Formula D stress syndrome though.  I almost didn't make it to this point after all.
Media passes are a hot commodity, and the MotorMavens Crew rolls pretty deep, so actually getting a pass to cover the event for the site was an episode in itself. Even though we're an official Formula D Media Partner, and we have a legitimate high traffic automotive site, Formula D's PR agency didn't want to approve all our media pass requests. I didn't really understand the thinking behind that, but I suppose we did have a lot of photo and video shooters asking for passes!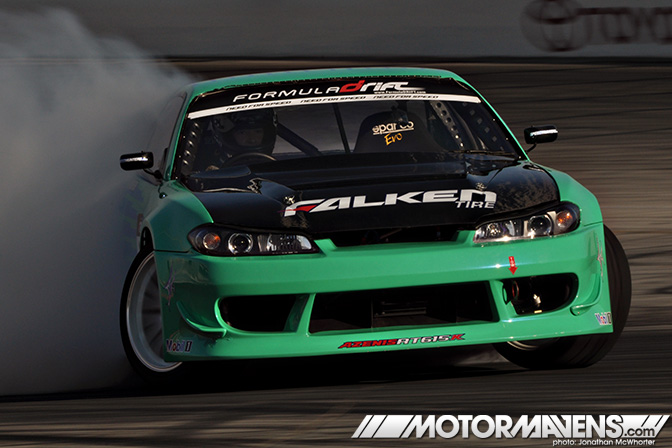 This being the last round of the year for Formula D, and me traveling all the way out to Irwindale CA from Atlanta GA, I had to do it big.  I always like to say 'go big or go home.'  It's corny but it's a great way of seeing things – try it and see where it gets you.
Anyway, I digress.  This is a photography blog as much as it is automotive, so I thought I'd give a little insight as to what gear I used on this trip.  Sticking with my not-going-home approach I thought I'd bust out and rent a quite large 300mm F/2.8 VR I Nikkor lens to couple with the Nikon D90 I was using.  I'm a black sheep in the MotorMavens family in that I'm one of very few that does not use Canon camera gear out in the field.  All of that talk of millimeters and F-numbers probably means nothing to a lot of you out there, since I get the impression most of our readers are more into cars than cameras, but I thought I would share for all of you photo junkies out there. (You are people, too.) For those of you who know a bit about cameras, that lens is not quite what you would call 'compact.' However, that 6.5 pounds of glass helped me bring you guys the best images that I could afford to rent.  If anyone is willing to donate to the JMac Needs Ballin' Gear Fund, or JNBGF, let me know so I can go big at the next event! Haha!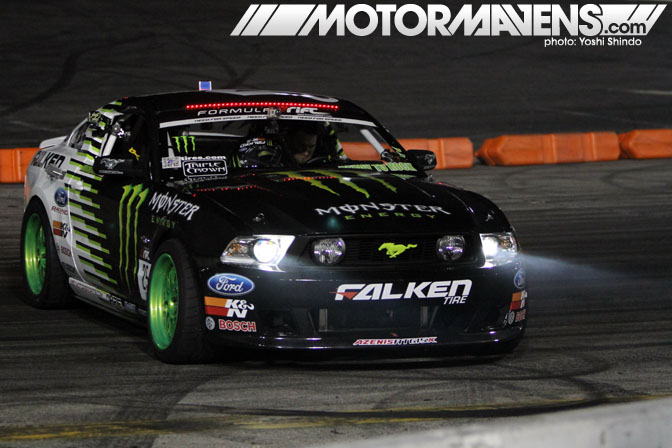 Speaking of going big, Vaughn Gittin Jr certainly went big all year! JR is one of the most sponsored drivers out on the Formula D field right now – with big money sponsor relationships like Falken Tire, Monster Energy Drink, Ford Racing, DC Shoes, K&N Filters, Bosch, Exedy, HRE Wheels… I'm sure there's a lot more. JR secured his place in Formula D history by winning the season championship this year! He's been a monster on the track all year.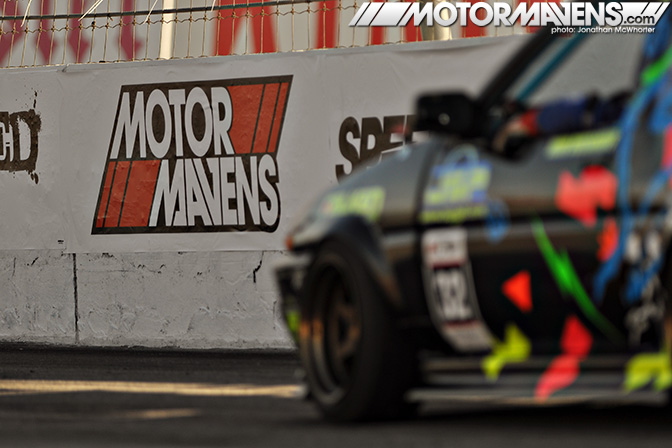 Once I arrived in LA, I made the obligatory stop at In-N-Out Burger because, at this point, your boy was starving.  I should also mention that my dad came out to LA with me and helped me out a lot with the plane tickets and hotel. (Thanks again, Dad!) I got me a double double animal style and mowed through that bad boy in a heartbeat. After stuffing myself and sitting through a mild sampling of LA traffic, dad and I arrived at Toyota Speedway in Irwindale.  I felt like I was on the set of Mad Max or some other post-apocalyptic thriller with all of the industrial surroundings and excavation.  It was a definite change in scenery from the rolling hills and pine trees I'm used to being surrounded by in the 'burbs of Atlanta.  Made it through will call without a hitch and found Joe Ayala and Justin Shreeve, our resident motion-picture-mavens, already on track shooting their respective videos.  I can't wait to see what these guys come up with next.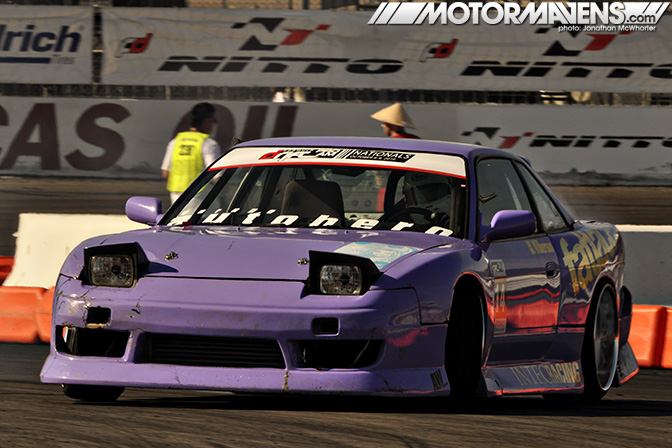 With it being practice and qualifying, I got a first-hand glimpse of the left coast talent being represented in the pro-am rounds.  Guys like Pat Cyr and Walker Wilkerson (above) were absolutely destroying the oval.  This would be even more evident during the actual pro-am competition to follow the next day.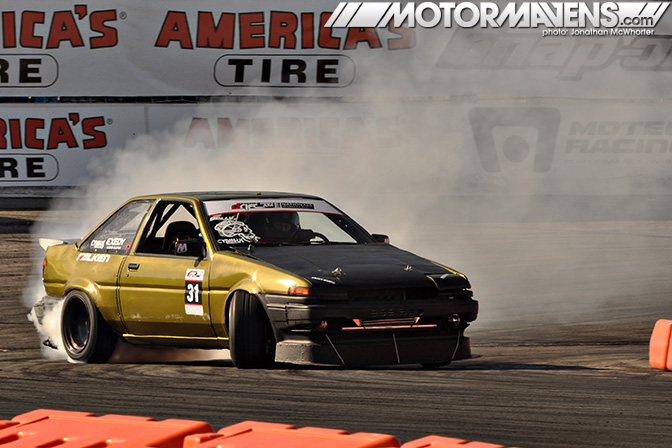 Here's Pat Cyr negotiating his way into the infield, showing people what Toronto drifting is all about! This was my dad's first ever drift event ever, so I wanted to show him a good time.  We walked around the pits and checked out the pro cars that would be going out on track later and sort of gave him a crash course on the competition aspect of drifting – the actual competition format, judging, what the drivers were trying to accomplish in the first place, etc.  We were even planning to watch Slide America on the flight, but I forgot to bring the headphone splitter so that didn't work out too well.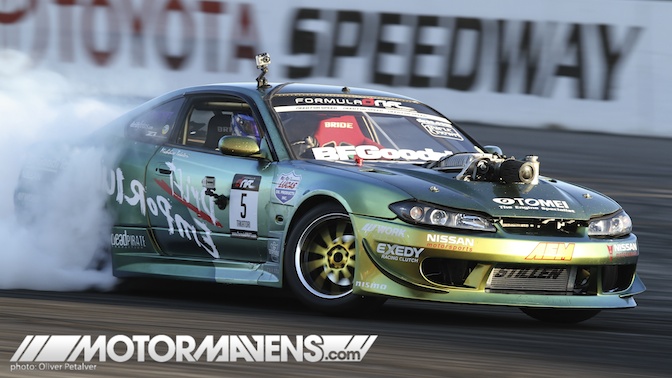 Here's Michihiro Takatori driving the S15 Silvia owned by the Atlanta-based shop, Drift Emporium. It's great to see some Georgia locals making some big waves in Formula D competition! ATL represent!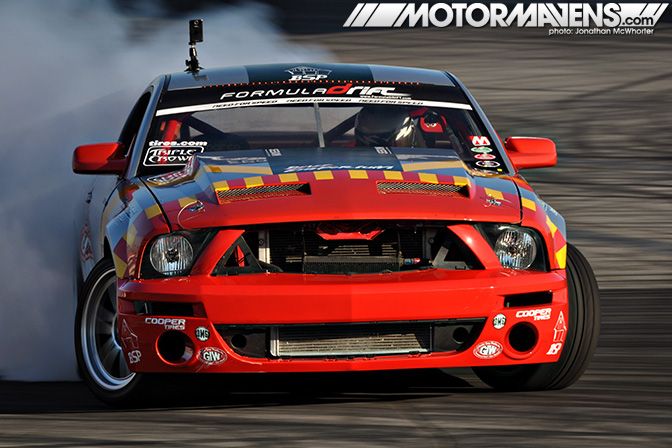 Qualifying finally came around and I got time to practice with the monster of a lens I had brought with me.  There was quite a learning curve since I had never used anything this big before – that's what she said (Is that even appropriate? LOL).  Eventually I got the hang of it, and was surprising myself with what I could accomplish with the equipment.
Here's a shot of Tony Brakohiapa, who has been accomplishing some big things with his Tuskegee-liveried Ford Mustang. He's been doing amazingly well all year – it's awesome to see good drivers come up through the ranks and make things happen for themselves. Congratulations to Tony and his entire crew!
After all of the drifting excitement it was time to do some not-car-related things.  This is when the MotorMavens crew first grouped up for the day. Earlier in the day, Antonio had been busy running around taking care of the booth and directing our promotions staff, while Yoshi Shindo, Oliver Petalver, Mike Kim and myself were all busy shooting.
We finally left the track really late, and we were all starving so the call was made to make the short drive over to Krua Thai Restaurant in West Covina, CA.  Dad and I had never had Thai food so this was a new experience for us.  Antonio knew what was up though, ordering the best things on the menu, having come to this restaurant for years.  After a good two hours talking about everything from photography to airplanes, it was time to get back to the hotel.  But this is where ambition takes its toll.  It's 2am PST and I still have a story to write and pictures to post.  An hour later I made a quick scan of the 1,500 I snapped that day, sprinkled on a light coat of Photoshop, and tapped on my keyboard a bit and got a qualifying preview finished!  It was finally time for bed after 25 hours.
There's no rest for the weary, the bossman (that's my dad) and I were back up and moving at 8am.  A quick stop at WacArnold's (come on Dave Chappelle fans) proved to be all we needed to get us going.
Dad and I arrived at Irwindale super early, probably so early that I think we were one of the first people there not affiliated with any of the teams, and we beat some of them still!  I educated him some more on the drifting culture and talked to him about his first impressions.  The thing that stood out to him the most was the absolute talent and skills the drivers possess to be competitive.
It was very cool to show my dad the sport that I've fallen in love with and bring him into the culture I surround myself with and see him accept it and also enjoy it.  I love watching the drifting itself and love taking photos of it more, but when I introduce someone to the sport and see them be captivated like I was when I first got into it, that's what does it for me.  Since my local drifting organization (Southeast Drift) had to shut down for rest of this year, it means a lot more to me now than it did before to share with more people the drifting culture and community and trying to do all I can to help keep it all alive.
:: Jonathan McWhorter
AE86
,
Antonio Alvendia
,
Drift Emporium
,
drifting
,
Falken Tire
,
Formula D Pro Am
,
Formula Drift
,
homepage
,
Irwindale Speedway
,
James Deane
,
Joe Ayala
,
Jonathan McWhorter
,
Justin Shreeve
,
Melyssa Grace
,
Michihiro Takatori
,
Mustang
,
Nissan S13
,
Oliver Petalver
,
Rhys Millen
,
S15
,
Tony Brakohiapa
,
Tony Brakohiapa. Tuskegee Airmen
,
Toyota
,
Yoshi Shindo
---