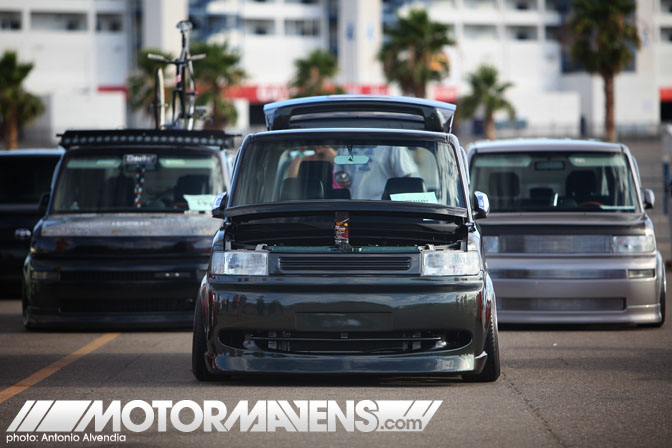 Recently, I've been doing some research on good commuter cars that can fit A LOT of camera equipment inside, but still get great gas mileage. I've looked at the new Scion xB, Nissan Cube, and also the Kia Soul. There are certain things I liked about all of these cars, but for some reason, I'm still more drawn to the old school original boxy style of the first gen Scion xB.
In my opinion, the Nissan Cube looks closer to the first gen xB than the second gen xB does… but it still doesn't capture the same feeling as the first generation Scion xB. Maybe it's because the first gen xB has Japanese roots as a Toyota bB, with tons of Japanese aftermarket parts available, from big wheel VIP style to lowdown/shakotan 15 inch wheel style… and a ton of dope aero kits like Kenstyle or Damd. (The Damd Gulf Toyota bB had me jockin like crazy when it first came out!)
Here in the continental United States, I gotta give props to guys like the bB Squad and especially Paolo Luna and Kenny Leadsled in Las Vegas, who build cars that are so stylish, they inspire other Scion owners to bite their steez. In my opinion, THESE are the guys that Scion USA corporate needs to give "build project" cars to. (I hope you're reading this, Kennedy, Craig, M.J. and Steve!) These are the real grassroots, die hard Scion guys that deserve a chance to build a fresh box, because they have so much style! I've been to Scion car shows in other parts of the United States, and I was just horrified by the way some people built their Scions… especially the ones with cheesy themes! For real!
Anyway, the whole point in me writing this… is that I wanted to give props where it was due, and shine a much needed light on these guys, who have put together some of the freshest Scions I've seen in the USA thus far. I never got around to shooting Kenny's car (Sorry Kenny!), but if you want to check out Paolo Luna's xB, then click here to see the feature on Paolo's car that I shot and wrote back when I was still promoting that other high traffic car blog site. =)
::Antonio Alvendia
---