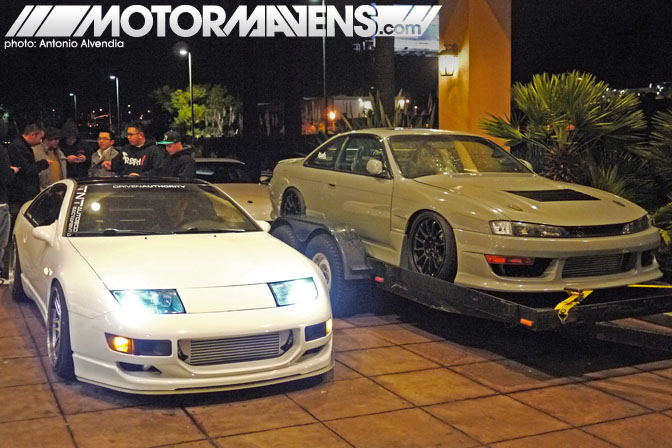 What a great weekend! Since last weekend's Wekfest show fell on a three-day national holiday, we decided it would be fun to take a road trip up to San Francisco and show support to our friends from Weksos Industries. We attended last year's Wekfest and had a lot of fun; so we definitely wouldn't want to miss the chance to visit all our friends in the Bay Area and check out some of the fresh new car builds coming out of Northern California.
This weekend also gave me an opportunity to test out my new 'point&shoot' camera. For the past couple years, I've been singing the praises of Canon's S90 and G11 pocket cameras, but more recently, I've been getting curious about the performance capabilities of the new Micro 4/3rds cameras that have been coming out! I looked at demo versions of the Panasonic Lumix GF1 and GF2, but opted on buying the GF1 because of its dial controls – it feels more like I'm using my SLR! Granted, the GF1's small image sensor doesn't perform anywhere close to what my Canon 5DMk2 can do in low light… but for a camera that could fit in your jacket pocket, it's pretty damn capable!
This being said, since MotorMavens is a blog for people that enjoy photography just as much as car culture, I thought I'd shoot the first installment of our Wekfest photos with my fun GF1 point&shoot camera.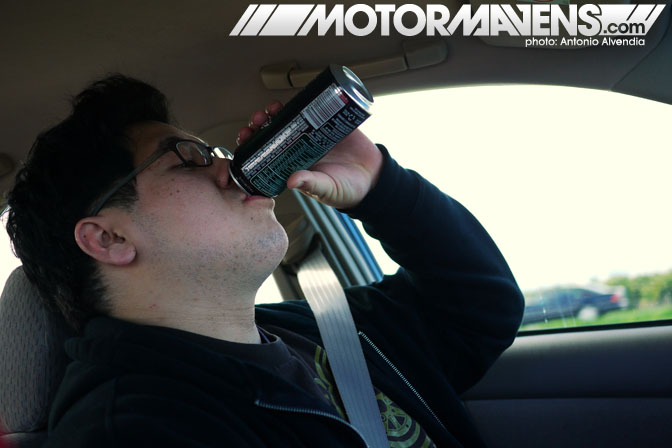 I rolled up to Wekfest with our resident computer expert, Mike Kim. Since we weren't planning to set up a booth or put any cars in the show, we decided to drive up to San Francisco in a comfortable and gas efficient Toyota Camry – it gets much better gas mileage than my E39 BMW daily driver.
The funny thing about Mike – he never gets enough sleep, so he likes to fall asleep behind the wheel a lot. This dude totaled his RSX a few months ago, because he fell asleep behind the wheel, and then he bought an NB Miata, which he FLIPPED on the freeway when his front fender came in contact with an 18-wheeler's rear tires! Learn from Mike – DO NOT DRIVE WHILE SLEEPY! Needless to say, I kept reminding Mike to drink energy drinks all the way up to SF since he was driving. LOL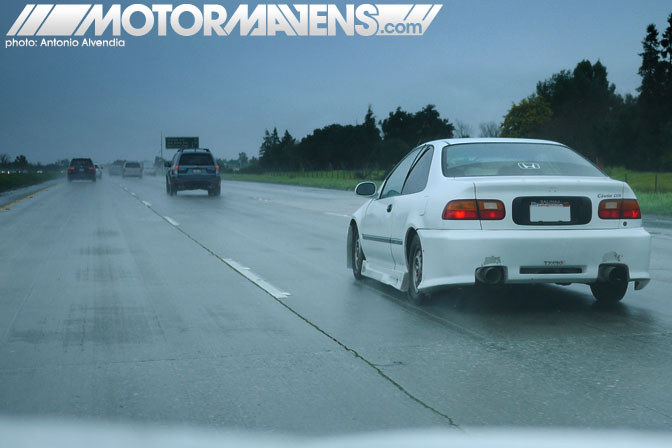 The five hour drive up California's Interstate 5 was fairly boring… drab especially because it was raining. However, as we were approaching San Jose, I carspotted this Honda Civic on the 101 freeway.
It looks like the owner of this Civic built his car in period correct East Side San Jose circa 1997 style. LOL At least he doesn't need to worry about curbing his (stock) wheels. The sideskirts will prevent that. 😉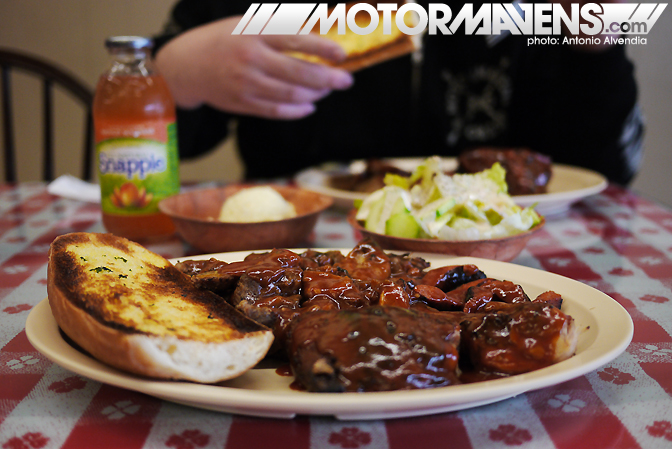 We were starving by the time we got to the South Bay, so we made a pit stop at JC's Famous BBQ in the Saratoga/Santa Clara area for some good grubbin. This is an old school hole-in-the-wall BBQ place that my friends and I used to frequent when we would hang out at a nearby car shop, Racer X.
For those that aren't familiar with the history of the sport compact scene in the San Jose area, Racer X was a shop that was very much ahead of its time – even back in the mid-to-late 1990s, Racer X carried parts from RE Amemiya, Trust, Gracer, GAB, Spoon Sports, and Mugen… along with the ricy stuff. 😉 I miss hanging out at Racer X. It was owned by a guy named Greg Taniguchi, and back in those days, the people hanging out there would be a mixture of Filipino guys trying to get discounts on everything (me), shady Vietnamese guys, white guys who thought they were Vietnamese, and hot chicks that Greg would recruit at night clubs by telling them, "come by the shop. I'll give you an air filter or air freshener or something." Those were the days.
I bought my first Momo steering wheel there. It was a Momo Champion, that I bought from Racer X for $167. It was installed in the alley behind the shop, and when I drove my car straight, the steering wheel pointed to the right… Also, the horn button didn't work unless I was honking while turning the car. LOL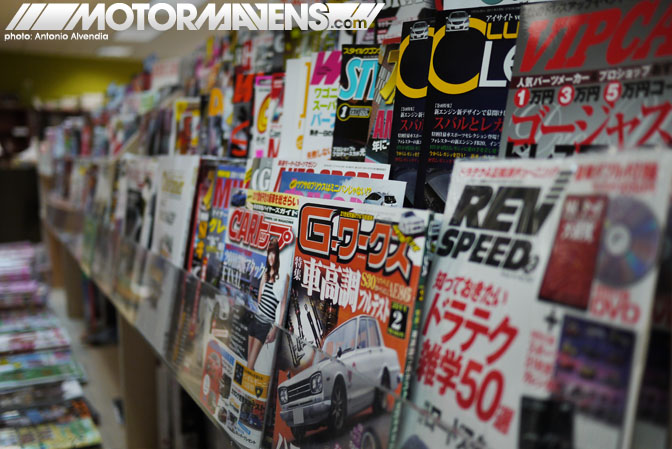 One of the cool things about Racer X was that it was located right next door to the Japanese bookstore – Kinokuniya. This is where my friends and I always used to hang out and read Japanese Option2 and Young Version magazines and Initial D manga (comics). They also had a video rental shop where we could rent Option videos! Needless to say, I used to rent all the AE86 related videos and dub them with my ghetto dual VCR setup.
It's nice to see that car magazines are still strong in Japan. In the USA and other parts of the world, all the big magazines are becoming super thin. That entire industry is dying, unfortunately…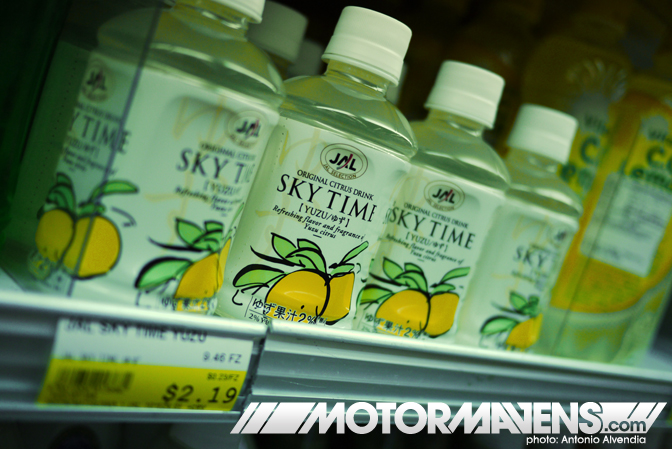 We stopped in at the Japanese market, Mitsuwa, and got a drink. My drink of choice is Yuzu juice! If you haven't tried Yuzu juice yet, you MUST! Yuzu is a Japanese citrus fruit that is local to Shikoku, in the Southern part of Japan.
Actually, if you followed the Japanese D1 Grand Prix Series (circa 2004-2005), you might remember a driver of a black 4AG-powered Daihatsu Charmant named Takada. Takada was from Shikoku, and his family owned a Yuzu farm. The D1 drivers used to affectionately call him Yuzu-chan. When he died, Kazuhiro Tanaka from Team Orange/Rough World made a cartoonish Yuzu-chan sticker out of respect to him, and all of Takada's friends in the D1GP series ran the sticker on their cars. If you have ever seen my infamous Pelican hard case full of drift team and racetrack stickers, you will find a Yuzu-chan sticker on there if you look carefully. Tanaka put it on my Pelican case right after Takada san died, and it was been there ever since. Wow, I just realized that I've been using the same lens case for six years!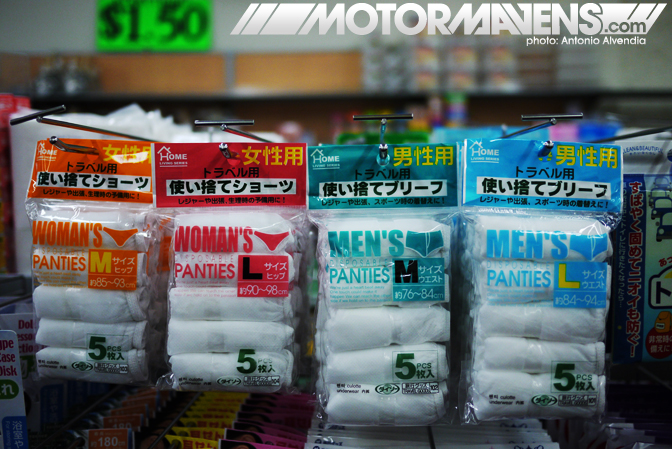 Right before driving up to San Francisco, we decided to stop in at the Japanese hyaku-yen store (100 yen store), Daiso.
It sucks that they haven't opened a Daiso in Southern California yet, but in the Bay Area, Daiso sells random Japanese goods for $1.50 each; everything in the store is only $1.50. So as we were walking around, we noticed that they sold womens panties and laughed… but then we looked closer and found… MEN'S PANTIES?! Wow. LOL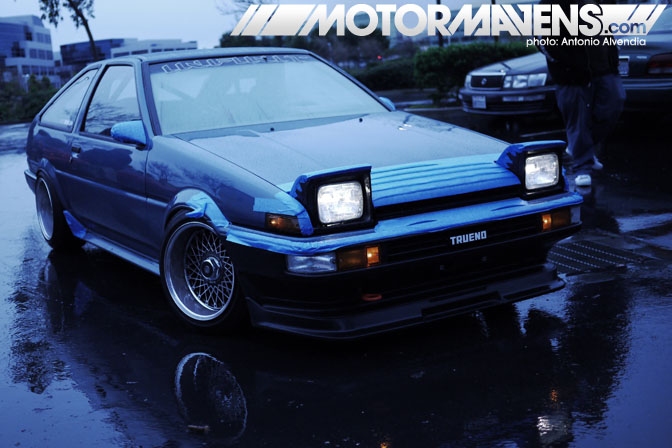 About 40 minutes later, we were in South San Francisco, checking into our hotel, when we ran into our good friends from Infinit Wheels. I'll be the first to admit that I'm normally not a fan of the OEM blue color on AE86s (especially since I don't prefer blue interior), but come on! This blue AE86 from Infinit is so sick!
The style is so fresh – I love wide vintage Japanese wheels that are made to fit underneath a car's OEM steel fenders. I am also a fan of OEM Japanese Toyota bumpers and lips on AE86s. I also like aero mirrors on AE86s. I also thought it was funny that the blue painter's tape that people use to protect their paint on long drives actually kinda matched the color of the hachiroku's paint.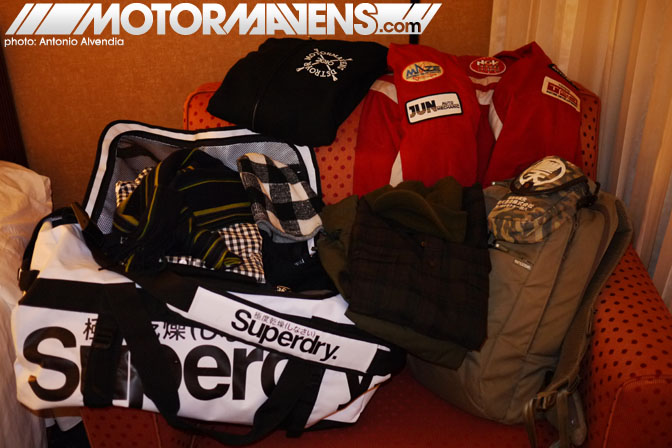 We stopped in at the hotel room only for a few minutes, because we wanted to get out and enjoy San Francisco! I just threw my duffel bag and laptop backpack on the chair, dropped off my camera bag, and in less than 20 minutes, we were back out on SF city streets!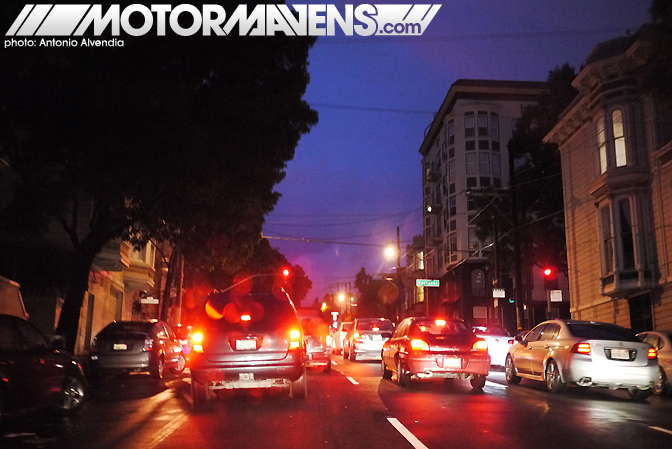 San Francisco was super cold and rainy this past weekend, but the weather didn't stop us from from having a good time. We always have fun driving through San Francisco. It certainly looks different than any other city I've been to. I love how SF has a mixture of high rise buildings and old buildings in coexistence together. All the one-way streets got a little confusing for Mike though!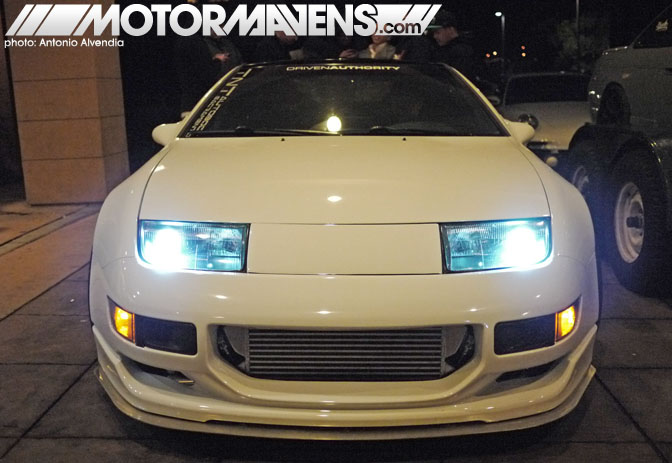 When we got back to the hotel, we made some new friends… a big group of guys from Driven Authority and TNT Autobody in Sacramento CA were hanging out in front of the hotel, with a Techart Porsche 911, a cream white Z32 300ZX, and a Vertex-kitted S14.
This Z32 300ZX belongs to Kip Kearney, the owner of Driven Authority. I think it looks awesome! Kip said that the front bumper is actually a Japanese OEM Nissan Fairlady Z32 bumper, but the front was opened up a bit more to route air to the front mount intercooler. Looks pretty good if you ask me – I wish there were more Z32 300Zs out there that looked this nice.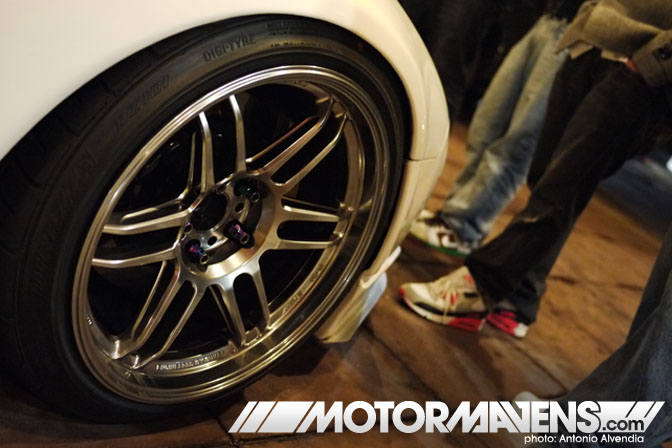 It's no secret – Northern Cali folks are all about fresh kicks, whether you're referring to crisp new Nike Air Max sneakers or the AME wheels on this Z32. After all, I've always said that getting new wheels is just like rocking fresh kicks… on your car. I'm surprised someone hasn't taken THAT idea and made it into a sticker too.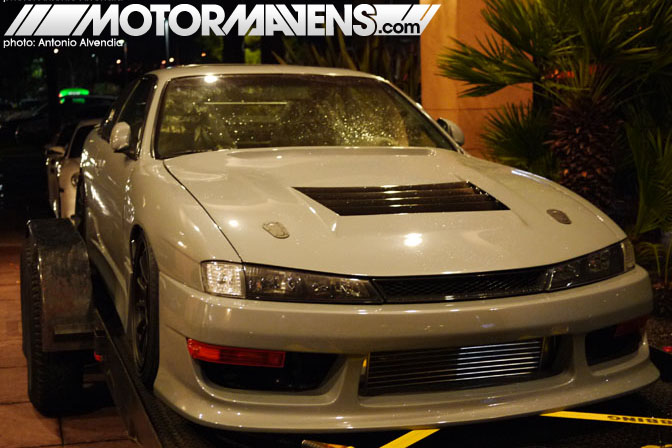 Here's the freshly built S14 on its trailer, rocking a full Vertex aero kit from Speed Alliance in San Diego and fresh new paint from TNT Autobody in Sac. I've never been a big fan of massive Aerocatch hoodpins, but let me guarantee you… this S14 was super super clean.
We have a TON of other photos from our roadtrip to Wekfest. Stay tuned to MotorMavens for photos from the actual show… we'll be posting those very soon!
:: Antonio Alvendia
---