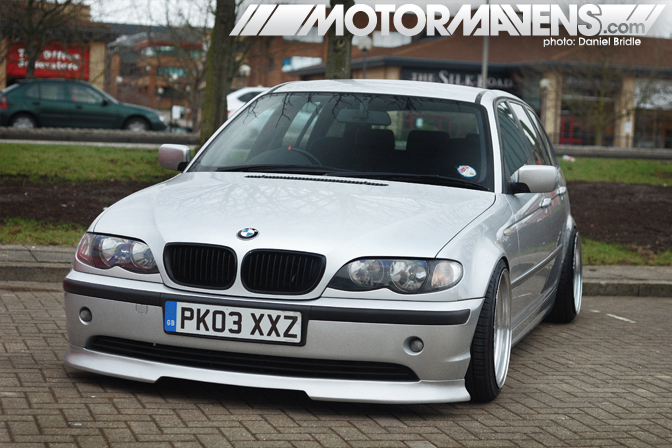 The stance scene in the UK has been around for a while, starting off with Volkswagen owners modifying their cars with the stretched tyre style from Germany… however, it has really taken off over the past few years; more and more high quality cars have been coming out of the woodwork. However, being so involved with drifting, I haven't really had the chance to see much of this scene in the flesh. So, as you can imagine, it was just my luck that UK based members of the wheel fitment specialist website StanceWorks, decided to kick off the year by holding their very first meet on Sunday at Milton Keynes Hockey Stadium. Through threads on other forums, word got out about the meet and a whole host of cars rocked up – well over 50!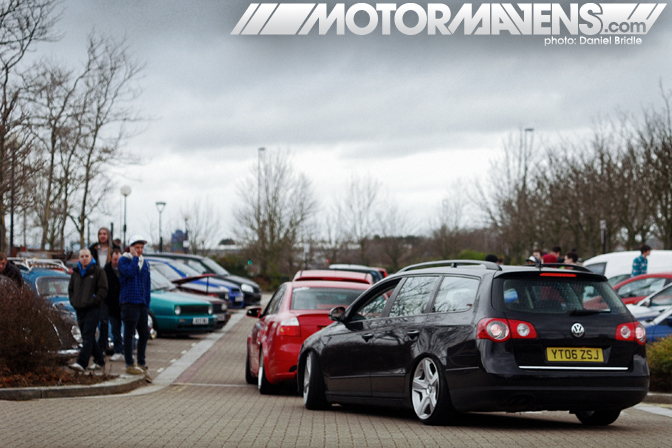 The majority of the cars were European, such as Volkswagens and BMWs, and I have to confess I didn't know a lot about them. So I'll keep it short and show you some cars that really stood out for me at the meet!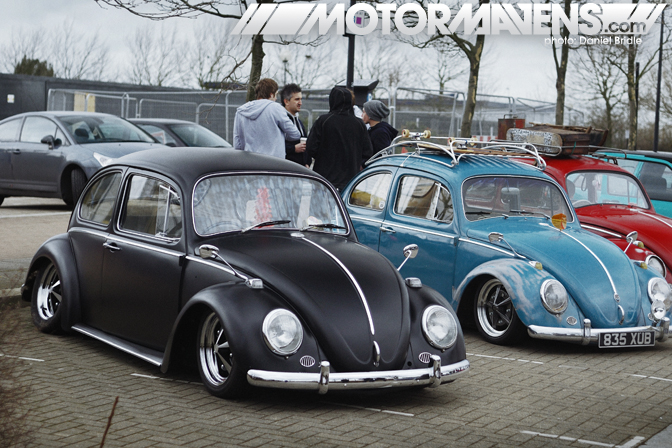 For the OG Volkswagen lovers out there, the Low & Slow Family (who are local to Milton Keynes) brought out their dope VW Beetles!
The combination of chrome and satin black paintwork on this Beetle gave it that old school hot rod feel.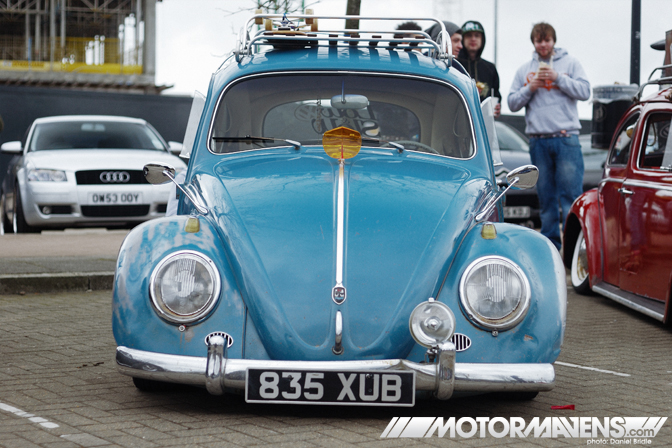 Next to it was this charming pastel blue Beetle. I loved the subtle touches from the single spot lamp above the bumper and the seriously cool roof rack and longboard. This looked like the perfect kind of car for cruising around the coast during the summer!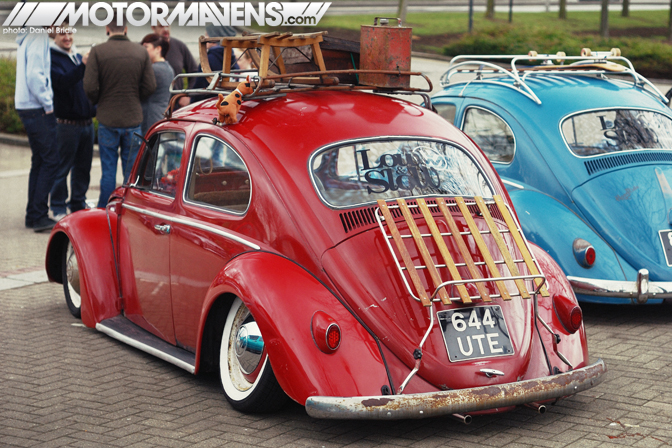 One of the coolest things on these Beetles was the insane rear camber! I loved the white wall tyres on this one, and the use of wood and rust works really well with the cars colour too. Sometimes rat style can look a bit too extreme and fake but this was just right.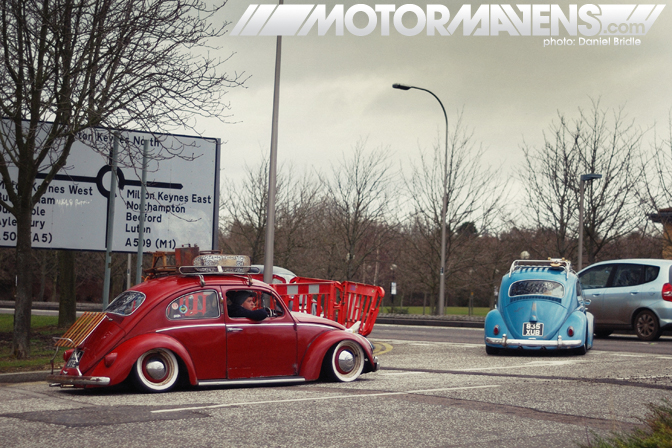 The crew left fairly early but, watching them roll out, they were living up to their name – most definitely low and DEFINITELY slow. These Beetles somehow looked even cooler on the move than they did static.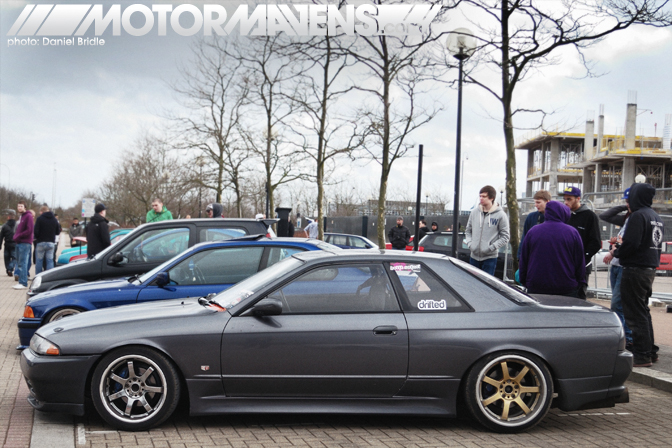 After watching the Beetles leave I meandered back to the car park to check out the rest of the cars. I had to grab a shot of Billy Sutton's R32 Nissan Skyline GTS-T. He recently fitted a set of Rays Gramlights 57s, Vertex sideskirts and a full GT-R front bumper. Apparently rumor has it that the wheels were off the old Kazama Auto Time Attack S15 – the wheels ended up in France somehow and the rears were powdercoated white. Back in the UK, the white was stripped off with Nitromors paint remover and sprayed gold before Billy bought them. He plans to re-chrome and bring them back to their former glory sometime.
Also thanks to Billy for kindly giving me a ride up to the event!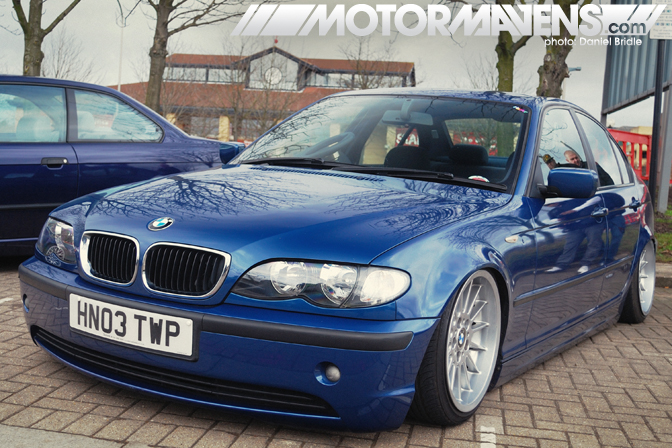 There was an abundance of E46 BMW 3 Series at the meet. The E46 seems to be a pretty popular car in the scene lately since they've gradually become more affordable. Josh's super smooth example runs a set of 17″ Style 32 BMW rims combined with a full HavAir suspension system which makes this simple BMW look seriously good. I'm looking forward to seeing how it'll progress and change over time!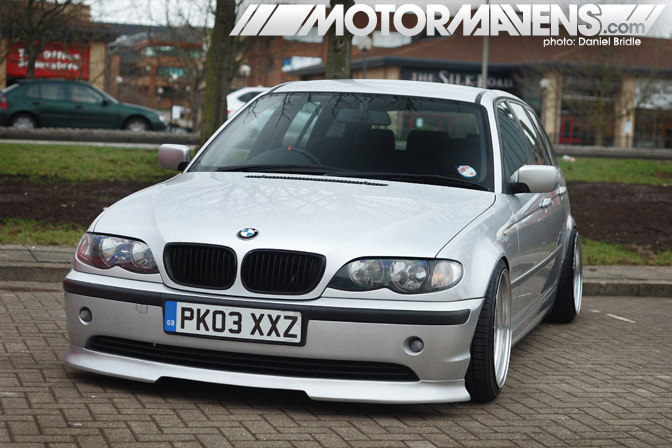 Here's another sweet E46 – this time a Touring fitted with an aggressive front lip (does anyone know what make it is?) and a big set of OZ Racing Mito wheels. Check the crazy wheel poke on the rear. A case in point of "business up front"…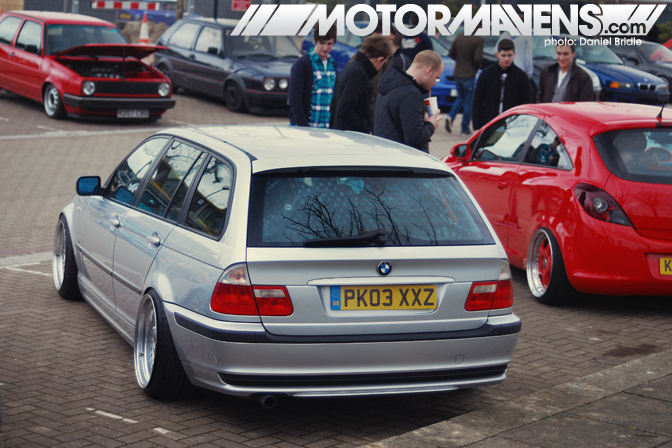 "Party in the back!" I've never been a fan of large amounts of poke, but it suits these larger BMW estates.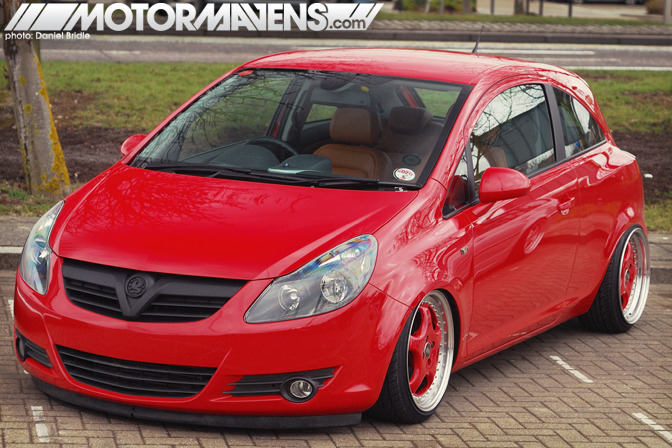 Those of you based in the USA may have been wondering what the small red hatchback in the previous picture was. Well, this is a Vauxhall Corsa. Usually they're just a simple shopping car (with the exception of the crazy VXR model), but this is far from it.
The cars had the smooth treatment all over, with the removal of bump strips and badges. The grille plastics and headlight inners have also been painted satin black. Even the interior has had the modifying touch added with the seats and door cards being re-trimmed in tan leather.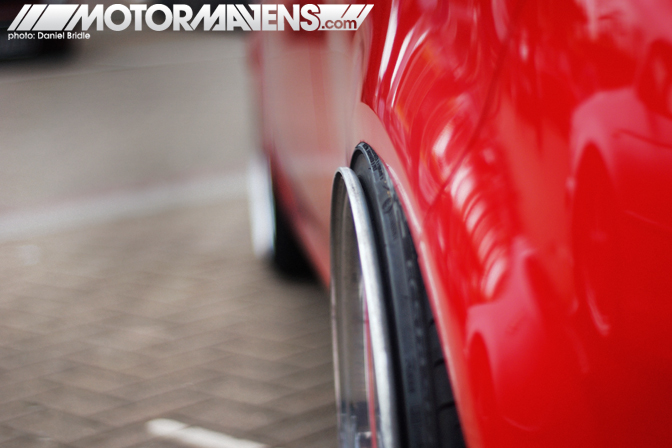 I couldn't help but smile when I saw this. The Corsa runs a full AccuAir suspension kit which allows it to sit this low in the flick of a switch. The wheels are RH ZW1s with the centres painted to match the bodywork. I adore the attention to detail in this car.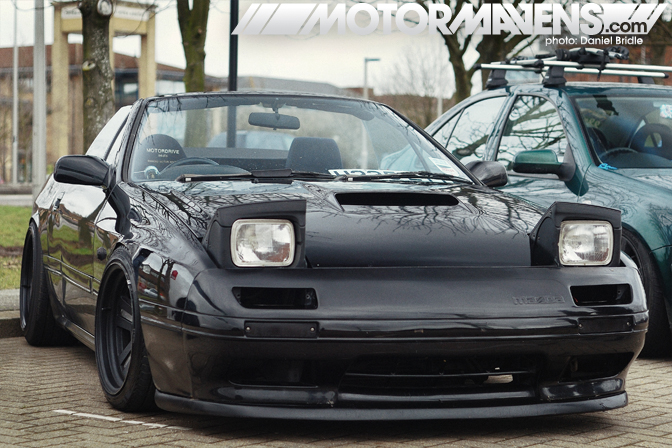 Showing that simple can be the best way to go is this convertible FC3S Mazda RX-7 Turbo from the LowLife crew. The car is running a set of vintage Mitsubishi Starion wheels up front and a set of banded Dodge Calibre steel wheels on the rear. The stock arches have been rolled and the whole car has been dumped on it's ass!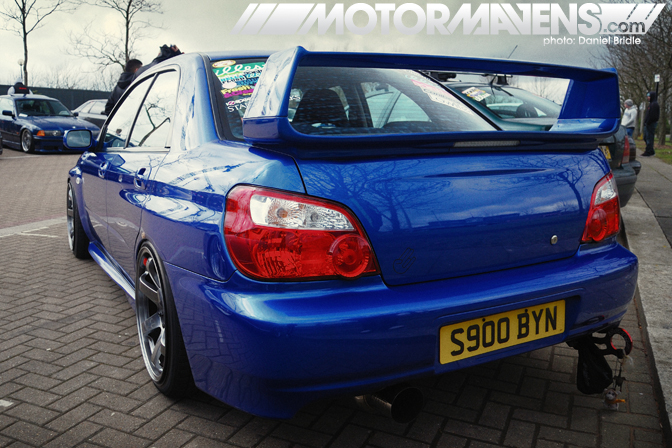 One of the few Japanese cars in attendance and another car from the LowLife crew is Ben Bockett's Subaru Impreza STI. It's styled pretty similar to the FC. Clean, simple and low.
I have to say though, I realise the whole "hanging stuff off your toe hook" seems to be popular, but I swear Ben has a condom tied around his… Seriously Ben!?
Stickerbombing is a little hit and miss for some people (I'm usually not a fan) but I kinda liked it on this E46! I also like what the owner has done with his BMW Style 5 rims, opting for yellow painted centres with matte black dish and lips. It's a pretty unusual combo!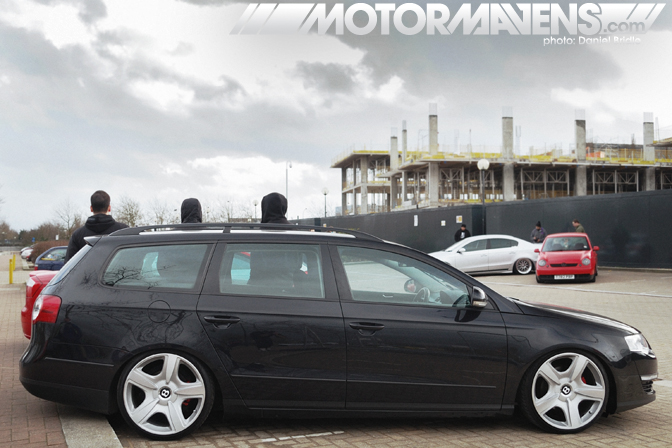 Over in the parking rows behind the main group of cars was this gorgeous VW Passat sitting on a set of huge Bentley rims. I never thought a Passat could look this good.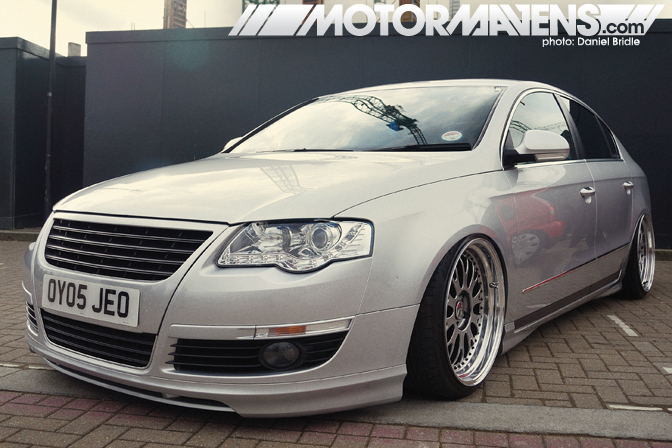 Of course, it was proved to me that they could look good once again. Parked further up was an even more striking Passat B6! This was definitely one of my favourite cars of the meet. I couldn't find the owner of the car, but I know that the car is rolling on Image BPS wheels and an air ride suspension kit. If the owner or someone who knows the owner reads this, please get in touch as we'd love to feature it on the site!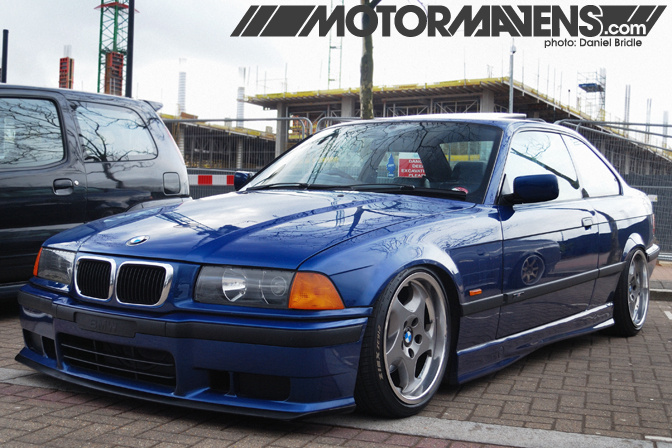 Another firm favourite was this truly stunning E36 BMW 3 series. I was trying to find the owner to find out a little more about it but I couldn't before we left. The car had some serious attention to detail put into it, even down to the white lettering on the tyres. I couldn't work out if the car had an M-Tech bodykit fitted or if it's a genuine M3? I need to brush up on my BMW knowledge!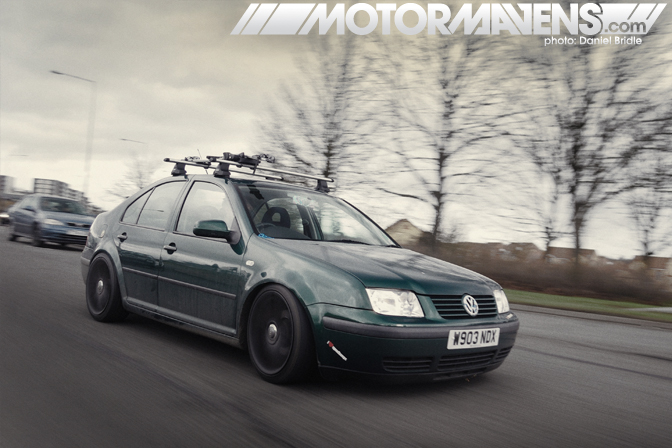 Soon enough the light was fading (not that there was much anyway) and we decided to leave with some of the LowLife crew (Jason's VW Bora pictured above) and head back home. I'm really glad I had the opportunity to come along to this meet! It has really opened my eyes as to what's actually out there in the UK in terms of car style and wheel fitment. This year will only see the UK improve in those areas and I have no doubt plenty of new trends will be born. The meet had a great relaxed and friendly atmosphere to it, and I really hope it becomes a more regular occurrence here.
Gotta give a big thank you to the guys from the StanceWorks UK forum for putting it on and welcoming people to come along and shoot it!
::Daniel Bridle
3 series
,
57S
,
Accuair
,
B5
,
Beetle
,
Ben Bockett
,
Bentley
,
Billy Sutton
,
BMW
,
BMW Style 32
,
BMW Style 5
,
Bora
,
Danie Bridle
,
Daniel Bridle
,
Dodge Calibre steel wheels
,
E36
,
E46
,
FC3S
,
forum
,
GTS-T
,
HavAir
,
homepage
,
Image BPS
,
Low & Slow Family
,
LowLife
,
M-Tech
,
M3
,
Mazda
,
Milton Keynes
,
Mitsubishi Starion wheels
,
Nissan
,
OZ Racing Mito
,
Passat
,
R32
,
rat look
,
Rays Gramlights
,
RH ZW1
,
RX-7
,
Skyline
,
Stanceworks
,
STi
,
stickerbombing
,
Subaru Impreza
,
Touring
,
UK
,
Vauxhall Corsa
,
Vert
,
Volkswagen
,
VW
,
Yakima
---