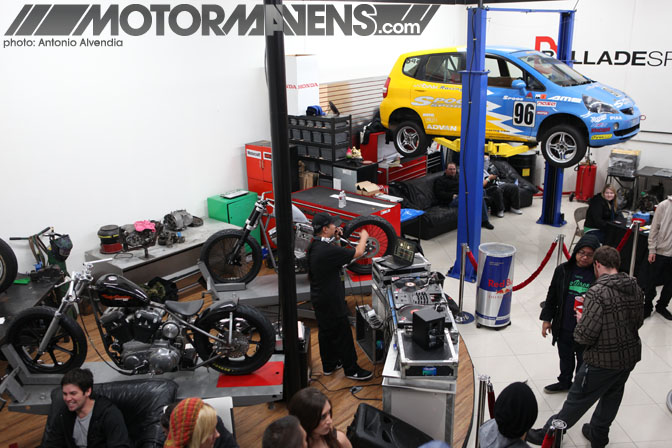 This has been one hectic weekend – it's as if the Southern Cali car events just don't stop, even on the motorsports off-season! This was a weekend of Christmas Parties and get togethers with good friends, but it was also a weekend of really bad weather in Los Angeles – with ridiculous amounts of rain causing car crashes for non-rain trained drivers. It was hydroplane city out there on Southern California freeways, but it still didn't stop people from coming out and packing the hell out of the Flagship Society grand opening event last night!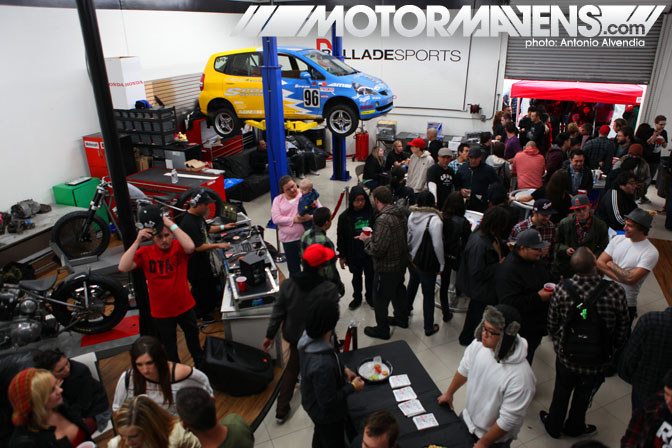 This was only the first official party held at Flagship Society, but when people heard through the grapevine that L-Con founder/fabricator Louie Contreras was working on organizing an event, everyone knew that they better not miss it!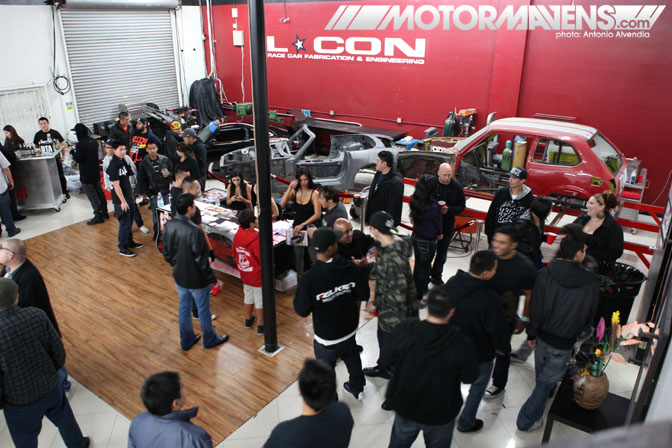 There were lots of people in attendance, so it was pretty tough to find parking outside the shop. There were tons of fresh cars on the streets lining the shop, but it was raining so hard, people weren't really hanging out by the cars. Instead, everyone was having fun inside the shop itself with DJ A1 in the mix, getting everyone to bop their heads and groove as they walked around and checked out the shop with friends. Our good friends from the ItsJDMyo! Blog had a table inside the event, passing out posters, with a bunch of scantily clad Vietnamese coffee shop girls smiling for pictures… and sometimes not.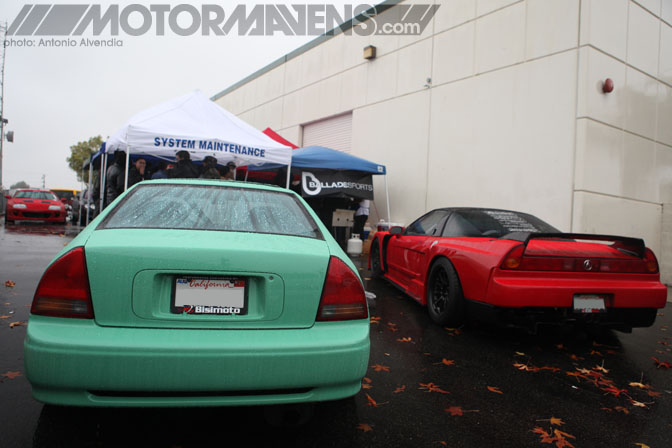 Outside the venue, there were a bunch of fresh cars lining the streets, but I wasn't really too keen on getting my camera soaked to take photos of them. TONS of S2000s were in attendance, braving the inclement weather to come out to this fun gathering of friends.
Up front, we see Big Mike's internet famous Honda Prelude, which has a ridiculously clean engine bay… AND he drives it on the street! In the rain! This isn't some trailer queen… Mike actually rocks it on the street. You might have seen Big Mike's award winning Prelude at the Castrol booth at the MotorMavens Mass Appeal Show at Irwindale Speedway!
Sitting right next to it is Tony Khamly's red widebody NSX, which also was soaking up the rain outside the event, parked right next to the food stands, which were giving out bacon-wrapped hot dogs and tacos to people for free! The food looked and smelled pretty good, but I didn't feel like standing in line underneath the rain-soaked EZ-up tents, so I didn't actually try them. Smelled awesome though!
See the widebody JZA80 Supra in the back of this photo? Brendan's gorgeous widebody JZA80 Supra won an award at Mass Appeal also, because it is just so different and well put together. Keep an eye out for a full feature on this car in the weeks to come!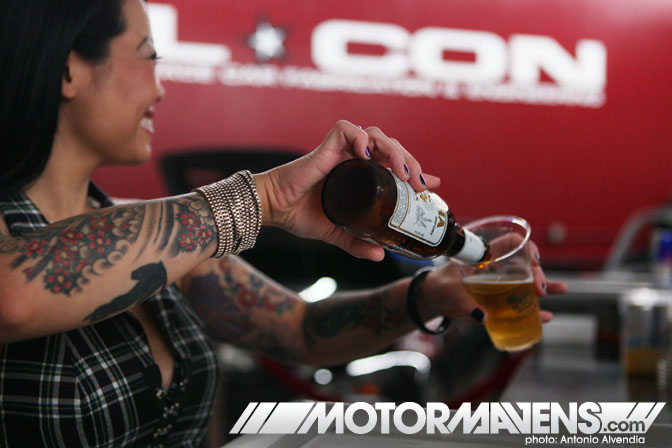 Inside the Flagship Society garage, right next to the L-Con area, where our boy Louie does all his welding and race car chassis fabrication… there was an open bar, with generous bartenders pouring out lots of Singha Beer, RedBull and Vodka to all the event participants. Awesome! They even had soda for the people who didn't want to risk getting a DUI on a rainy day. I think most people risked it though… haha.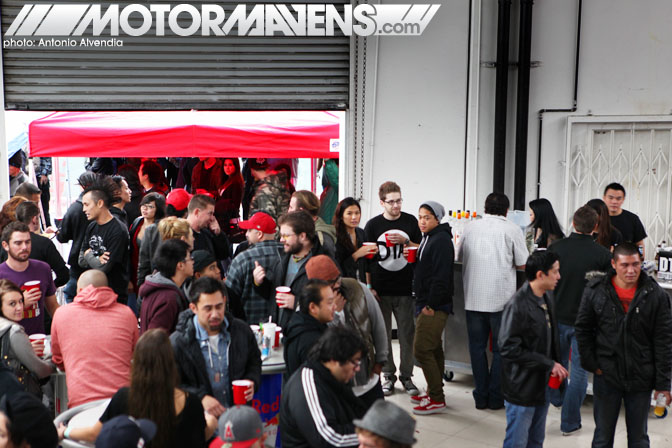 From the bar to the food stands outside, there were a ton of people gathered with their plastic cups…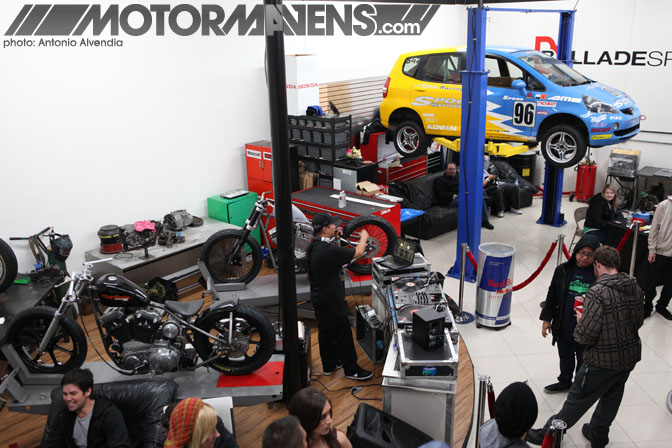 Here's a look at DJ A1 hyping the crowd from the Ballade Sports and Suicide Machine Co section of the garage… I've never seen a hardcore motorcycle fabrication shop that had the shop area sitting on hardwood floors!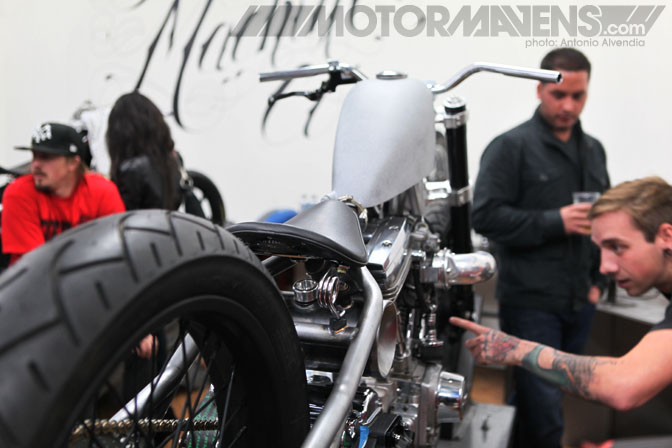 Right across from the L-Con fabrication area was the Suicide Machine Co area, where super dope custom motorcycles get welded and built… on top of super clean hardwood floors. These guys have an amazingly clean shop, but they insist that they do actually work on their projects in these spaces… they're just very clean and meticulous when they do it, so they can come up with the best in automotive art. Anyone taking a close look will be able to verify this to be true.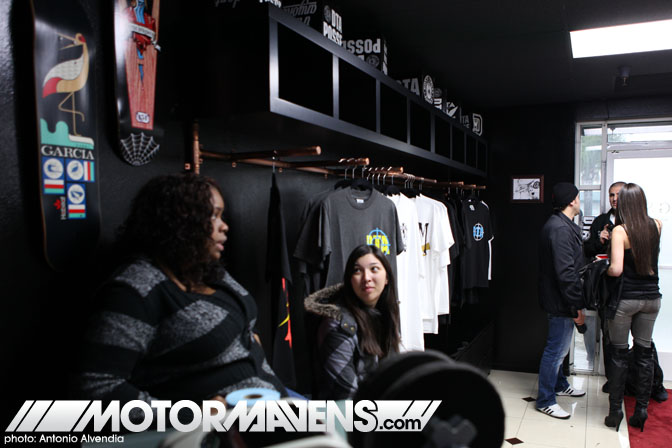 On the other side of the shop, there's a storefront which is accessible from the street. The storefront is actually a car parts, skateboards and clothing shop, selling all the newest wares from the DTA line, from the Rogue Status family.
You gotta see the craftsmanship put into this shop in person. It's dope! From the brazed copper pipe that makes up the clothing racks to the cool looking furniture and display cases… it's nothing short of dope.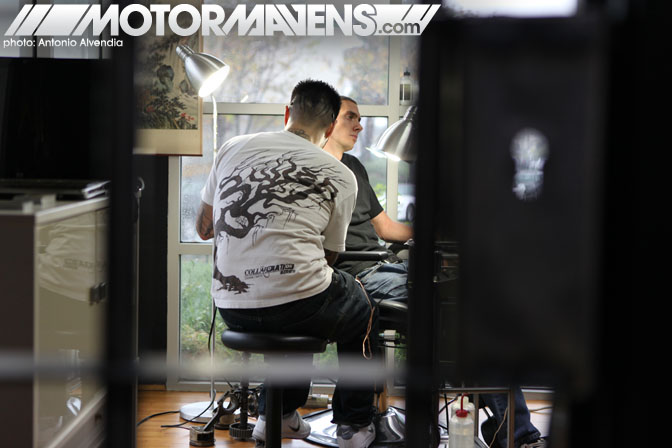 Spin around from where the clothing section is, and you'll find… a jailhouse door that keeps nosy people out of… the tattoo parlor?! Well, you obviously don't want drunk people bumping into the master tattoo artist as he's inking up a customer!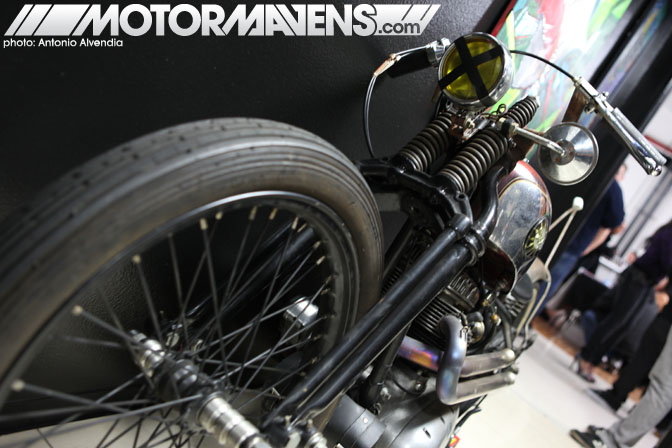 Check out this fresh custom motorcycle sitting in the showroom, next to the tattoo parlor. Dope!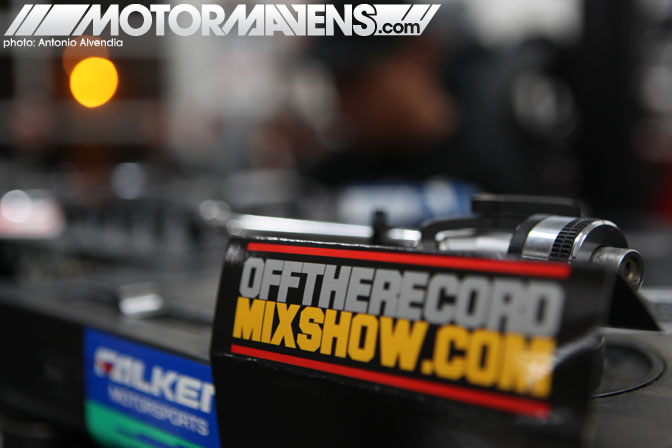 You may or may not know the name DJ A1, but chances are, if you've been to a Formula D event, you've heard his music bumping out of the Eon speakers at the Falken trailer. If you don't want to wait for a Formula D event to hear his hip hop mixes, then you can simply go to this link to listen: www.OFFTHERECORDMIXSHOW.com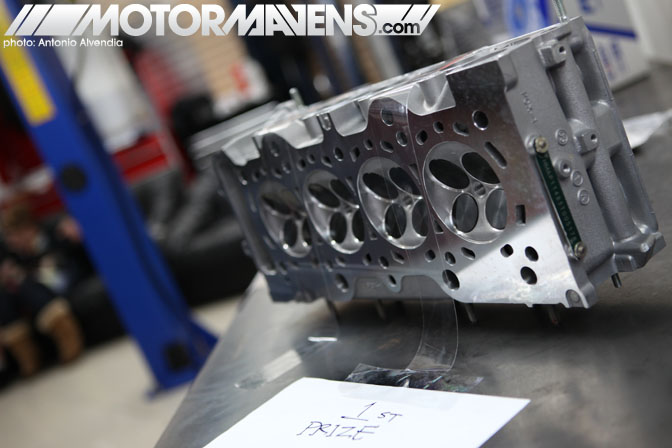 Before I forget, they had several prizes and giveaways at the party… including a ported and polished cylinder head?! Damn!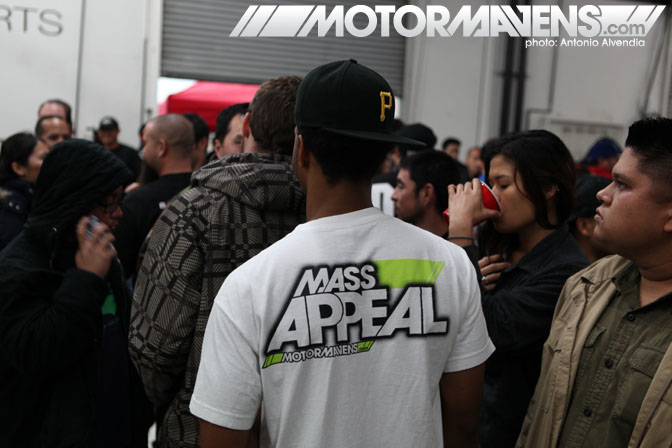 As the afternoon progressed, more and more people started packing into the Flagship Society garage, grooving to the music, with help from the free Singha beer, vodka (I forget the name of the vodka sponsor, I'm sorry…), and Red Bull. So dope!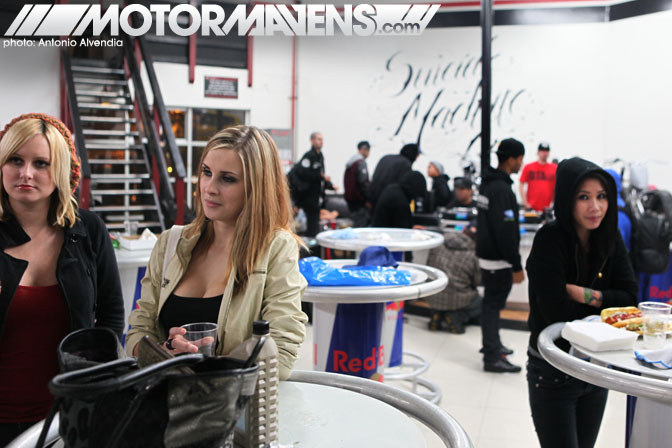 Even at the end of the night, there were plenty of people in attendance, chillin and drinking, having a good time… damn! I need a coupe of those Red Bull tables for the next get together on my rooftop!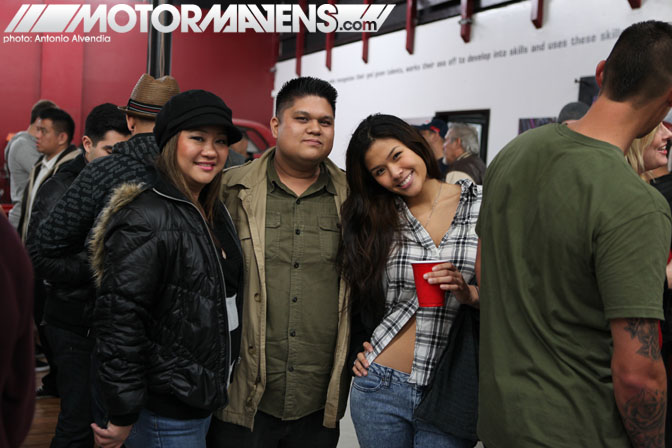 Here's a few of our Orange County friends! Grets and Brian cheese it up with MotorMavenette Samantha. Brian is a hardcore Toyota guy. He used to work for TRD, and not surprisingly, has a bunch of Toyota vehicles inside and outside of his garage… JZA70 and JZA80 Supras, JZA70 Soapra (Supra with Soarer front – it's like the Toyota equivalent of a Sileighty), KP61 Starlet, AE86 Corollas, AE82 FX-16 GT-Z Supercharged, JZS161 Lexus GS, and the list goes on…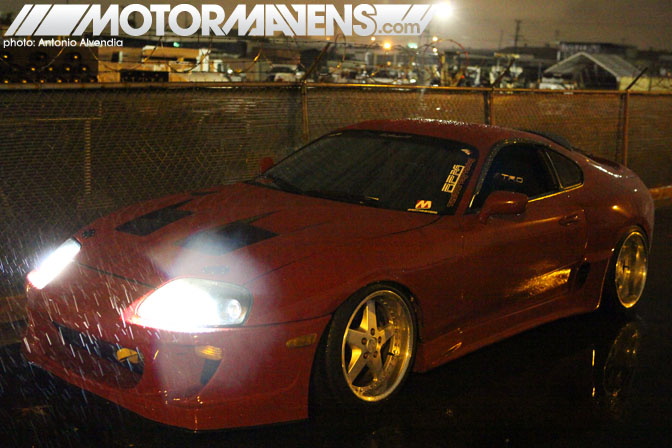 Speaking of JZA80 Supra, here's a quick snapshot of Brendan's super sick Supra outside, as he was getting ready to drive it home.
Sitting on one of the lifts on the L-Con garage… check out this Honda CVCC… with a tube frame?!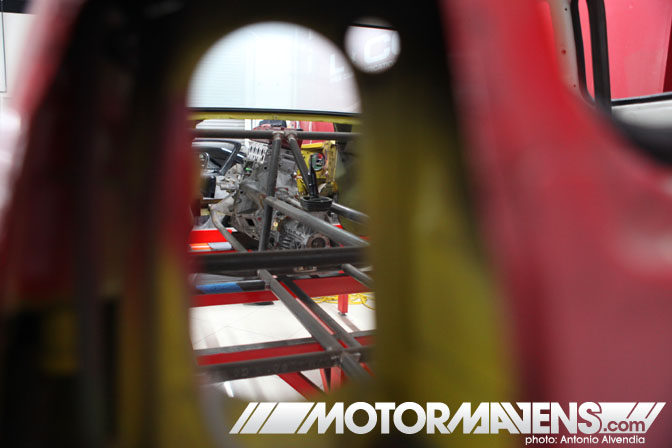 Looking through one of the body holes, I spy… a FR mounted S2000 engine! WOW. What?!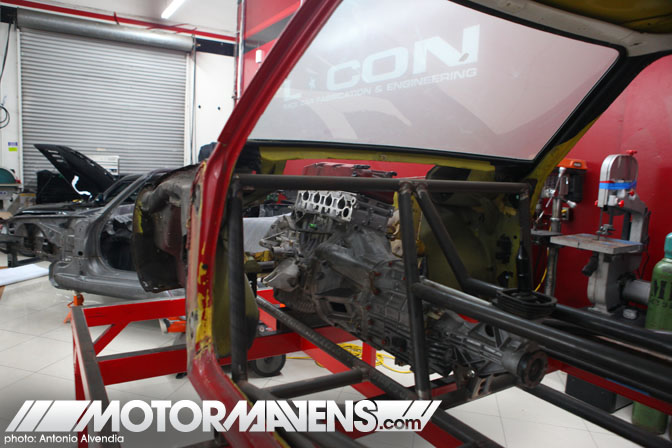 Yup, that is correct. Look at this thing! This thing will probably be crazy on the racetrack, but speaking to the owner, he told me that it's actually going to be a street car. A STREET CAR. What?!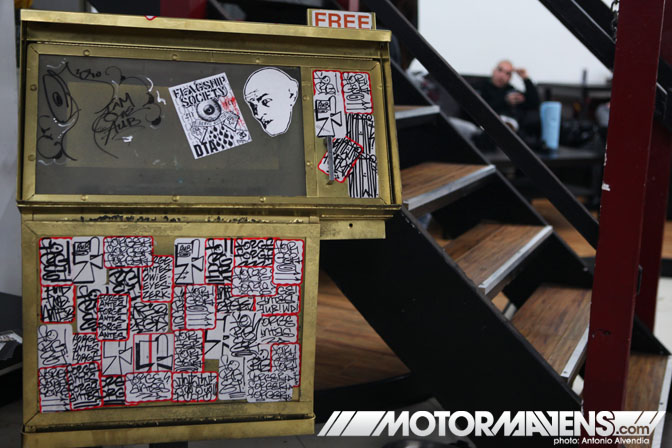 I asked if I could take a photo, but he insisted that he doesn't want to appear in any photos. I guess some people like to keep it low key like seashells. There he is in the background… but have a look at this dope gold-and-graf laden newpaper rack. I want one!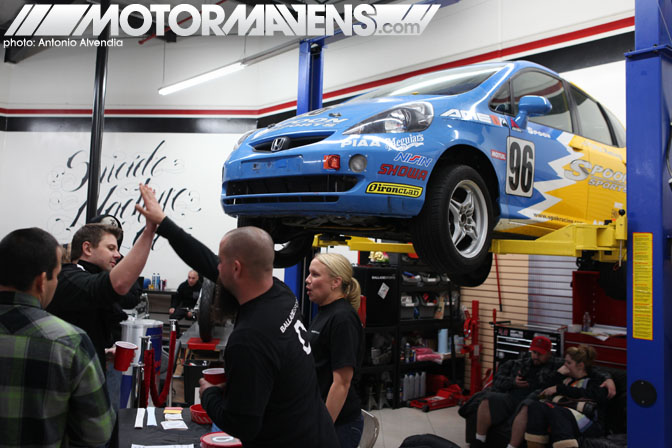 Here's the garage area of the Ballade Sports crew again. Ballade handles all the shop's engine building, porting, polishing, and blueprinting. Again, I just can't believe how immaculately clean this shop is… not to mention stylish!
If you want to check it out for yourself, make your way to the following address!
FLAG SHIP SOCIETY
13851 A Better Way, Suite 11D
Garden Grove, CA
:: Antonio Alvendia
---