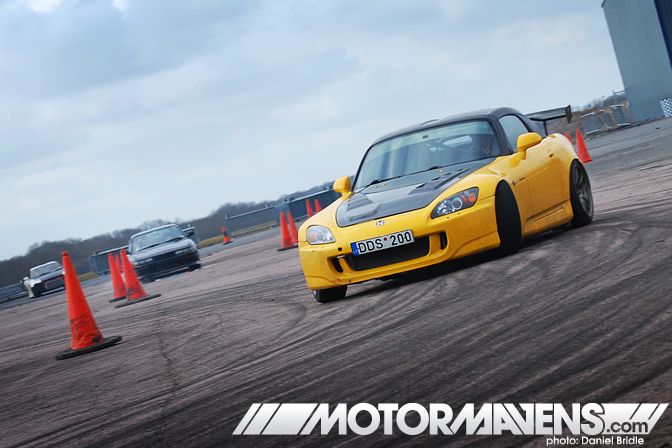 Santa Pod Raceway in Northamptonshire, England is home to one of the most famous drag strips in the world, where records have been broken and legends have been made. Now it is also home to one of the most popular practice days for drifting in the UK. Drift What Ya Brung (or DWYB for short) officially started in 2007 to provide a safe place off the streets for drifters to practice their skills and for beginners to learn the art of drifting without fear of the deadly kerb dragon or getting in trouble with the police. The whole emphasis at DWYB is to have fun drifting and get plenty of seat time to build up your skills!
The drift area itself is in a fairly large plot of land on the left side of the drag strip, and is split up into five tracks, ranging from a larger "main track" for more experienced drifters (which is based on the 2008 European Drift Championship layout), a smaller "kidney track" which is set up for practicing transitions, and finally, there are 3 small "play pens" for practicing donuts, figure 8s, etc. There's also a make shift pit area for people to change tyres and work on their cars. Mint Tyres is always on hand to provide tire support for the drivers; they will fit tyres at very good prices to keep you on the track all day, and Sue's Cafe makes AWESOME cheese and bacon burgers to fill the appetites of hungry drifters.
DWYB also happens to be where I started out photographing drifting and the culture that surrounds it… so I headed up last weekend to catch up with some friends, have a lot of fun and bring back a few photos to shed some light on grassroots drifting in the UK for you Motor Mavens readers!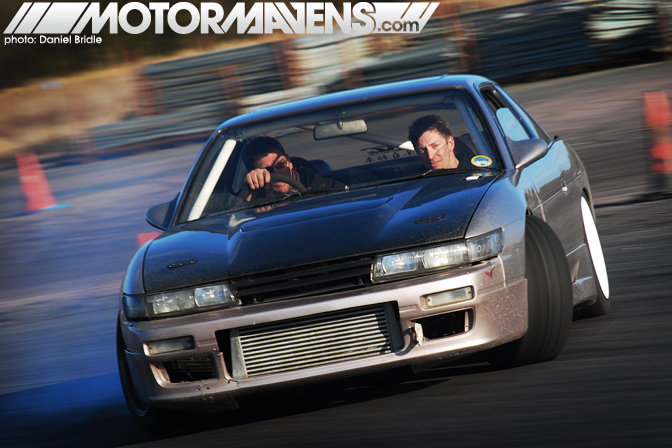 You'll usually meet Lex, the man behind DWYB, at the famous drivers briefing, where he cites the main rule of DWYB, "Don't be a twat."
After that, you'll often find him in a situation much like this one. Driving someone's car, such as this lovely PS13, showing the owner (who had a bit of a worried look on his face) a few pointers out on the big track. Lex has been part of the drift scene since it first came over to the UK and helped organise GT Battle back in 2005, which was first large scale drift and time attack event in the UK. It was also the first time Japanese drivers Ken Nomura and Yasuyuki Kazama came over to put a demo on promoting the D1 Grand Prix UK exhibition match that would happen later on in the year.
During the build up to GT Battle, Lex organised drift demos at a few Santa Pod carshows to promote the event and also to try and broker a deal with the bosses at Santa Pod to allow drift practice days there. The GT Battle event came and passed, and it wasn't until after 2 years of continuous asking and more demos that Lex finally got the chance to hold drift days at Santa Pod. Since then, DWYB has been growing bigger and bigger every year – from having just 6 drivers at the first practice day to a record breaking 76 drivers in January, making it the biggest drift day ever in the UK!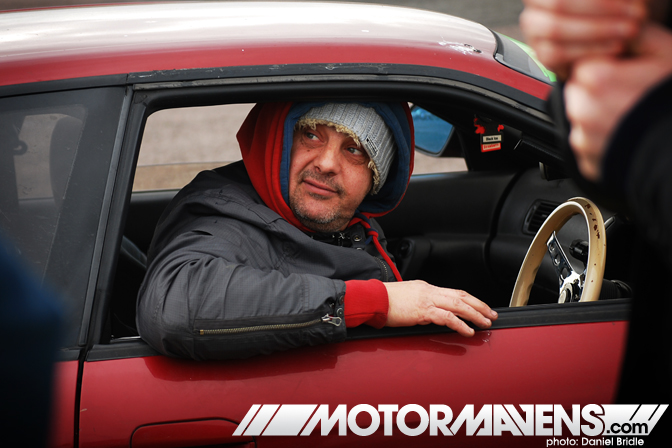 There's always a great friendly and chilled atmosphere to DWYB as well. More experienced drifters and marshals are always there to help out beginners with advice and fixing problems with their cars.
You might be wondering who the guy in the photo is – well, he's Mr. Nick, one of the old school drifters in the UK scene, who runs a "drift experience company" called Drift Racing. He's also known for his famous white A31 Nissan Cefiro that I think pretty much everyone has driven. I wish he'd brought it up so I could have got a shot of it as it's the epitome of a used and abused drift car, haha.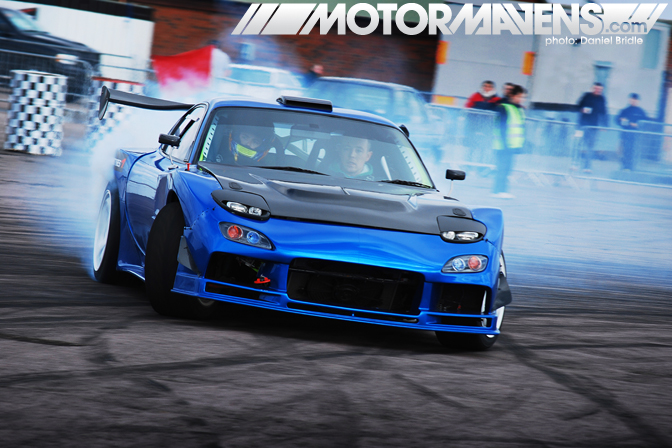 One of the things I've always loved about going to DWYB is you never know who or what you're going to see there – if you look carefully, you might see wide arched, LS3 v8 powered, pro spec FD3S RX7s growling out of the exit on the final corner!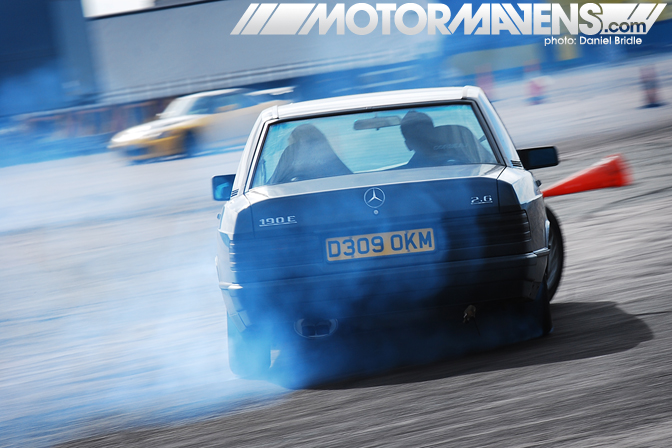 You might even see an old Mercedes-Benz 190E with cut springs and a welded diff flying past you! It's awesome seeing so many different cars being used these days. Most of the time it's the usual Japanese cars like S13s, S14s and various Skylines, but there are always a few BMWs, Volvos and even old Fords that turn up!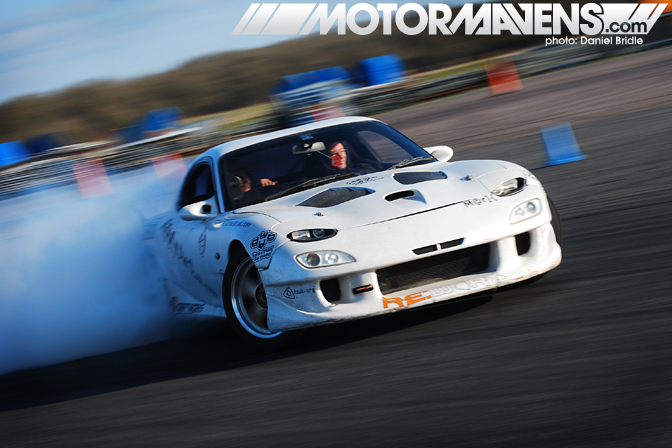 I walked up to the small area behind the wall on the first corner, which is a fantastic spectator spot, as the more experienced drifters tend to enter early with big entries, so by the time they come past you they're almost facing you head on at speeds of up to 70-80mph. You get a great sense of speed from here and you can look out over all the track easily. This FD3S RX-7 from the FD:UK drift team was one of the many FDs that turned up on the day. It sounded amazing and put down a ton of smoke!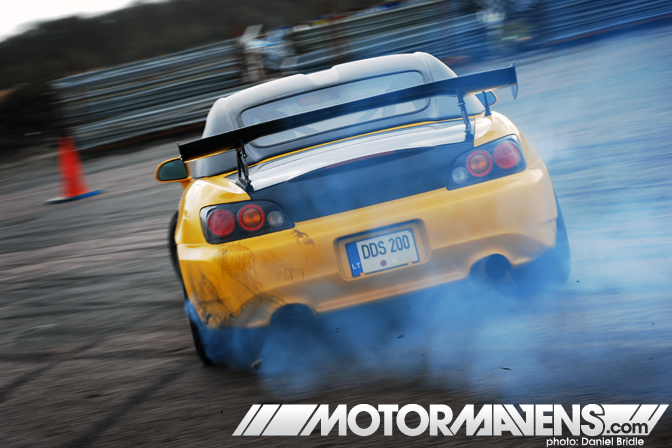 The owner of this S2000 is a bit of a regular to DWYB. I've seen the car a few times before, but I still find it weird seeing a Honda S2000 being drifted; let alone as hard as this guy does! He gives it hell! What's even more unusual is the fact it's a left hand drive S2000 from Lithuania, and it's running a crazy turbo set up, putting out over 400BHP!
One of the marshals, Chris, hooked me up with a passenger ride for a couple of laps. It was the first time I've ever been in a LHD car, and frankly it felt really weird sitting as a passenger on the right side. I dunno how those guys in the US do it!
As I rode in the car, my mind was more preoccupied with trying to find something to hold onto while being pinned back in my seat as we launched up the main straight. With the turbo coming onto full boost and VTEC kicking in, things were starting to get crazy fast. With a quick clutch kick, the back end snapped out, and the calm and collected Lithuanian in the driver seat let the wheel slip through his hands, holding it at just the right point to keep the car at a nice high angle as we slid past the wall on the first corner; then spinning the wheel in the other direction, transitioned the car into the long left hand sweeper. He nailed the throttle and the whole car hunkered down and the engine screamed in some sort of turbocharged VTEC frenzy as we drifted through the turn. The digital speedo and rev counter had no idea what was going on, and probably just chucked out random numbers! Hell, I didn't even know what was going on as I sat there. All I do know is that I had a grin on my face from ear to ear by the end of it, and now I want an S2000. Badly.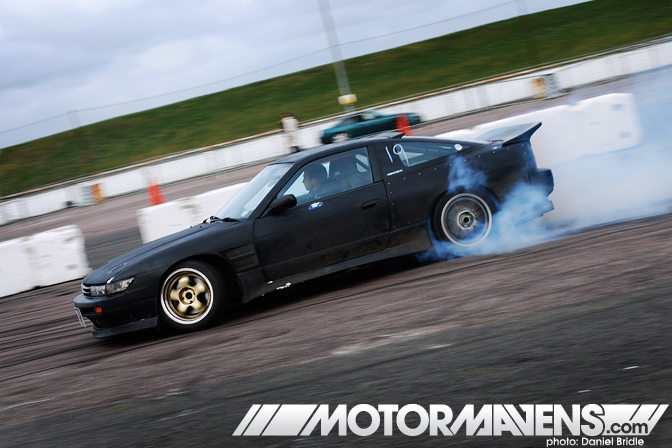 This RPS13 Sileighty was another of my favourite cars of the day. Sure, it's battered and covered in scrapes; sure it's matte black; sure it's been cleaned about (maybe) once in its life, but to me, it was full of character and presence. The guy driving it was also killing it on pretty much every run he did; big angle entries and really consistent driving made him great to watch all day! Props!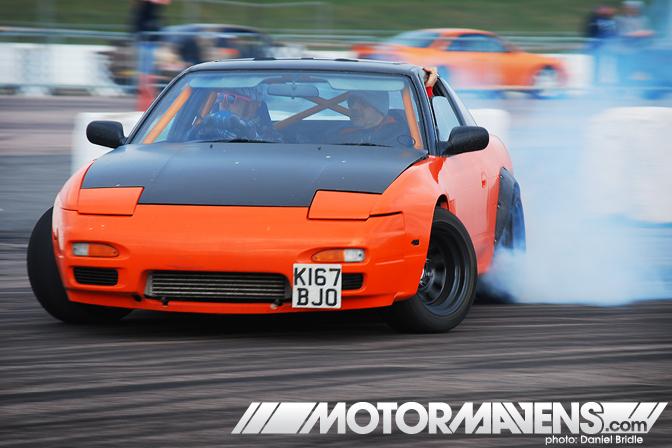 Sid Crowfoot was there at the track, getting to grips with his new S13. Some of you might remember his dope metallic orange JZX90 Toyota Cresta he drove at the Wembley round of JDM Allstars last year. Sadly, he had to sell it and get something cheaper to drift, so here's his latest weapon. It's currently running an RB25 which seems to be putting a fair amount of power; it's certainly fast enough! It has a full cage and a lot of the usual parts you expect to see on a car set up for drifting.
Unfortunately he's had a few issues with it, especially suspension wise. The settings on his European "Apex" coilovers (not the Japanese Apex'i brand) were RIDICULOUSLY STIFF for some reason. I went out for a couple of laps with him and the car was finding huge bumps in the track surface that I didn't even know existed. I was almost crying with laughter most of the time as we were bouncing up and down out of our chairs, nearly hitting our heads on the roof!
Later on during the day after a series of mechanical issues the head gasket went. I'm not sure what the plan is next for the engine; whether he'll get a new head gasket or put in a new engine… we'll just have to wait and see. Issues aside, it's a truly hardcore drift car and I wish him the best of luck with it and hope he irons out any problems he has.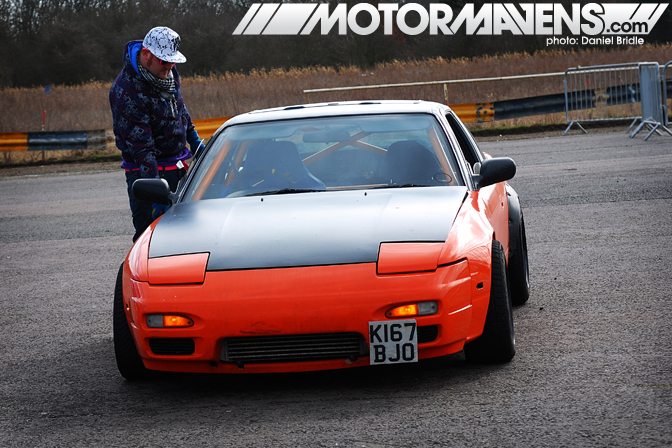 The car is also in for a visual overhaul soon. Sid's cars have always stood out in the UK drift scene and this will be no exception. The 15x8J ET-8 Jeep wheels are staying, but the car will be running JUN style overfenders all round, with a full Vertex kit and the whole car sprayed black. I have a feeling it's going to look great!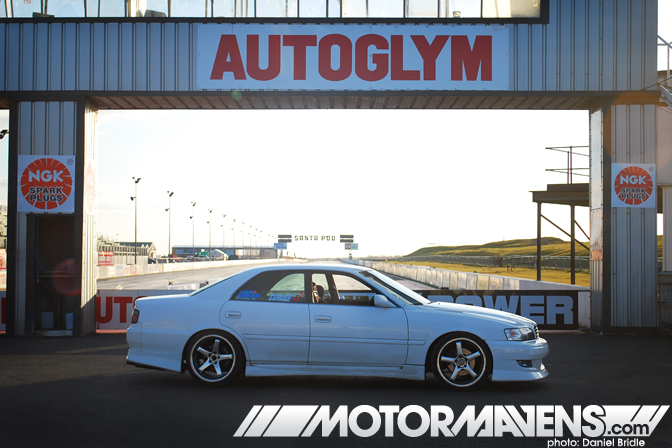 After a long but great day at DWYB, my good friend Belinda and I started to head back home, but we couldn't resist grabbing a quick shot of the car we were driving in front of the famous drag strip. This JZX100 Toyota Chaser belongs to her partner Julian Smith, who runs Garage-D (the most well known drift specialist garage in Europe) and is the latest addition to his amazing collection of drift cars. JZX100s are very rare in this country, and it was the first time I've ever seen one in person, let alone sit in one. It's absolutely awesome! So comfy and fast, and the 1JZGTE VVT engine is silky smooth and sounds so gorgeous.
I can't wait to come back when the weather's a bit warmer; with the new DWYB competiton starting in April, it'll be even more fun! At the end of each day, a small competition will be held to give drivers a taste of competitive drifting without having to spend thousands on getting their cars up to regulations with cages and fire extinguishers. To keep things simple and accident free, twin battles won't be happening. Drivers will be sent out to do one full judged run of the track, then whoever has the highest score at the end of the day wins. Simple and fun!
The grassroots scene in the UK is getting bigger all the time, and thanks to DWYB, new drivers will always have somewhere to learn safely. In fact, I hope to practice drifting there in a year or two myself!
::Daniel Bridle
200SX
,
Avon Bellamy
,
Chaser
,
Daniel Bridle
,
Drift Racing
,
Drift What Ya Brung
,
drifting
,
DWYB
,
FD3S
,
Garage-D
,
grassroots
,
GT Battle
,
Honda
,
Honda S2000
,
JDM Allstars
,
JZX100
,
Ken Nomura
,
Kerb Dragon
,
Mazda
,
Mercedes Benz
,
Mercedez Benz
,
Mint Tyres
,
Nissan
,
PS13
,
RX-7
,
S13
,
S2000
,
Santa Pod
,
Sid Crowfoot
,
Sileighty
,
Silvia
,
Sue's Cafe
,
Toyota
,
UK
,
VTEC
,
Yasuyuki Kazama
---