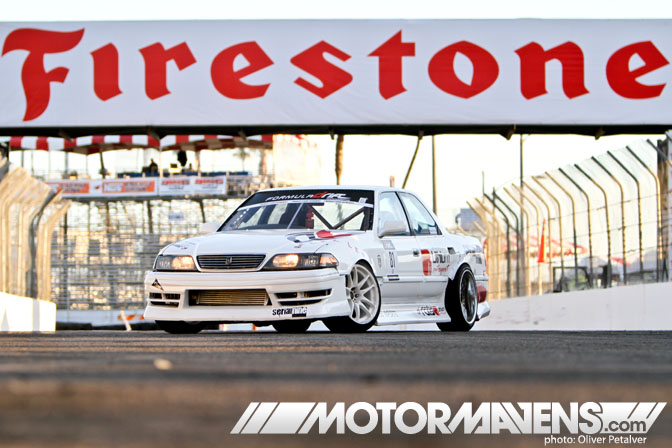 The lesser-told stories of Formula Drift involve the homegrown teams and drivers who work their way up the rankings at grassroots and ProAm events to get the opportunity to pour out their own blood, sweat (and money) to face the best professional drifters in America. They represent the spirit of the sport.
In the spirit of representing the spirit of the sport (say that three times fast!), rookie Formula D driver Alex Lee came all the way down from Calgary, Alberta, Canada to debut his Driftmania Canadian Championship (DMCC) West winning 1990 Toyota Cresta at Long Beach! And he certainly did it with a bang!
"As a Canadian, stepping up to Formula D hasn't been the easiest road," Alex says. "Coming into Long Beach I had no idea what to expect having never attended a FD event before.  I thought the drivers might be all 'Hollywood' and uptight but the reality is coming into the event everyone is respectful and super chill.  Most people were just stoked that I brought a big sedan out."
Alex's Cresta is loaded with all kinds of goodies-everything from a turbocharged 1JZGTE from Japan to full Serial Nine suspension rolling on Gravity GullFlame wheels! It even has a Canadian custom breaker bar hydro e-brake. This is truly the sort of car that we love to see in drifting!
This car started out as the dream of the five members of Alex Lee Drift who had the grassroots-drift inspired passion and perseverance to drive 45 hours to Southern California (on a shoe string budget) to show us Americans some Canadian mojo. Ironically, they were almost unable to make it to Long Beach because they got snowed in two days prior at a team fundraiser event to raise money for the trip.
"Despite the blizzard that brought two feet of snow the night before we had to leave, tons of people showed up at Lithium Autosport," Alex says.  "I was just hoping that we didn't miss anything on the car and that tech would go smoothly when we finally arrived."
As they rolled up to tech day in the stinky quad-cab Dodge that slept three of the team for the entire road trip, Alex and crew were some of the first on-site at Long Beach way off in Formula D rookie pits. Their journey got even more complicated when they learned they didn't bring Formula D regulation tires for the event.
"Everything was going awesome, we passed tech but suddenly we had this big tire problem to sort out.  It was the very end of the day before qualifying the next morning and here we were without any legal tire to run on," Alex recalls.  "The next morning we show up to the track and John Shin from City Tire Online has this big stack of brand new Nexen Tires for us.  Alex Pfeiffer with Megan Racing let us use his own personal tire machine and suddenly we were back in it.  I was floored with the amount of support we got down there."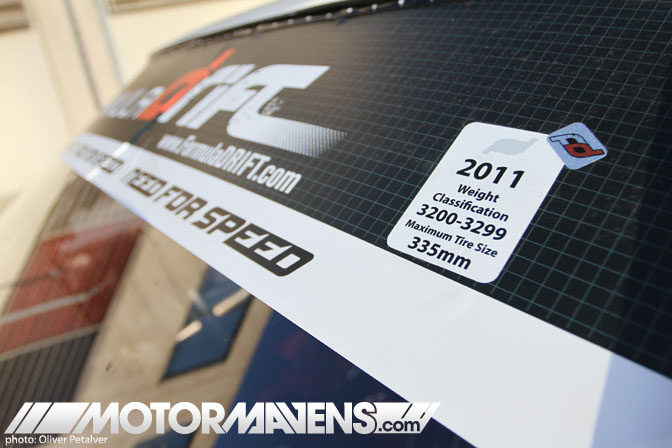 As most of you know, Formula D has been evolving professionally over the years and a large part of that evolution involves an ever growing list of regulations designed to "even the playing field" in a sport where an AE86 can go head to head with Ford Mustang behemoths and 700 HP V8s. This can't be easy. In light of that evolution, the newest adaptation on the list is the weight to tire size rule. This simply means that the heavier the car, the bigger the tire it can run. Since this Cresta happens to be the heaviest car in FD, it can run a 335mm tire with ease as compared to most V8 powered cars in the series which are limited to 265mm.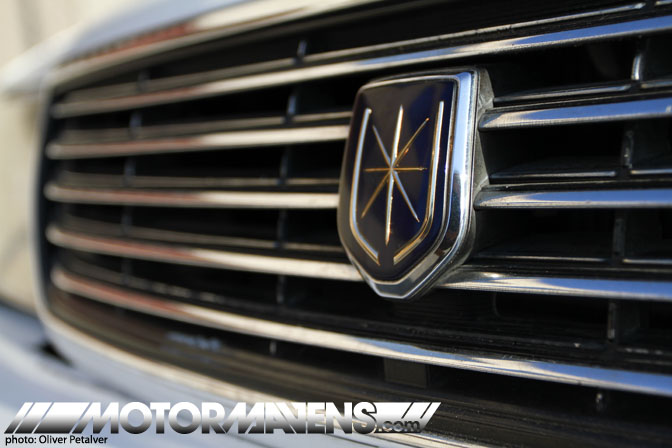 This Cresta has a JZX100 front clip with BN Sports aero along with R32 rear blister fenders to help with the staggered fitment. This sure looked sick while being thrown sideways down the streets of Long Beach.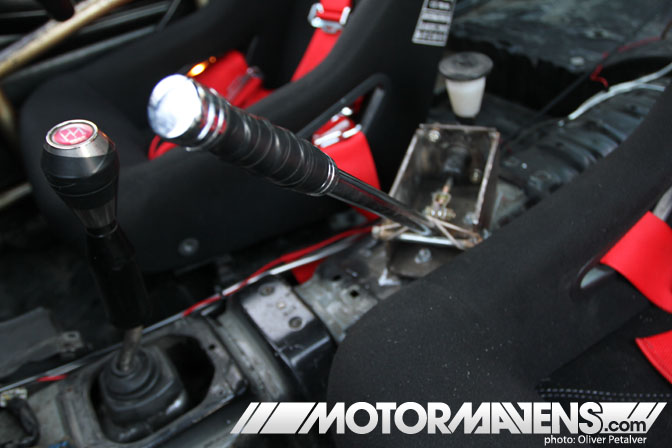 The "Canadian street style" E-brake stands out the most to me. This just shows the style and personality this Calgary team has – not to mention the true grassroots look of the rubber band return for the action of the breaker bar.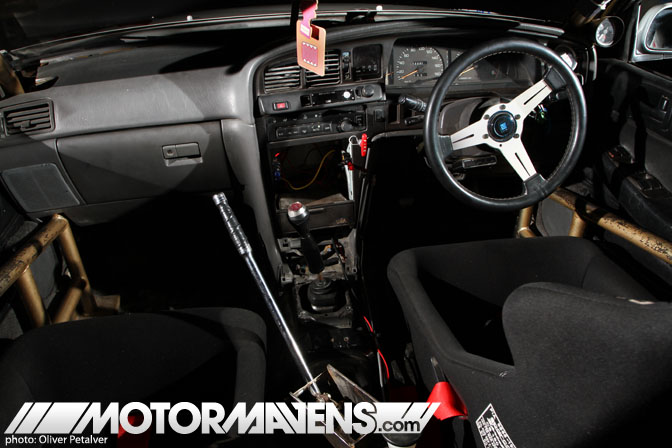 The Nardi Classic 360 steering wheel (and possibly even the Dōmo-Kun air freshener) is reminiscent of cars from the early days of drifting.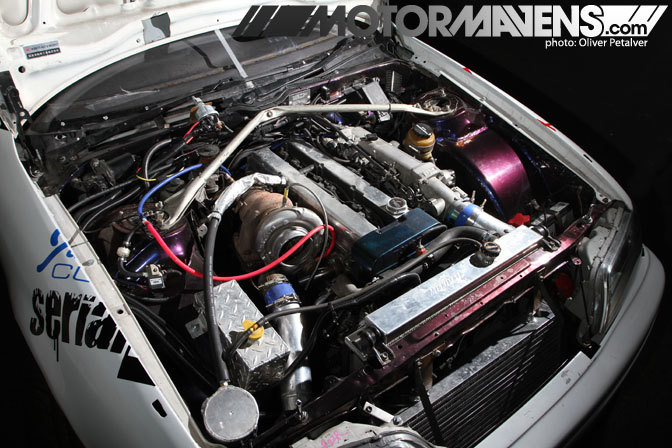 Here are the specs of the car's set up:
Engine
1JZ-GTE with Holset HE351 CW
HKS F-Con V-Pro
Brian Crower 264º in/ex Cams
Drivetrain
R154 Transmission
ACT Clutch
Kaaz 2-Way LSD
Suspension
SerialNine Coilovers
SerialNine Subframe bushings
SerialNine Rear adjustable links
SerialNine Tension Rods
H-Eng Steering Knuckles
Custom Control Arms
Brakes
R32 Front Calipers
Hawk HP +Pads
Stainless Brake Lines
Custom Dual Rear Caliper E-brake
Wheels
18X9.5 Work Emotion CR-Kai
18X9.5 Gravity GullFlame
Safety
FD Legal 6 point Roll-Cage
Sparco Sprint5 Seats
RCI Harnesses
Body
BN Sport Aero
JZX100 Front Clip
R32 Skyline +30mm Rear Blister Fenders
Vinyl by Betacuts and 403 Vinyls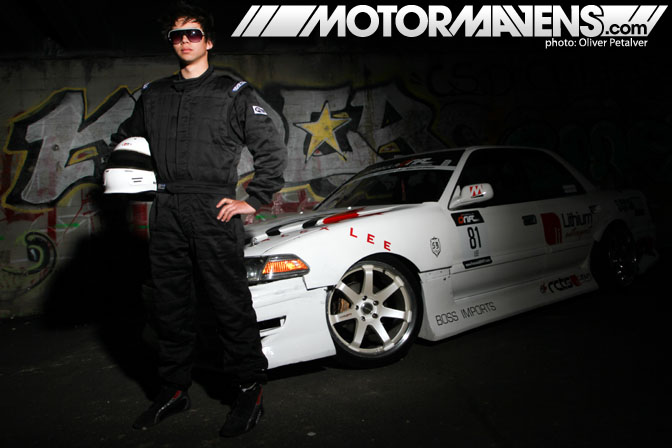 Alex Lee ripped hard in that old weekend warrior Cresta, throwing down sick on cue runs and all in qualifying. After a rather conservative 1st qualifying run to make sure it was clean, boost problems crippled the 1JZ placing them 34/44 – right under Toshiki Yoshioka and Vaughn Gittin Jr, out of qualifying.  With plans to ditch 1JZ for a built 2JZ, Alex Lee and his team intend to return to Formula D bigger and better than ever to hold it down for Calgary and all of the JZX drivers in Canada and worldwide.
We can not wait to see what lies in the future for this dope JZX81 Cresta and the rookie Formula D team- Alex Lee Drift. We at MotorMavens wish them the best, and hope that they can grab some sponsorship to get them to more events. Expect to see more of them at Evergreen Speedway for Round 5 in Formula D. Alex Lee would like to thank: Lithium Autosport, SerialNine, RCTS, Togo Tire, Jackrabbit Custom, DriftMotion, Boss Imports, SpeedTech, Betacuts, 403 Vinyls, and all his friends and family that helped him get to Formula D Round 1.
To keep up with Alex Lee Drift, be sure to check them out on FaceBook, Twitter , or just on their website at www.alexleedrift.com
:: Jack Reynolds
1JZ
,
2JZ-GT40
,
Alex Lee
,
Alex Lee Drift
,
Breaker Bar
,
Calgary Drift
,
CANADA DRIFT
,
Canadian Drifting
,
Cresta
,
Dave Vickers
,
DMCC WEST
,
Driftmania Canadian Championship
,
Formula Drift
,
Gravity Gullflame
,
homepage
,
Jack Reynolds
,
jdm
,
JZX100
,
JZX81
,
LITHIUM AUTOSPORT
,
Long Beach
,
Mark II
,
MotorMavens
,
Oliver Petalver
,
Serial Nine
,
Toyota
---