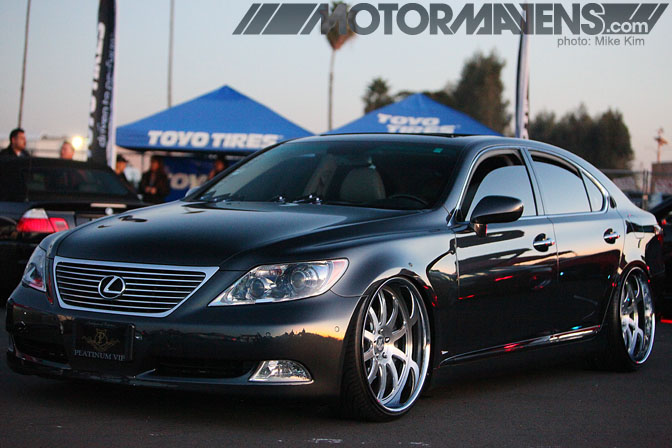 AutoCon
2011 turned out to be a pretty fun show - it has grown quite a bit since the last show they had. I drove all the way down from LA to
El Toro Airbase
in Irvine, CA so that I could start shooting the carshow
roll-in
at 10am, but they didn't allow any media to enter the show until 12pm! This definitely put a damper on my plans, because the rest of the normal spectators would be entering the venue at the same time as media. The scheduling issue left me pretty disappointed to be honest, since my original plan was to shoot roll-in and staging before the large crowds showed up, then meet up with
Antonio Alvendia
and
Oliver Petalver
at
Irwindale Speedway
. I didn't make it out to Irwindale because of the scheduling mix-up, but I still enjoyed the rest of the day at the show. This event looks like it's getting bigger and bigger!
Read more...
---
---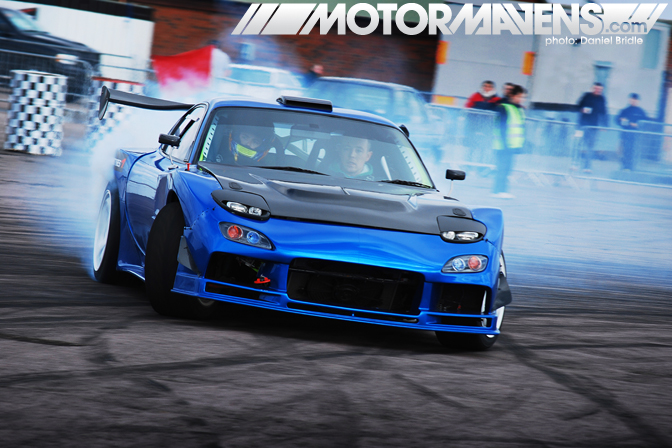 Santa Pod Raceway
in
Northamptonshire, England
is home to one of the most famous drag strips in the world, where records have been broken and legends have been made. Now it is also home to one of the most popular practice days for drifting in the UK.
Drift What Ya Brung
(or
DWYB
for short) officially started in 2007 to provide a safe place off the streets for drifters to practice their skills and for beginners to learn the art of drifting without fear of
the deadly kerb dragon
or getting in trouble with the police. The whole emphasis at DWYB is to
have fun drifting
and get plenty of seat time to build up your skills!
The drift area itself is in a fairly large plot of land on the left side of the drag strip, and is split up into five tracks, ranging from a larger "main track" for more experienced drifters (which is based on the 2008 European Drift Championship layout), a smaller "kidney track" which is set up for practicing transitions, and finally, there are 3 small "play pens" for practicing donuts, figure 8s, etc. There's also a make shift pit area for people to change tyres and work on their cars.
Mint Tyres
is always on hand to provide tire support for the drivers; they will fit tyres at very good prices to keep you on the track all day, and
Sue's Cafe
makes AWESOME cheese and bacon burgers to fill the appetites of hungry drifters.
DWYB also happens to be where I started out photographing drifting and the culture that surrounds it... so I headed up last weekend to catch up with some friends, have a lot of fun and bring back a few photos to shed some light on grassroots drifting in the UK for you Motor Mavens readers!
Read more...
---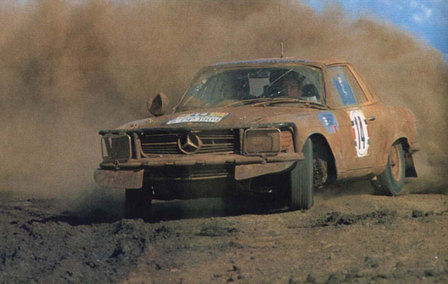 There is something about this photo that appeals to me. Surely the creators of the Mercedes Benz SLC 500 never pondered it's potential as a rally machine, but here she is – caked in grime, looking right at home sliding through the mud! I like the juxtaposition of a luxury symbol racing through the filthiest of conditions. Perhaps I feel a connection with this photo because of my passion for BMW drifting.
Regardless, you can't deny that the brush guard, cracked windshield, and soiled decor prove that this car is strictly business… and according to this snapshot, business is good!
:: Andy Sapp
---
I was just surfing around on Facebook right now and found this Deutsche Tourenwagen Meisterschaft (DTM) video, posted by a guy named Samuel Oune. I had the privilege to attend a DTM race at Nurburgring last summer… but as exciting and fun as it was, it was nothing like this! Just look at the Mercedes Benzes flying through the air!!! A W E S O M E.
Aside from me, who wants a Mercedes Benz 190E 2.3 16valve and an E30 M3 now?!
:: Antonio Alvendia
---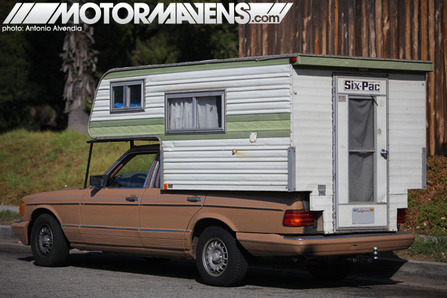 I was rolling through the San Fernando Valley today with the newest member of the Motor Mavens Crew, Edward Uche, when I spotted this parked on the street. WTF?!
Do you think this car might have been a reject from a lost episode of Pimp my Ride? Because like… remember when they were asked to restore an FJ40 Toyota Land Cruiser, and then the brilliant "car customizers" on the show decided to put wood flooring and a FISH TANK in it?
Well I think the owner of this old school Mercedes Benz must have told the people pimping his ride something like, "I'm not quite sure what type of mods I'd like done to my Benz. I do like sleepers though." Well apparently, the ride pimpers must not have exactly understood the meaning of SLEEPER. Lol.
FAIL.
:: Antonio Alvendia
---