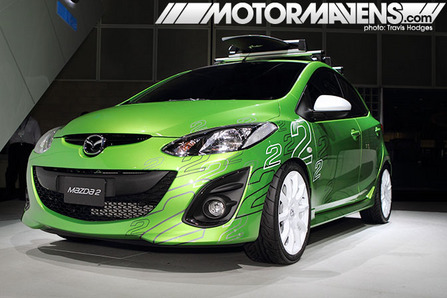 After being exposed to the curvy sexiness of the Mercedes SLS AMG Gullwing, the cutting-edge science and incredible power of the Audi e-Tron, and the crisp, German-engineered precision of the Porsche Boxster Spyder, I'm sure some of you are thinking "The Mazda 2?!" Well, yeah…that's right. We said it – the Mazda 2.
Sure, the 2 might seem like a let-down compared to supercars like the LFA and the SLS but, let's keep it real, how many of you have the solid-gold wheelbarrow filled with diamonds and rubies that they're asking as a down payment for one of those America's Next Top Model magnets? It's like buying a Picasso. You just can't nail it up on your living room wall (perish the thought!). No. Protocol requires that you buy a freakin' museum to display it. Do you have a museum? I didn't think so.
So, being the Motor Mavens that we are, we figured we'd throw in a "real" car to talk you guys in off the ledge. We believe (in the immortal words of the bard, R. Kelly) that you can fly – but we figured you might just want to drive first.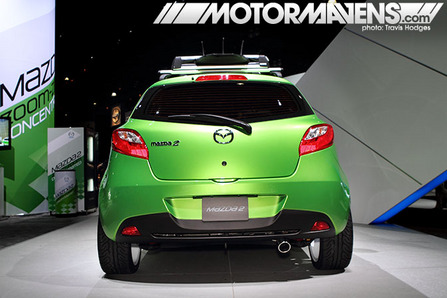 This particular "real" car is the five door version of the Mazda 2, which was really like deja vu for me because I kept getting that sneaking suspicion that I had seen this car somewhere before. Then it hit me! I saw it featured in a magazine – this was the spittin' image of the European Ford Fiesta. Cool! "Why, cool?" you might be asking. I'll tell you. I remember reading the Ford Fiesta feature and thinking "Great price, great mileage, and rave reviews of the ride quality – dope! When's it coming?" Only to read a little farther and find the answer – probably never. Ford makes a decent small car but it saves the best for overseas?! It's bad enough we can't get the dopest foreign cars here in the US but even our domestic automakers are leaving us out?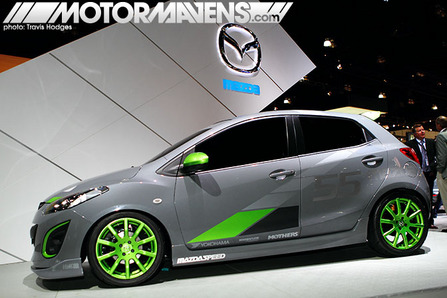 So, here's this Mazda 2 (the one pictured above is reminding me of Ken Gushi's Scion tC) and it's built on the same DE platform as the Fiesta. It's positioned to compete with the Fits and Yarises (Yarae?) of the world but it's designed to drive like the Miata (MX-5) – a cult classic for go-kart level fun.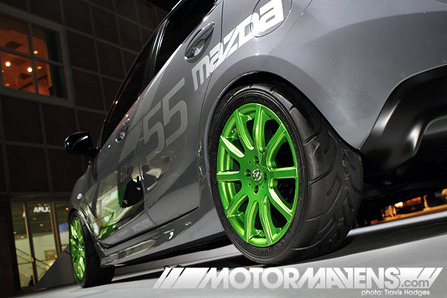 Looking at the metallic gray with electric lime wheels and accents makes me wonder how this car would look lowered, flared, and offset – with a new set of shoes? I sense potential dopeness. Really.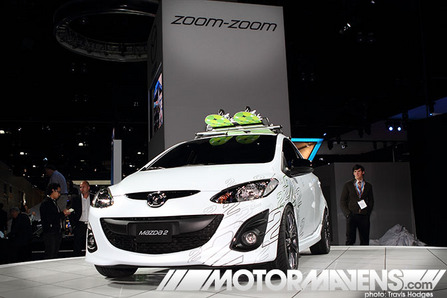 So – let's recap. Mazda's bringing us some new zoom-zoom with go-kart driveability coupled with Yaris fuel efficiency and room enough for the peeps (or your family). Do you really think you'll need that solid-gold wheelbarrow to get it? Not unless you've got one laying around and you want to stick $14K in it and roll it on down to the dealership. I would advise against that, BTW.
Listen. Maybe you're reading this and then gazing at the LF-A poster on your wall – you're reading and you're gazing – reading and gazing. I know you love her – she's beautiful. Who could blame you? But, dude – she's waayy out of your league. One day – maybe. But today…take this advice from Billy Preston (who inspired Stephen Stills to write a song about it): "If you can't be with the one you love, love the one you're with."
::Avon Bellamy
Photos by Travis Hodges
2011
,
7D
,
Avon Bellamy
,
Canon
,
Canon 7D
,
Car Show
,
DE platform
,
Ford Fiesta
,
LA
,
LA Car Show
,
Mazda
,
Mazda 2
,
Snow
,
Surf
,
Travis Hodges
---