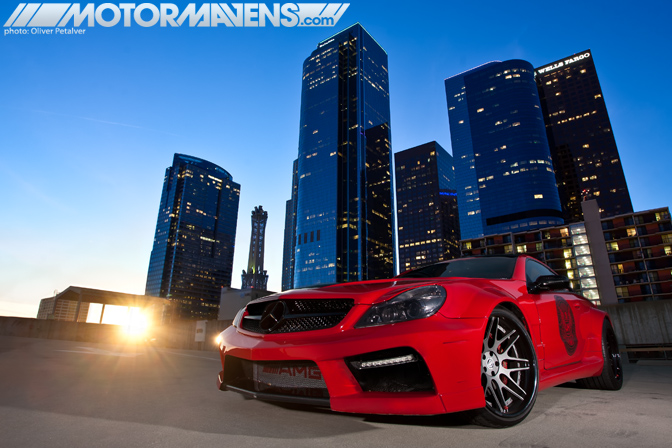 The first time that I was introduced to this car was during the Targa Trophy event this past year. However, the car was dressed in white and had a unique theme that might have been reminiscent of a Storm Trooper. Over the course of the past year, owner Jamie Liu has been adding modifications in an effort to gain a top position at events such as Hot Import Nights, SEMA  and Autofashion 2011. Words alone cannot justify the brilliance of this build so let's look further into Jamie's amazing Mercedes-Benz R230 SL55 AMG.
Having been immersed in the car culture since a young age of fifteen, Jamie has worked her way up from tuning and fixing up Honda Civics to owning and modifying high end sports cars. During the photo shoot I had the opportunity to sit shotgun in this devil of a car. The custom long tube headers paired with the straight pipe exhaust really were music to my ears. While we were heading out from the photo shoot location, we happen to roll through a tunnel, and Jamie turned to me and said "Lets give it some gas!!" The deep bellow of the exhaust note was followed by the more dominant whine of the supercharger. I was smiling from ear-to-ear as paparazzo Oliver Petalver tried to keep pace in the chase car.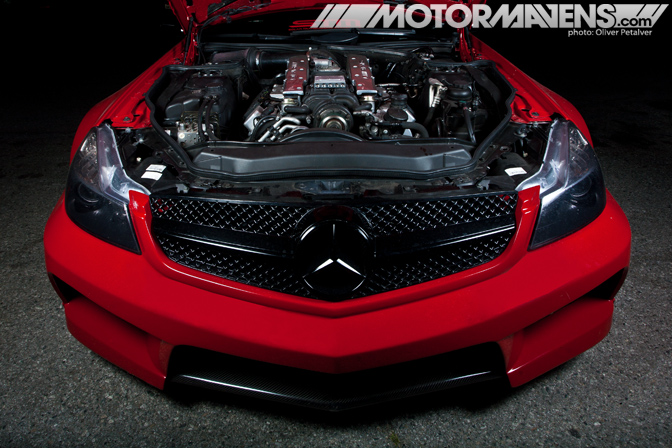 The SL55 AMG comes supercharged from the factory, yet that didn't quite fulfill Jamie's desire for power. The 5.5L V8 engine was taken to the crafty guys at Benzworks in Huntington Beach for a rebuild. The heads were ported and polished, and the supercharger was taken apart by RB Tech to handle a bit more boost. As it is often found, a thousand horsepower is pointless if it cannot be put to the ground. With that in mind the transmission was rebuilt with a new torque converter. An 85mm custom one off throttle body, 180mm s/c pulley, and accessory pulley set were installed. To get the most out of the custom built V8, Benzworks recommended a fuel system with larger injectors and a custom fuel rail as well as dual Johnson and Meziere pumps. A 5-gallon custom fuel cell was mounted in the trunk under a flush mount billet plate custom designed by TheDevinCorp. As that was not enough to accommodate Jamie's need for power, she added a hidden methanol kit and a 150-shot of nitrous oxide. Jamie was finally satisfied at just over 750-hp and 800 lb/ft of torque!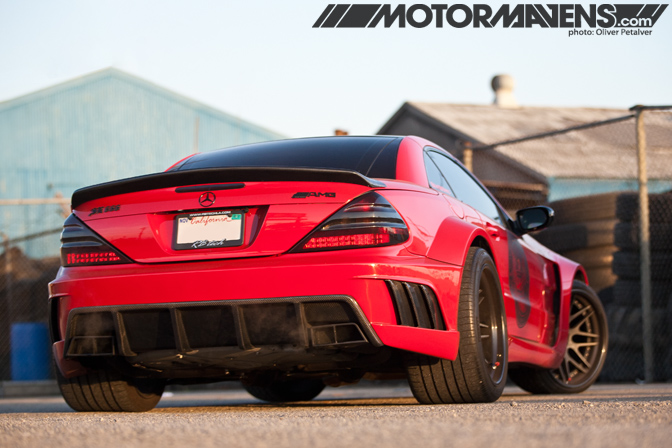 Friends are always a plus but especially so when they are able to acquire one of the first prototype widebody kits for your ride. In this case, the SL55 AMG was fitted with a Misha Designs widebody kit coupled with some miscellaneous carbon fiber pieces.  The rear fenders were widened significantly to accommodate the aggressive wheel setup. Ranz Motorsports sprayed on a custom PPG 3-stage red paint with black gloss accents. Hann Kim of STM Advanced Window Film Solutions finished the look with a ceramic window tint.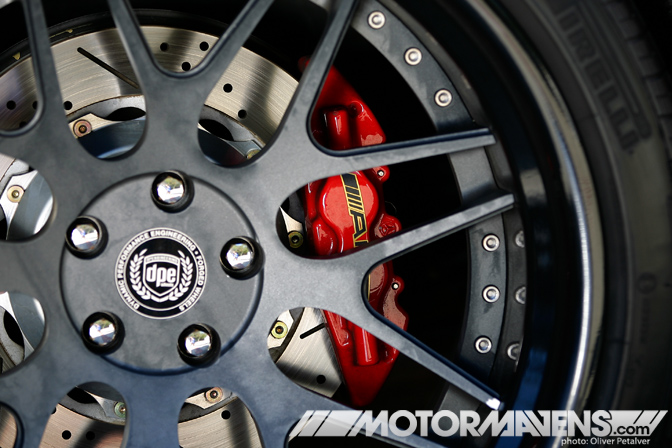 Super concave, sixteen spoke Dynamic Performance Engineering (DPE) SP-SC16 wheels dressed in gunmetal with a gloss black lip were chosen with AMG rotors and calipers seated just inboard. The fronts measure 20×10 and the rears are a staggering 20×13.5! The wheels were wrapped in Pirelli P Zero tires and titanium bolts and devil valve stem covers finish up the package.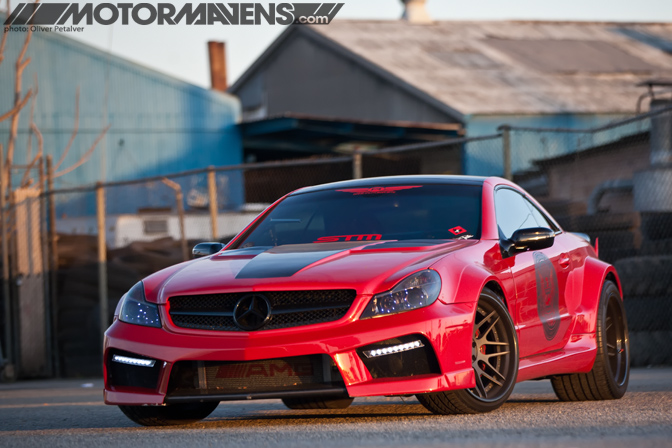 The front received a face-lift from the 2008 model year with the upgraded headlights. The LED headlights and fog lights were supplied by Promax Motorsports. The design of the vents and air dam look super sick on this car. The aggressive look and wide stance give the car an SL Black Series look.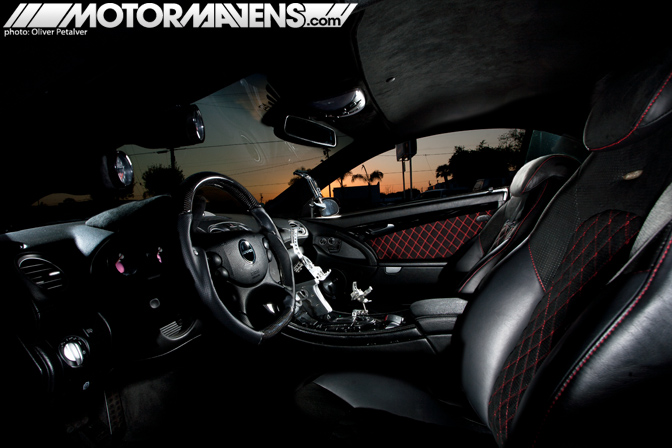 This SL from Hell is quite plush. Upon opening the custom scissor doors by Ranz Motorsports, you're greeted with Alcantra Suede with custom red diamond stitching by Top Stitch Upholstery. A custom carbon steering wheel with 2012 CLS63 shift paddles await your touch. Multiple custom billet items from TheDevinCorp can be found inside: custom crafted iPad, iPhone and Xoom mounts. Look closely and you'll find the gear shift is a custom gun handle. Jamie, an avid gun aficionado, even affixed a 30-caliber machine gun sight to the top of the gauge cluster.
Jamie also had a stereo box custom built with a custom red back-lit AMG LED emblem. The infamous tri-point Mercedes-Benz emblem slides to reveal a hidden compartment. JL Audio 10w6 subwoofers, amps, and digital sound processor all connect to an Alpine DVD head unit to provide the audio experience.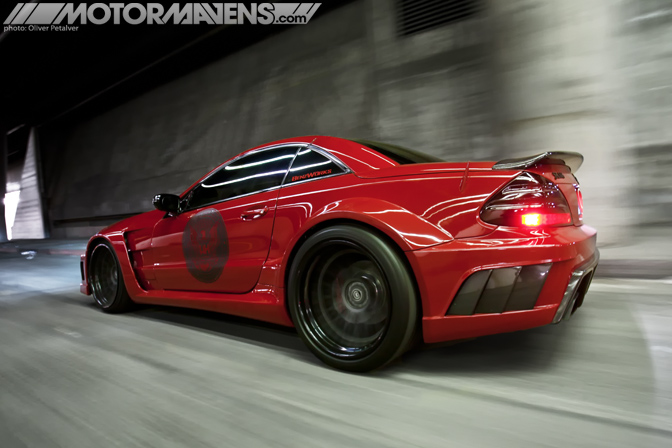 Few could tame a 750+ horsepower beast enough to ride on a daily basis. Even fewer in this scene have Jamie's attention to detail and patience to create such a marvel. We cannot wait to see what Jamie does next!
Don't forget to check out Jamie's feature on this month's issue of Heavy Hitters Magazine!
::Tamer Omran
AMG
,
Benzworks
,
DPE
,
Dynamic Performance Engineering
,
Heavy Hitters
,
JL Audio
,
Mercedes-Benz R230
,
Misha Designs Widebody
,
MotorMavens
,
MOTORMAVENS.COM
,
Oliver Petalver
,
Promax Motorsport
,
Ralph Biase
,
Ranz Motorsports
,
RB Tech
,
SL Black Series
,
SL55
,
STM Advanced Window Film Solutions
,
Supercharged
,
Tamer Omran
,
TheDevinCorp
,
Top Stitch Upholstery
---