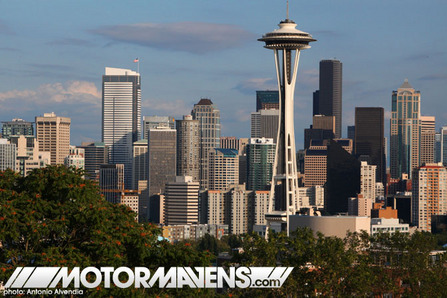 Every time I'm in Seattle, it's usually for a drift event. While traveling around the country/world may seem glamourous to some, to be completely truthful, it isn't really what most people imagine it to be. Don't get me wrong – I absolutely love traveling with friends; and when you're traveling to all the different nationwide stops of a big drifting series, it really is fun. Especially because if you have many friends in the drifting community, it's like every single city becomes a party destination. One thing that I hear pretty commonly though, is that many times people who travel for work don't get to spend much time enjoying the cities they go to. All too often, city visits consist of airport-to-hotel, then hotel-to-racetrack, then racetrack-to-hotel for a few days, then back to the airport. I didn't want my Seattle trip to be like that this time. Last year, I visited so many amazing places, but I felt like I was rushed through them by people I was traveling with, so I didn't really get to enjoy my stay like I would have if my coworkers hadn't been there.
So when all the drifting had ended at Evergreen Speedway, I linked up with my friends Raymond and Melanie and headed to Seattle for a day of relaxation and chillin in the city. One of the places we stopped was at Goods, a rather well known streetwear/sneaker shop in Seattle's Capitol Hill area. The funny thing though, is even when I'm not purposefully hunting for cars, sometimes the cars find their way to me anyway. Such is the case with AE86s and vintage Toyotas! No matter where I am in the world, usually if there's an AE86 or old school Toyota around, I'll accidentally find it.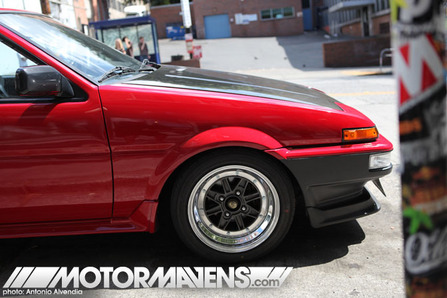 So here I was; standing inside Goods; checking out some sneakers, when low and behold, a bright red AE86 hatchback pulls up and parks right in front of the store. I couldn't have even timed it more perfectly, it was funny. I obviously stepped outside the store for a closer look at this red kouki hatchback, and immediately two 86ers got out of the car with strange looks on their faces (you know, one of those "why the hell is this weirdo staring at the car" faces).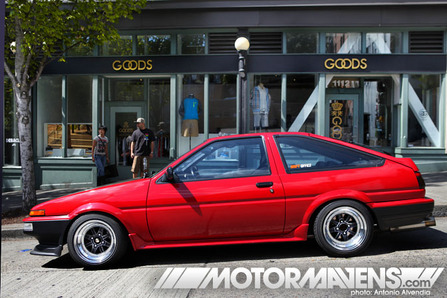 However, as soon as I introduced myself as a fellow AE86 owner from Los Angeles, it was all good. No problems. The owner of the car was a Hachiroku.Net forum member named Sherman, and his friend sitting shotgun ______ (sorry I forgot your name!) said he was an AE86 owner as well. For some reason, no matter where you are in the world… when a hachiroku guy meets another hachiroku guy visiting from out of town, they seem to form some sort of instant connection. (Not in a gay way)
Of course I should be drawn to Sherman's AE86. Hell, it looks very similar to my own car. We both have red 1986 kouki hatchbacks with black Japanese kouki bumpers. Except Sherman's car has a zenki front lip spoiler attached, and the bumper tops are painted red, to match the Japanese GT-Apex factory specs. Both of our cars also have factory sideskirts – except mine are OEM black, and Sherman decided to paint his red to match the body of the car. This is a trip… we both have the three piece Japanese "redline" taillights, and we both have the same wheels – SSR Mark III. You can imagine how hard I was trippin out, right? The only difference is, Sherman had 15 inch Mark IIIs and my car has wide 14s.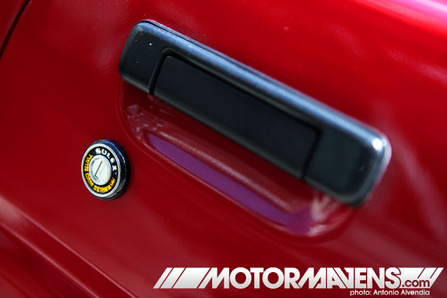 Another interesting thing I noticed… the doorlocks. In the East Coast, most Puerto Ricans don't call AE86s "AE86s" or "hachirokus," they call them "Twincams." Presumably it's because of the huge "GT-S Twin Cam 16" sticker that comes on the 1985 Corolla GT-S. Well, check out Sherman's Solex locks… it's the Twin Cam Series.
Now, I'm not normally a fan of Solex locks. I used to have them on an AE86 I owned in the past, but they were the older round type; the ones that look like Kryptonite locks for a bicycle. I kind of likc these new Solex Twincam locks since they look closer to factory style lock assemblies, and they make it just a little bit harder for people to steal the AE86, which already sits atop the list of "easy to steal" 1980s Toyotas.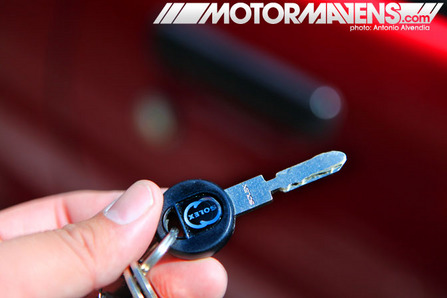 Here's a close-up of the newer TwinCam style Solex key. It even looks more normal now. Not bad.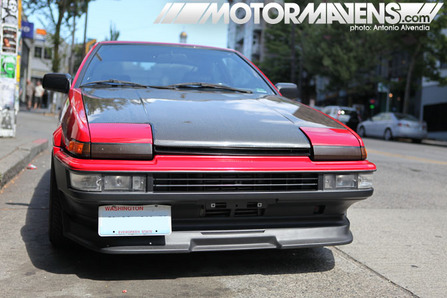 Here's the front shot of Sherman's kouki AE86 as it sat parked on Pike St (albeit 30 feet away from the curb! LOL), which reveals a little more detail on the car. From the front, it sort of looks like a red version of Keiichi Tsuchiya's famous "Dori Dori" AE86 Trueno as seen on the legendary Best Motoring Vol. 41 and 42. A zenki front lip spoiler has been bracketed on to the OEM Japanese kouki front bumper, giving it a more aggressive look. The normally amber bumper lights have been replaced with clear lenses, and the steel hood has been replaced with a well-fitting carbon fiber one. Dig the Washington plate too!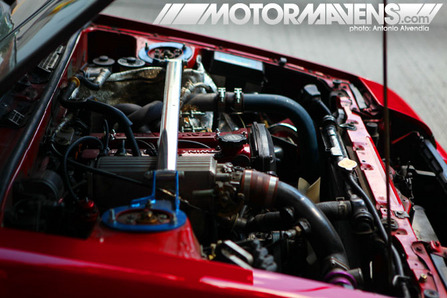 When Sherman popped the hood, however, I stopped thinking his car looked like my car. Why? Because my kouki AE86 currently has an OEM motor pushing a measly 112hp to the crank, and Sherman's car has a TURBO 4AGE setup! Bad ass!
Just by glancing into the engine bay, it looks as if the car sits on T3 coilovers, with a customized AE92 FF smallport intake manifold flipped around and rewelded to match FR engine configuration.
Here's the rear of the car. Crisp and clean, with no messy stickers adorning the rear window. Super clean windows, paint, and taillights.
Seeing this car on the road makes me pretty sad… I need to do less blogging and more wrenching! Time for me to finally swap that motor and get my red AE86 back on the road so I can get back to Living The 86 Life!
:: Antonio Alvendia
---