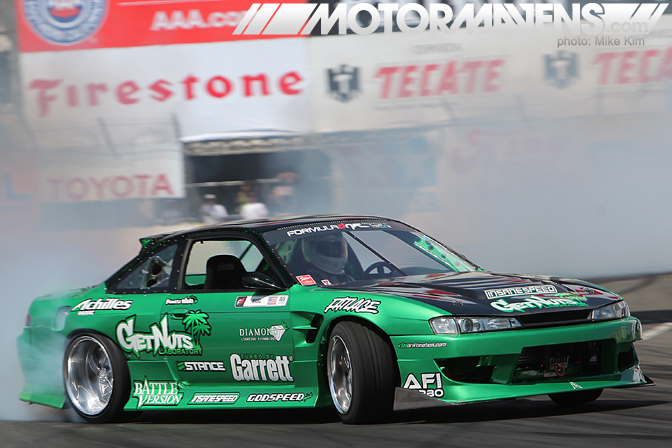 The Formula Drift 2013 season kicked off here in the streets of Long Beach! Every year as the roads in Long Beach get prepped for the Grand Prix, Formula Drift always has the honor of christening the pavement with tires and the air with tire smoke. With many new drivers debuting their car for the first time in pro leagues there are also a lot of returning veteran drivers on the lot. Every year having to outdo themselves a lot of drivers bring new cars and even more horsepower with them to the track. As we bring you live coverage of the weekends events follow us on Instagram, Twitter and Facebook, at @MOTORMAVENS and @86Fest, for updates and images of the First Formula Drift competition of the year.
Above is Forrest Wang with the Get Nuts Laboratory Nissan S14 240SX with a 2JZ swap you may have seen previously in the coverage of the FD tech day. During qualifying his runs were very smooth and precise, proving why he belongs in the big leagues. Forrest Wang Qualified 11th and will be battling Justin Pawlak for a spot in the top 16.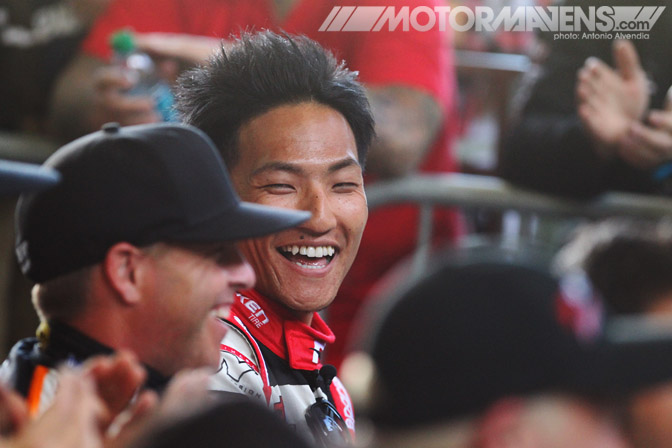 Dai Yoshihara and Tyler McQuarrie share a laugh together as they get prepared for the top 32 announcement at the drivers meeting after qualifying has ended.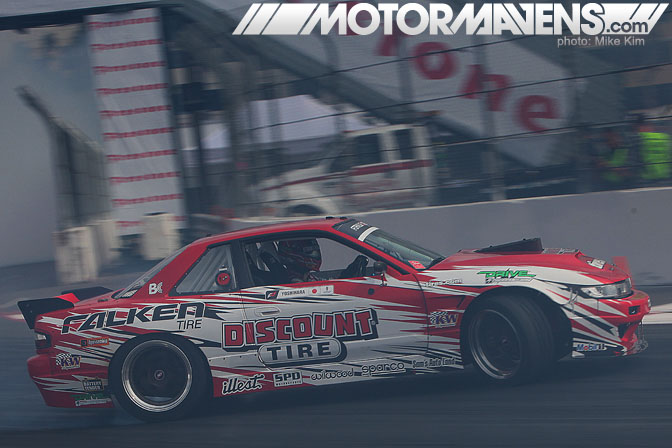 Qualifying in 1st place for the day Dai returned with his Falken Tire / Discount Tire S13 doing solid runs during practice and having a solid clean run during qualifying. While Dai is in process of building a a new car for the 2014 season his S13 returned with a few new modifications and great looking liveries as always.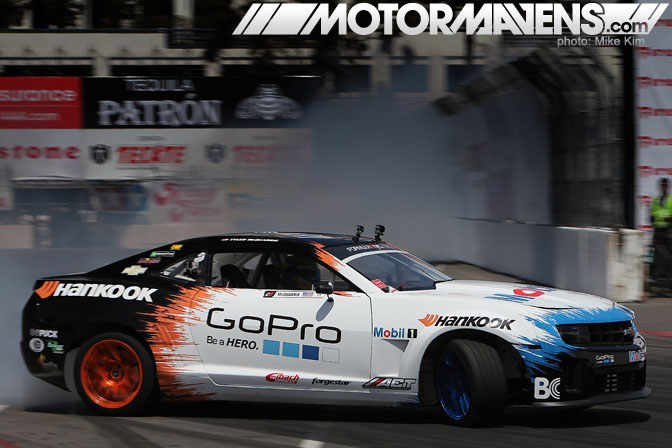 Tyler McQuarrie just squeezed into the top 32, in 32nd place, to get paired up against Dai for his first run on race day. His GoPro and Hankook Tire sponsored Chevrolet Camaro returned this year with with new liveries and it looks great!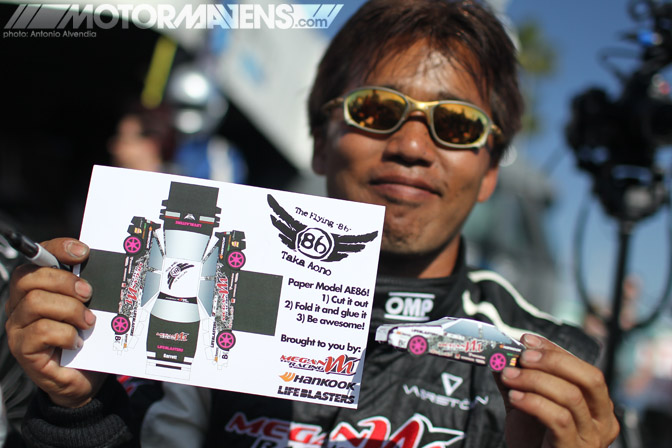 Our old friend and EPIC driver Taka Aono was happy to sign autographs and hand out little paper models of his new AE86. In three simple steps you can have your very own Megan Racing AE86 paper model!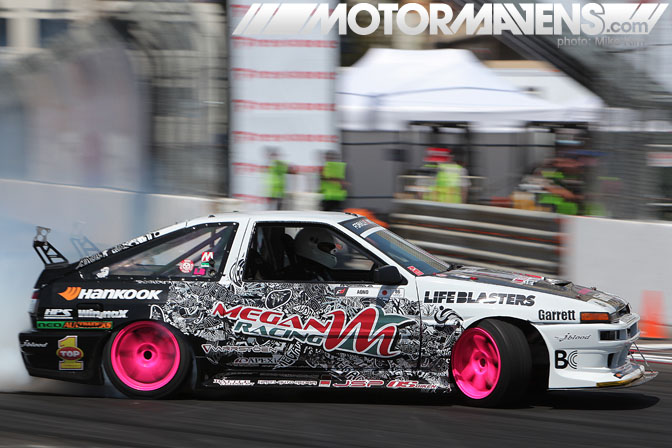 Taka returned with all new liveries this year and was laying down some very clean runs! Qualifying 11th I hope to see him get into the final four!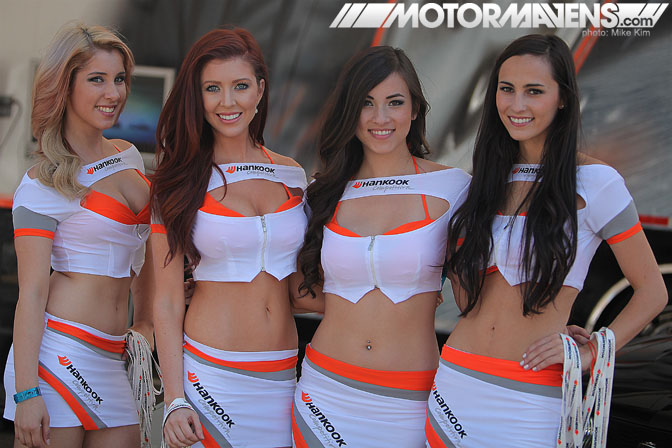 Say hello to the Hankook Tire Umbrella Girls of 2013! From Left to right is Stephanie Kay, Holly Allen, (returning from 2012) Erica Nagashima, and Sadie May! Its always fun meeting the Hankook Tire umbrella girls :)!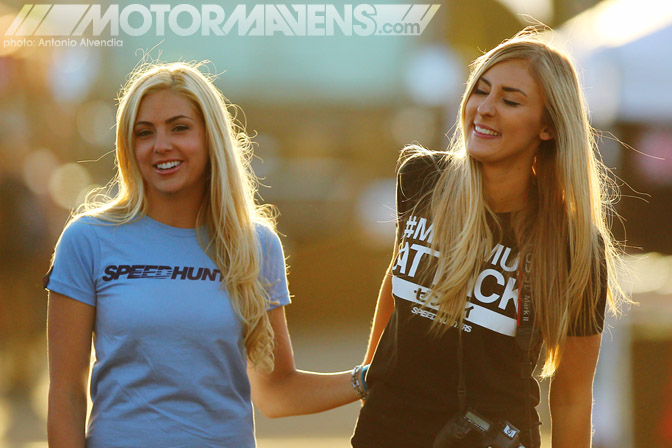 One thing great about FD is seeing familiar faces and old friends. Courtney Day and Taryn Kelly with iHeartstance seem to be happy to see Antonio.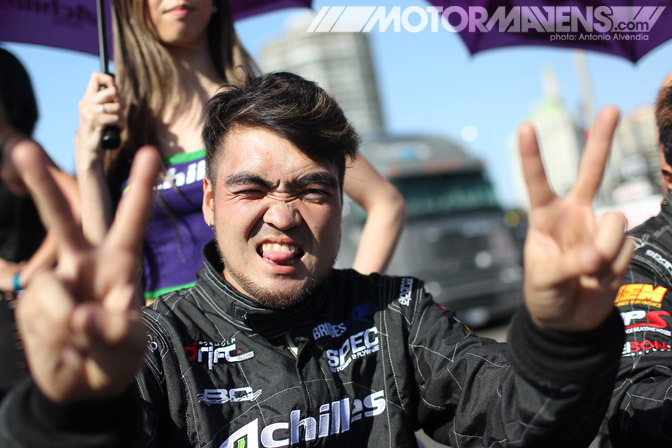 Robbie Nishida flies out from Japan to every Formula Drift event he can attend. Being a veteran drifter from Japan he always kills it when on the tarmac.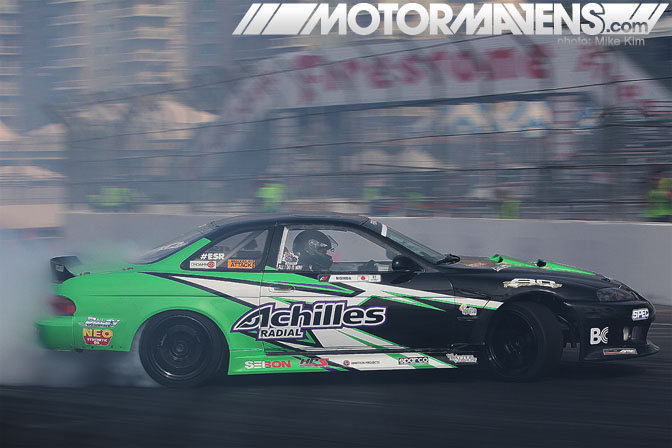 With new liveries in his Achilles Tire Toyota Soarer aka Lexus SC300 he putting down huge plumes of tire smoke.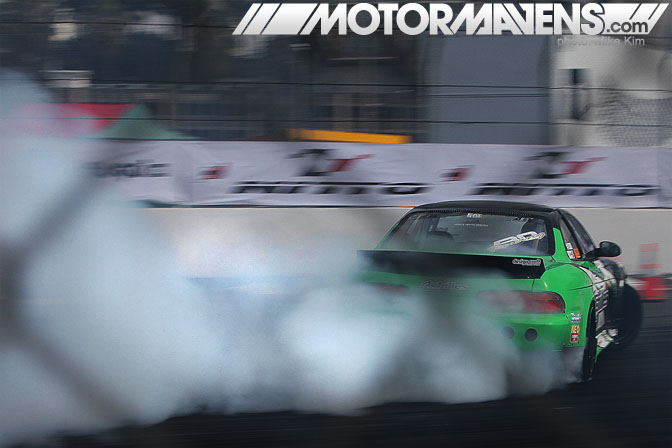 It has to be hard to see for anyone who's going to tandem behind Robbie.
Returning Champ from 2012, Daigo Saito debuted his new liveries in Long Beach for the 2013 season with the Achilles Tire Lexus SC430. Being last years champ and Formula Drift rookie was the first time that had happened in FD history. The D1 Japan champ and Formula Drift Asia champ he is going to be one to contend against for this coming season.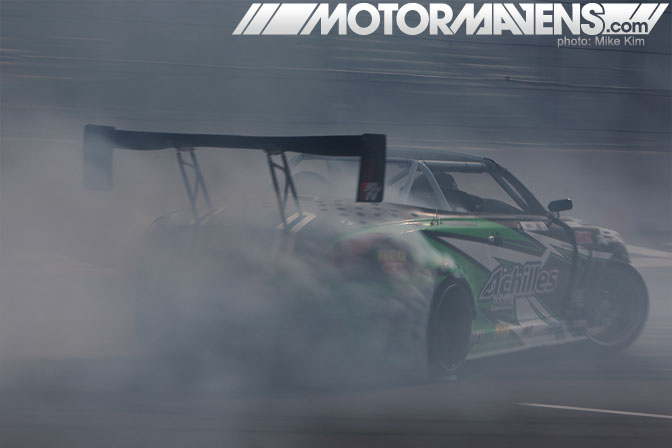 Daigo is also one to generate huge clouds of tire smoke, even while in a huge cloud of tire smoke.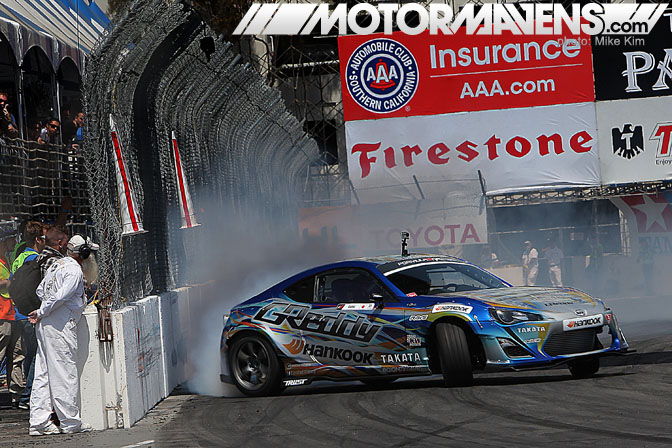 Ken Gushi with the Greddy Racing / Hankook Tire Scion FR–S debuted new livery with a TRA Kyoto Rocket Bunny Kit. Qualifying in the top 14 he is set to go up against Kyle Mohan in his RX-8.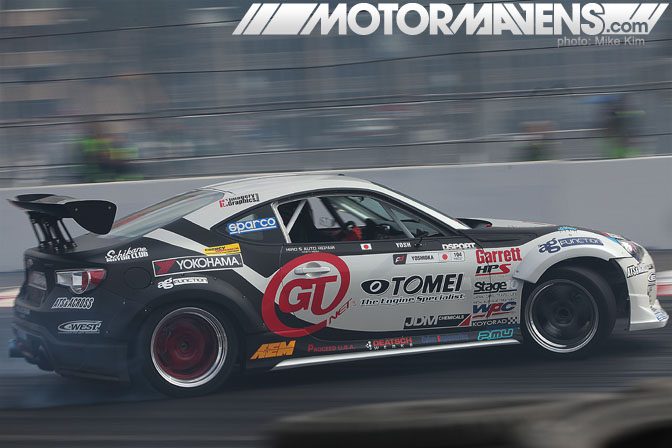 Toshiki Yoshioka finally took the wraps off of his new livery on his 2013 Subaru BRZ. Tomei Powered, he was doing some very clean runs throughout the practice and qualifying. He had qualified 24th. He is one of the few drivers running Yokohama Tires this season.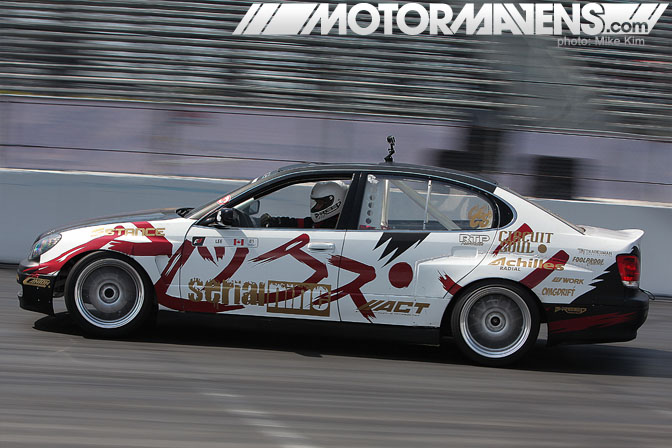 Alex Lee had debuted his new car for the 2013 season with a Lexus GS. The large sedan although looking cumbersome seemed to handle very well.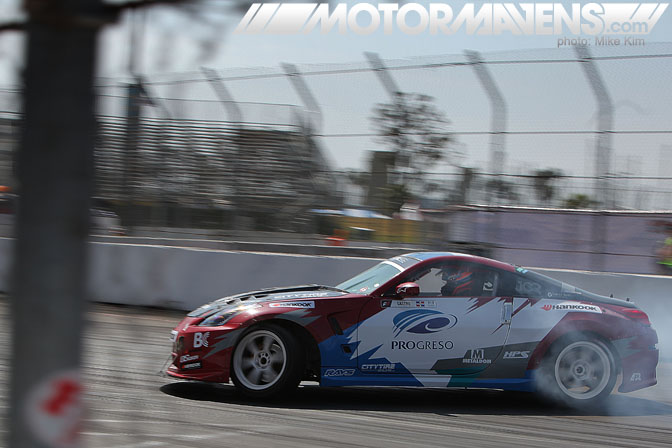 Jhonnattan Castro returned with his Progreso Nissan 350Z and had very clean runs. He had qualified a solid 18th.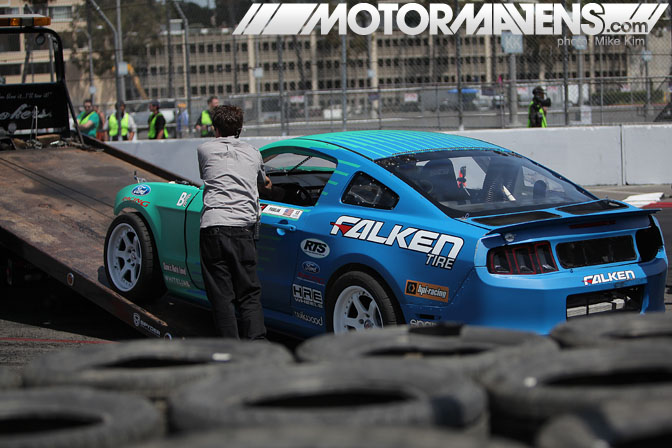 JTP Justin Pawlak had very clean runs during practice but during his qualifying run he had a nasty run in with a wall. Although it was a pretty big hit, Victor Reyes from Emergency Hookers towed him back to the pits, and JTP returned shortly after to finish his qualifying lap netting the 23rd spot.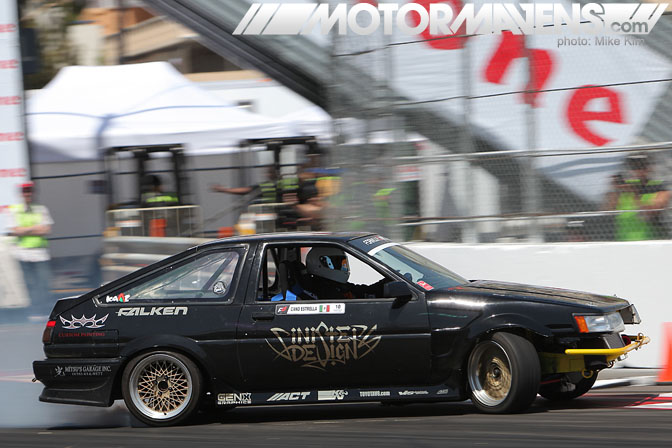 It was nice to see multiple AE86s return to Formula Drift. This is FD pro rookie Carlos Cano Estrella with a V8 powered AE86 hatchback.
The First day of the Formula Drift 2013 season in Long Beach was greeted by great weather and a lot of tire smoke. For more photos throughout the event follow @MOTORMAVENS on Instagram, Twitter, and Facebook! Also check out FormulaDrift.com
:: Mike Kim
Achilles Tire
,
Alex Lee
,
Chevy Camaro
,
Courtney Day
,
Dai Yoshihara
,
Daigo Saito
,
Daijiro Yoshihara
,
Discount Tire
,
Erica Nagashima
,
Falken
,
Falken Tire
,
Formula Drift
,
Forrest Wang
,
FRS
,
GoPro
,
Hankook
,
Holly Allen
,
Justin Pawlak
,
Megan Racing
,
Mike Kim
,
Robbie Nishida
,
S13
,
S14
,
Sadie May
,
Scion
,
Stephanie Kay
,
Taka Aono
,
Taryn Kelly
,
Tire
,
Tomei
,
toshiki yoshioka
---