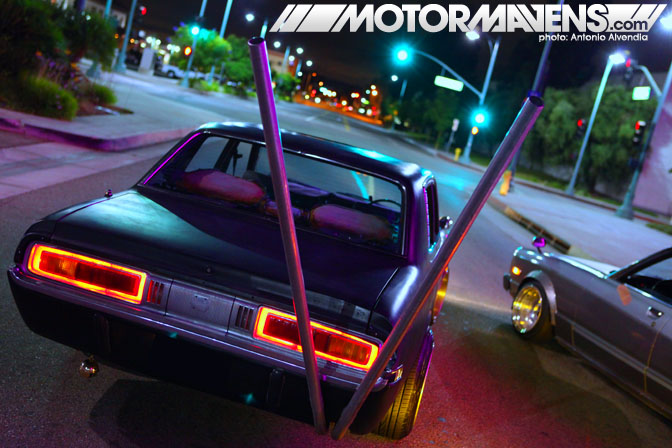 While you were sleeping… I was out doing a late night photo shoot with a particular mighty Crown from Japan. No, I'm not talking about Mighty Crown, the reggae soundclash champions from Japan; I'm talking about this incredible looking MS60 Toyota Crown Super Saloon.
This awesome right hand drive MS60 Crown is owned by an old school Toyota enthusiast named Irik Farnacio. Even though he just started working on building it up bosozoku style, I think it looks awesome already. He already has wide wheels with hippari tires (stretched tires) on it, not to mention a takeyari (exhaust pipes) set up that will get the local fuzz to pull him over in no time flat.
This photo is just an excerpt from a recent photo shoot I did for Max Power Magazine in the UK. This is an extremely busy week and weekend (FD weekend) for the Motor Mavens crew, so I'll just post this preview on the site for now… but please check back real soon for more photos and our story about Irik and his friends!
::Antonio Alvendia
PS: In case you other photographers were wondering… this was hand held using a 5D Mark II.
---