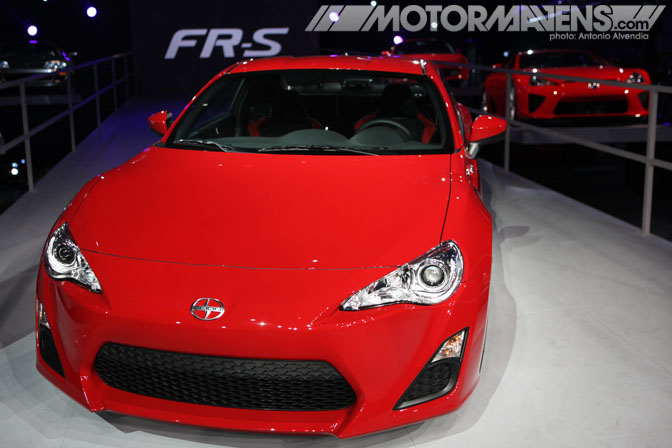 Last night, most of the who's who in automotive media were invited to a special party at Milk Studios in Hollywood, hosted by our friends at Scion. This party was a celebration, an introduction, and a firsthand look at their new baby… the front engine, rear wheel drive Scion FR-S.
Since everyone who has been on ANY form of automotive website in the past 6 months has undoubtedly already heard of the FR-S, I won't spend too much time talking about the specs at this moment – we'll wait for a test drive. However, let's take a closer look at what everyone is hyping up as the new coming of the AE86!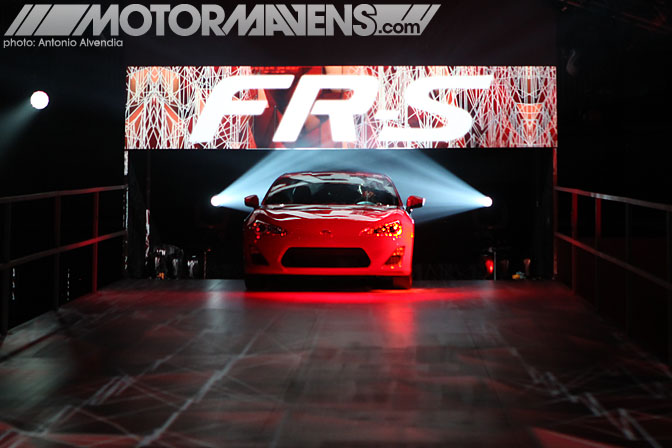 I don't think I've personally been to a "new car reveal" that had so much anticipation surrounding it… there were a TON of excited enthusiasts crowding all around the Milk Studios hall. I saw all types of people at the event: automotive aftermarket industry leaders, automotive writers and photographers, youth automotive tastemakers, Scion car crews, and my favorite, the die hard old school Toyota guys – the AE86ers. The presence of all these people made the event extremely memorable.
Anyone who knows me in real life might tell you that I fit into more than one of the aforementioned niche groups, but perhaps the thing that defines me most is my long relationship with Toyotas. I'm not talking about a business relationship with the people at Toyota Motor Sales on 190th Street in Torrance here – I'm talking about my longstanding relationship with almost all the vehicles that Toyota has ever produced.
See, the very first car I ever owned was a Toyota Celica. The very first car I ever drove was my mom's Toyota Camry. Even back when I was four years old, I remember playing in the back of my grandfather's Toyota Corona and Cressida wagon. Today, I own about six to ten (I lose count sometimes) Toyota vehicles in different states and countries, many of which are restored, modified, or awaiting modification. I have owned over 50 Toyota vehicles in my lifetime, and I'm not even close to 50 years old! My blood bleeds Toyota 3E6 red (that's the OEM Toyota paint code for my 1986 AE86 GT-S, for those who don't know), so being present at the public debut of what is being hailed as the new coming of the AE86 was certainly a big deal to me.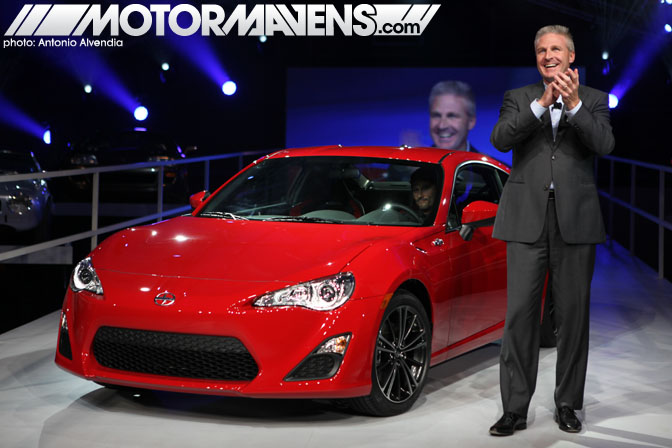 This is Jack Hollis, VP of Scion. You could tell he was excited to introduce his brand's new baby to the public – he was beaming with excitement, from the ear to ear grin on his face, to the sparkle in his eyes and the loud echo of his golf clap! Mr. Hollis gave a great presentation explaining the thinking behind the new Scion FR-S, which you can find on YouTube.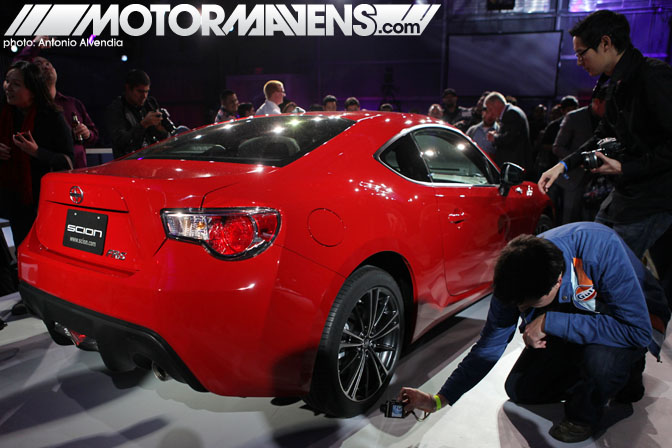 There were sooooo many people crowding around the FR-S on the platform, it was really difficult to get many clean shots of the car. People were hovering all over the car, sticking their cameras inside the wheels and under the bumpers, taking as many detailed photos as they could… everyone was excited about the new FR-S, from the automotive aftermarket companies in attendance to the enthusiast members in the crowd.
While everyone else was crowded around the FR-S, battling each other to take bad photos with people's shadows all over the hood of the car, I decided to walk around to check out the other cars on display. Of course, my eyes were drawn to this kouki AE86 Levin coupe with SSR/Modex Dori Dori wheels, owned by Oliver from Infinit Wheels. Story has it that the people at Scion asked him to take off all his stickers to be part of this spectacular unveiling. It was worth it, I'm sure… since having your own AE86 at the official FR-S unveiling was definitely a special honor that any AE86 owner would have wanted their car to be a part of. I have to admit, I was more than a little jealous, as my AE86 hatchbacks are all red, and match the red Lexus LF-A and Toyota MR2 Turbo in the background. However, I gotta give props and congratulations to Oliver – lucky guy!
Oh, I was also oddly drawn to the red Toyota forklifts holding up the cars. Rumor has it that these forklifts are powered Toyota 5K engines, which are actually perfect for swapping into a KP61 Toyota Starlet, which come from the factory with a 4KC engine.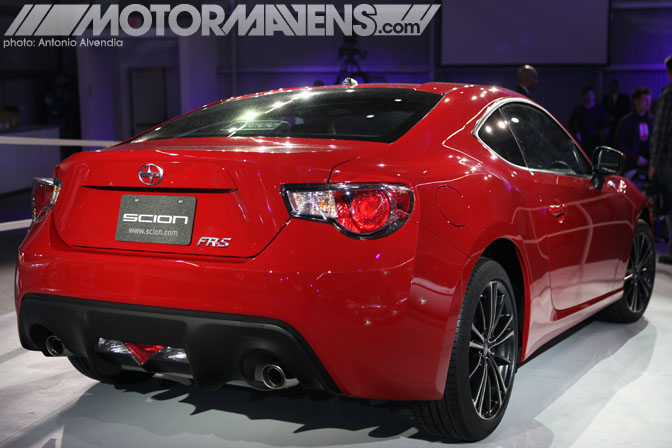 Back to the FR-S, it was interesting to see the final taillight design and the rear bumper, which is equipped with an under-bumper splitter and a low-mounted rear brake light and reverse lights. Also, I noticed that the car comes stock with 225-width tires. Perfect. All we need to do is lower the car and mount wider wheels now.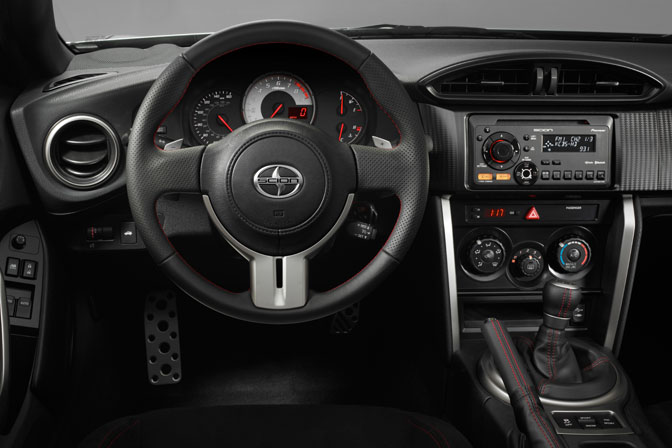 Here's a look at the cockpit of the car. The dual-din stereo allows for easy head unit upgrades, and the shifter and e-brake are both mounted high, and close to the driver. The tachometer is prevalent in the gauge cluster, with its white color separating it from the rest of the black gauges. The placement of round air vents next to the cluster looks like a subtle nod to the original styling of the AE86, which also had round (albeit, smaller) air vents next to the gauge cluster.
Oh yeah… notice the car has paddle-shift behind the steering wheel?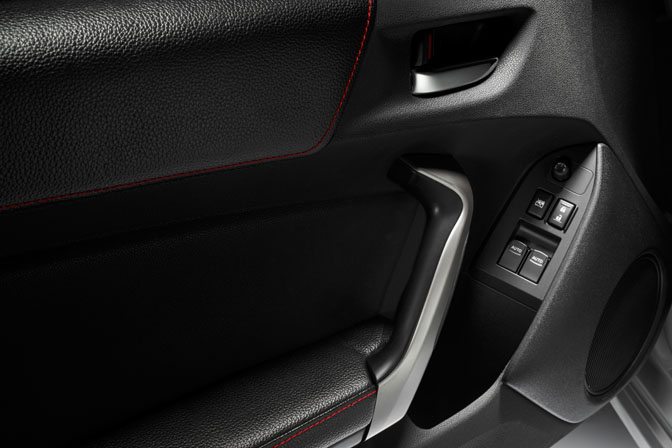 Leather wrapped door panel-tops were a GREAT idea for the FR-S. This is the area that wears down easiest on most door panels, since the driver's elbow is usually sitting up there when driving with the windows down. Having different inset material and red contrast stitching, the OEM doorpanels look good, while providing easy customization options for future FR-S owners seeking to change up their interior colors. Single touch auto-up-or-down window switches also fit well into the doorpanel. At least these are Toyota switches, so I know they won't break after 5 years, like the switches in my @#%@#$&!@ BMW wagon.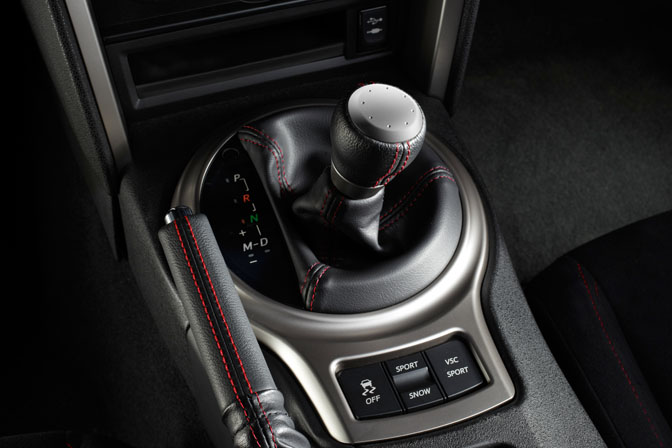 This is the shifter/center console view. Yes, I know… this particular car was automatic. I can't wait to test drive a manual version! Oh, and see that VSC (Vehicle Stability Control) button? Let's just keep that turned off. 😉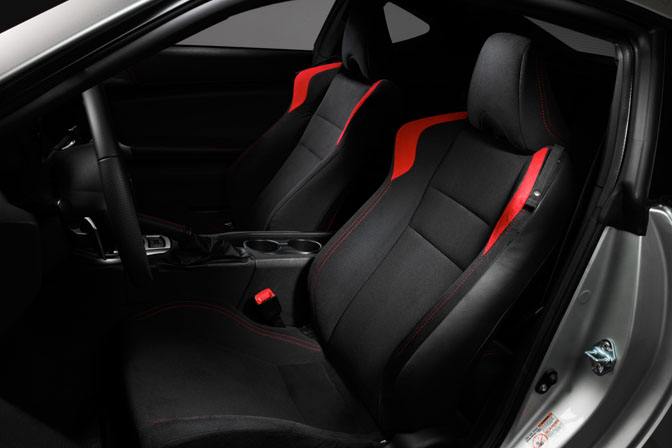 The Scion FR-S has sporty OEM bucket seats with side bolsters that remind me of a Recaro SRD adjustable seat. I love it! It would be pretty cool if it also had air-filled lumbar support, with a "blood pressure pump" style air pump, like the original AE86 did. I'm not sure what the lumbar support options on these seats will be; I'll need to wait for that test drive.
One thing that concerns me, however, is the red inset on the seat. I hope that Scion gives owners an option of having straight-up BLACK seats, as I'm thinking that red inset fabric will fade and turn pink over time. While it might not bother most people, it might turn into an issue for an enthusiast who wants to keep their Scion FR-S for 30+ years. I only say this because I own a 38-year-old 1973 Toyota Corolla 1600SR with original orange paint and interior, and I also look at cars from the standpoint of a car collector/restorer. While most people probably aren't thinking of this yet, these first production models of Scion's FR-S will be collector's items in the future.
The top of the FR-S sport seats also feature little fabric tabs that look like epaulets on the shoulder of a military jacket. Presumably, these fabric tabs are to keep the OEM seatbelt in place. I'd like to test out those tabs in person; I wonder how strong they actually are!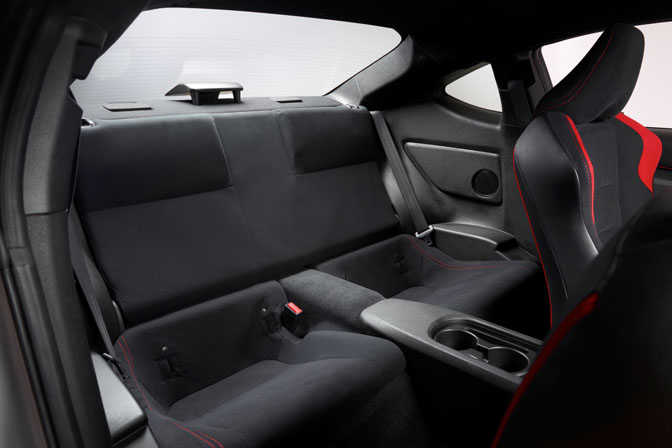 The Scion FR-S rear interior view shows the car's 2+2 interior design. The fold-down rear seats don't look like they would be comfortable, but who cares? You want to DRIVE an FR-S, not sit in the back.
Also, the rear seats look like they were shaped so that they could fold down FLAT, because according to Jack Hollis, "there's just enough space in the trunk to transport 4 wheels/tires, a jack, and a toolbox to a track day." Perfect, Jack. That's exactly what we wanted!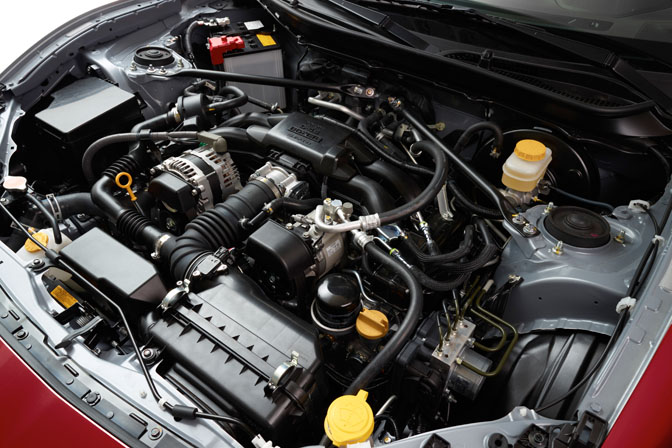 Here's an under-hood shot of the FR-S engine bay, revealing a powerplant with both Subaru and Toyota logos on them. More on this later.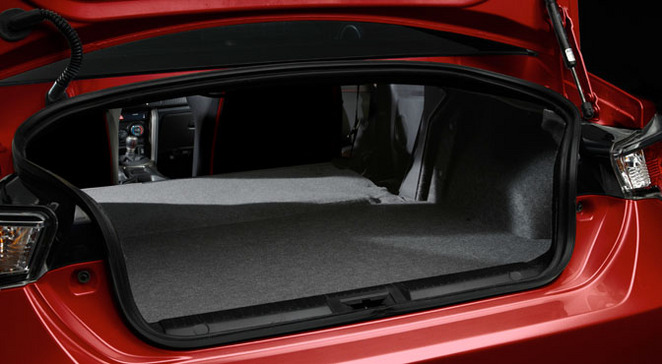 The trunk opening of the FR-S doesn't look very big, to be honest. For track day usage, it looks as if someone would have to carefully load their big wheels and tires into the trunk and slide them up front to the passenger compartment. Hopefully Scion's product planning team will produce some accessories to ease with using this small trunk – maybe some carpet-mounted rails that would allow for easier sliding of heavy items to the front? Maybe some removable rubber trunk liners that allow one to transport wheels and tires and fluids while keeping their trunk carpet clean? I wonder what other great ideas people will come up with… the Scion FR-S will definitely be a customizer's car. I wonder what the most popular aftermarket parts will be for this car…
:: Antonio Alvendia
More Scion FRS on MotorMavens
Scion FRS Driving Impression (Review) by an AE86 Owner: Antonio Alvendia of Cipher Garage
---