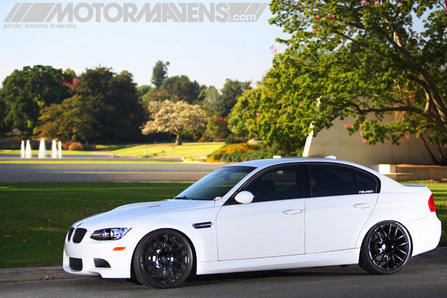 On the morning after the 2009 Formula D Finale, most of the people who were at Irwindale the night before were either still in bed resting from the exhausting event or packing their bags and heading back to the airport. While normal, smart people stayed in bed to sleep in that Sunday… I exchanged a volley of text messages with a hungover Tyler McQuarrie, who still had a pounding headache from all the alcohol pounding that took place at the "FD Official Hotel" the night before, as he and Forsberg and Hampshaa and everyone else in the lobby celebrated their Formula D wins from the night before. Right after I congratulated Tyler on reaching the podium, I assured him that I didn't give two sh!ts about his pounding headache… and he should drink some coffee because we had plans to shoot photos of his newly done up E90 BMW M3 sedan! (LOL, I didn't really say that. He's super cool, and wouldn't flake anyway.) Cheerful despite his hangover, Tyler manned up and drove his car out to meet up with me and the MotorMavens Seattle fam at our meeting spot, which luckily wasn't too far from the hotel where he was staying.
I know what some readers may be thinking… this car looks super basic. It doesn't have a crazy aftermarket aero kit or anything… but I think that's one of the reasons why I was drawn to it when I first saw it. Although I'm huge fan of aggressive BN Sports or Goodline aero kits for cars used on the racetrack, I tend to prefer the understated cleanliness and class of OEM bodywork and "factory option" parts when it comes to daily driven street cars. Apparently, Tyler has the same opinion when it comes to daily driven cars, as his M3 looks clean, classy, basic, and understated… that is, until you hear the powerful rumble of his exhaust.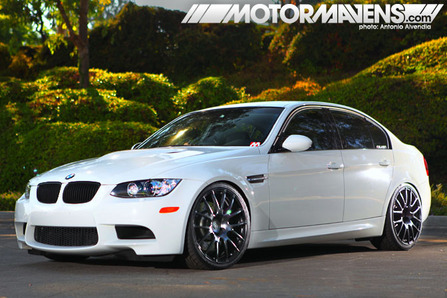 As I attempted to shoot pics of his 2008 M3, Tyler kept laughing at me because I kept getting frustrated by how difficult it was to shoot his white car at high noon, especially since it had semi-flat black wheels!
For those who have ever tried shooting photos of a car with this color combo, you might agree with how difficult it is. The difficulty is to capture the detail in the black wheels in the middle of the day, while not blowing out the white paint on the body of the car too much. The solution to this problem? Use lights. I popped open the trunk of the MX83 Cressida I drove to the shoot and busted out the lights and the wireless slaves… but as soon as I set everything up on the light stands and positioned the lights and started positioning the camera to take photos, a security guard came and asked us to show him a photo permit or leave. Man! It is so difficult to shoot in cities like Los Angeles sometimes – everyone insists on a permit or a payout, sheesh! I was only able to capture like two or three frames, and this was frame number 2. Unfortunately, I wasn't able to perfect the exposure or positioning of the lighting because the rent-a-cop was adamant about us leaving the parking lot, damn!!!
Okay, back to the car… Tyler made his E90's stance more aggressive by mounting new 20 inch wheels (rollin on dubs!) and installing a set of E90 M3 Variant 3 coilovers from KW Suspension. I've been noticing KW coilovers on cars more and more often during the past few years. I remember that just a few years ago, I had never even heard of KW, but apparently for European car owners, they're one of the most popular brands out there. The Variant 3 is the most high end model in the KW lineup, because it's independently adjustable for both compression and rebound. Fancy.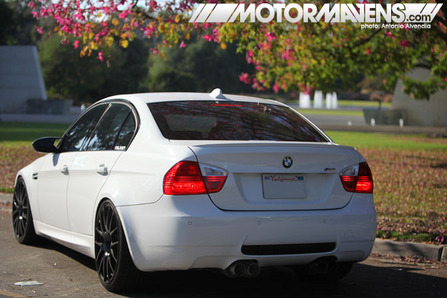 Here's the rear view of the car. Pretty clean and pretty subtle looking if you ask me. If it weren't for the big wheels and the Falken stickers on the rear quarter windows, one might not even peer into the car to see that a professional drifter was behind the wheel. I just realized something… quite a lot of Team Falken drivers have BMWs in their personal garages! Daijiro Yoshihara, Calvin Wan, Tyler McQuarrie… oh wait. Calm down with all that name dropping.
Of course the M3 isn't displaying a Falken sticker for no reason. For daily duties, Tyler chose to use Falken FK452 tires to wrap around his DPE wheels – 255/30/20 up front and 285/30/20 in the rear.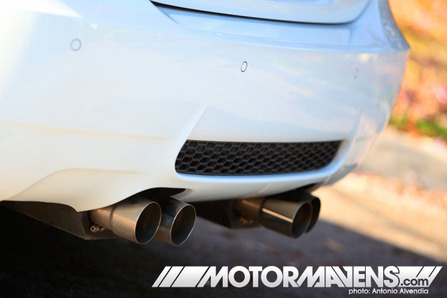 Under the rear bumper, Tyler chose to swap out his factory exhaust system with one from Riss Racing. Continuing the theme of the rest of the car, this Riss Racing exhaust looks elegant and understated, but it emits a deep, powerful sounding exhaust note when you rev the powerful M powered BMW V8 engine.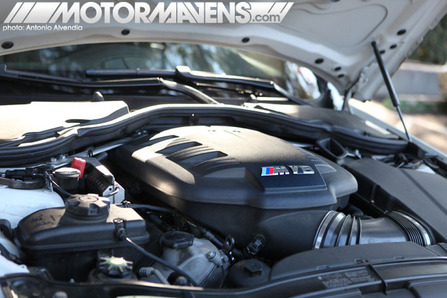 Just for good measure, here's a shot of the M powered V8 underneath the hood. It's all bone stock and under warranty! No aftermarket cams, no aftermarket pistons, no woman, no cry. But even bone stock, it still has more power and torque than most modified cars out on the streets.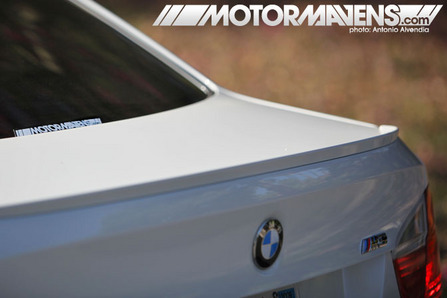 Even though his corporate sponsored professional drift car is not allowed to rock stickers that aren't paid for (if we start saving our pennies now, we'll get there eventually!), Tyler gladly shows his support of the site by visiting our site every day and by rocking our MotorMavens stickers on his personal car.
Thanks so much for the support – you have no idea how much it means to us! Seriously.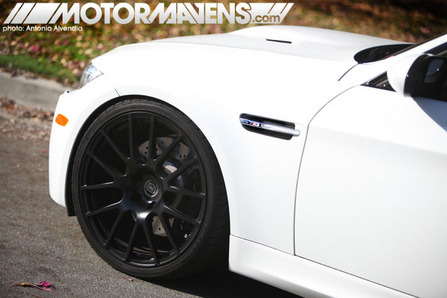 Here's a close up of Tyler's semi-flat black 20×9.5 DPE Wheels Mono ST7 up front, with the wider 20×11 in the rear. With that black finish, maybe they should call them EDP instead, as in "extremely difficult to photograph." Haha, just kidding. I took a look at their website, and found a wheel in their lineup that I think would look awesome on our Motor Mavens project car, especially if they were powdercoated in dark gray (think Work XD9 gray) or better yet, WHITE. Check the DPE Wheels website and look for the GT7 wheel. What do you think? I like them.
(I'd post up a direct link, but they have a flash website right now, and I can't link directly to the wheel we're talking about.)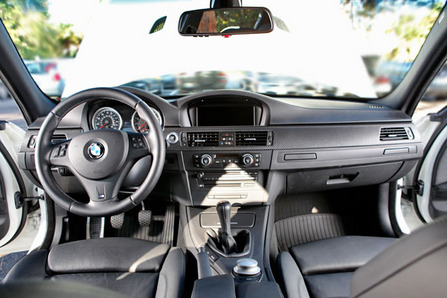 Inside the car, the M3 is completely stock, but hey… even a bone stock E90 M3 interior looks more impressive than most cars with done up interiors! The E90 M3 whispers class while being sporty and fashionable at the same time, all without trying. Man… must be nice, baller.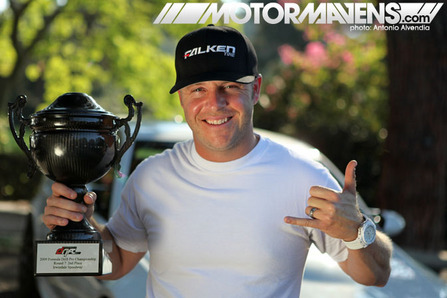 Here's our boy Tyler, with his carbon fiber Formula D trophy in hand, and the shaka sign in the other. With a brand new Formula D trophy to display at his house and a white E90 M3 as his sporty and sophisticated daily, Tyler has every reason to smile! CONGRATULATIONS brotha!
:: Antonio Alvendia
PS: Thanks to Tyler for bringing the car out on a very rough morning, Abbitt and Roland for helping me shoot these pics quickly by working as "human light stands" after we got kicked out of our first location, and Yoshi for helping me with the photos!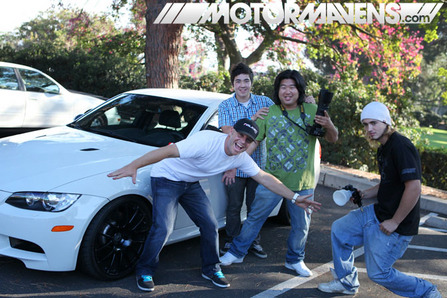 ---