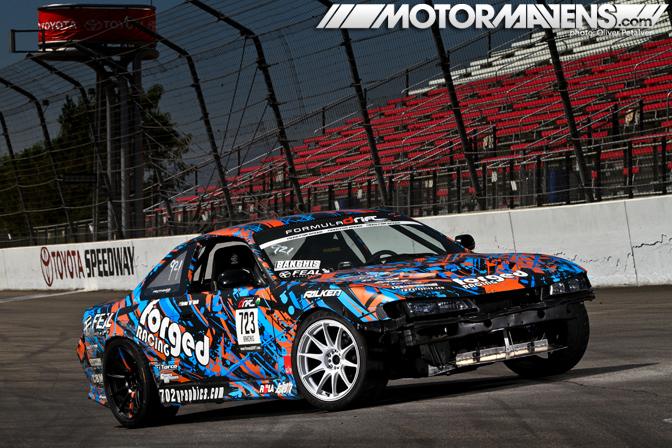 When I first met Aurimas "Odi" Bakchis, it was at a local grassroots event. From the first time I met him until now, I'd say he's still one of the most down-to-earth guys you'll ever meet. However, that's hardly the description I'd give him when he's on the track. On the track, I'd say Odi is a menace. With only two years of drifting experience, Odi entered professional competition in 2011 and earned his professional license in 2010 through the Top Drift Pro Am and Vegas Drift Pro Am series.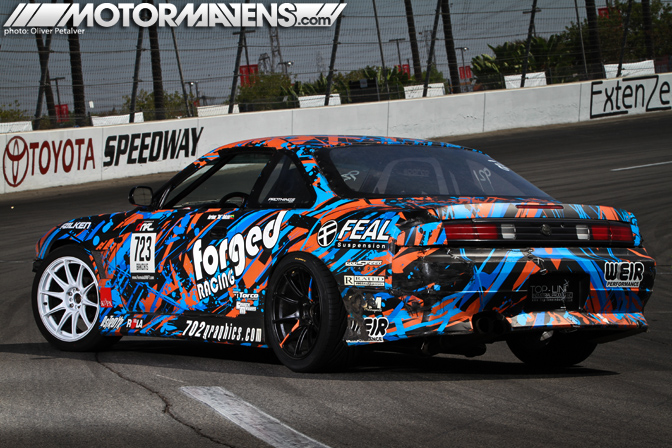 As a rookie during the 2011 Formula DRIFT season, Odi qualified for every event with the exception of Round 7 in Irwindale. With the level of skill and talent that is now par for this series, that's an amazing accomplishment.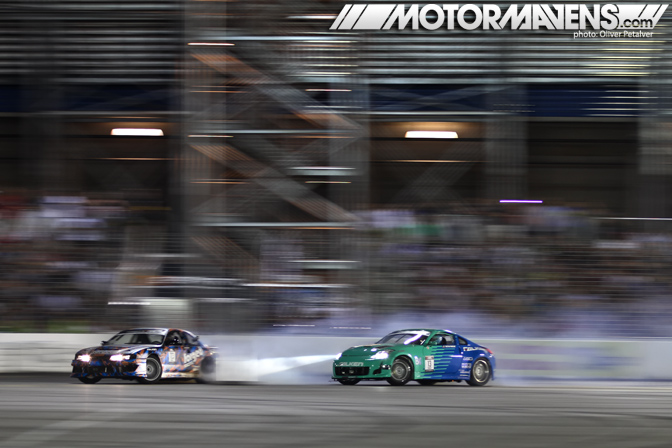 After finishing Round 6 in 4th place, Odi entered the Final Round with a strong lead in points and qualified 33rd.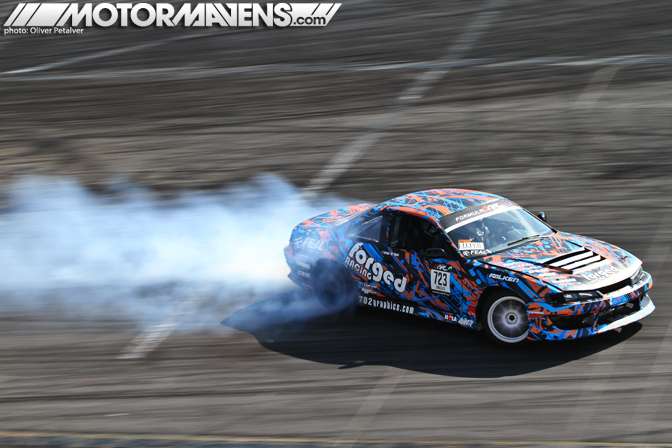 Despite the fact that he was out of the competition, Odi still ended up winning the "Rookie of the Year" title.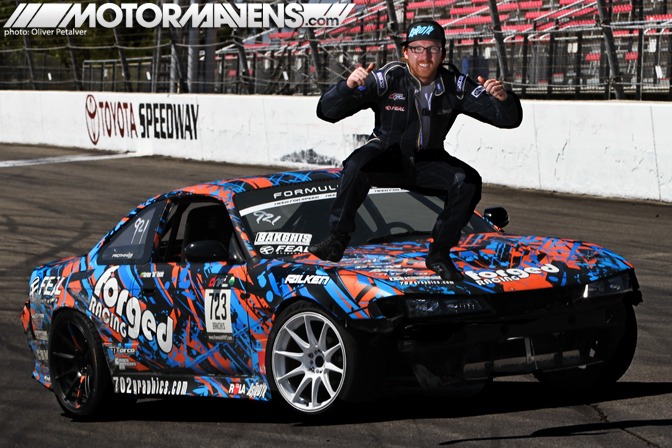 "Being Rookie of the Year feels great and it also feels great to finish in the Top 16 for the season" –Aurimas "Odi" Bakchis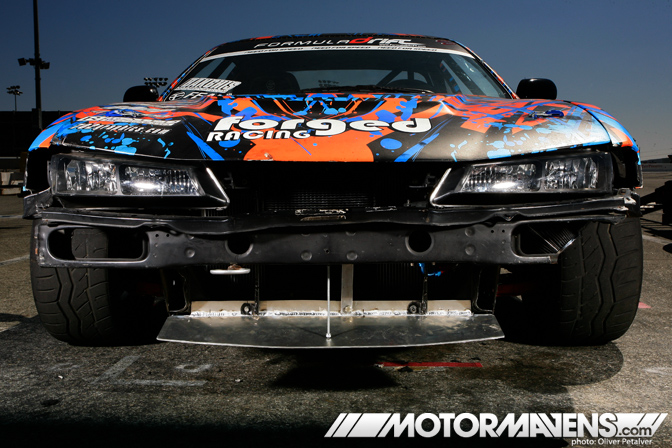 Odi first got into drifting back in 2009 when he was invited to go to Adams Motorsports Park. Seeing local drifters ripping it up led him to purchase a 1989 Nissan 240SX. Odi recalls purchasing his missile car on Valentine's Day – and it has been a steady love affair ever since.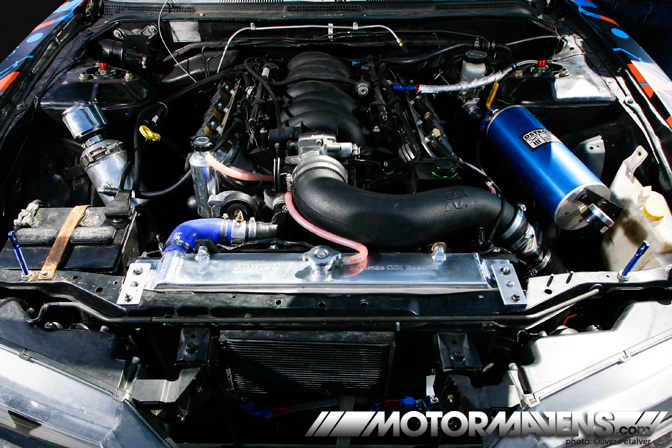 The drive train consists of an LS1 motor with a cam and a T56 transmission that Odi rebuilt himself.  The car puts out approximately 356 hp and 340 ft-lbs.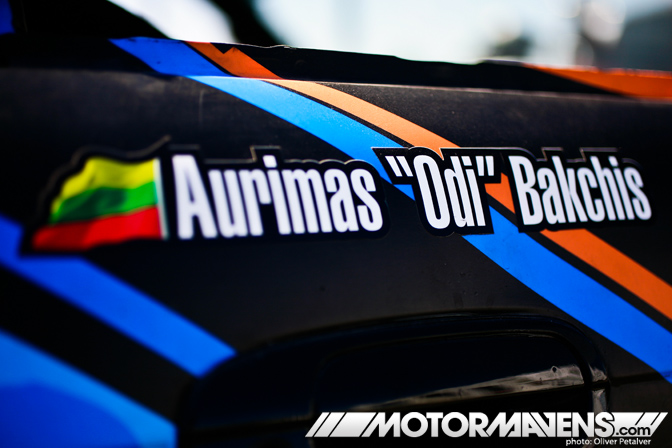 Odi credits Tanner Foust as his inspiration to become an overall good driver and not focus solely on mastering drifting alone. Did you know Odi raced rally cars and that his wife, Amy, co-drove for him? Speaking of Amy, Odi states that she has been a part of every motorsport he has tried – from riding in motorcross to drifting. Now, she can be seen spotting for Odi during his runs. That's teamwork!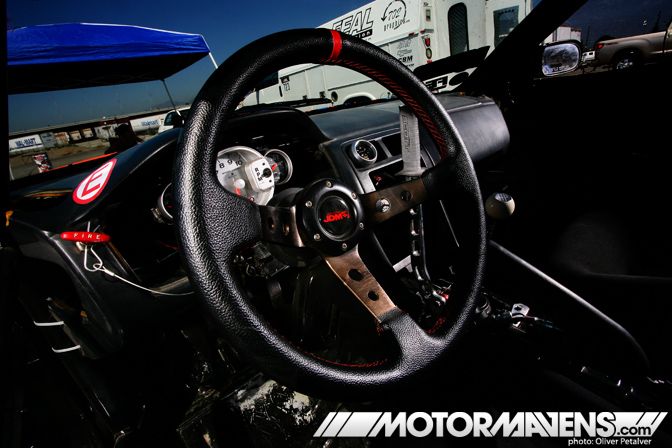 The car is a fairly stock S14 chassis with a roll cage built by his friend Eddie. On the inside, you'll find a JDM Sport steering wheel, Momo Seat, and G-Force harness previously found in his old rally car. Look closely at the ASD hand brake handle and you'll see a Scott dirtbike grip. Gotta love it!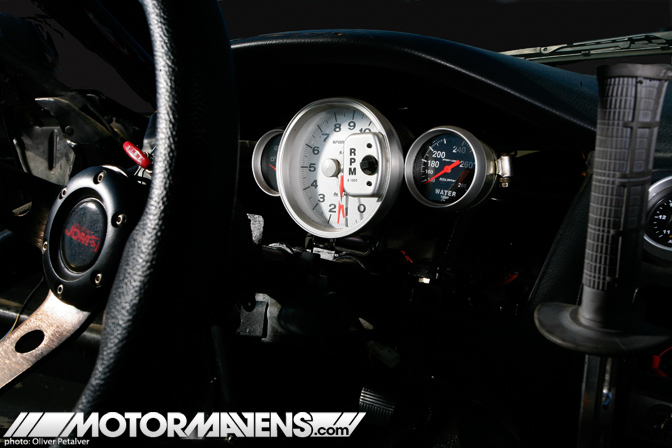 An Autometer tachometer, water temp, oil pressure, and AEM wideband gauge were also pulled from his old rally car.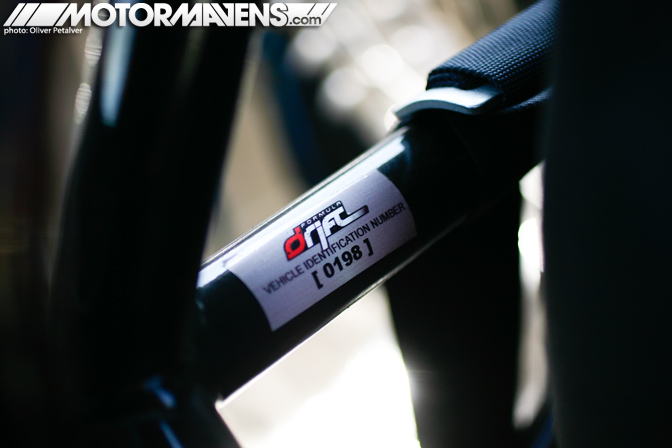 Every Formula DRIFT car is inspected and given a unique identification number.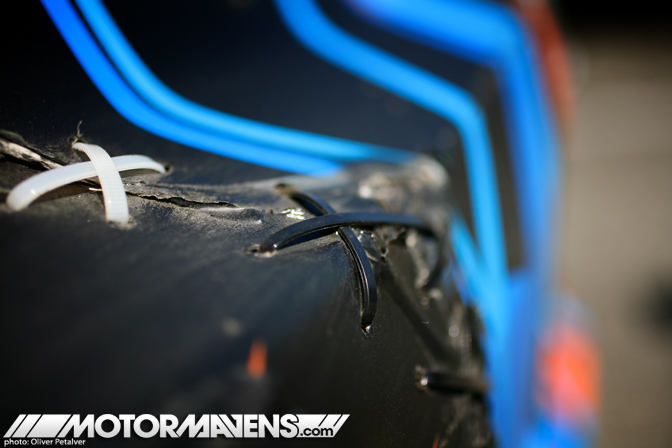 What's a privateer to do when he crashes and splits his bumper? Since most privateers don't have the luxury of an extra bumper lying around, many use their creativity to hold things together – as you can see evidenced here by the creative use of zip ties.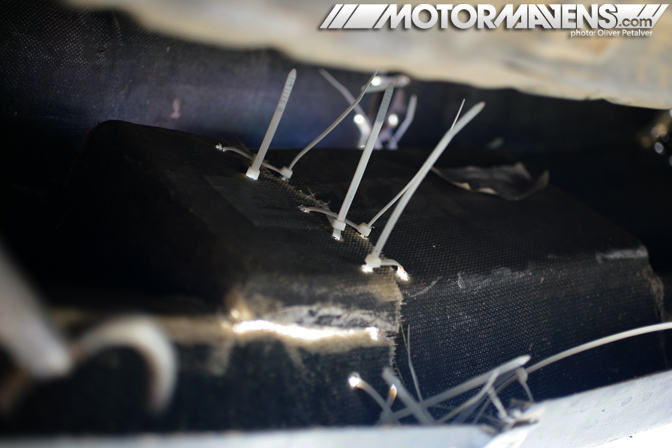 Here is an inside view of the bumper that many don't get to see.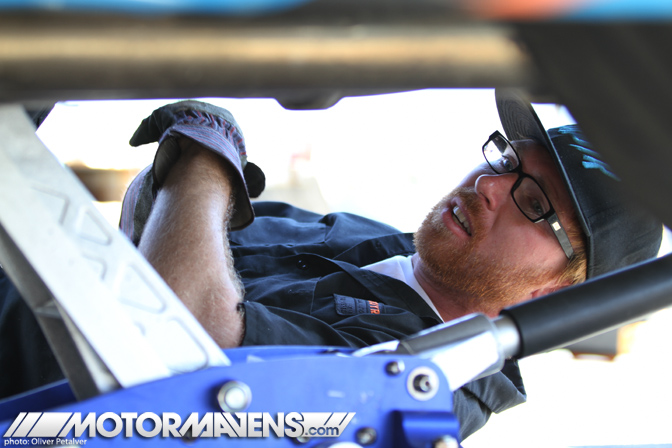 Odi can be seen rocking DSTROYR gear even when he's working on his car. A big MotorMavens shout out to Jon Chase and his family – and a special shout out to little Gunner!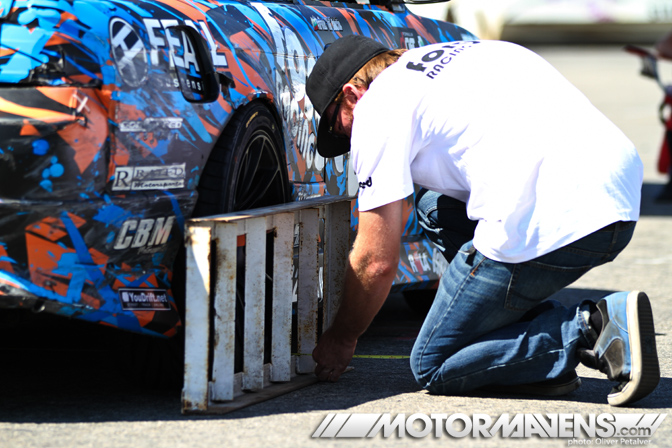 Here, Odi uses his steel trailer ramps as a tool to measure the toe settings in the rear of the car. He suspected that hitting the wall during practice in Vegas may have shifted his alignment so he wanted to measure and set it back to his desired settings.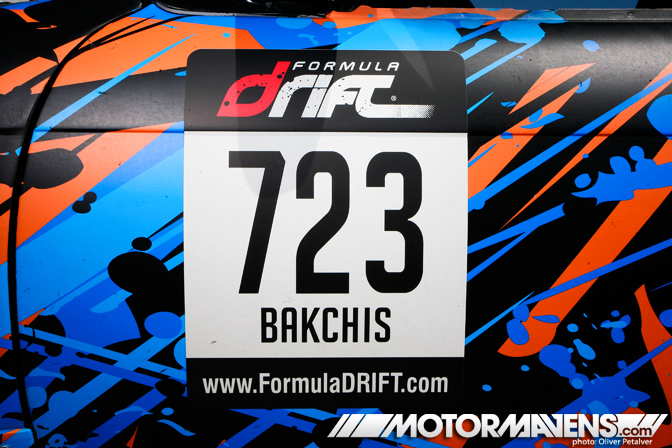 The Bakchis Motorsports crew consists of a group of friends and family. Brennan, Nate, and Andrew are the guys that help wrench on the car. Brennan represents 702 Graphics and completes all of the artwork for the car and for the team.  Andrew is Odi's brother-in-law and Nate is a good friend of his. Both have a background working with cars.  As previously mentioned, Amy spots for Odi.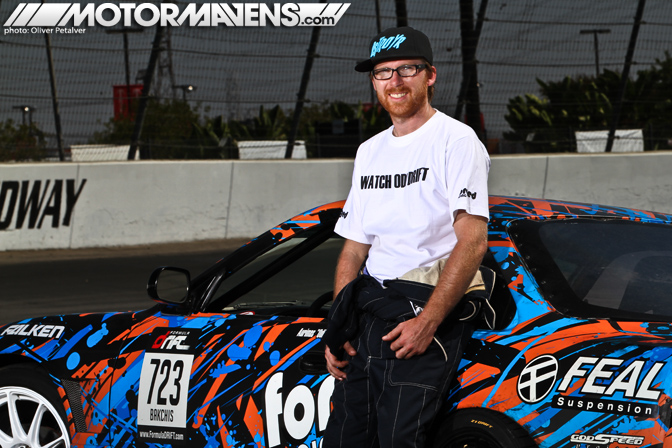 For the 2012 season, Bakchis Motorports plans to run the Nissan S14 chassis with new livery from 702 Graphics. They plan on rebuilding the LS1 motor with more high-performance parts. In addition, new suspension options from Feal Suspension will be tested.
Odi would like to thank his sponsors Forged Racing Radiators, 702 Graphics, Falken Tires, Dstroyr, Torco Oils, Clutch Masters, CBM Motorsports, R-Rated Motorsports, Top Line Industrial Products, Weir Performance, Godspeed Project, Rola Audio Video, and Feal Suspension.
"I would also like to thank my friends, family, and fans. I gave it all I got, and it is awesome to have people backing me and believing in me along the way."
For more information, visit BakchisMotorsports.com
::Oliver Petalver
702 Graphics
,
Adams Motorsports Park
,
Aurimas Bakchis
,
Bakchis Motorsports
,
CBM Motorsports
,
Clutch Masters
,
Drifing
,
drift
,
DSTROYR
,
Falken Tires
,
Feal Suspension.
,
Forged Racing Radiators
,
Formula Drift
,
Formula DRIFT Rookie of the Year
,
Godspeed Project
,
MotorMavens
,
Nissan S13
,
Nissan S14
,
ODI BAKCHIS
,
Oliver Petalver
,
R-Rated Motorsports
,
Rola Audio Video
,
Top Drift Pro Am
,
Top Line Industrial Products
,
Torco Oils
,
Vegas Pro Am
,
Weir Performance
---