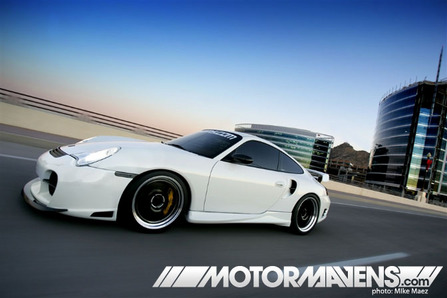 Evolution Motorsports, or EVOMS as they are also known by, is one of the most highly respected and successful Porsche tuners in the country.  This white 996 initially caught our eye when we toured their facilities and scouted a fire-breathing, 230+mph capable, record-breaking 996 of a similar variety.  Although that car has garnered a plethora of media attention within the Porsche community, this 2002 Porsche 996TT is certainly no slouch and is a fine example of the initial developments within EVOMS to reliably achieve 700+ hp in a complete package initially dubbed the GT750.
Since they worked on the development of this particular 996, EVOMS has also launched a standardized package for the 997, dubbed the EVT700, that can be seen here in addition to their own intelligent tuning services. However, for 996 fans around the world, it is easy to see why the earlier variant of the 911 Turbo remains so popular.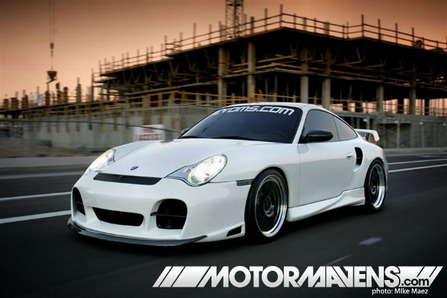 The white body/black wheel color combo is usually incredibly difficult to photograph, but we liked the fact that the polished lips on this set of Fikse wheels break up the look for some contrast.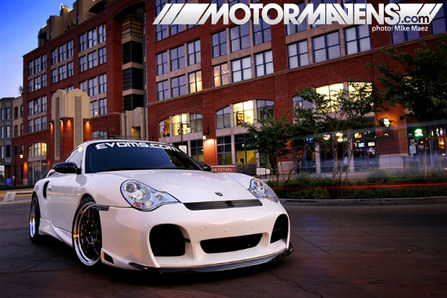 On the outside, the TechArt GTS front bumper is complimented by TechArt GTII side skirts and a GTS rear tail, along with an EVO front hood crest and EVO carbon fiber intercooler duct splitters.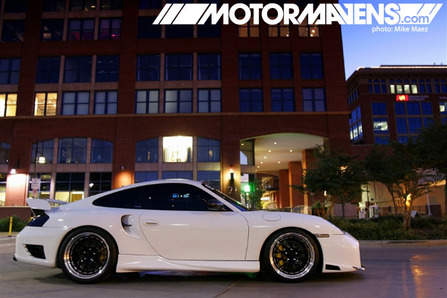 The Fikse 19" Profil Profil 10 Forged Modular racing wheels feature polished lips with race black anodized centers and measure 19X8.5F and 19X11.5R with Michelin PS2 235-30-19 & 325-25-19 tires.  They sit pretty flush with the body, although they're not too aggressive by "drift car standards." This isn't a drift car anyway.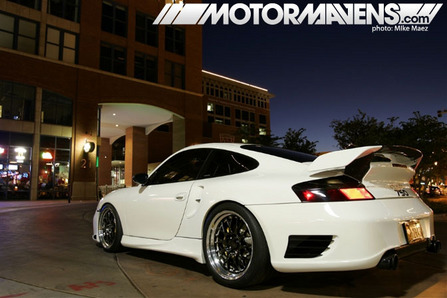 Here you can see the stagger and fitment a little more closely. Things are looking good particularly since those rear tires are super wide – 325s in fact.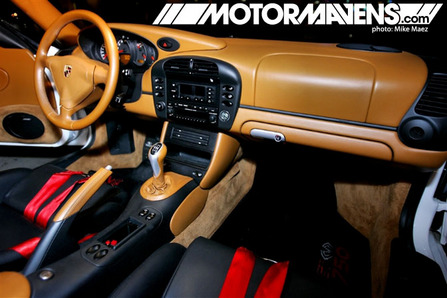 Porsche interiors are generally a cut above the rest, and the tan leather here isn't so bad with the white exterior.  A bit of relief from the blazing Arizona summer heat!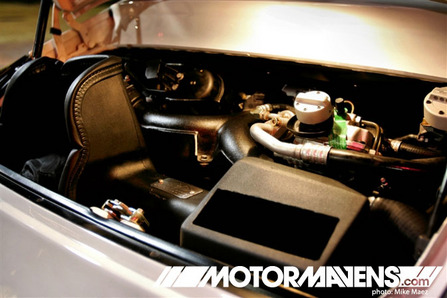 EVO Modified Garrett GT700 high flow turbochargers w/complimentary custom GT700 wastegates and machined billet mounts have been fitted along with 41.5 mm primary tube stainless steel seaders, 70mm high flow turbo air inlet ducts and 90MM Clubsport intercoolers to net 709 hp @ 5600 rpm.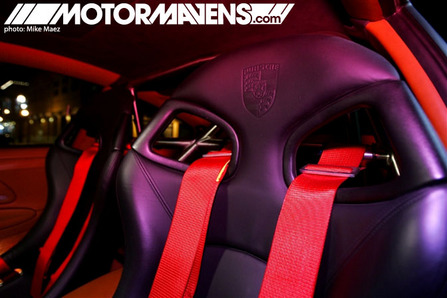 GT3 Recaro Cup racing seats, a Porsche stainless steel roll bar, Schroth 6-point harnesses and EVO GT700 floor mats adorn the interior.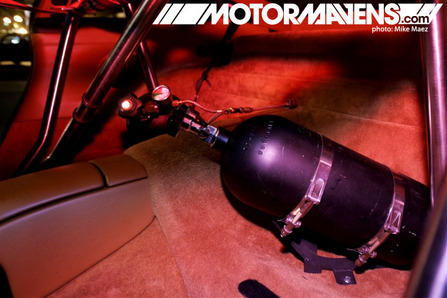 In the back, underneath the rollbar, we spied a Nitrous/CO2 tank for the intercooler spray system.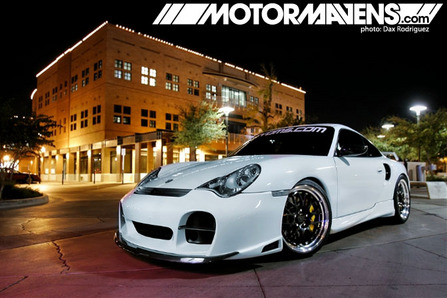 The GT750 rests on Bilstein PSS9 Suspension System coilovers with EVO Billet front camber plates and rear shock mounts, billet PSS9 spring adapters and a GT3 front and rear adjustable sway bar kit.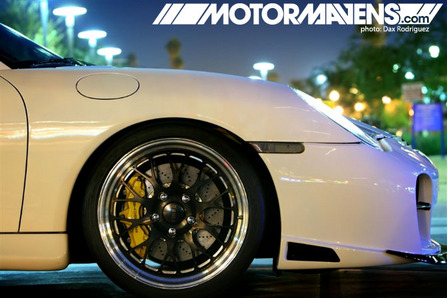 A Porsche GT2 F/R ceramic brake upgrade has been installed and feature 350mm ceramic front disks with 6-piston Porsche Brembo calipers. 350mm ceramic disks are also in the rear with 4-piston Porsche Brembo calipers.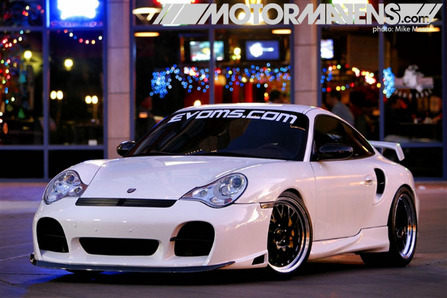 One thing is certain about the Porsche 911 – the whole concept is the constant refinement and perfection of one of the greatest automobiles known anywhere in the world.  EVOMS has done an excellent job of building upon the car's character while not overtaking it.  With a prodigious amount of power and refinements to the vehicle all around, this is one 996TT build to remember!
:: Mike Maez
---