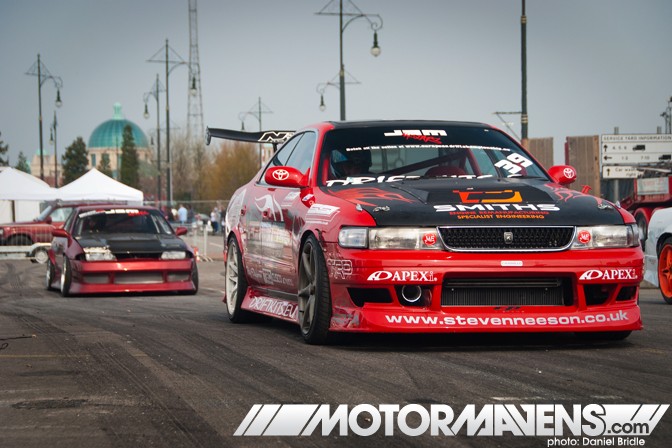 After an unusual but fun night in the Trafford Centre which involved myself, Dan Chapman and a bunch of friends attempting to do 5 car drift trains on the dodgem karts in the arcade, it was time to wake up, head out of my hotel and get to the track for another day of intense JDM Allstars action!
Saturday had given us just a glimpse of what Sunday had in store, and with even more crowds, the atmosphere building, the Krispy Kremes being handed out (oh yes, I said it, free Krispy Kreme doughnuts!) and a huge live screen, it was looking like Sunday would be a very good day indeed.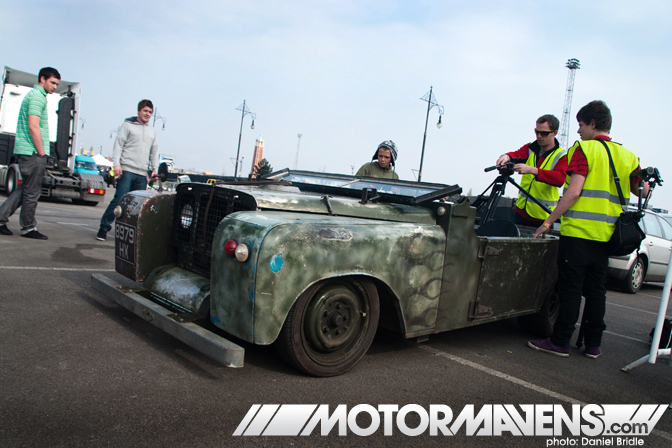 The first thing I laid my eyes on was this deathtrap/fine piece of automotive engineering. The JDM Allstars commentator Bryn Musselwhite has an eye for unusual cars, and this little beast is no different. I never thought I'd see the day where I say that this is the lowest Land Rover I've ever seen… It's even powered by a V8!
We were going to use it as a camera car during practice for tracking shots but it turned out to be too slow to keep ahead of the cars, so in order to avoid  nasty accident we decided against using it. I was pretty gutted I didn't get the chance to do some tracking shots but looking at the thing I probably would of fallen out and face planted as soon as it moved!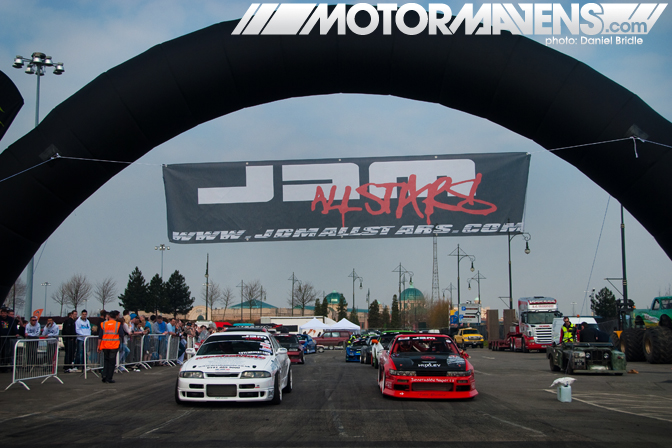 I quickly headed up to the start line as the cars were lining up for practice. There was a definite buzz of excitement, I know I felt it as I started to walk through the line up. Here I was surrounded by some of the best drifters in Europe.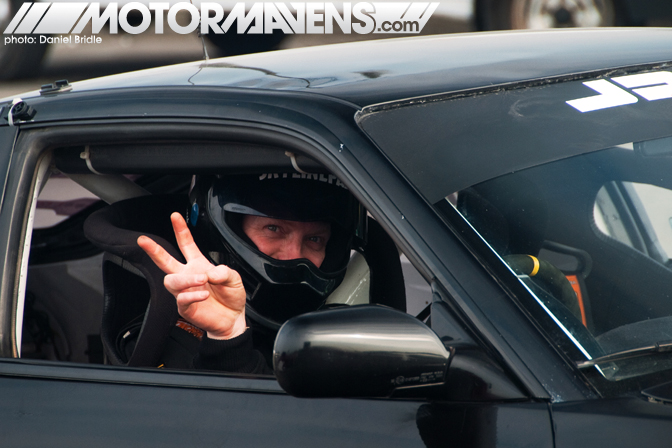 Here's Anthony Scott, the driver of the famous Rocket Bunny Sileighty, throwing up a peace sign. Scotty looked the most chilled out I've ever seen him at a drift event. He seemed to be just having fun in his car, which to me is what drifting is all about!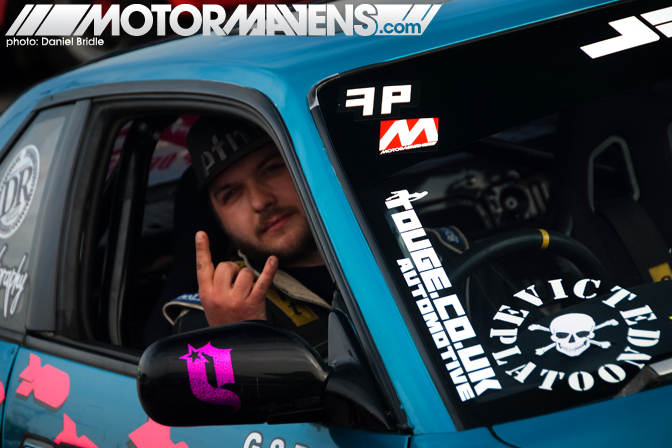 Here's Dan Chapman throwing up his preferred hand sign. Dan was calm and collected as he focused on the drive ahead. Or maybe he was just tired after all that practice with the dodgem cars the night before?
You'll also notice in the foreground that Dan reps a MotorMavens sticker on his Driftworks PS13. It's so heartwarming to see these on UK cars now, its really encouraging that people are supporting what I do over here, and that MotorMavens as a whole has support from around the world!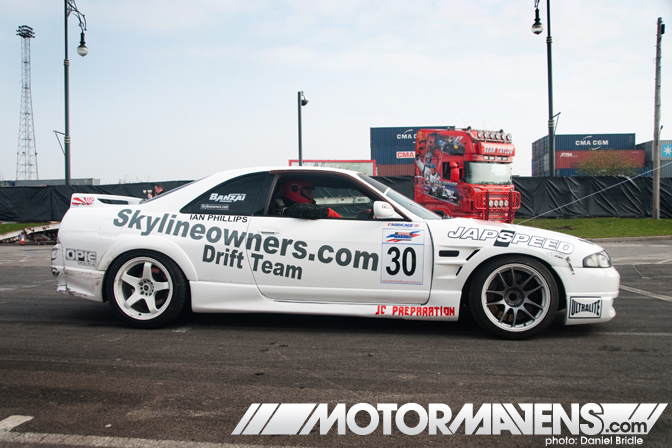 Jon Calvert sitting in his borrowed R33 (his 2010 180sx wasn't quite ready for the opening round) seemed to be in good spirits, as did most of the drivers. Jon had already made a BIG impact with his JDM Allstars debut. He may be a rookie to the series but his skill level is far from it. Consistent lines and super aggressive entries made him one to watch all weekend.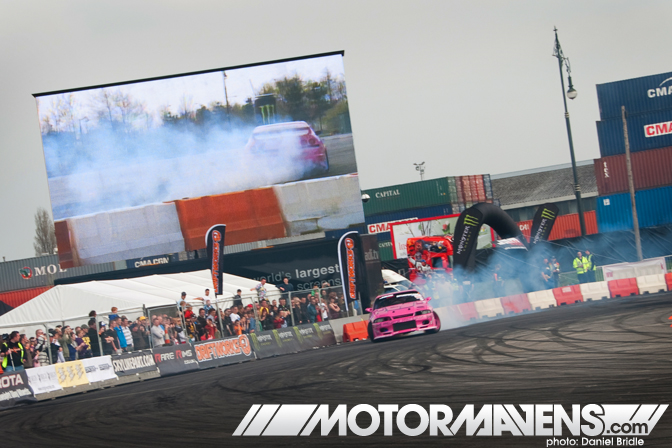 Soon enough the practice session before qualifying had got under way and as I mentioned in the intro, the crowds were able to watch everything on the fantastic live feed, thanks to the hefty mother of all TV screens. In fact it's the largest mobile LED TV screen in the world!
I've always wanted JDM Allstars to have a giant screen and now they do it's an awesome addition to the event, raising the bar even more for drift events in the UK.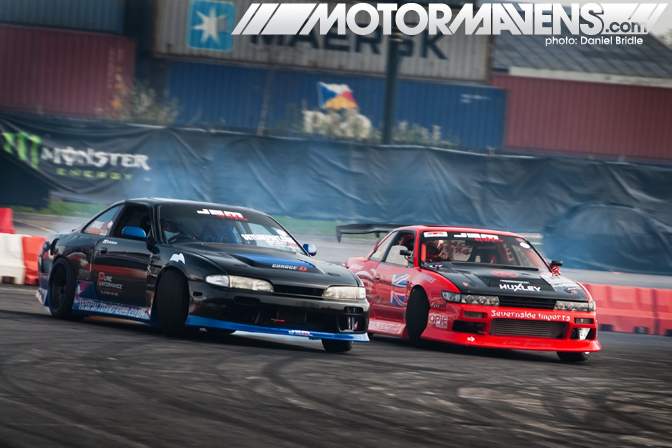 Luke Fink (in the red Severnside Imports PS13) had finally arrived from his epic 5 day journey from Australia to Manchester late on the Saturday evening. I'm not sure what the guy was running on but it definitely wasn't sleep! First time out on the track in a totally new car to him and he nailed it as if he'd been driving it for weeks.
What was funny is I was speaking to Brad McQueen before he went out on the circuit, and he was really excited that Luke had turned up."I wanna twin with Fink!" he told me. So I couldn't help but laugh when early into practice there was Brad in his S14 with Fink practically on his passenger door!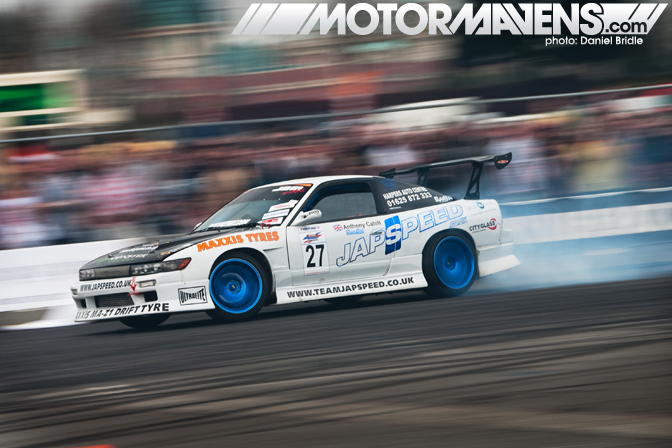 One of the drivers of the weekend had to be Anthony "Google Me" Cahill, who drove the best I've ever seen him drive! I think being in his home town, with Japspeed HQ about 10 minutes away, and huge support from friends and family really helped push him to drive his best in the Japspeed Sileighty.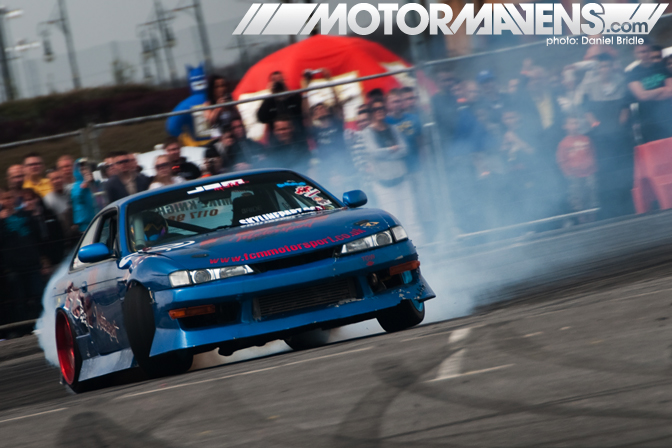 Martin Ffrench's Toyota Altezza wasn't ready in time for Round 1, so he posted up a thread on the Driftworks Forum asking if anyone could lend him a car for the weekend. James Bull bravely stepped up to the plate and lent him his recently finished FCM Motorsport S14A. Bravely indeed, as Ffrenchie is known for his aggressive driving style.
During the last session of practice on the Saturday a collision between the front of Mark Luney's Toyota Supra and the rear quarter of the S14 caused some pretty major damage. But fortunately everyone got together and worked late into the night to get the car in a working state for Sunday.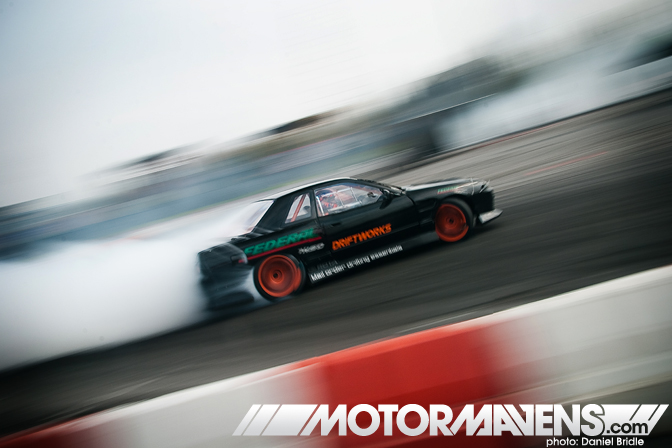 Ben Broke Smith, or more widely known as Bon Bon, managed to get the 1JZ powered Driftworks R32 finished at the last minute and made it to Manchester. First time out on the track and it was business as usual for Bon Bon, laying down a TON of smoke and filling whole area with that sweet sweet 1JZ sound.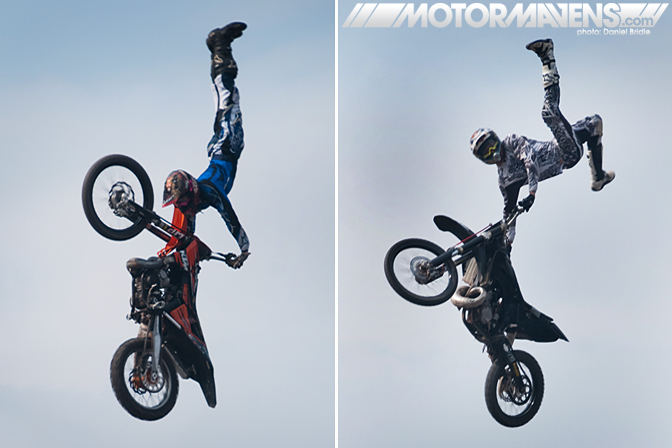 After qualifying the crowds were treated to a spectacular display of Freestyle Motocross. I've never personally had much interest in it, but after seeing it a few times I can definitely appreciate the skill involved!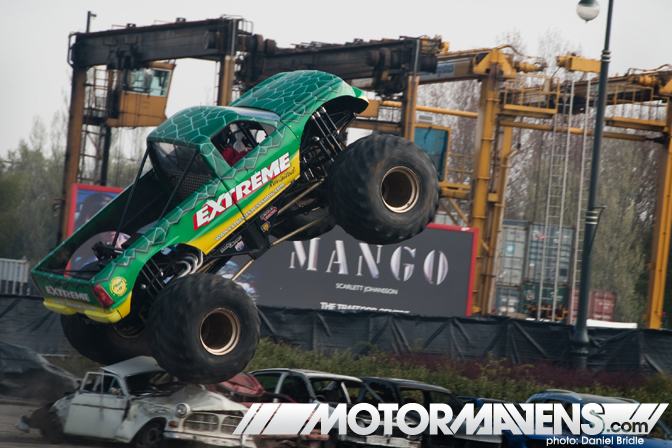 Monster truck demos were also the order of the day. I think my ears are still ringing…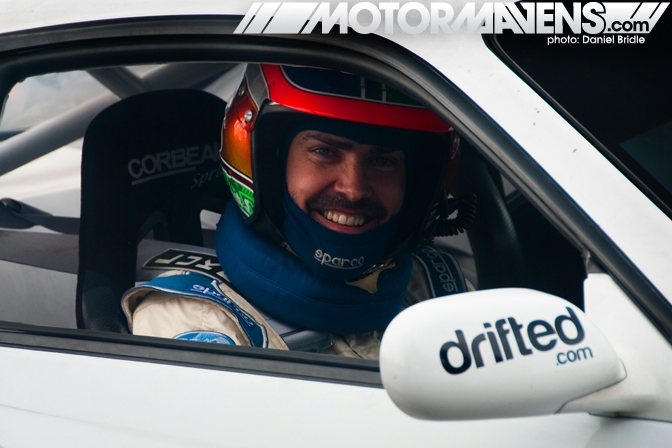 Professional drifter and Boyzone member Shane Lynch was there during the lunch break debuting Japspeeds latest build.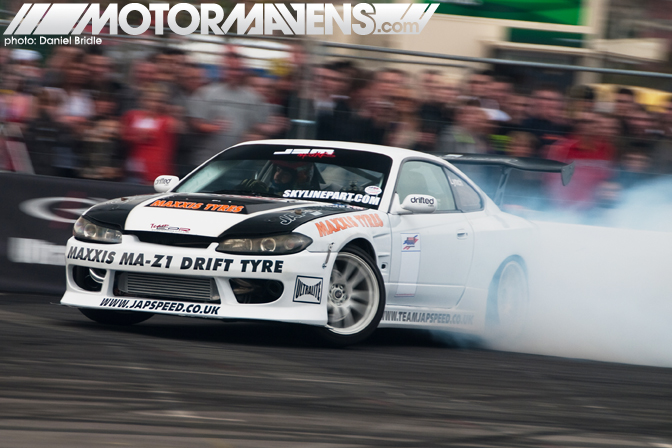 Their twin turbocharged VH45DE powered S15 Silvia! The car has been having a lot of running issues, but for the brief time it was running it was amazing to watch. When it started up in the paddocks everyone thought the monster truck was coming back out, honestly it's that loud. I've always been a fan of Japspeed's S15s, they're always such clean and precise builds and this is much the same.
I can't wait to see it out there in competition when the issues have been sorted and it's running well.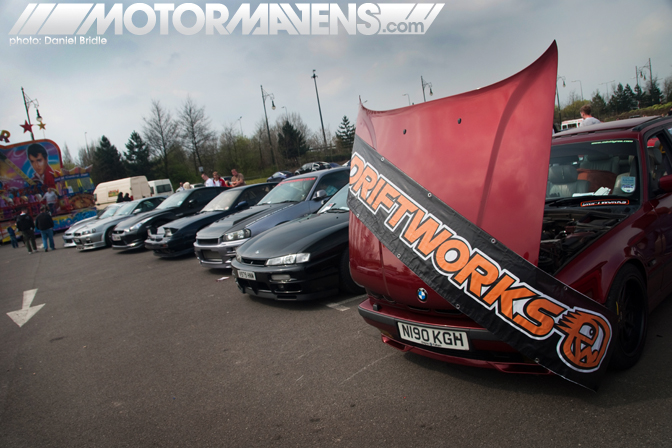 The Driftworks stand had filled up over the weekend with forum members cars, showing  joe public the more affordable side of drifting. Well, apart from the Nissan R35 GT-R in the background!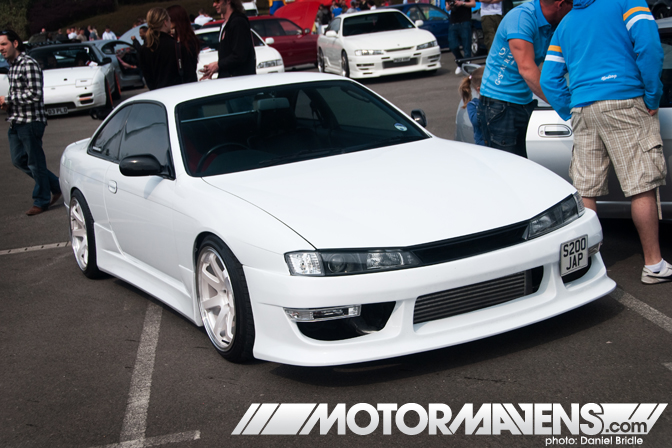 One of my favourite cars in the showgrounds had to be the super clean and super white Kouki S14A. I was a little unsure about what the wheels were at first, I thought maybe Rota Grids? Origin DNA 01? The fact it had 7 spokes dispelled those thoughts quickly. So after speaking to the owner it turns out they are GP Sports Gravity Gullflames. Never heard of them before, but they were exclusively imported and distributed by GReddy. Pretty dope looking wheels if I say so myself!
I wondered why the Driftworks S15 and R32 only went out for a few laps during practice. Turns out the S15 had a clutch problem, and the R32 had developed an issue with it's electrics. Meaning that both Phil Morrison and Bon Bon missed out on qualifying! I was really looking forward to seeing these two battling it out in the Top 16, but I guess there's always Round 2.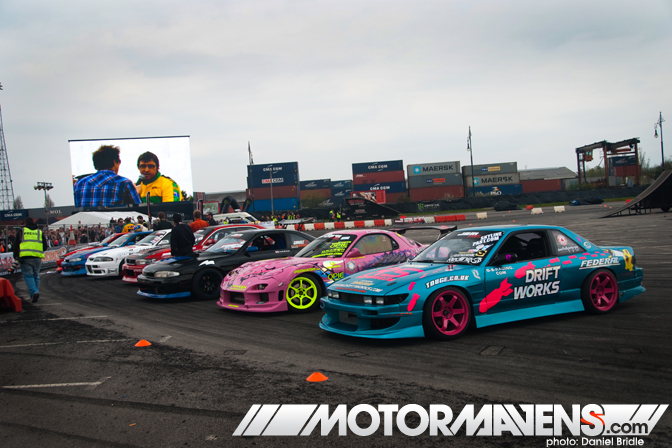 Speaking of which, it was finally time for the Top 16. The drivers lined their cars up one last time and got ready for the battles ahead…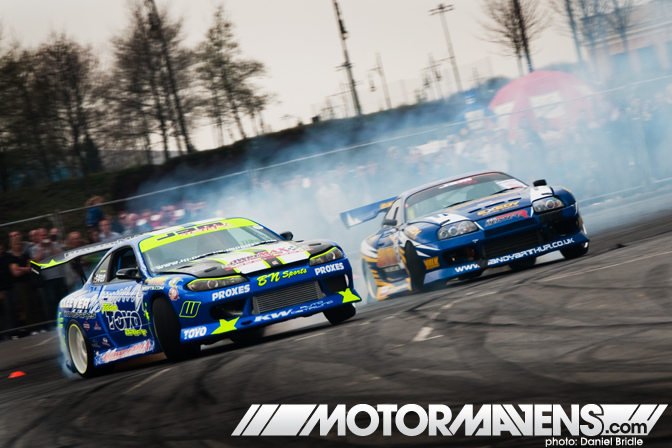 Every battle was full on, with each driver trying their best to get to the top it meant some tough calls for the judging team. From the off 4 drivers stood out from the rest and it was clear to see they would be going far, but no one knew who would be in the final or the battle for 3rd place. Those drivers were the highly experienced Mark Luney in the SATS/ex-BN Sports demo MK4 Supra, JDM Allstars rookie Jon Calvert in the Skylineowners R33 Skyline, Dan Chapman in the Driftworks PS13, and Luke Fink in the Severnside Imports PS13.
First in the semi-finals it was Mark Luney vs Dan Chapman. I have a feeling a lot of people had their cards on Chapman winning, but after a judges decision that he had jumped the line, and with Luney gaining an advantage on the run after, it was Luney who progressed to the final.
Next up it was Luke Fink battled against Jon Calvert, both drivers gave it their all, but Luke's PS13 started developing a serious turbo issue causing him to lose a lot of power. After a quick fix in the pits Fink came out again to battle Jon, but ended up spinning, resulting in a 10/0 meaning Jon was heading to the final to face Mark Luney.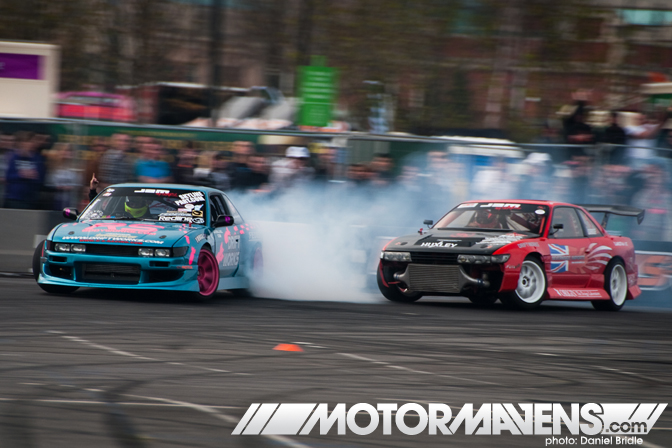 The battle for 3rd place was one that most of the crowd was expecting to be the final, but that didn't stop it being one of the most exciting battles in JDM Allstars history! From the first battle the drivers were super close and it stayed that way for not one, but two One More Times. The Severnside PS13 was sounding in terrible health by the second OMT, and on the transition into the second corner the car pretty much lost it's turbo, meaning Dan caught up super fast and ended up colliding with Fink.
The battle ran once more with Dan leading, this time he was able to pull away just enough for the judges to give him an advantage over Fink, meaning Dan secured 3rd place!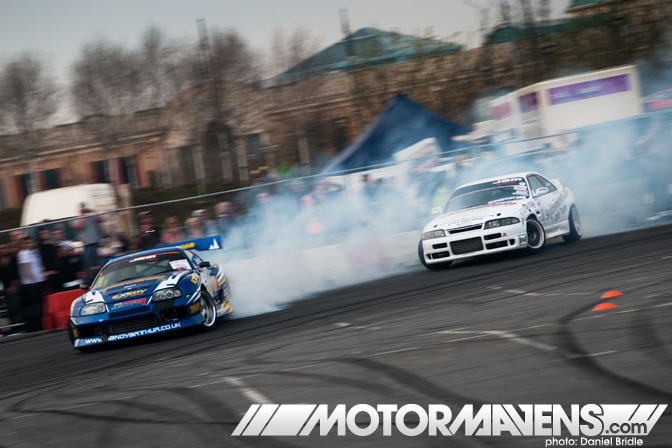 The final was a slightly calmer affair, but it was fantastic watching Jon and Mark battle it out.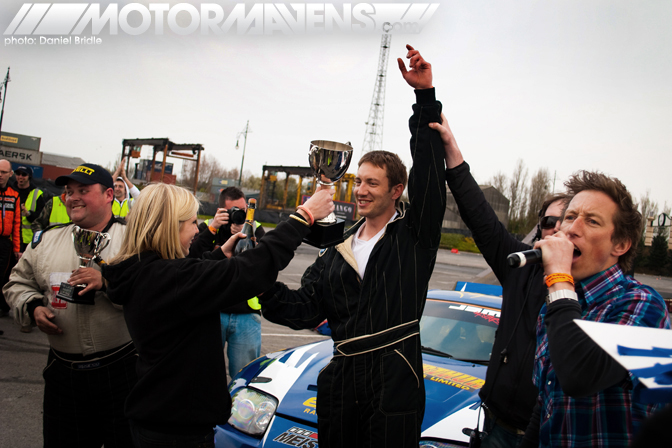 After the judges had decided that Mark took too shallow of a line through one of the corners the win went to Jon Calvert! First time in the series and he managed to win Round 1!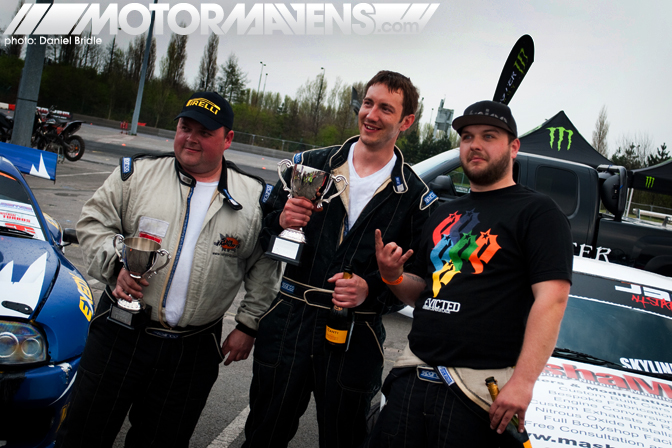 So there we have it . Jon Calvert 1st, Mark Luney 2nd and Dan Chapman 3rd. Unexpected results, but with smiles all round.
I have to say a big congratulations to all the drivers though, it was truly some of the best drifting I've seen from the UK since Wembley last year and it can only get better with each round. JDM Allstars has truly made it's mark on Manchester City and with the return of the Dutch drivers at Round 2 in Newcastle on the 12th-13th of June, it should be even more exciting.
I hope you've enjoyed the coverage of Round 1 of the JDM Allstars, we should have some dope films to show you soon as well!
::Daniel Bridle
1JZ
,
Anthony Cahill
,
Anthony Scott
,
Avon Bellamy
,
BN Sports
,
Bon Bon
,
Boyzone
,
Brad McQueen
,
Bryn Musselwhite
,
Dan Chapman
,
Daniel Bridle
,
drifting
,
Driftworks
,
FCM Motorsport
,
FMX
,
GP Sports Gravity Gullflames
,
GReddy
,
GT-R
,
James Bull
,
Japspeed
,
JDM Allstars
,
Jon Calvert
,
Kouki
,
Krispy Kreme
,
Land Rover
,
Luke Fink
,
Manchester
,
Mark Luney
,
Martin Ffrench
,
Mk4
,
Monster Energy Drink
,
Monster Truck
,
Nissan
,
Phil Morrison
,
PS13
,
R32
,
R33
,
R35
,
s14a
,
S15
,
SATS
,
Severnside Imports
,
Shane Lynch
,
Sileighty
,
Silvia
,
Skylineowners Club
,
Supra
,
Top 16
,
Toyota
,
Trafford Centre
,
Tsuiso
,
twinning
,
V8
,
VH45DE
---