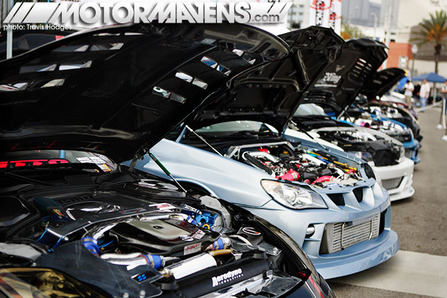 I know that many people have been waiting for our coverage of this weekend's Nisei Showoff carshow, which made its final show in Downtown LA/Little Tokyo. Since I knew I'd run into a ton of old friends at the show, I knew that it would be smart to come to the show early; that was a very good decision. Travis brought his Canon DSLR and his video camera to help capture the event too, since we knew that it would be hard for me to make my way around the whole show, in between saying hello to all our old school friends that come out the woodwork just for the Nisei Showoff. For some reason, some of these guys don't go to Formula D events or Just Drift events, but they always make it to Nisei. So for many of us, Nisei Showoff is a time for us to reconnect and chill with good friends who we don't have the pleasure of seeing all the time, due to the busy work and travel schedules that we all have.
I was happy to see several media outlets at the event covering the show as well; I'm hoping that all the magazines and websites out there run coverage of the show. Super Street Magazine and Project Car Magazine both had a strong showing at Nisei, with booths and a build-off competition of the magazine editors' personally owned cars. I also saw people from Import Tuner,  Japanese Nostalgic Car, Urbanracer, Auto Otaku/Speedhunters, DSport, even an ex-Jtuned guy and several other media outlets out there to support and shoot photos of Nisei Showoff. Make sure to check out their coverage of the show as well.
For any other media outlets who weren't able to make it to the show, but still want to run coverage of the event, please contact us at motormavens(at)gmail.com and we will supply you with photos for free, just to help out our friend Ken Miyoshi who runs the show.
While it may seem to some outsiders that we've been hyping this event quite a lot, it's only because Nisei Showoff really is a big deal to those of us who go there with our friends and family every year – it's a tradition that we've all kept up for the past nine years.
In fact, the very first time I ever put my own AE86 in a carshow was at Nisei Showoff in 2000 – the first ever Showoff event in Little Tokyo. That year, I linked up with several of my other AE86 friends and old school Toyota heads, and we lined our cars up all in a row, parallel to 2nd Street in Little Tokyo. We all thought it was so cool to be in a carshow in that area, since we would always hang out in Little Tokyo after work. My friends and I were always there, whether we were buying Japanese drifting magazines at Kinokuniya Bookstore; renting Japanese car videos at J-Wave; getting ramen at Orochon or Daikokuya; buying Japanese market limited sneakers at the shoe store inside Japanese Village Plaza; or of course, getting drinks at Oiwake.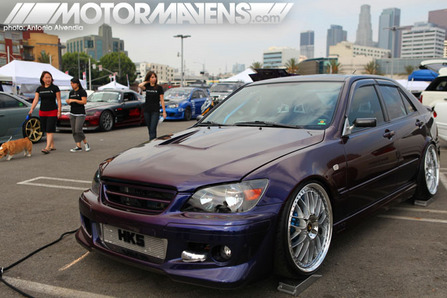 On the morning of Nisei Showoff, everyone was hurrying around to put stickers on their cars, fill out spec sheets, and do some last minute detailing touches on their cars. As I walked around the show, I spotted David Huang's newly redone Lexus IS300 being cleaned and prepared for the show. While most people may be attracted by the spotless JDM chameleon Mazoora paint on his car, I personally was jocking his Uras mini ramps. Man, I need some of those for my car, because it's pretty hard to fit a jack underneath the body in some spots.
By the way, does anyone recognize the aero kit? Maybe the front mount intercooler will give you a clue. It begins with an H and ends with a KS. Same aero that Nobuteru Taniguchi was rocking when he was driving the SXE10 HKS Altezza… except David Huang had this aero kit even before Taniguchi. Some people may remember that this aero kit was released in 2004 on a silver Altezza at TAS, and Taniguchi didnt begin driving the HKS Altezza until 2006… but David bought his aero way back in 2005 as a special order from SP Engineering, because HKS USA couldn't even bring it in at the time. Baller status no doubt!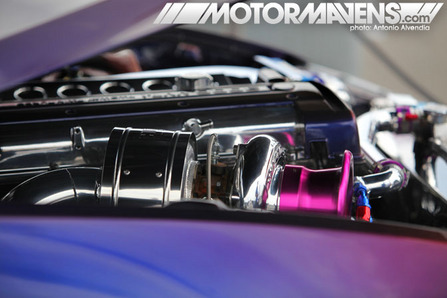 I was able to peek under the Shift Sport hood to catch a glimpse of the VVTi (Variable Valve Timing) 2JZGTE from a 2004 Japanese market Aristo. The big purple velocity stack is a $275 piece from HKS that is bolted up to a sick HKS T04Z turbo. According to David, this thing will have humongous power by the time it's done getting tuned. I'm guessing somewhere around 800hp?! Man, I can't wait to get photos of it on a track!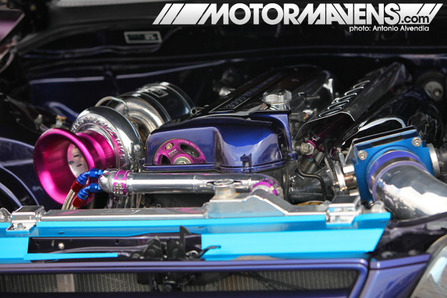 I like the customized hard-piped polished hose… err… tube… with Wiggins clamps that leads from the Koyo radiator to the engine, complete with Earl's AN fittings. Another cool detail I like is the custom cut-out timing belt cover, which reveals one of the HKS adjustable camgears. According to David, he even has an HKS timing belt underneath there. Dang, the guys at HKS Japan must see dollar signs when they see David walk into the door and say irrashai masen!
I'm not sure if you can see it from this photo, but the engine has been wire tucked just like some of the clean engine bay having Honda guys. Cool as hell. I'd love to do that to one of my Corollas.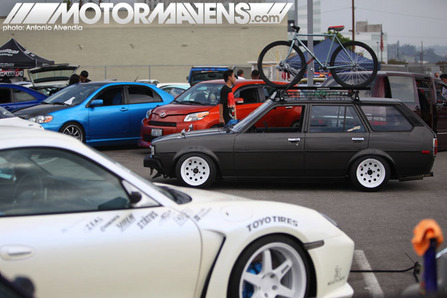 As I was checking out DH's Porsche 911 turbo with Top Secret aero kit and TE37s, I spotted Duffman's TE71 Corolla wagon! This wagon definitely caught my eye because of its outstanding stance! Well, that and the bike on the roof.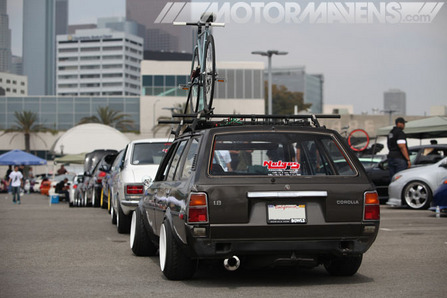 Funny sticker on the back… it says "Nalgas" but from the rear, the thing you notice the most has definitely got to be the white lips of the wheels poking out from the stretched tires. The rear bumper of the car has been removed (presumably because the big USDM rear bumpers are huge and ugly?) for aesthetic reasons. Roof racks with road bikes are definitely a trend in Southern Cali… I thought it would be dope if some of the Pacific Northwest guys had a Corolla wagon with a roof rack and a kayak or something. But I suppose the streetwear guys don't go kayaking, haha.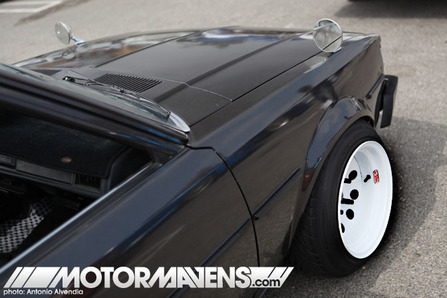 When you get up closer to the car, the stance impresses me even more. I was told that Duffman was a Honda guy/S14 guy… so it impresses me to death that he was able to nail the "perfect AE86 stance" complete with hippari tires right off the bat. I like the older style metal fender mirrors too (as opposed to the plastic fender mirrors); they make this Corolla wagon look even older than it is. Awesome.
The Diamond Racing wheels that this car sports are inexpensive, yet perfect sized. It proves that the "I don't want to spend $2000 on a set of RS Watanabes" isn't an excuse for people who own Corollas. Awesome stance is available at lower prices too. Good job.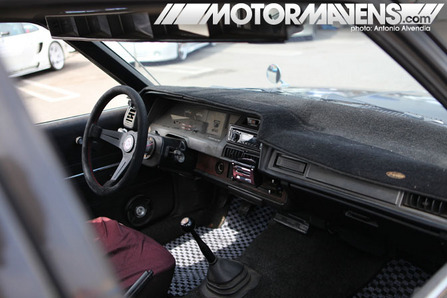 Inside the car, I noticed a Nardi deep corn steering wheel, which adds a newer touch to the vintage looks of the 5-speed TE wagon.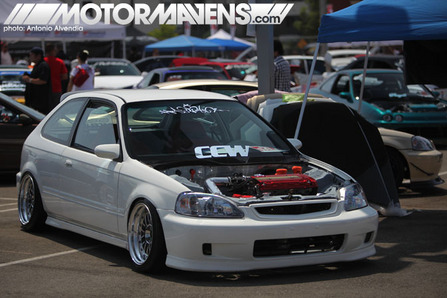 This is EK Civic belongs to James from the Hasback crew. The first thing I noticed when I first saw his car were the 16×8.5 (+13 offset) CCW Wheels, but when I looked closer, I noticed that the B18 GSR motor in his engine bay were surrounded by $15 Mugen bolts all over the place. Baller status.
If you dig this EK like I do, then I should point out that it's for sale. The link to his spec sheet and "For Sale posting" is right here.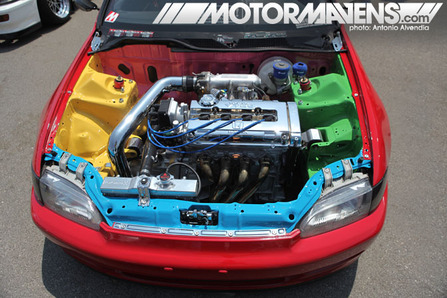 It seems that everyone was trippin out on Arnell's sick EG6 Civic hatchback, which features a multicolored, fully wire tucked B series engine bay and some pretty outstanding offset BBS wheels. More on Arnell's EG6 and the other aggressive offset Hondas soon!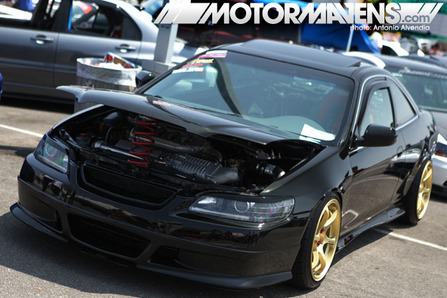 I don't normally notice Accords, but this Accord coupe impressed me with its stance. I've never seen an Accord of this type with good stance, so props on that! Much later, I noticed that it was also supercharged.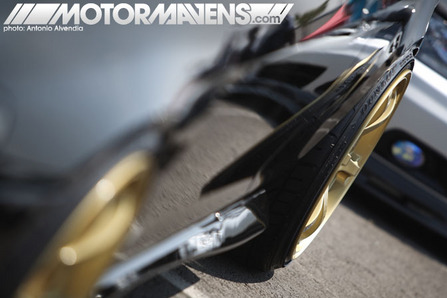 Now that's what I'm talking about. These Advan wheels definitely make the car stand out. Awesome.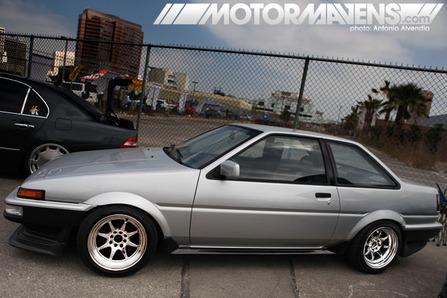 This silver 1985 AE86 Corolla GTS was previously owned by my friend Francis from Aspec. I'm glad to see that this car is still very clean now that it has been sold (to a nice guy I might add). Japanese OEM kouki bumpers were added to the zenki coupe body, with a zenki front chin spoiler, JDM AE86 side skirts, and a Jubiride rear bumper extension. The star of the show on this car, however, is the 15×8 Weds Sport MA86 wheels, which were available from ASpec.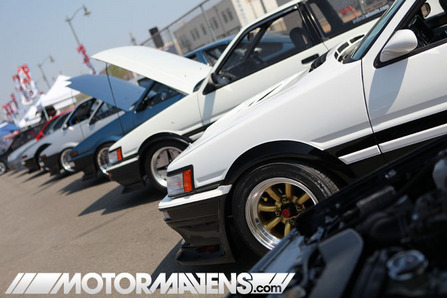 Speaking of AE86s, there was a big lineup of AE86s from Infinit Wheels at Nisei this year. I was sad that the Cipher Garage crew's AE86s weren't among the other hachirokus at the show… like I mentioned earlier, the very first time I showed my red kouki AE86 was at the first Nisei Showoff in 2000. If I remember right, my red kouki AE86 hatchback won 2nd Place in the Old School Class, and the 1st Place honors went to my boy Herb's (aka: HerbrockOne on Club4AG) red zenki AE86 coupe.
In the photo, the kouki panda Levin is rocking some old school style RS Watanabe Type R wheels and the panda Levin parked next to it is rocking Impul Hoshino G5 wheels.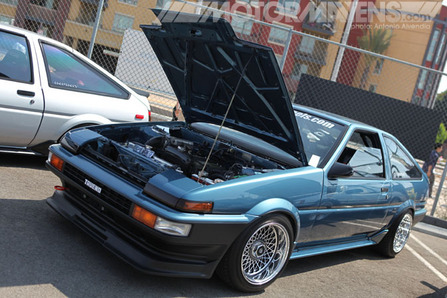 I must admit, this blue AE86 hatchback looked pretty damn awesome at the show. I think this car was my personal favorite AE86 from Nisei, and anyone who knows me knows how critical I am of AE86s, especially my own! Seriously, I always find something to nitpick on almost every AE86 I see… but this AE86 had me giving nothing but props. Seriously, you have no idea how HUGE it is for me to say that. Especially since OEM blue is normally my least favorite color of AE86 (Ben Hsu from Japanese Nostalgic Car Magazine and I constantly argue about how he loves blue AE86s and I normally hate them), but I can't say anything at all about this car. This one is super dope. Probably the most well done blue AE86 I've seen. Ever. I can't stress enough how strong of a statement it is for me to say that.
I loved the aero mirrors and old school SSR EX-C Supermesh wheels, which are a favorite of many old schoolers from the San Gabriel Valley… but the old school SGV guys have never had aggressive offset and fat lips like this! Props!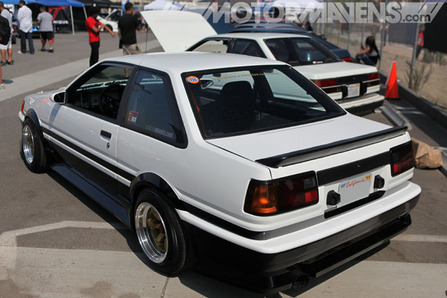 Here's another shot of the white Levin coupe with RS Watanabe Type R wheels. I didn't stop to talk to the owner, but just by looking at the photo and fitment, I would guess they are 14×8.5 (-13 offset). Anyone know for sure? I like the smoked zenki taillights and the JDM OEM AE86 coupe wing!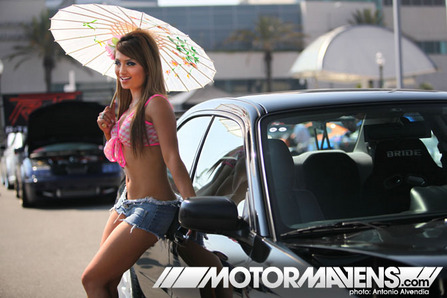 At the show I met Novella, rocking her ricepaper umbrella…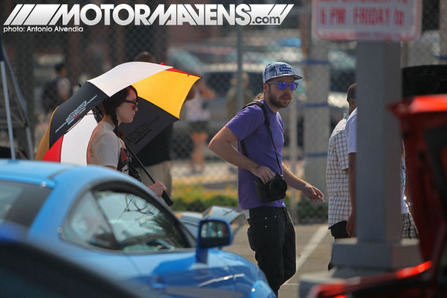 …but I was even more impressed by the Japanese Mugen umbrella that Super Streeter Sean Klingelhoefer's girl was rocking. I'm not even a Honda guy, but I think that umbrella is dope.
You can check out Sean's photos from Nisei Showoff in Super Street magazine coming soon, but you can also see some teasers right now by clicking this link right here.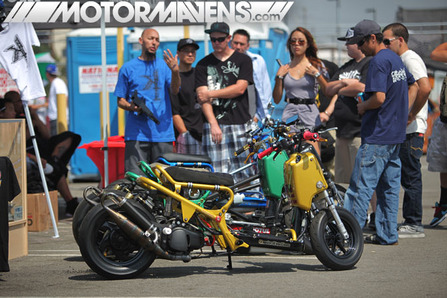 On the other side of the show, we saw some pretty OG Honda racers, like Dr. Charles here (in the blue shirt), who was showing off the fruits of his newfound obsession, modified Honda Ruckuses. Super dope… I just wish they didn't cost as much as a car.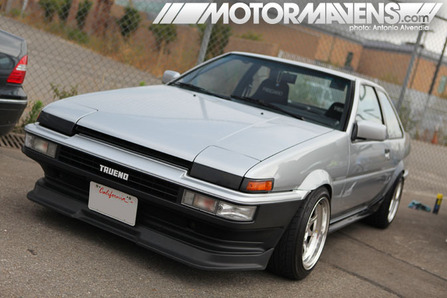 This silver AE86 is definitely familiar with running the Southern Cali canyon roads, and it is now owned by a guy named Feras, who is keeping it clean as hell. Much respect Feras! Nice stance with the MA86s too. Awesome.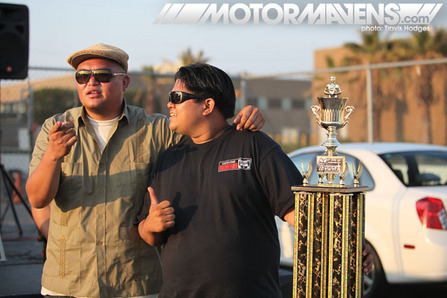 I didn't get to take all the pics I wanted to at the show, because I had to stop at the end of the afternoon to play the role of announcer at the awards ceremony, as usual. I didn't judge any of the cars, I just presented the awards at the end of the show… however, I was pretty happy and surprised that I was able to present a big trophy and cash award to a friend of mine named Brian Urbano (on the right side), who won the Showoff Custom Auto class with the mint condition right hand drive JZA70 Toyota Supra Turbo that his big brother Mike (RIP Mike!) imported into the USA to restore and rebuild.
Sadly, Mike was hit by a Suburban one day when he was riding his motorcycle home, and he passed away before he could finish building the car. To give you some background on Mike, he was a pretty legendary guy in the Supra community. Mike Urbano's famous blue MA70 Supra was a car that was featured in multiple magazines, jocked on multiple websites, and always won top honors at car shows and dyno shootouts. Mike was well known in the Toyota community for his outstanding wiring work – he wired up all his own cars and also did a lot of engine swaps that were ahead of their time, including one of the first blacktop 20valve 4AG engine swaps, which used all factory Toyota wiring and ECU, and was installed into Brian's AE86 coupe.
As one of the most diehard Toyota and HKS enthusiasts I know, Brian finished building the JZA70 just as his big brother Mike would have wanted it… the 2JZGTE engine has HKS everything, and the car is immaculately clean. So awesome, especially when you see Mike's black JZA70 Supra in the garage, parked right next to Brian's JZA80 Supra Turbo. These two black Supras sleep in a TRD/HKS family garage, which looked even cooler when Brian's black limited AE86 was parked out front.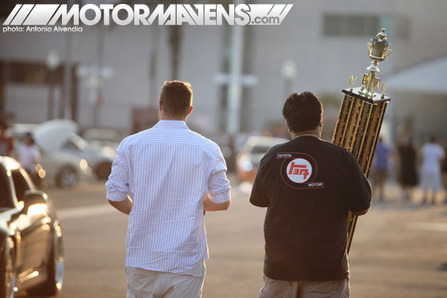 Love the shirt! Here's Brian walking off towards his Supra with his homie Nick, holding up his big trophy to show off to his girlfriend Cathy.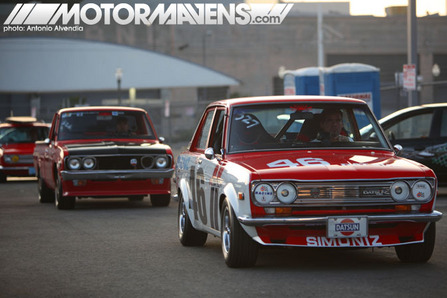 After the show, many of the cars looked real cool as they rolled out of the parking lot, including this John Morton/BRE replica 510 owned by Lawrence Keller, who works as a designer for Toyota, not Nissan. Man, you need to buy an old school Toyota already, Lawrence! Notice the Datsun 620 pickup behind Lawrence's 510, and the Radio Flyer 510 wagon in the back!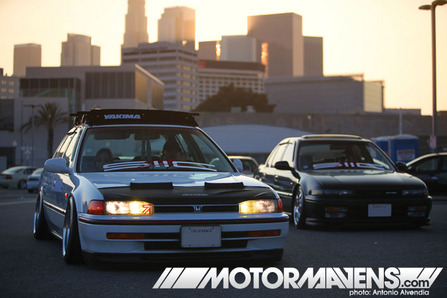 This white Honda Accord right here immediately caught my eye with its hard stance, cambered with stretched tires. I've only seen good stance Accords like this in Japanese magazines, so I definitely thought this Accord was cool. Too bad it wasn't an Accord wagon! Looks nice with the redline moldings too!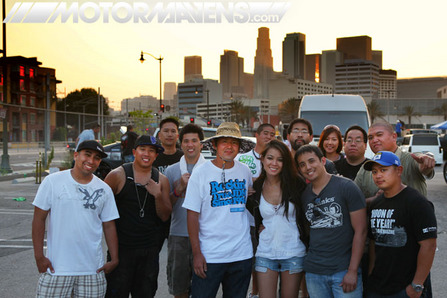 We'll have to pause this installment of the MotorMavens Nisei Showoff 2009 coverage with a photo of this year's Showoff staff! With Ken Miyoshi in the center with the weird Hawaiian sun hat thing, this is the crew that worked hard every year to bring you the Showoff car shows! (Except Jon Miranda is missing!) How many industry heads can you recognize?
THANK YOU to everyone who made the 2009 Nisei Showoff a success! We had a great time chillin out with everyone in Little Tokyo!!! See you all this weekend at the Mega Matsuri Car Show at the same place!
Stay tuned to MotorMavens… more photos and more cars coming very, very soon!
:: Antonio Alvendia
---