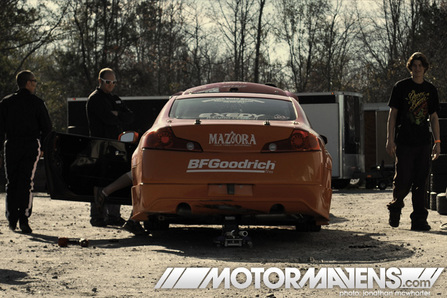 What's up MotorMavens readers? My name is Jonathan McWhorter and I'm a photographer from Atlanta, Georgia. On Saturday, November 28th, I had the privilege of attending Southeast Drift's Land of the Great practice and tandem drift competition at Gresham Motorsports Park in Jefferson, Georgia.
It was a lot of fun because not only was a friend of mine driving, but I somehow talked them into giving me a media pass. With the media pass I was able to get down onto the track and up close to the cars as they made their runs. It was an incredible experience, and I think I got some pretty killer shots as well. I was at the exit of the bank on the first turn. It was a pretty sick spot because I was behind the wall, maybe 10-15 feet from the cars.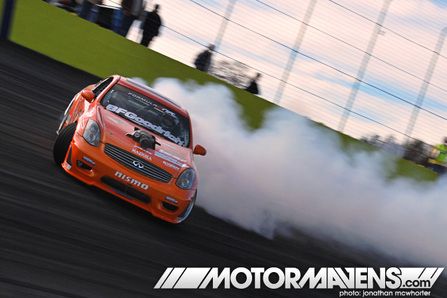 Not only did I get to shoot a great event, but, as I mentioned before, my buddy Alex was driving also. Friday night we met up and went to his house to stay the night, we had to be on the road by 4:00am Saturday morning. After a good three hours of sleep we got up and loaded my sister's Pathfinder with tires and parts and got on the road to Jackson County. With Magellan leading the way, we pulled up to the gates of Gresham Motorsports Park at 6:15am.
I noticed tags from all over the eastern seaboard, so props to you guys for being dedicated enough to drive from places like Ohio and Florida. We waited outside the gate with the hood propped open to warm ourselves. We didn't want to build a fire, or do the smart thing and just sit in our cars (but it makes for better story-telling, right?). Some guy drove up asked if we were drifters, we told him we were drifters, but we weren't homeless! He let us on the premises, where we had to wait at the inner gates to the track itself. As the sun rose, others begin to trickle in, lining up in a similar fashion.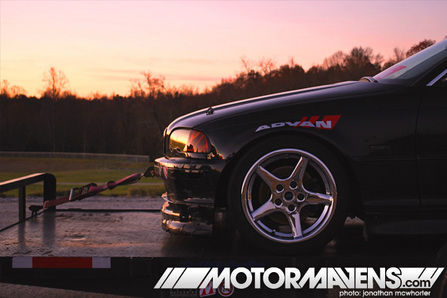 We're standing there in the cold…again… and one of my favorite drivers in the local/southeastern drift "scene" pulls up behind us – Andy Sapp, who also happens to be one of the guys that founded this site! He used to drive in Formula D competition but eventually opted out for whatever reasons. From talking to him, it's easy to tell why he stuck to grassroots drifting; he's passionate about keeping the sport fun and doesn't like to take it too seriously.
While most drivers are now sliding cars with upwards of 400hp, he hardly has 200hp in his BMW 325Ci. If I remember correctly it's somewhere in the neighborhood of 180 and that's only 20 more than my Honda that I scoot around in. He's also real down to earth and just a cool guy overall, I walked around his car taking some photos of it on the trailer, and then he gave me a HotHands hand-warmer because he saw me rubbing my hands together to keep warm; if there were a "like" button, I'd click it.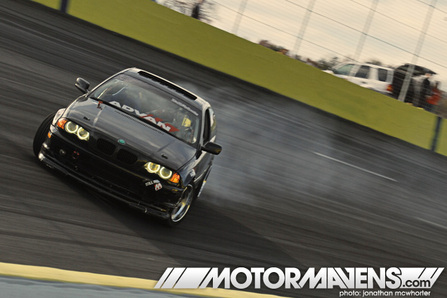 The rest of the day went about like any other event. Roll into the pits, set up your stuff, go to the drivers' meeting, have a blast (if you weren't driving and had a helmet you could even ride along with the drivers like other Southeast Drift events). The only thing different for me was that with the Media Pass I was able to score by telling them I was shooting for a site like MotorMavens. This got me onto the track and VIP access to the track's facilities for the day, kind of baller. So while Alex was on the course sliding like a maniac I was up on the wall snappin' away pics like it was no body's business.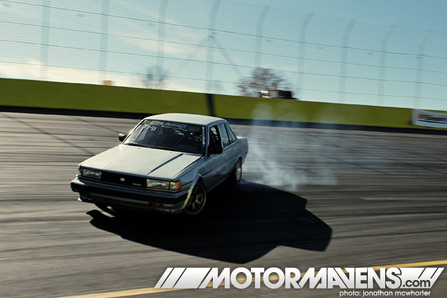 Here is Harrison Ritchie rounding the bank in his 1JZ-powered Toyota Cressida. He was driving super-fast all day, and wound up banging his front-end into the wall. With the help of the guys from Garage Zero, they got him fixed up and back on track.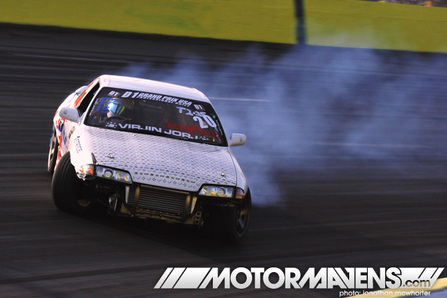 Another local favorite, Chanin Prapapuenyong always looks good in his Virjin Jorj R32 Skyline. The crazy VJ patterns on the hood and tail-light bezels add a slight luxury element (Louis Vuitton anyone?) to this crazy drift machine.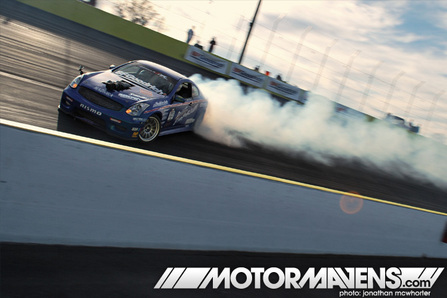 Jodin LeJeune from Drift Emporium was driving well all day. Both Drift Emporium cars put down a ton of smoke, and sounded like the heavens were being a torn apart (that's the exact sound two supercharged Titan V8s make).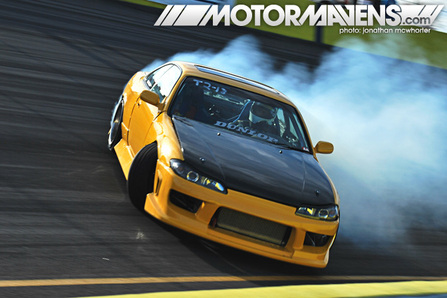 An old school Atlanta-local drifter, Dennis Mertzanis from Drift Mechaniks has one of the most amazing sounding supercharged VQ motors under the hood of his yellow S14.5. He was pulling some great angle on the bank, as seen here.
The non-tandem drivers had a course on the infield that was pretty similar to the tandem course, minus the bank. Not only was this practice for the drivers, I got some good practice panning and learning what I had to do to capture the madness of competition later, which would prove to be the highlight of the event (even though it was by far the most difficult to shoot). The competitors were driving much harder than they were during the day. It was so impressive to see the skill of the grassroots scene as they took on the bank during the tandem battles. It was definitely the most exciting aspect of the event, especially with the big horsepower Drift Emporium G35's screaming around the track together.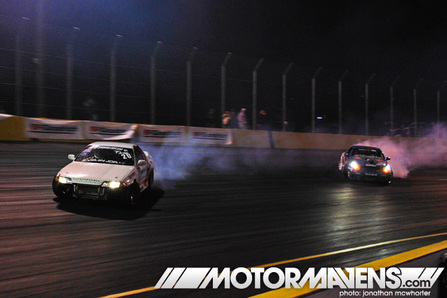 The battle for Top 4 found Chanin Prapapyuenyong battling Jodin LeJeune for 3rd place.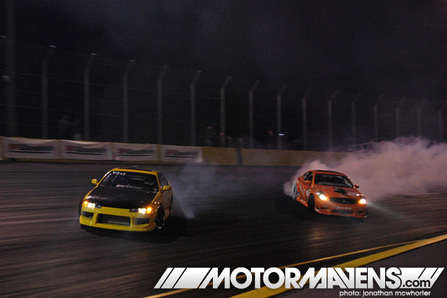 Dennis Mertzanis would take on Forrest Wang in a battle for 1st. Dennis would spin on his leading run, resulting in a nearly-catastrophic collision. Forrest was chasing extremely close, and somehow managed to react with split-second timing and avoid crashing into Dennis. Forrest did, however slide to a halt, barely snapping zip-ties on the front bumper, as he hit the barrels protecting the wall.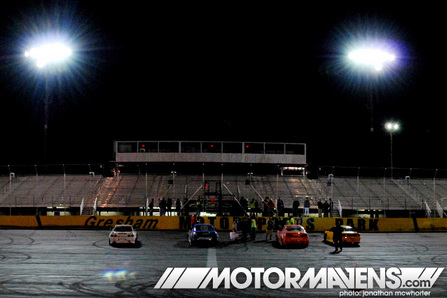 When the dust settled, Drift Emporium took first and third with Forrest Wang and Jodin Lejeune respectively. Second place belonged to Dennis Mertzanis in his supercharged VQ S14.5 and Chanin Prapapyeunyong took a solid 4th in the Virjin Jorj R32.
All of the drivers in the tandem competition and the solo groups had a great showing of talent and are a glimpse of the future of the Southeast drift scene. At the end of the day I couldn't feel my feet, Converse are not good insulators, but I got some epic photos and had a great time. I just want to thank Antonio Alvendia for giving me the chance to write for you guys and give you a look at what goes on at the grassroots levels of the sport. In the mean time, keep drifting fun and go hard or don't go at all, you're just wasting your time otherwise.
:: Jonathan McWhorter
---