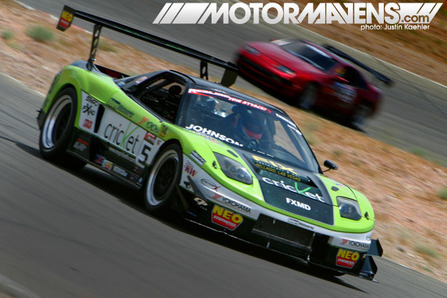 The cars of the Redline Time Attack continue to dominate racetracks all across the country, and at the most recent Redline event at Willow Springs International Raceway, long-standing record lap times were shattered not once, but twice.
Redline Time Attack golden boy Tyler McQuarrie and his Unlimited Class carbon fiber-bodied C-West/BC Honda S2000 showed why they are a dominating force in the time attack scene by running the 2.5-mile "Big Willow" course in 1:20.454 seconds. Not only was that lap time the fastest of the day, it was the fastest ever recorded at Willow Springs International Raceway. With a lap time like that, it seemed safe to say that McQuarrie would walk away with yet another 1st place trophy.
But records, including newly set ones, are made to be broken. Billy Johnson, piloting the lime green Unlimited Class FX Motorsports/Cricket NSX ran the same Big Willow course in just 1:18.555 seconds. For those of you who hate to do math at home, that's almost  2 seconds faster than McQuarrie. And for those who need help in the art of deductive reasoning, this also means that Johnson walked away with the new track record. But that's not all Johnson walked away with; he also scored the first-place trophy in Redline Time Attack's Unlimited Class.
At the end of the day, the Redline Time Attack Unlimited Class results were as follows:
1st: #5 (Johnson) FX Motosports NSX 1:18.555
2nd: #1 (McQuarrie) Cwest s2000 1:20.454
3rd: #489 (Bonarito) Sierra Sierra Evo 1:20.838
There are still seven races left in the Redline Time Attack Series, and the next event at the New Jersey Motorsports Park is just two weeks away. Be sure to check back with us later in the week for our gallery of the Redline Time Attack at Willow Springs International Raceway.
::Justin Kaehler
---