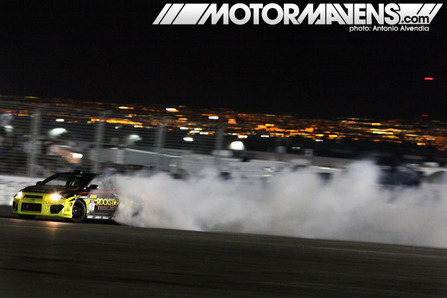 Congratulations to Tanner Foust for successfully battling the 120 degree heat and every single competitor he faced in tandem competition to win top honors at Formula D Las Vegas this weekend!
When you think about it, this is actually a historic feat – this is the very first time that a Scion has taken home a First Place trophy at Formula D! Whether it's Tanner's incredible skill behind the wheel or the 850 million horsepower TRD Nascar V8 engine that powers his Rockstar Scion TC, Tanner and his team have done an incredible job of building, testing and tuning a car that produces results for their sponsors. Props on the win guys!
Make sure to stay tuned to MotorMavens.com for more photos from Formula D Las Vegas!
PS: Scion, Rockstar, Hankook, AEM, and any other sponsors… you know who to contact for the best photos of the event! LOL 😉
:: Antonio Alvendia
More MotorMavens coverage from Formula D Las Vegas
Everything Drift Top 32 Rundown

---