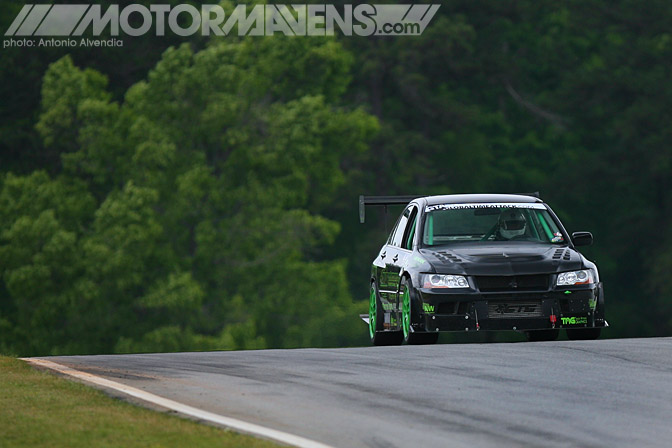 Road Atlanta and Global Time Attack are a match made in heaven. If you combine a 2.54 mile road course that rolls through the green hills of Georgia with an open rule set where maximum speed and minimum lap times are all that matters, you're bound to have an incredible event.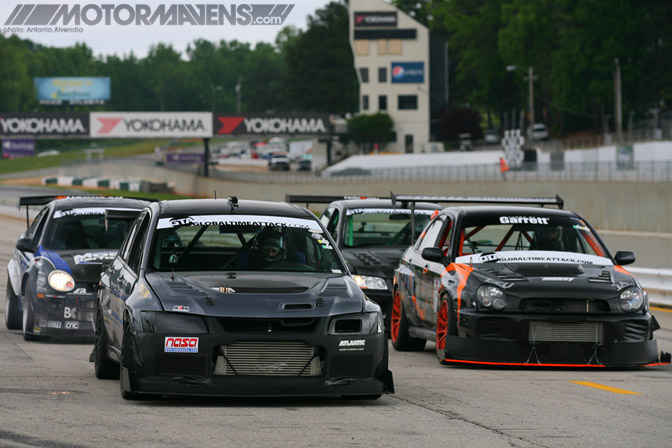 Thanks to GTA series sponsors like Continental Tire, Whiteline Suspension, Garrett Turbo, Spec Clutch and Meister Watches, the battle for Road Atlanta certainly did not disappoint, with new competitors in the mix, newly set fastest lap records, and even big crashes!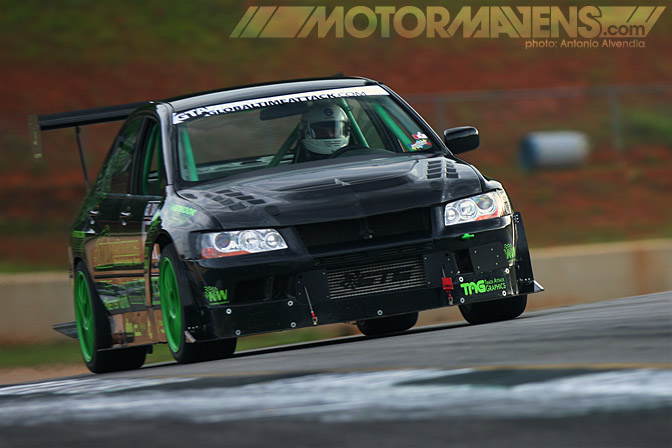 From the perspective of Professional Awesome Racing, Road Atlanta was a shakedown and tuneup for the heavily revised 2001 Mitsubishi Lancer Evolution VII. Gone were the Active Center Differential and Super Active Yaw Control rear differential, replaced with mechanical differentials front, center and rear.
Having switched from Street Tire to Limited class at the Global Time Attack finale in November 2012, it was also a time to learn the nuances of driving differences of the Hankook Ventus TD in comparison to the Ventus RS-3.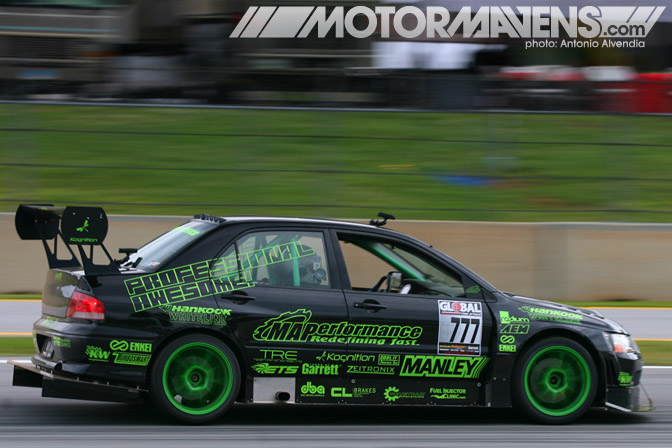 Unfortunately, Day 1 proved to be a challenge from start to finish. Chasing issues of excessive oil consumption, the car would not run consistently enough to put together one flying lap. Having a never-say-die attitude, team members Grant Davis, Mike Lewin and Jordan Gilsinger embarked on a parts search throughout the greater Atlanta area, devising a solution that proved to work extremely well by the end of the day.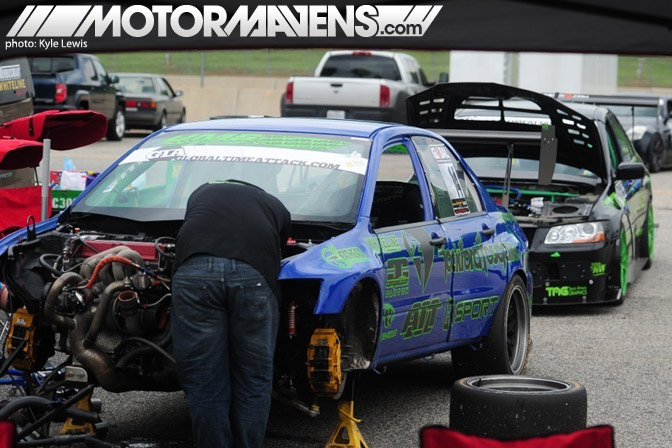 With the problem solved, the crew proceeded to help fellow competitor, Tony Szirka, replace a transmission in his Unlimited Class Mitsubishi Lancer Evolution.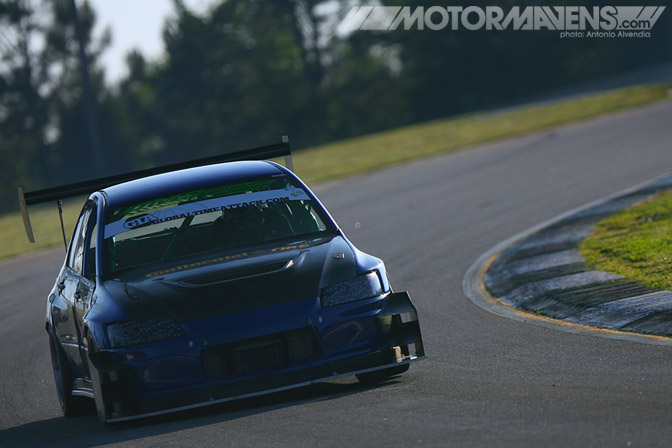 Szirka and Professional Awesome have a long history of working together under the most adverse circumstances to fix record breaking cars at the last possible moment!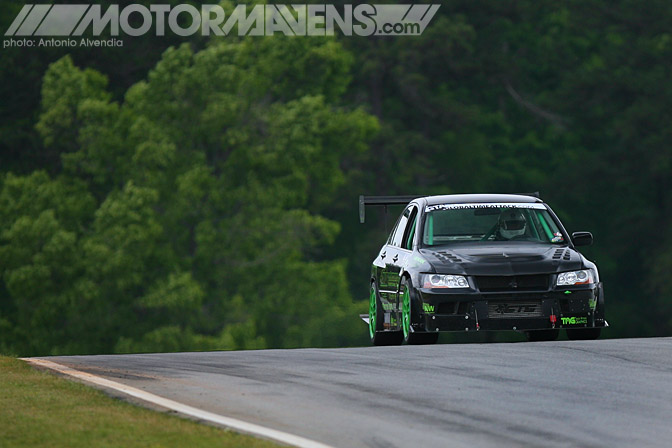 A threat of rain was in the forecast for the second day of competition, but feeling confident that all major issues had been addressed, Professional Awesome hit the track hard looking to gain lost time from the previous day.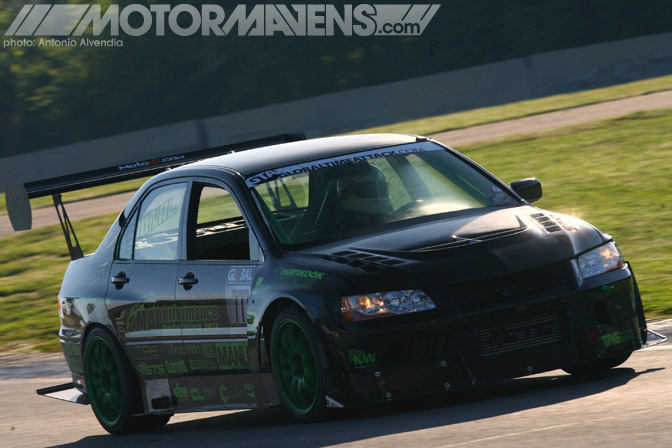 The car performed flawlessly in the first sessions of the day, and I with became even more comfortable with the vehicle changes as the day progressed. Minor tire pressure and alignment changes were all that was needed to maximize grip and to dial in the balance for optimal performance, though a new issue had peaked its head.
The car was running perfectly, but low on boost at only 22psi. The car had already set the new limited record with a time of 1:31.717, but quick adjustments were made to the tune to see if more power could be coaxed from the Evolution. Based on the previous year's data, the team believed a 1:29.xxx  lap was possible and expectations were high for the fifth session.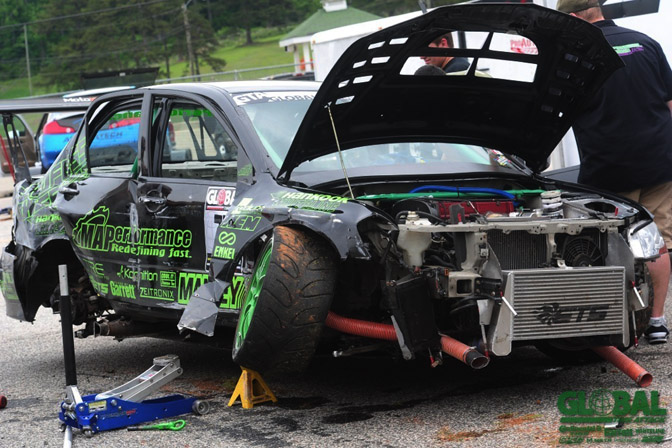 The fifth session proved to be the final session of our 2001 Evolution's life.
Following another 1:31 second lap, I entered turn 1 and lost control of the car after an outside tire dipped into the Georgia clay. A hard crash ensued, but luckily I walked away with only minor bruising and a good headache.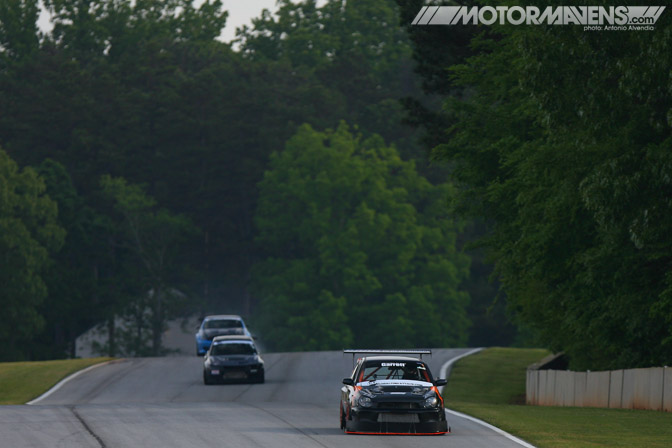 Following the crash, the final session ran and everyone prepared for the awards ceremony.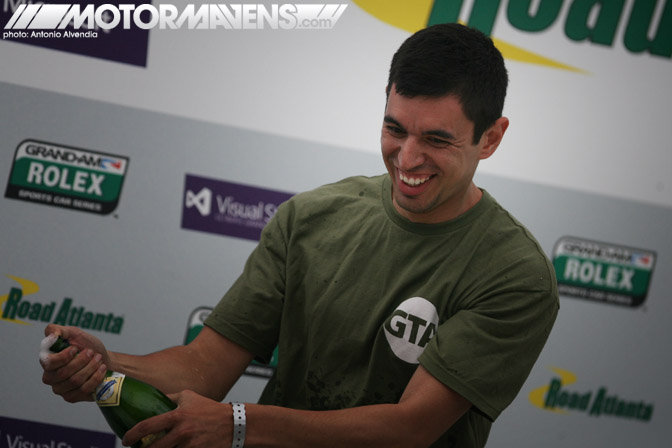 At the podium ceremony, champagne was sprayed, big checks collected and fast lap Meister watches given to competitors.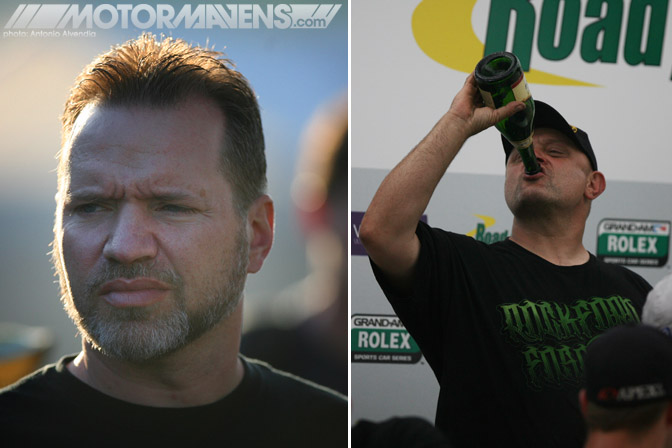 Much to the surprise of Professional Awesome, new Limited Front Wheel Drive record holder Doug Wind (left) gave his event winnings to the team to help the rebuilding process and Tony Szirka (right) followed suit, also donating his winnings.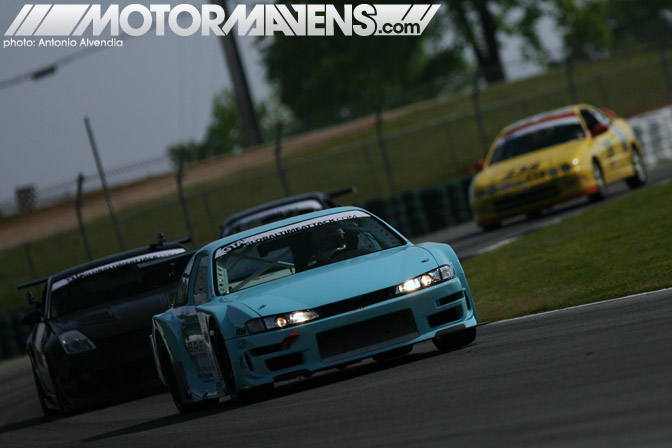 It was an incredible ending to an incredible event which saw competitors from the West Coast, East Coast and everywhere in-between.
New lap records were set in Street Rear Wheel Drive, Front Wheel Drive, Limited All Wheel Drive and Limited Front Wheel Drive which will give new goals for 2014 competitors to strive for.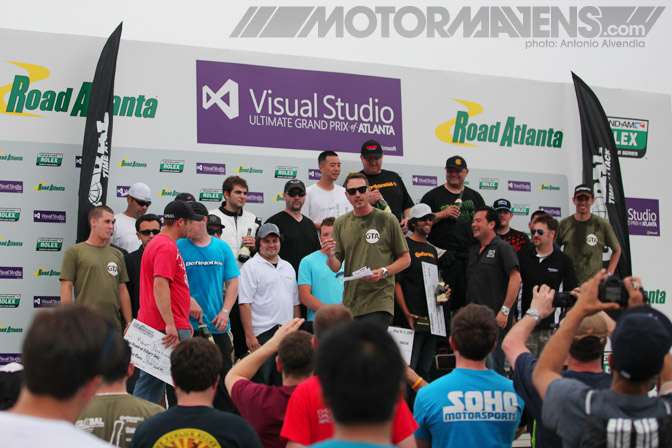 At the end of the day, it was amazing to see how tightly knit the time attack community is, helping out fellow competitors from start to finish! We look forward to seeing what will happen in November at the Global Time Attack Finale in Central California's Buttonwillow Raceway on November 15, 2013.
MotorMavens has thousands more photos from GTA Road Atlanta! Stay tuned to MotorMavens for the next GTA photo update!
:: Dan O'Donnell
Professional Awesome Racing
Global Time Attack
Whiteline Suspension
Braselton
,
Continental Tire
,
Dan O'Donnell
,
Doug Wind
,
Evo
,
Evo 7
,
Evo 9
,
Evo VII
,
Evolution VII
,
Front Wheel Drive
,
Garrett Turbo
,
Georgia
,
Global Time Attack
,
Grant Davis
,
Hankook
,
Jason Dienhart
,
Jordan Gilsinger
,
Kyle Lewis
,
Lancer
,
Limited All Wheel Drive
,
Limited Front Wheel Drive
,
Mike Lewin
,
Mitsubishi
,
Professional Awesome
,
Professional Awesome Racing
,
Road Atlanta
,
Spec Clutch
,
Street Rear Wheel Drive
,
Time Attack
,
Tony Szirka
,
Ventus RS-3
,
Ventus TD
,
Whiteline
,
Whiteline Suspension
---