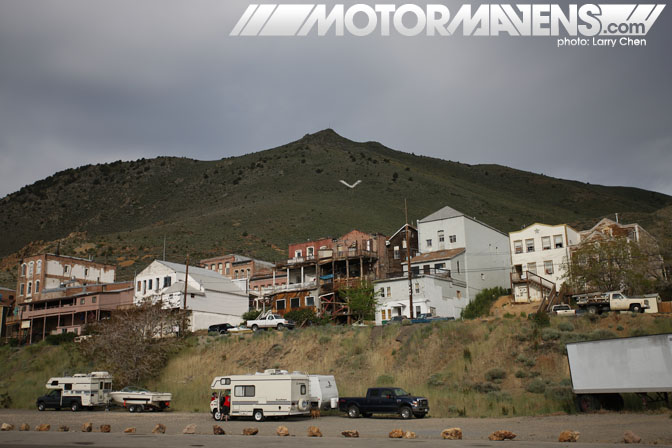 Virginia City is the oldest city in the state of Nevada. It was the site of the Comstock Lode, which is spin-off of the 1849 Gold Rush that brought many fortune seekers out to Northern areas of California and Nevada, with stories of gold and silver mining wealth.
Silver was actually discovered accidentally. Prospectors that were making their way to California were forced to stop in the Sierra Nevada mountains because of snowstorms, so they camped out near present day Virginia City as they continued their efforts in panning and mining for gold. As the miners searched high and low for traces of gold, a bluish-grey mud stuck to their shovels, infuriating the early gold miners, who rapidly disposed of it. Unfortunately for them, the nuisance that stuck to their shovels turned out to be silver ore. Virginia City's silver legacy turned it into the richest city in Nevada at one point, with $400 million in silver excavated from its mines. To put this into perspective, that $400 million would be $12.8 billion in today's economy – not exactly bailout money, but definitely enough to keep any city running like a well oiled machine.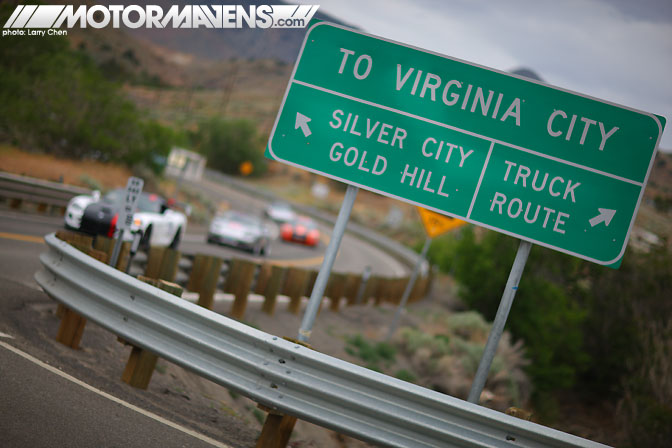 In 1862, State Route 341 was established, which is a mountain road that was built to allow trucks carrying silver ore to get from Silver City to Virginia City and Reno. The first roots of an organized hill climb event in Virginia City date back to 1972. Hans Tanner, the President of the Ferrari Owners Club of Southern California, thought that Nevada's Highway 341 would be a perfect place to replicate the legendary hill climbs of Europe.
Enter Amir Rosenbaum. Amir is the founder of Spectre Performance, a manufacturer of innovative air intake systems and other performance parts for muscle cars. Aside from owning a fleet of cars that includes several 1970s Chevrolet Camaros, a mid-engined 1970 Chevy El Camino SS (pictured above), a 1970 Ford Mustang Mach 1, a 2JZGTE-powered 1970 Ford Maverick, a twin turbo Cadillac powered streamliner land speed racer, and a highly modified 1992 Ferrari F40, Amir set a world record at the famed Virginia City Hillclimb in 2002, driving his infamous F40 up the hill in only 3.10 minutes (more on this car later).
Since Amir obviously has a personal connection to Highway 341, he decided to create the Spectre 341 Challenge – a rare opportunity to drive flat out on one of the most technical, aggressive, and fast stretches of mountain roads in the United States… without having to worry about oncoming traffic or the Nevada Highway Patrol (but we prefer to call them Reno 911).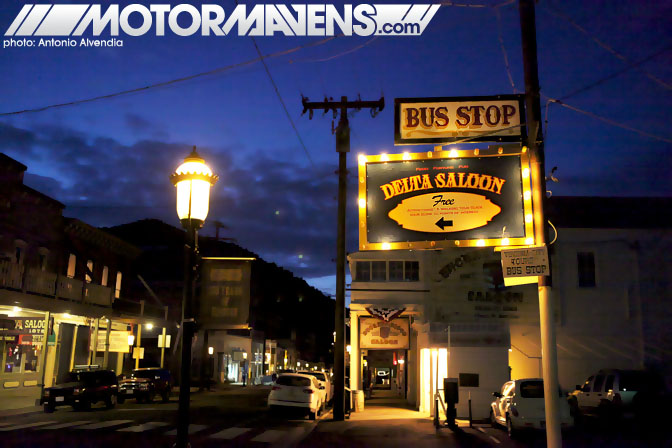 This past weekend, MotorMavens super-telephoto sniper Larry Chen and I made plans to fly up to Reno, Nevada, to document the inaugural Spectre 341 Challenge. In Reno, I met up with my younger brother, David, and hitched a ride out to Virginia City.  On the drive up to Virginia City at night, the winding roads reminded me of my experiences on the twisty touge roads in Japan. However, when I arrived at my destination, it sure didn't look or feel like I was in Japan. Instead, it felt like I was taken back into time; I thought Virginia City looked like a scene from the wild west.
Here's a hand-held snapshot from my camera, in the pitch blackness of the night. The main street was lined with gas lamps and sidewalks made from wooden planks, which were laid in front of actual saloons! I noticed that modern day conveniences like 7-Eleven stores, McDonald's, and Starbucks do not exist in Virginia City. It was honestly like a time warp.
If all the newer cars (from tourists) were removed from this photo, it would have looked like a scene from Young Guns. (Except for the fact that Larry, David, and I are Asian, so maybe saying it was "a scene from Shanghai Noon" would be more appropriate, since sure I don't remember seeing Asians in Young Guns… haha!)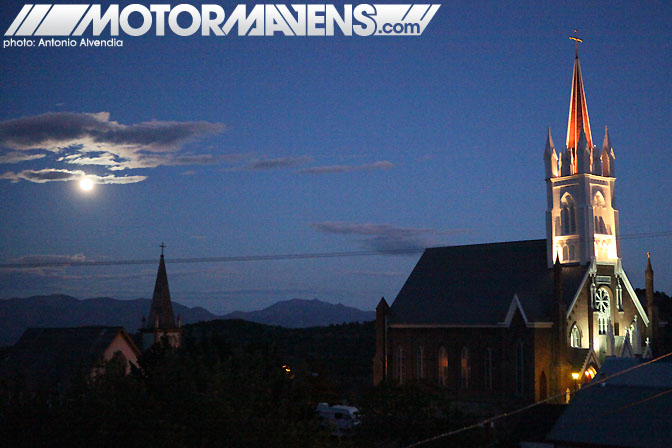 At night, Virginia City definitely gave the appearance of a nostalgic mining ghost town. It obviously isn't a ghost town in a literal sense, since people still live there… but they probably do have to share their town with the ghosts of dead miners. Stories say that Virginia City had quite the macabre history; local legends consist of wild-west style gunfights and tales of greedy miners who burrowed too deep into the ground, and were consequently buried alive by collapsing mine shafts.
After my brother, David, did some research into the town's history, he found out that Virginia City was something like the Sin City of the Gold Rush Era… somewhat like an early Las Vegas (albeit the wild west 1850s version). A strange and mysterious aura surrounds the place, especially since many eccentric events in Virginia City's history claimed the lives of many before their time.
With the full moon peeking through the clouds and the church steeple illuminated against the night sky, this could easily have been the backdrop of a movie about a grisly murder in a haunted house… and actually, the word Spectre fit the situation just perfectly.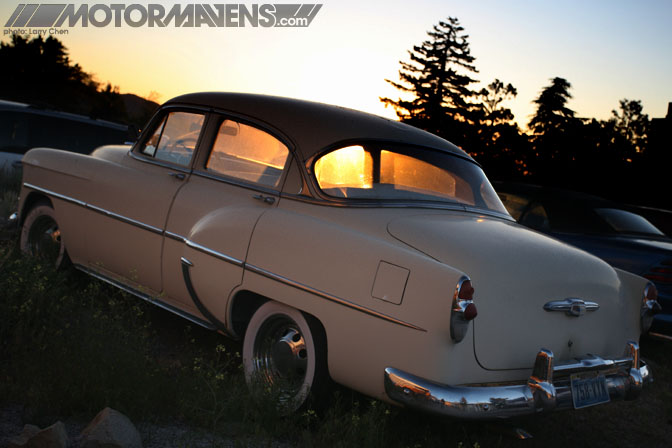 The modern day Silverland Inn was the official host hotel of the event, but unfortunately, most of the rooms at the hotel were taken by a wedding party (Who decides to get married in Virginia City NV, anyway?), so we stayed in a quaint little lodge with all the rustic charm of a Stephen King novel.
Without trying too hard to be overdramatic, I can honestly say that the place felt slightly eerie. The doors to our bungalow were difficult to shut properly, and I was weirded out by the fact that there were old black and white photos of people I didn't even know framed on the wall.  The dark brown wood paneling on the walls of our rooms made me feel like I was in a log cabin, with musty comforters wrapped around our beds and vintage crystalline Victorian era lamps on the side table.
They say that Virginia City is one of the most haunted towns in America; whether people believe that or not is up to them. However, I can tell you that the sights, sounds, and smells of the town make it feel every bit as surreal as I've described.
As the day broke, Larry was able to catch a glimpse of orange sunrise peeking through the dust-covered windows of the classic car parked in the weeds… err… parking lot behind our bungalow.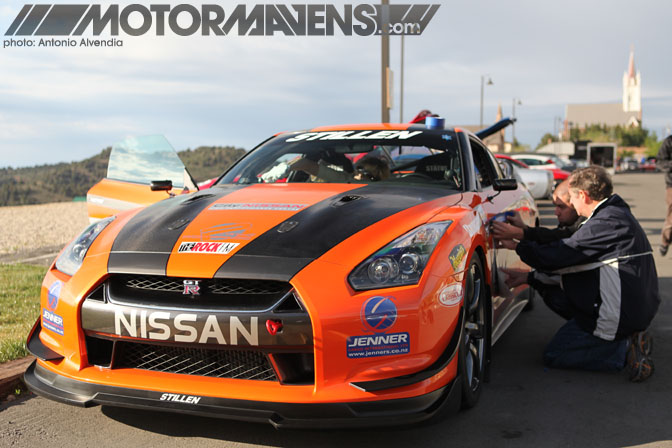 When we arrived at the Silverland Inn's parking lot for the pre-race technical inspection, Virginia City seemed completely different than it did the night before. Walking through the tech area, it became obvious that the inaugural Spectre 341 Challenge didn't have problems attracting high horsepower vehicles. The first big power car that caught my eye was Stillen's Nissan R35 GTR. I like the polyurethane Stillen front lip spoiler and canards attached to the bumpers.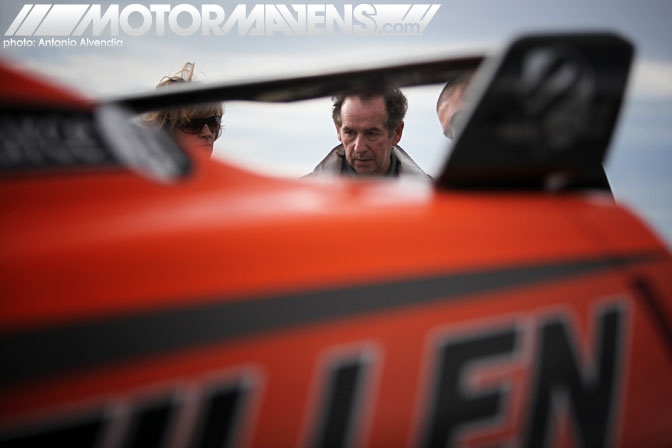 It was no surprise that Steve Millen was there with the car, performing minor adjustments before it was his turn to drive. This event marked the very first time I had the chance to meet Steve Millen. For some reason, the man behind the Stillen brand isn't often at the bigger events that I attend or in the media as much as he should be. Perhaps we just exist in different motorsports circles.
When I met Steve Millen, I mentioned that it was nice to finally meet him, because even though I've been able to meet and shoot photos of Rod Millen and Rhys Millen several times in the past few years, I had never gotten a chance to take photos of him (Steve) yet. With a slight chuckle, Steve replied, "Oh? Who are they?" …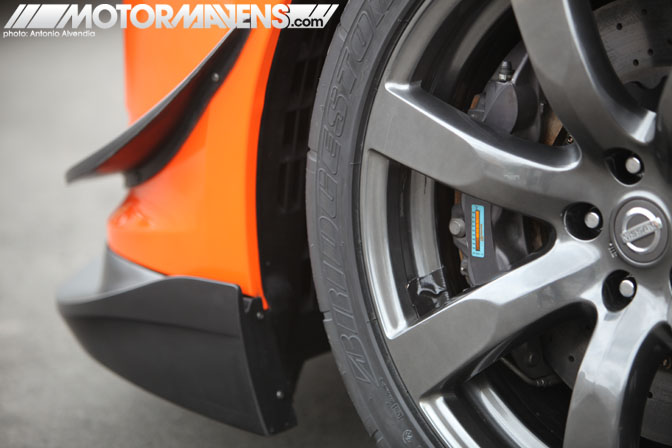 One of the cool features I noticed on the Stillen GTR were the big ass brakes! Now, it's normal to see big brake kits in the world of high end motorsports, but these particular AP Racing brake calipers looked pretty cool to me – notice the temperature sensor/display on the caliper? It's pretty ingenious to have the brake temps easily displayed on the caliper, so that the Stillen crew can take notes as they're checking the tire pressure.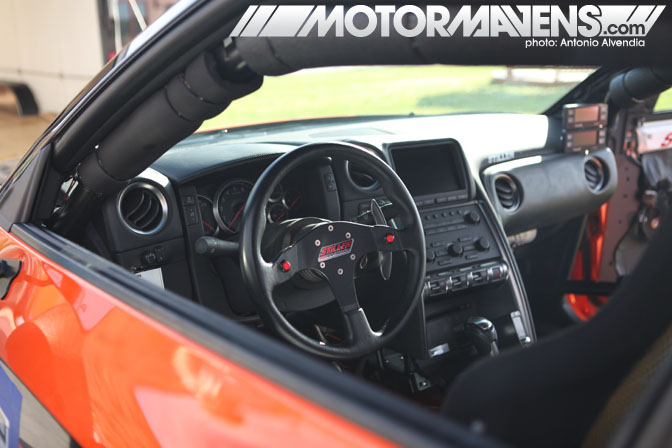 Here's the cockpit of the R35. Even though I've seen stripped out Nissan GTRs before (Super GT Autech/Nismo R35 GTR at Suzuka Circuit and Dynamic Autosports R35 GTR in Formula Drift), it still takes some getting used to for me. I mentioned to the Stillen crew that I had the opportunity to borrow a red R35 GTR from Nissan once before, when it was still part of Nissan North America's press fleet. To my surprise, they told me that this particular GTR used to be a press car, and was red before they painted it orange! (Whaat? Was this the GTR that I drove nonstop for an entire weekend???)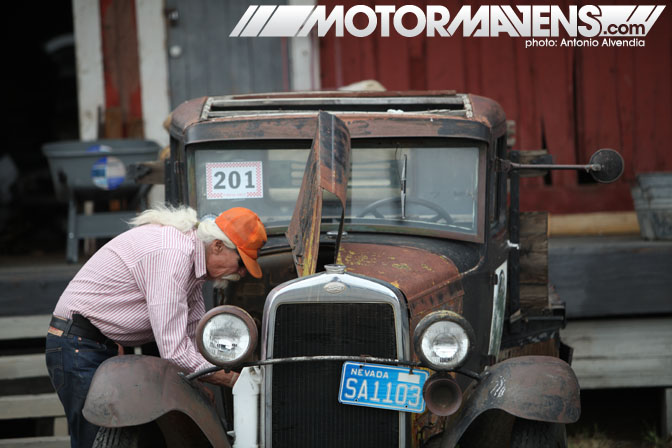 Across the street from all the high tech machinery, I spied a Virginia City local wrenching on his old Ford pickup truck. What a contrast in cars! Check out the wooden borders on the sunroof – pretty interesting!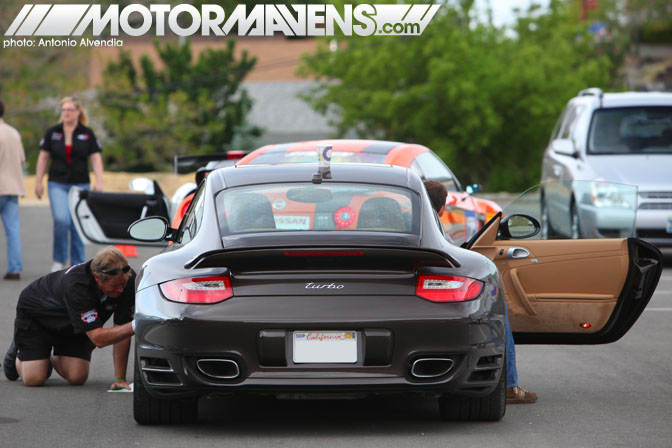 Back on the tech grid,I noticed this gorgeous brown metallic 997 Porsche 911 Turbo. Man, what a gorgeous car with a gorgeous color. I later found out that the driver of this car was named Ezra Dyer, and the Porsche was loaned to him for a review and Spectre 341 story in Automobile Magazine. I'd definitely be interested in seeing the story and photos that they put together; I better keep an eye on the newsstands in three to four months.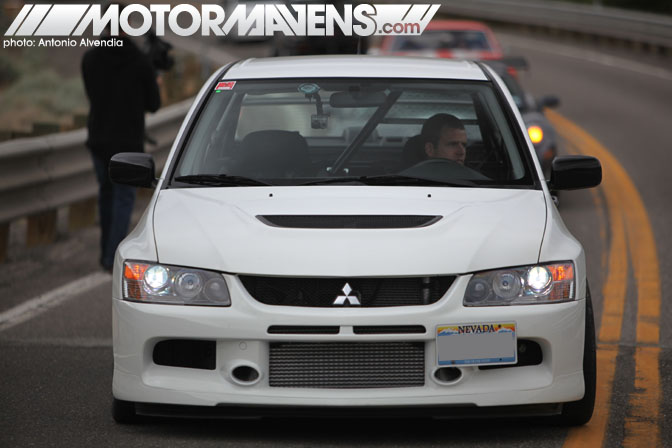 After the tech and safety inspection, it was time for the cars to make their way to the starting grid at the bottom of the hill. One interesting detail about the inaugural Spectre 341 Challenge was the variety of cars that showed up to challenge Nevada's Highway 341. I saw muscle cars, Japanese cars, classic cars, and luxury exotics in the lineup.
This was one of the faster Japanese cars in the pack – this Mitsubishi Lancer Evolution 9 (I honestly don't remember how to tell the difference between Evo 8 and Evo 9) belonged to a local driver, Jeremy Kappus, who probably has the ability to run this mountain all the time. If this is true, then the old saying practice makes perfect must really fit this situation, as this driver was FAST and aggressive, showing that he was comfortable driving his car to the limit. Seeing a real canyon runner like this running at the limit was far more exciting to me than seeing some of the supercars driving up the hill, feathering the throttle in areas that they didn't need to.
One supercar that really caught my eye was this Corvette ZR1 from LG Motorsports in Texas. Not only did the machine look and sound amazing, you could tell it was fast as hell, and the driver knew how to drive it. Respect skill!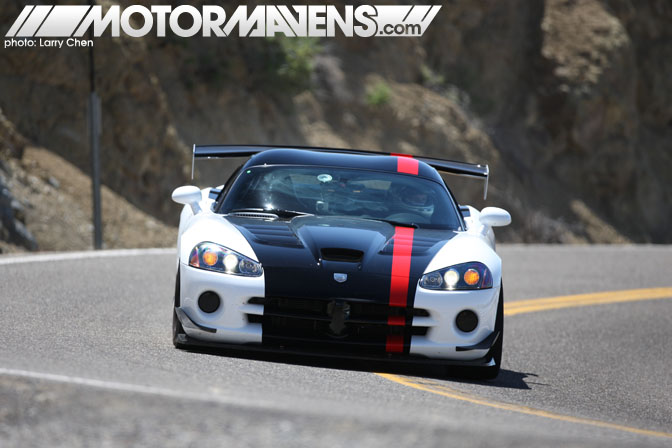 This Dodge Viper ACR was another press vehicle being driven by a writer from another magazine. I know that many times, real supercar owners just roll their eyes when they see writers from big car magazines testing out high horsepower vehicles. Many perceive magazine guys as being a bit snooty, and I've certainly met my share of those, so I can completely understand that sentiment… but this particular writer was a really good driver, so I think he should get the respect he deserves. I didn't get a chance to meet or talk to the driver of this Viper ACR, but I was told that his name was Mark Gillies from Car and Driver Magazine.
When I saw this Viper ACR shooting up the hill, it was always being driven aggressively, yet smoothly. Not all the drivers at the 341 Challenge had smooth lines when attacking the hill, but this Gillies certainly did. In this photo, you can see him looking far ahead of the turn he's in – this is a basic principle of high performance driving. Looking ahead enables the driver to set the car up for upcoming turns, and allows the car to be placed in the proper driving line. Good work.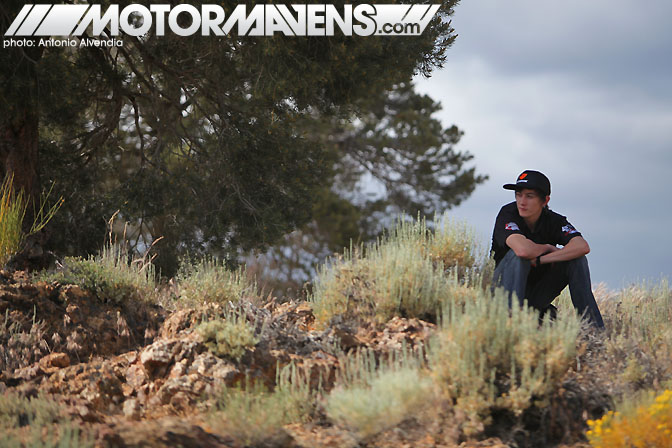 While I was on the side of the mountain taking photos, it was really great to have my younger brother, David, around to help out as an assistant and spotter. Since many of the corners on Highway 341 are blind turns, he was able to sit high above the action and tell me which cars were coming before they magically showed up in my viewfinder. Good job, Dave! Thanks for your help!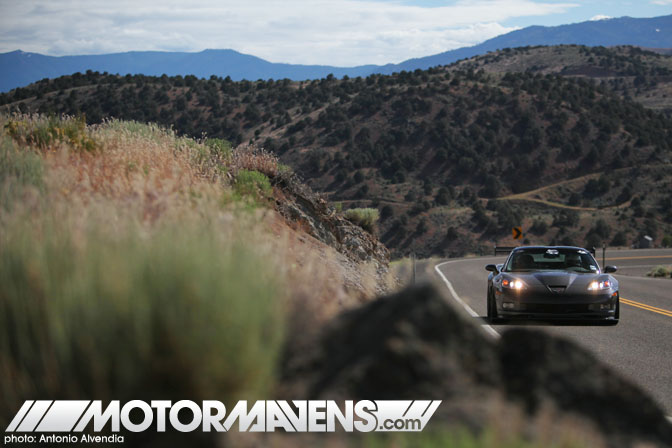 With help from David as my spotter, I was able to really get acquainted with the scenery of Highway 341 as the cars were climbing to the top. One of my absolute favorite cars at the hillclimb was the LG Motorsports Corvette ZR1, driven by Lou Gigliotti from Wylie, Texas. He pushed his 750 horsepower ZR1 to achieve a best lap time of 3:21.747.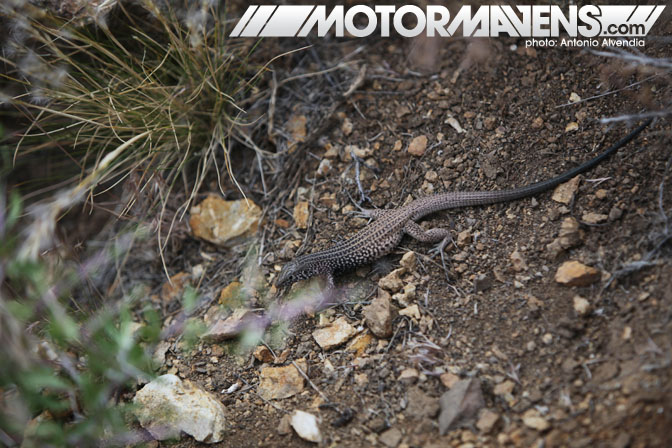 When I say I was able to really get acquainted with my surroundings in the hills surrounding Virginia City, it means I was shooting low to the ground at times, and it wasn't uncommon to see little lizards like this one scurrying right past me. My brother was trippin out as this little guy began eating a worm. Haha!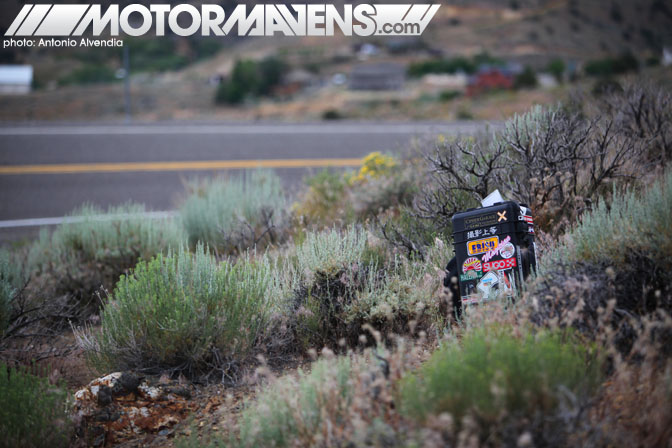 I obviously didn't want worms or lizards mingling with my Canon lenses, so I had my equipment safely locked up inside my waterproof, airtight Pelican case; it was stashed safely away from the side of the road, where cars might come in contact with it if they were to run off course or experience a brake failure. This camera hardcase has been all over the world with me, but I'm thinking of retiring it and getting a different one so I can keep this cool memento of my motorsport related travels.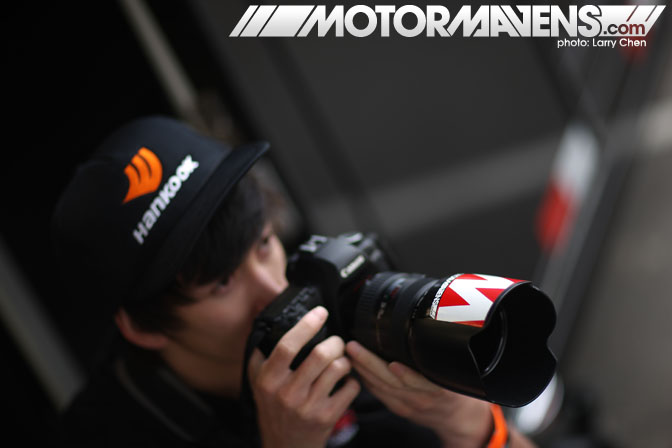 For a beginner without much practice, David isn't bad with a camera either. He'll be dangerous once he has enough money to get his own equipment; then he'll have the ability to really practice, and put ten thousand hours into the honing of his skills.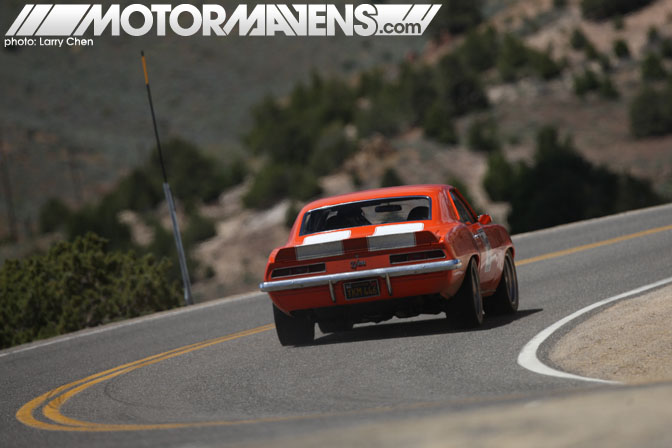 Some of the turns on Highway 341 were especially treacherous due to the lack of guardrails and off-camber turns in some areas. Still, it was great to see gorgeous musclecars like this Camaro Z/28 negotiating the turns alongside the high performance supercars. I love 1967-69 Camaros! Especially orange ones.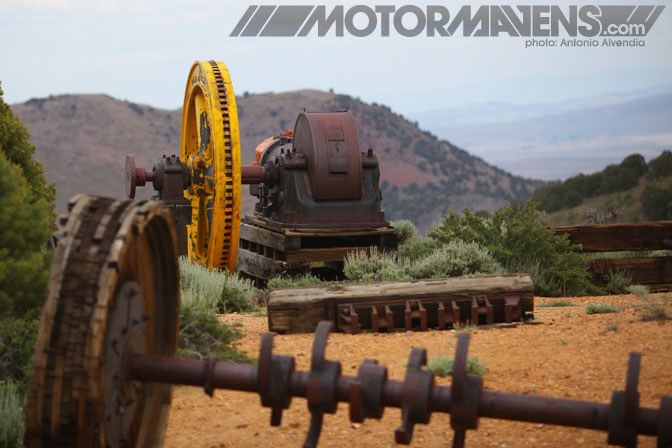 Speaking of musclecars and big power, as we drove through Highway 341 into Virginia City, I saw some vintage equipment that looks like it could have been used for mining or drilling or something like that… but to me, it looked like a giant camshaft with a wooden camgear attached to it!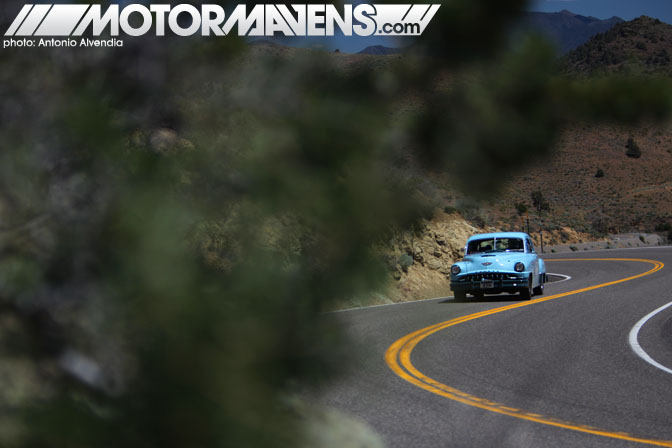 Near the top of the hill, it was really cool to see Dean and his 1952 De Soto, which had a 392 hemi engine under the hood, and was previously driven at the Pike's Peak Hillclimb in Colorado.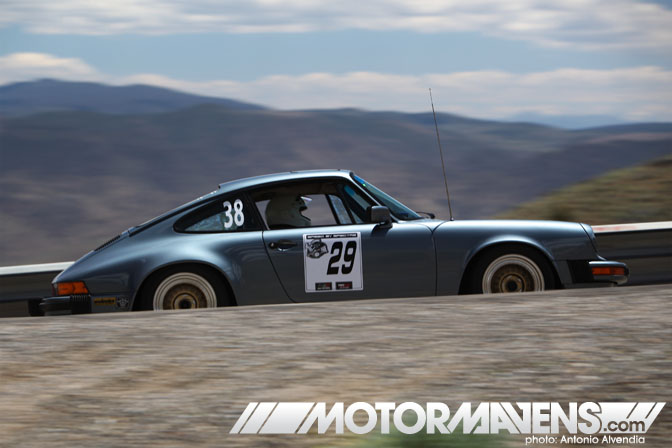 This 1986 Porsche 911 was driven by a gentleman who apparently has several Porsches in his collection, and I was told that he "pieced this one together" out of spare parts. What?! If I had to describe this clean 911, I certainly wouldn't use the term pieced together. It looked super clean as it made its way up the hill!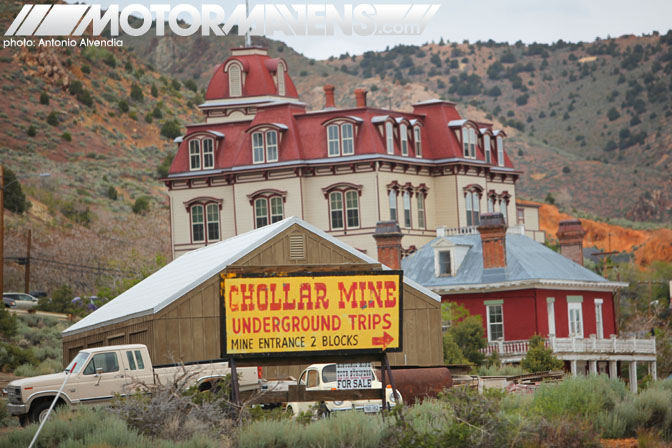 Near the finish line, we saw signs for underground trips through the Chollar Mine. Man, I wonder how many bats and rats and ghosts of dead miners are in there..? We'll have to explore that next time.
In case you haven't yet heard the sad news that's been buzzing all over different internet forums, the hillclimb at Virginia City was also the location of a tragic accident. After two days of driving fun and excitement, Alexander Djordjevic (better known on the internet as VRAlexander) and his incredible 1200 horsepower turbocharged Porsche 996 perished in a fatal accident when his car went off course.
I had only met Alex on the first day of the hillclimb, but to be honest, I haven't been able to stop thinking about what happened since the event. I was one of the last people who spoke to him… and I know that for sure, I took the last photos of him.
I was asked to hold off on publishing any information on the incident until after all of his family had been contacted; this is one of the reasons why I didn't post an event update immediately after the conclusion of the race. Instead of uploading photos to the site on Sunday, I actually went to church to pray for him and his family. I wouldn't even call myself a religious person, but it just seemed like the thing to do.
Larry Chen and I both have plenty of imagery on VR Alexander and his incredible Porsche 996, and I thought about putting a gallery up on the site. As tragic as Alex's death was, he died doing what he loved to do most. From participating in high speed events like the Virginia City Hillclimb, the Texas Mile, and doing 150+ mph frequently while shooting videos inside his car at events like the Gumball 3000 and Bull Run, Alexander Djordjevic just seemed like the type of guy who loved to live his life at the absolute limit. It was just such a shame that it had to happen at the end of the day, on the very last run of the event. I wish Alex didn't get in the car and run up the hill one last time, but he was determined to run once more before the event closed. Godspeed, VR Alexander. My prayers are with you and with your family.
Perhaps instead of focusing on the tragic turn of events that took place at the end of the 341 Challenge, I figured we should focus on the positive aspects of the event. We will definitely have MORE PHOTOS or MORE CARS and more stories from the Spectre 341 Challenge being published on the site very soon…
Please stay tuned to MotorMavens for the absolute best coverage of this event!
:: Antonio Alvendia
1952 De Soto
,
1970 El Camino SS
,
1970 Ford Maverick
,
1970 Ford Mustang Mach 1
,
392 hemi
,
997 Porsche 911 Turbo
,
Amir Rosenbaum
,
Automobile Magazine
,
Car and Driver Magazine
,
Comstock Lode
,
Corvette ZR1
,
Dynamic Autosports R35 GTR
,
El Camino SS
,
Ezra Dyer
,
Ferrari F40
,
Ferrari Owners Club
,
Gold Rush
,
Hans Tanner
,
Highway 341
,
Jeremy Kappus
,
Larry Chen
,
LG Motorsports
,
Lou Gigliotti
,
Mark Gillies
,
Mitsubishi Lancer Evolution 9
,
silver ore
,
Spectre 341 Challenge
,
Spectre Performance
,
State Route 341
,
Steve Millen
,
Stillen
,
Super GT Autech/Nismo R35 GTR
,
Virginia City
---