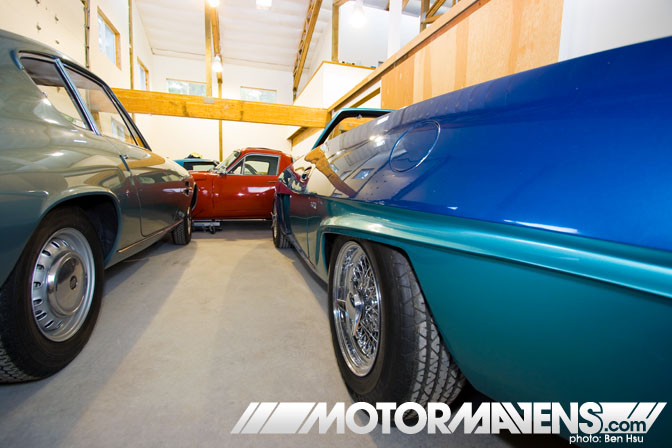 We've had mega coverage of the Pacific Northwest's incredible drift scene lately, so how 'bout a stroll down the path less traveled with some Olde World European classics? You won't see these cars hanging their tails out in a wall-scraping slide, but that doesn't make them any less fascinating. To find these hidden gems, we hopped onto one of Washington's many state ferry boats and hitched a ride to Whidbey Island, about an hour north of Seattle and home of Simpson Design.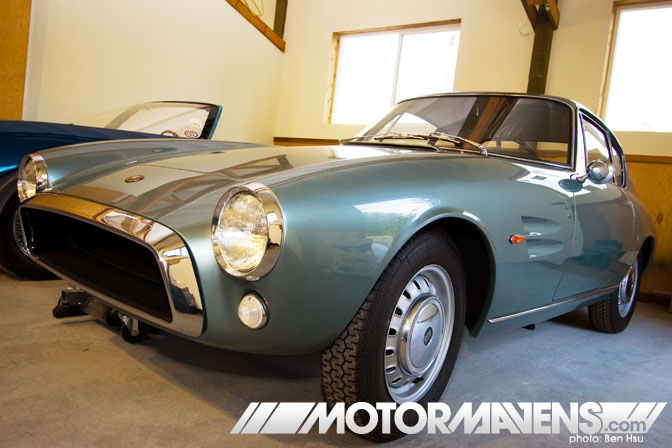 Founder Jim Simpson knows cars, and lives the life most of us can only wish for when we buy a Powerball ticket. His first love was Italian cars and he's restored many as part of his day job. However, Simpson's personal collection is far from the Testa Rossa and Countach-filled stables of the typical Italio-phile.
Instead, he owns cars like this 1966 Ghia 1500 GT, probably the finest example anywhere in the world. It's based on the Fiat 1500 sedan platform of the same era, but in the great Italian tradition of coachbuilding, the body was completely reworked by famous design house Carrozzeria Ghia (If that name sounds familiar, that's because the stylists were also responsible for famous cars like the Volkswagen Karmann Ghia, Volvo P1800, Lincoln Futura Concept, and several notable Ferraris). Under all that custom body work is a pushrod four-banger good for 67 horsepower. The total build number for the 1500 GT is unknown (Simpson estimates between 400 and 700), but there are only 39 known to reside in the US.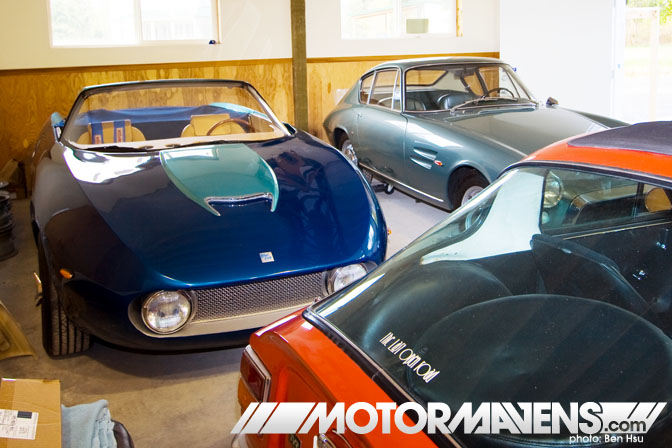 Simpson has been in the car business for 37 years, but in the early 90s he started Simpson Design with the objective of reviving old school European style roadsters on a modern chassis. The Mazda MX-5 Miata became the natural choice, having just debuted to much fanfare as the only and purest lightweight, RWD two-seater available (It would be many years before the BMW Z3, Mercedes SLK or Honda S2000). Simpson made a name for himself developing kits to reskin the Miata in Italian design cues, as well as making short shifter kits and other accessories for the car.
His work caught the attention of Nardi, the Italian aftermarket company best known for their gorgeous steering wheels of African mahogany. Nardi had built a series of promotional concept cars in the 50s called the Raggio Azzurro, or Blue Rays, based on Lancia Aurelias of the time. Simpson had owned both the Blue Ray I and Blue Ray II for many years, so when Nardi decided to commission Blue Ray III he was the logical choice.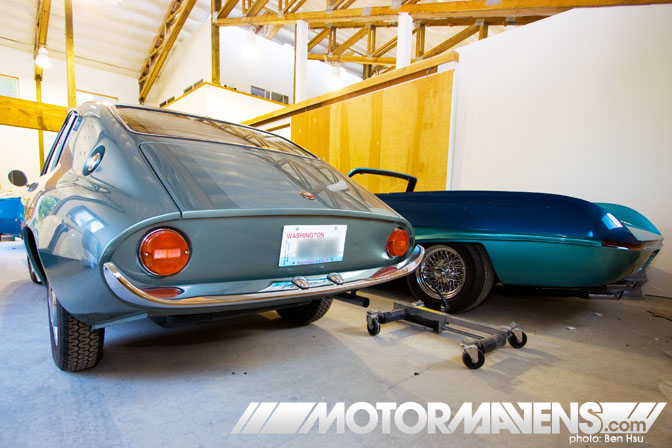 Because of his work with Mazdas, Simpson was able to snag a pre-production 929 as the basis for the Blue Ray III. Simpson chopped the sedan's enormous wheelbase 12.5 inches to create the dimensions of a two-seat droptop. Every panel was drastically altered to include cues from Blue Rays I and II, including their tailfins and two-tone paint jobs. All the bodywork was rendered in metal, even the dash. The finished product was shown at the 1992 Concorso Italiano during Monterey Historics weekend, along with its two predecessors, for Nardi's 60th anniversary.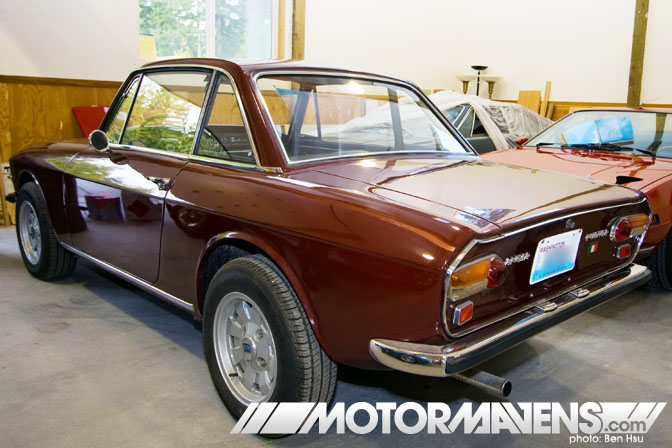 The 1971 Lancia Fulvia Coupe isn't exotic, but it's still a beloved classic in Italy. This is a later model, powered by a 1300cc twin cam V4 (yes, that's two banks of two cylinders in a narrow-angle V) capable of 90 horses. The Fulvia had the distinction of unseating Mini in rallying and gave the company its first works championship, thus paving the way for the howling Stratoses and Delta Integrales to come. Behind it lies a pair of rare Lamborghinis that we'll cover in Part II.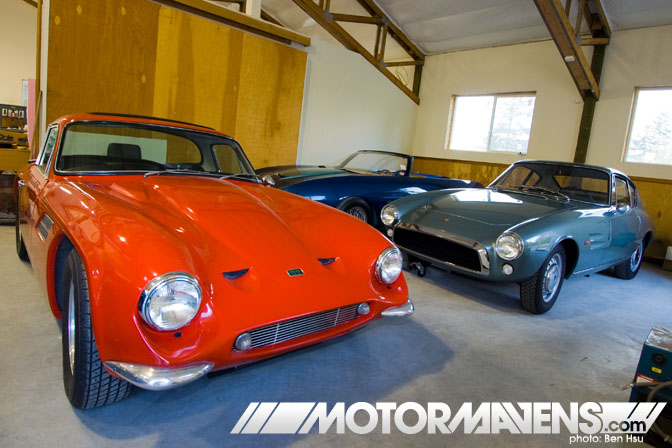 Simpson owns not one, but two of these babies. It may look Italian but it's actually British, a TVR Vixen S2 to be exact. You know TVR, the Blackpool-based builder of insane supercars like the Tuscan Speed Six and Cerbera Speed 12. Both of those, unusually for cars of such ilk, get their propulsion from straight-six and V12 motors developed in-house.
But long before they existed, TVR borrowed engines from other manufacturers. The 1971 Vixen S2 has a Ford Cortina "Kent" Crossflow 1.6-liter four-cylinder. It may only produce 71 horsepower, but when it's pushing – in classic TVR fashion – a tube-frame chassis and fiberglass body weighing 1600 pounds, it can be quite a screamer.
We've only seen part of the Simpson collection, but don't worry, we'll continue the rest in Part II.
:: Ben Hsu
---