---
---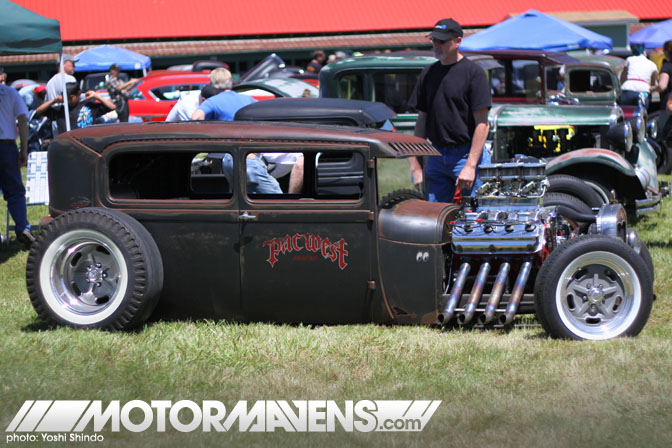 I always feel a strong sense of pride when I go to a hot rod show. Hot rodding is
as American as you can get
- home grown and originating fully here in the States. Starting with young servicemen after World War II, restless and full of
testosterone
, the whole sub-culture that has emerged from it has even influenced styles for clothing, current cars, and music. So, I'm pretty sure you would be hard pressed to find a car enthusiast who didn't like old American rods - there is just an appreciation for the whole lifestyle.
Yoshi Shindo
and I were able to make the trek down to Chehalis, WA on June 26th to attend the third annual
Billetproof Hotrod and Custom Car Show
, which bills itself as the
"World's Least Important Car Show!"
. Sounds a bit self-deprecating to me as it is one of my favorite hot rod shows and, since this marks the second year I have attended, it's clearly important to me.
The show is a bit different from most current hotrod shows, as you can guess by its name, because no cars with billet are allowed to participate. You might ask why, since so many parts are now being produced with this technology specifically for the custom car industry, but it's because the technology didn't exist back in the classic days of hotrodding. Only cars that are traditionally modified and those that precede 1964 are allowed to attend.
Read more...
---
---
---