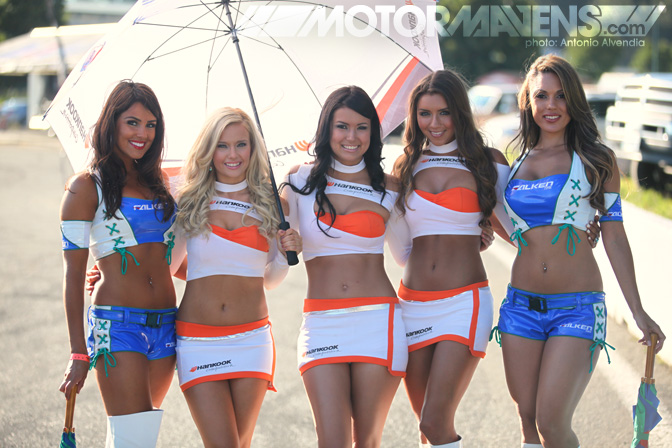 Once again Formula D makes the stop in my hometown Seattle, Washington! This is always one of my favorite events because, not only is it my home track, it's also where we see the Northwest grassroots drivers come out and show everyone what they're really are made of. Seattle has a way of making people rise to the occasion!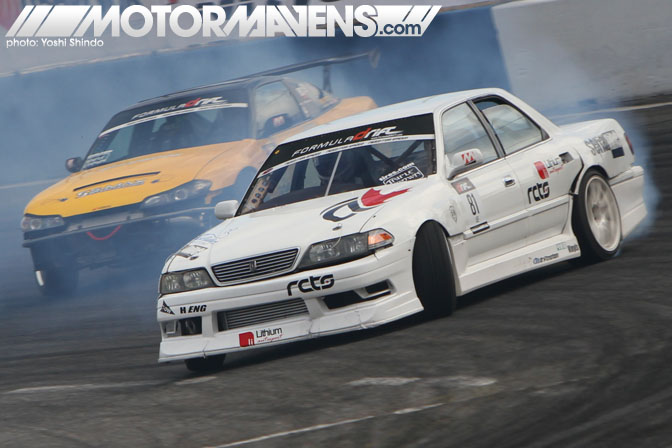 Earlier in the day, I received a phone call from Rob Primo telling me that practice was rained out. It was very disappointing because practice is my favorite time to shoot the cars on track. Seattle strikes again. However, she can be forgiving at times. A couple of hours later I received another call from Rob. The rain had stopped and the track was dry. Practice was on again! I think you already know that I quickly grabbed my camera gear and drove straight there before Seattle had a chance to change her mind. So, I guess you can thank beautiful Lady Seattle for what you're about to see.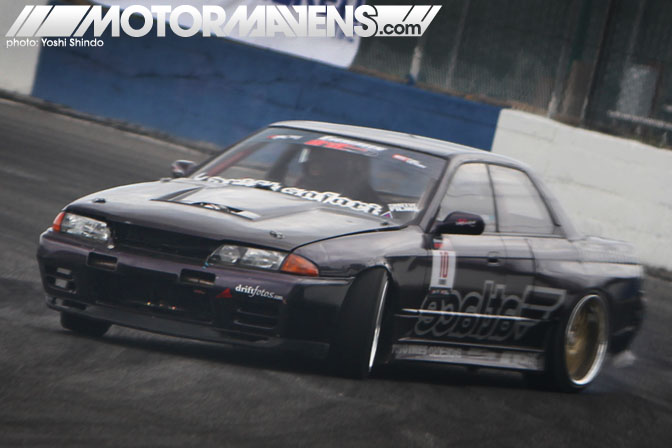 Ian Fournier's windshield banner might look a bit off since it's the Pro-Am banner. He wasn't able to drive with the Pros because he was a couple of days late registering – he wasn't sure if his car was going to be finished. That's a big disappointment since we all wanted to see him make Top 8 with his new Nissan VK56 V8 like he did last year at Irwindale.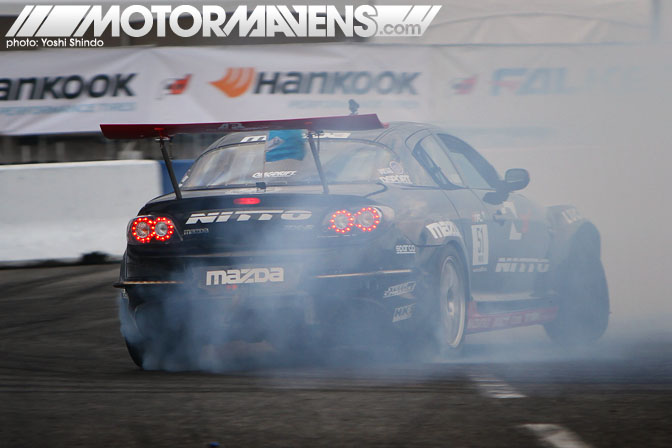 One of the cars in the Formula D lineup that I always love to see on the track is Joon Maeng's Bergenholtz Racing RX8. If you haven't heard this thing in person, you're missing out!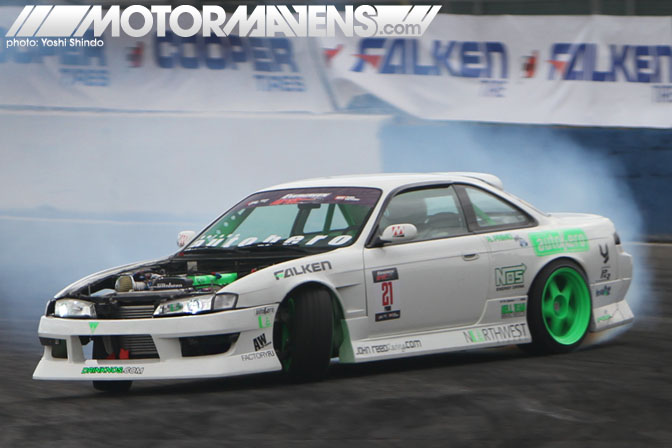 Rob Primo made it back from his Alaska trip just in time to compete in Pro-Am. His Garage Autohero built Toyota 2JZ-GTE motor was running strong during practice. I cannot wait to see more of this car over the next two days! Be on the lookout for a full feature on this car in the near future!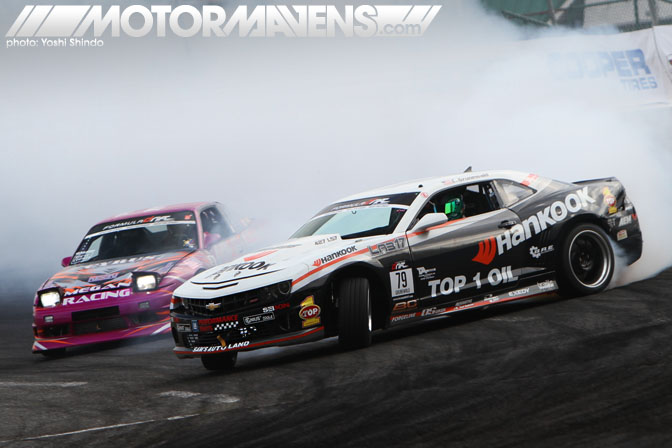 Cyrus Martinez was one driver today who stayed glued to his leading driver all day long. A few times I even lost him in Conrad Grunewald's smoke! There are no Formula D regulations against industrial strength super magnets…yet. Are there?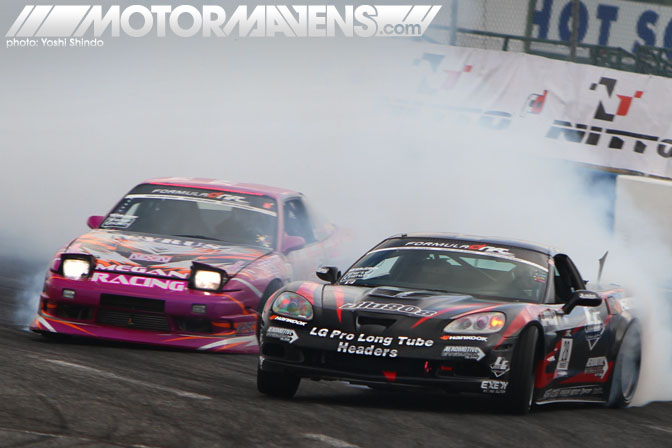 Here's another photo of Cyrus getting close to Luke Lonbergerin his BLU808 Chevy Corvette. Both drivers were killin' it all day!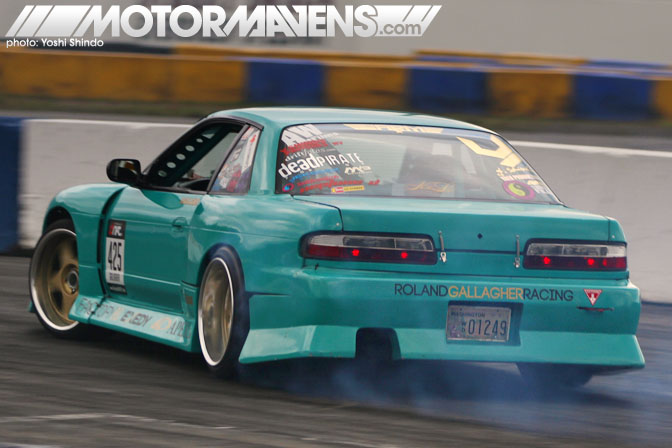 Roland Gallagher's been dealing with mechanical problems for a while now but he finally got his car all dialed again. It's great to see him driving hard and aggressively like we saw in his Pro-Am days. I will be rooting for him!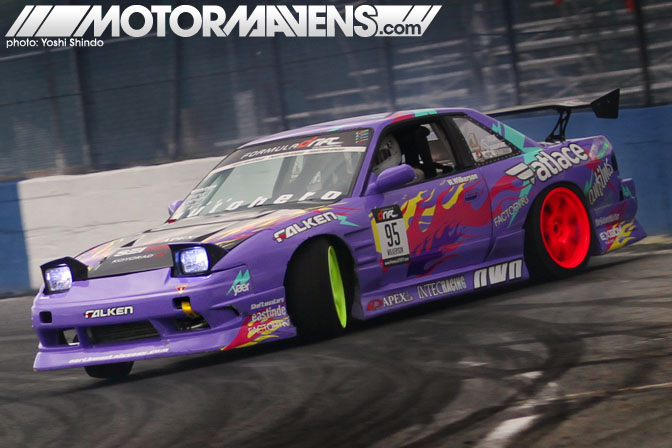 Here's another home town hero, Walker Wilkerson and his Nissan S13 getting close to the wall. He's been the talk of Formula D because he is resisting the current V8 swap trend and he still runs a Nissan SR20DET – not to mention that he is maintaining a "D1 Japan" inspired aesthetic style. In my humble opinion, his is one of the best looking cars in the Formula D series. But, I am a bit of a traditionalist.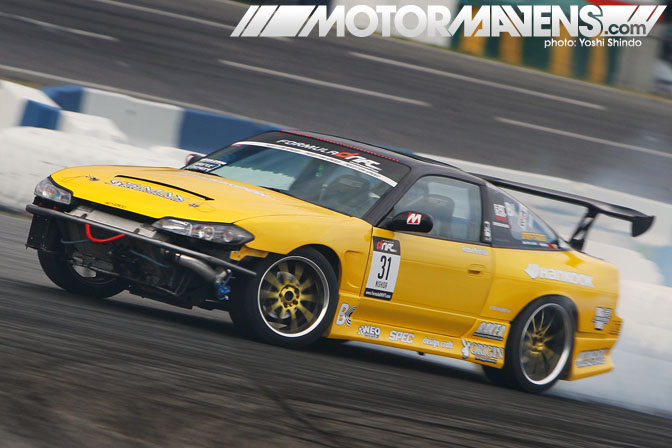 It's great to see Robbie Nishida back driving in Formula D! We missed him at all of the East Coast events. FD wasn't the same without him!
Make sure to stop by the MotorMaven's booth on Saturday!
And…
Click here to check out more Formula Drift Seattle stories
Or…
Click here to check out more Formula Drift stories from earlier this year
::Yoshi Shindo
240SX
,
2JZ-GTE
,
Alaska
,
Alex Lee
,
Bergenholtz Racing
,
BLU808
,
Camaro
,
chevrolet
,
Chevrolet Camaro
,
Chevy
,
Conrad Grunewald
,
Cyrus Martinez
,
D1 Japan
,
Evergreen Speedway
,
Formula Drift
,
Garage Autohero
,
homepage
,
Ian Fournier
,
Irwindale
,
Joon Maeng
,
Luke Lonberger
,
Mazda
,
Monroe
,
Nissan
,
Rob Primo
,
Robbie Nishida
,
Roland Gallagher
,
RX-8
,
S13
,
S14
,
SR20DET
,
Toyota
,
Toyota Cressida
,
VK56 V8
,
Walker Wilkerson
,
Washington
,
Yoshi Shindo
---