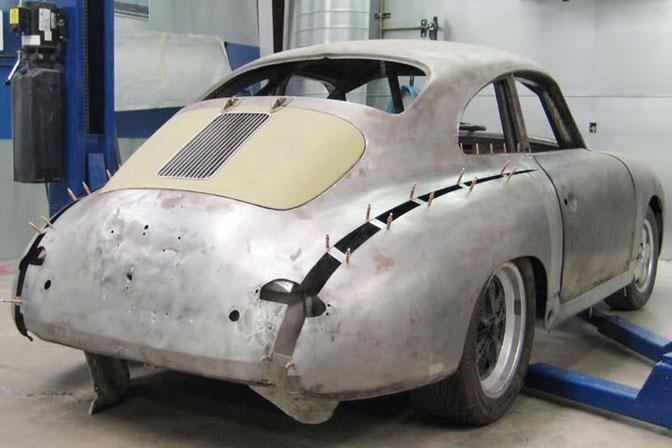 During the short while that I have been in the automotive sector of journalism, I've got to admit I have been fortunate enough to have seen some pretty crazy projects to say the least. However, after seeing this, I was absolutely stunned at the fact that any sane person would attempt something as monumental as this. I came across this forum thread as I was searching for some  immaculate Porsche 356s one night. After numerous search engines and countless visits to Porsche related forums, a tagline in bold letters read "Porsche 356 with an Audi V8 on KustomCoachworks.com. I immediately got to thinking, "You can't be serious – how the heck would anyone tackle the enormous feat of shoving a 4.2L 360hp Audi V8 from an S5 into the back of this tiny 1950s Porsche 356? They must be mad!"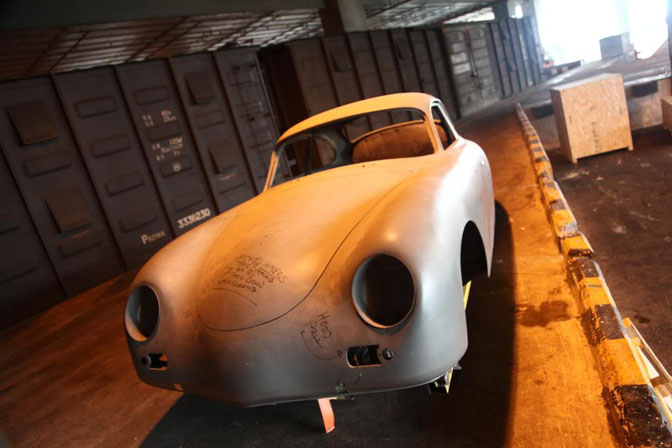 As I spent most of my time starring at thread pictures and scratching my head as to how he was going to accomplish this, it soon became evident that the person behind the build truly has a pair of big bullocks. Grant or "Crafty" as he is commonly known as on the forums, is currently residing in Hong Kong.  I can't say I've seen anyone even attempt something of this magnitude stateside. I was truly amazed by how extensive this project was turning out. No surface on the car was left untouched, as Mr. Grant took on everything himself – from the widening of the shell in order to incorporate the massive V8, to the custom intake ducts that now take the place of the rear quarter windows.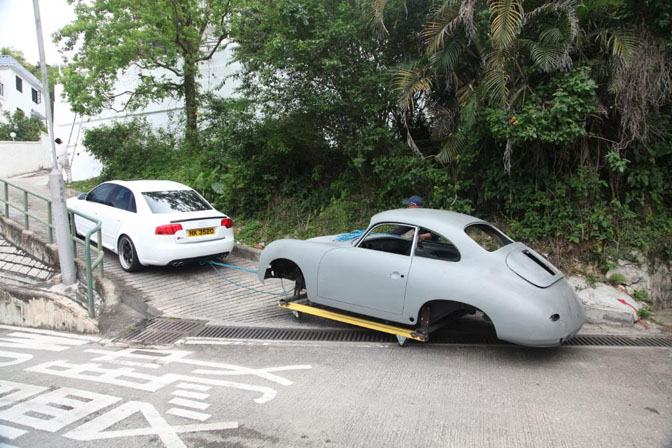 I find it ironic that Grant's towing his project 356 up his driveway with an Audi RS4 (note the Chinese letters on the street, since it's in Hong Kong). Awesome.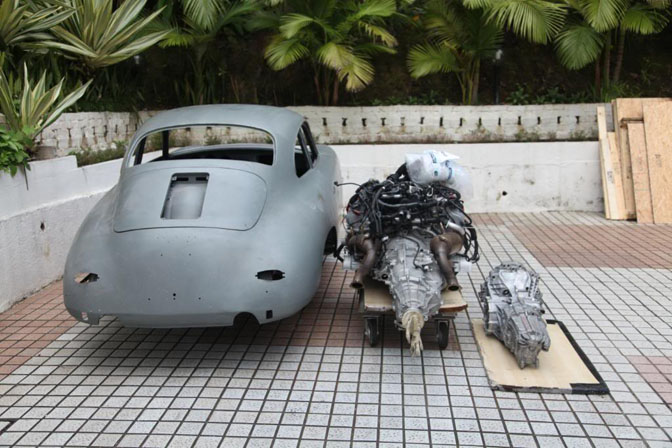 It's not every day you see a true enthusiast conquer something of this nature. I still wonder how this idea even came about – it probably all started with a few beers, which led to a few more beers, and a friend saying "what if"or "how hard could it be"?  This eventually led to Grant cutting into a pristine 356… Totally insane if you ask me, but thats how ingenuity starts. I personally feel the name Crafty fits well for a person willing to take what is given to him, only to toss everything out the window, changing the rules of what we know is possible. Maybe the word impossible doesn't apply to Grant, as he takes thinking outside the box to a whole new level. It's great to see that there are still guys out there like Grant who are still trying to push the envelope.
::Tamer Omran
Follow Grant through his trials and tribulations of the build
---