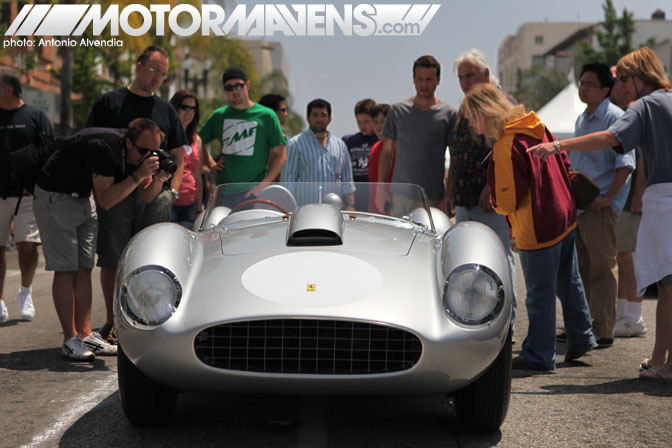 Several weeks ago, I spotted this immaculate Ferrari 625/250 Testa Rossa sitting all by itself in the middle of Colorado Blvd while I was at the Concorso Ferrari show in Old Town Pasadena, CA.
With so many amazing Ferraris lining the street, I was really lucky to have met the owner (most of them were away from their vehicles) and talk to him a little bit about the car, while chief MotorMaven Antonio Alvendia shot photos. It wasn't until I got home, however, that I discovered the rich history of this car and its owner – Bruce Meyer.
Bruce Meyer has been a renowned classic car collector for years and is widely known for his collection of cars – a collection which contains such prized pieces as Clark Gable's Mercedes 300SC convertible, Steve McQueen's Porsche 356, and even the classic Concours d'Elegance show-winning Duesenberg. He's also the founding chairman of the Petersen Automotive Museum in Los Angeles, CA. These bullet points are all extremely impressive, but we can always revisit Mr Meyer's background at another time – I want to talk about the gorgeous silver car in the photos!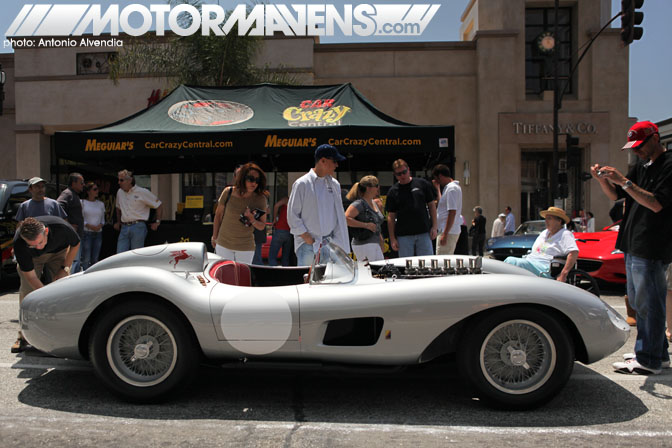 Let's take a moment to really appreciate this 1957 Ferrari 625/250TR (Testa Rossa). It's not very often that we get to see a living legend with our own eyes. What struck me the most about this car wasn't even anything close to the horsepower nor the torque specs. No… what struck me most about this car was the almost palpable racing pedigree that it exudes – a pedigree the likes of which I've only read about in books or seen in classic racing movies.
This car was raced at a time when drivers wore only leather helmets for protection, seat belts were optional, and the chances of a driver surviving a crash were rated in the "wing and a prayer" category. Oh yeah – and this is just one of two cars made that happen to have been driven by such notable drivers as Richie Ginther, Phil Hill, Caroll Shelby, Ken Miles, Jack Nethercutt and John Von Neumann – just to name a few. You smell that? That, my friends, is the smell of rarefied air. Mmmmmm…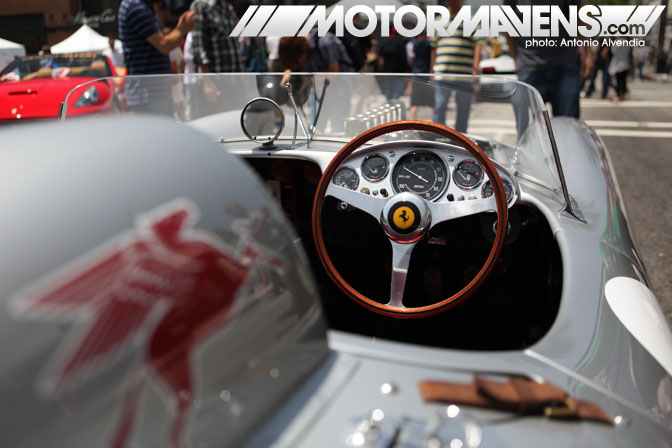 It all started out with John Von Neumann, owner of one of the more important Porsche and Ferrari distributorships in the country – it doesn't get much better than that in the 1950s. This gave Von Neumann the clout to ask Mr. Enzo Ferrari to build him two prime examples of the 625 Testa Rossa with the 2.5L, four cylinder Le Mans engines. Together, Von Neumann and Ginther entered the car into numerous races and, over the course of its competition life in America, it is believed to have won over 50 races and gathered countless historical motorsports and Concours d'Elegance awards.
After its glorious motorsports career however, the car was sold and for the next decade it became a garage queen as it exchanged hands among some of the wealthiest men in Hollywood.
For a short while, the Testa Rossa found its home in the UK (London to be exact) while its owner was having it restored to its original splendor by a master Ferrari Specialist. Then it was purchased at Christie's Auction House in Monaco for 1.1 million dollars by a gentleman named Charles Zwolsman of the Netherlands. The plot thickens – a short year later, Zwolsman was arrested along with 67 other people for drug smuggling charges. Dutch Mafia?! Who knew? It was a hard knock life for our 625 TR, which had then become ownerless.
The Dutch Government seized and liquidated Zwolsman's entire car collection, putting our esteemed car on the market yet again. The Testa Rossa once again found itself on the auction block, where silver tongued auctioneers had little trouble extoling its virtues. This is how it found its way into the collection of its current owner, Bruce Meyer, who snapped the car up for a bargain price somewhere slightly south of a cool million. Somehow the word "baller" doesn't even seem appropriate when we're talking these figures.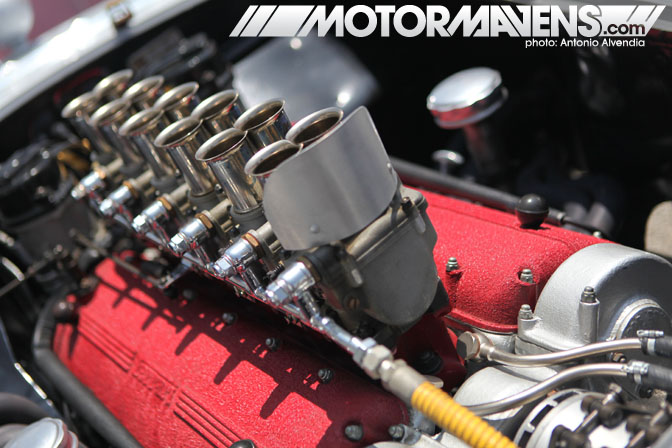 Isn't this engine bay gorgeous? The whole car is amazing while maintaining a certain timeless classic appeal. Fun fact – in Italian, Testa Rossa means Red Head and this red painted valve cover pictured (above and below) is the reason behind the name.
Ferrari found the 250 TR to be a perfect subject to revive the latest derivative of Gioacchino Colombo's V12 engine. The top speed of the car depends on the right kind of gearing, as it was quite possible to get 170 mph out of it… even back in the 1950s. Amazing!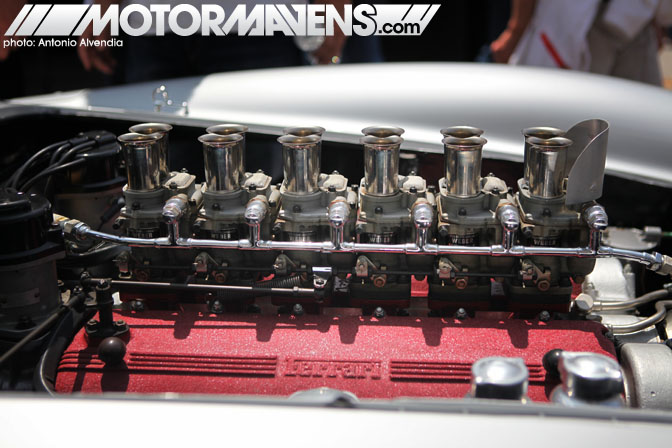 Those trumpets absolutely sing when this motor is alive! This particular car, carrying the (0672) serial number – number one of the only two of these cars ever made, has been altered from its original state. As Ferrari purists might note, this is not the original engine – the smaller displacement 2.5L four cylinder Le Mans engine was replaced with a more powerful powerplant from the Ferrari 250 TR – 3L V12, producing 300 horsepower – beastly power for the time period!
While having the newer engine doesn't have much effect on the value of the car, it does make it a more sought-after car among car collectors because of its sheer power and its ability to race competitively in historical race events.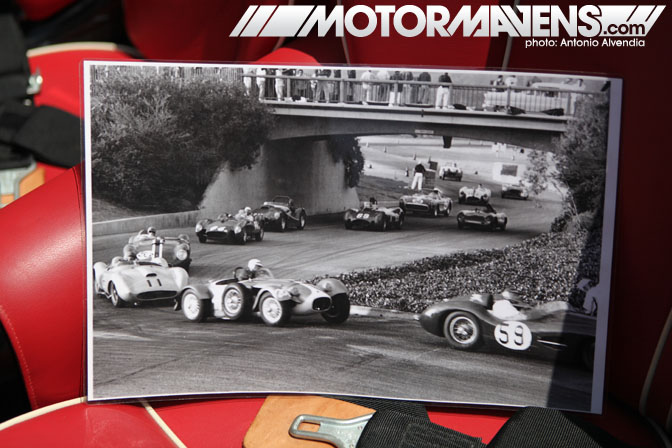 This old picture is what drew me to the historical aspects of this car, causing me to want to find out more about this fantastic picture and the car it was showcasing. I later found out (while talking to Bruce Meyer) that this is an old picture of John Von Neumann racing at Pomona Raceway in California.  Later that day, Von Neumann would take the checkered flag at this event.
Truly it's the history that makes something like this car, which is already so great, even more inviting. I feel truly fortunate to have learned about the history of this car, as it makes telling this story even more enjoyable. For me, it has brought new meaning and a new understanding to the phrase timeless classic. I'd like to thank Bruce Meyer for bringing his beautiful Ferrari 625/250 TR out to the Concorso Ferrari. It was truly a pleasure meeting him and learning about this beautiful and historic automobile. Thank you, sir. The entire MotorMavens crew salutes you.
:: Tamer Omran
Bruce Meyer's 1960 Chevrolet Corvette Le Mans Racer on MOTORMAVENS
Bruce Meyer's Ferrari 625/250TR on exhibit at the Petersen Museum (Driving Line)
1957
,
250 TR
,
625/250 TR
,
Avon Bellamy
,
Bruce Meyer
,
CA
,
california
,
Clark Gable
,
Concorso Ferrari
,
Concours De Elegance
,
Ferrari
,
Ferrari Club of America
,
Holland
,
Jack Nethercutt
,
John Von Neumann
,
Los Angeles
,
Mercedes 300SLC
,
Netherlands
,
Old town Pasadena
,
Petersen Automotive Museum
,
Richie Ginther
,
Steve McQueen
,
Tamer Omran
,
Testa Rossa
,
V12
---