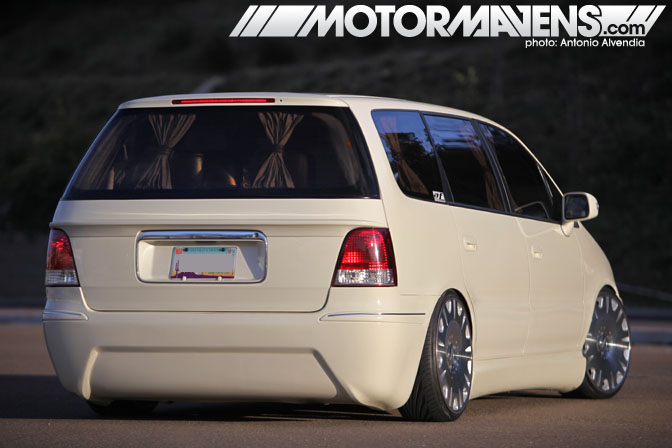 Before I get into the details of this incredible VIP style Garson and Tra Kyoto fitted RA1 Honda Odyssey, let me fill you in on some details. It was super late on Saturday night, and I had just finished a non-automotive editorial shoot for a Japanese magazine. I had a gorgeous model and the magazine's editorial staff sitting at my dining room table, talking to me about photo ideas while I was urgently texting members of the MotorMavens Crew to see who would be down to drive down to San Diego, CA with me for the AutoFashion VIP Meet.
I had just returned from Las Vegas, and was still reeling from a sleepless week of meetings, afterparties, and overall hustling at SEMA. However, I remembered that I made a promise to my friends at AutoFashion in San Diego – I told them that I definitely would be going to their VIP meet to show MotorMavens support, and to shoot photos of the event! I was still sleepy as hell, and I didn't feel like driving by myself, so luckily I was able to talk Tamer Omran, Lambert Paat (and his gf Daisy), and Driftwell founder Herbrock One into rolling to SD with me.
Right as we found parking at AutoFashion, this gorgeous cream-colored 1997 Honda Odyssey (RA1) immediately caught Tamer's eye. He immediately hunted down the owner, who drove it all the way from Tempe, Arizona to attend the show!
We found out that it took four years for the owner, James Cherry, to collect parts for his Odyssey and ship them over from Japan. Even though he was building on the car one by one, he decided that he would put it all together at once instead of bolting on parts one at a time – this way, the Odyssey would have more impact when it came out! Good move.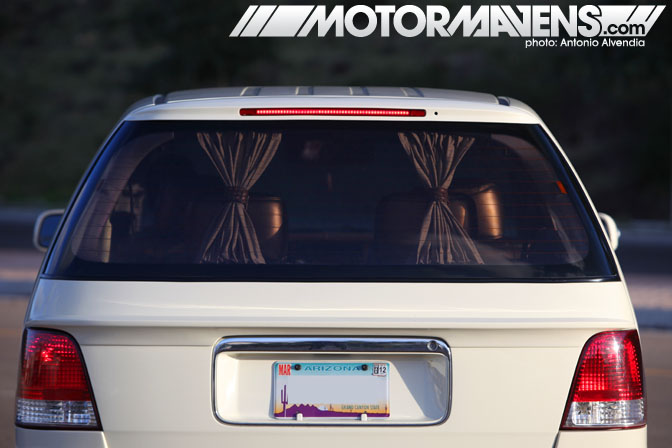 James explained that he sourced the Tra-Kyoto Number 6 (VIP Version) bodykit through AutoFashion in San Diego, even though they weren't sure if they could even get the kit at the time he called them.
From the rear window, the first thing we noticed is obviously the inner curtain display, which is pulled and gathered so immaculately that James could easily give the housekeeping lady at our Las Vegas hotel a run for her money. What you might not notice quite so readily is the Garson Premium Edition Mid-Wing and the Honda Japan red/clear crystal tail lights.
If I were shooting a video of this car, I'd definitely have to use the song "CREAM*" by Wu Tang Clan; let's be specific though. The body color is actually Crème Brulee, painted by Innovative Automotive in Tempe AZ. Does anyone know which car it was sourced from? Cream get the money! Dolla dolla bills yall…
(*Did you notice that the members of the Wu were down with VIP vans even back in the day? They just chose the wrong kind of van… LOL I distinctly remember Raekwon yelling out in the song… "Rollin in MPVs is fat!" hahahahaha)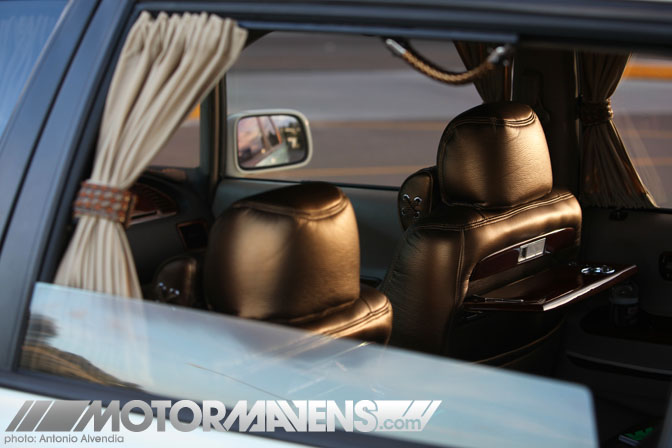 Jeez louise! Just look at this baller status interior. It looks like a scene out of the Luxor hotel's most executive suite. James told us that most of the interior was sourced either through Garson USA or AutoFashion. Here's a list of the detailed goods:
Garson Vega Edition Mirror
Garson Vega Edition Luxury Assist Grips
Garson Vega Edition Seat Covers
Garson Vega Edition Tissue Box
Garson Vega Edition Dust Box
Garson Vega Edition Cup Holder
Garson Vega Edition Neck Pads
Garson Luxury Pedals Type Crystal
Garson Luxury Shift Knob Type Crystal
Garson/Italvolanti Steering Wheel W/ Luxury Crystal Ring
Garson Luxury Lock Knobs Type Crystal
Authentic Garson Material Used On All Vega Accented Trim Pieces
Honda Cargo Cover
Seat Back Tables 1993 Jaguar XJR
Custom Carpet & Floor Mats
Interior Wood Grain Printing performed by:
Real Image Hydro Printing Phoenix Az..
Interior Installation Performed by:
Marco Custom Upholstery Phoenix AZ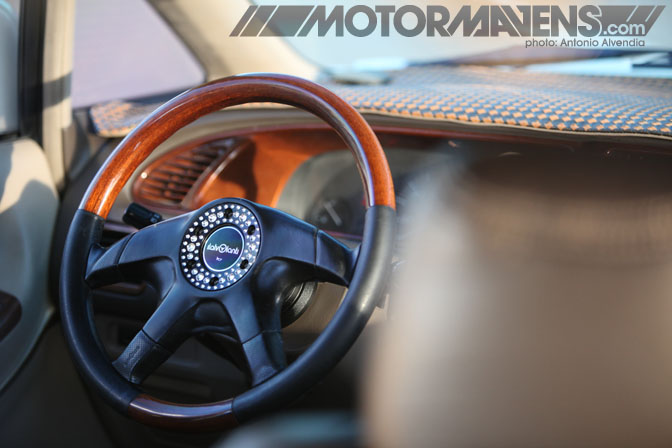 The Odyssey's custom made the dashmat completely made my jaw drop – it was custom cut, using Garson material. It's two-tone so the underside of the dashmat perfectly matches the interior plastic of the Odyssey. Damn! Now that's some amazing coordination!
If you've ever seen the movie Boomerang, it's kinda like having a mushroom belt, mushroom shirt, and a mushroom interior liner on your jacket! Bam! Bam! Bam!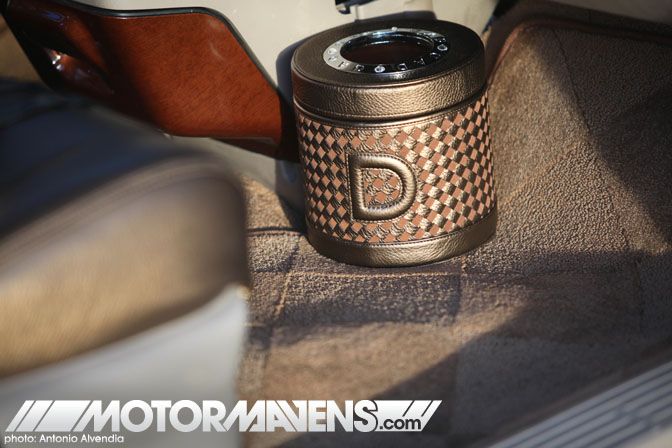 Oh, you fancy huh! James even shelled out the dough for a Garson premium dustbox for his trash… but if you spent that much cheddar on a trashcan, would you actually put dirty items in it? I'd feel compelled not to… but I dunno!
In case you didn't notice the perfectly matching diamond patterned carpet, James told me he searched high and low to find carpet that would match all his Garson stuff. The floormat carpeting is actually household carpeting from a line called Shaw. What we're looking at here is the premium carpeting line from Shaw, and he ordered 10 yards of it at $45 per yard, just to cut up for the creation of his custom floormats. Pricy? Yes. Worth it? No doubt.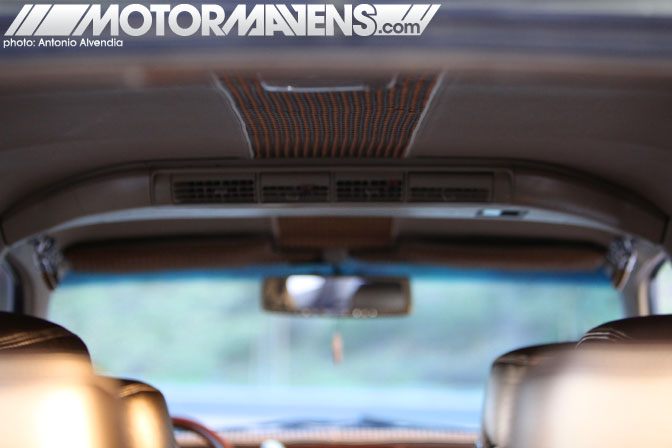 "And now headlining on our VIP room…" Check out the headliner! Garson diamond pattern fabric runs all the way down the center, and the rest of the headliner material custom matches the interior plastic. Damn, this RA1 is amazing.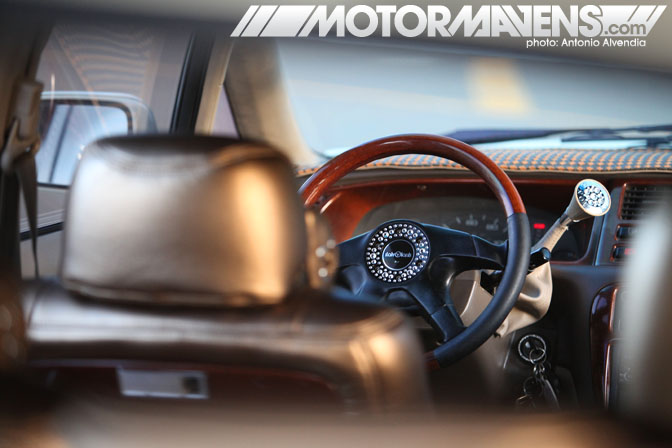 Just to make sure you're paying attention… check out the Garson type Crystal shift knob with a matching Italvolanti x Garson collaborative steering wheel. I've never seen this steering wheel in person before seeing James' Odyssey, but I'm definitely a fan. These accessories will definitely get the ladies hot. James knows this!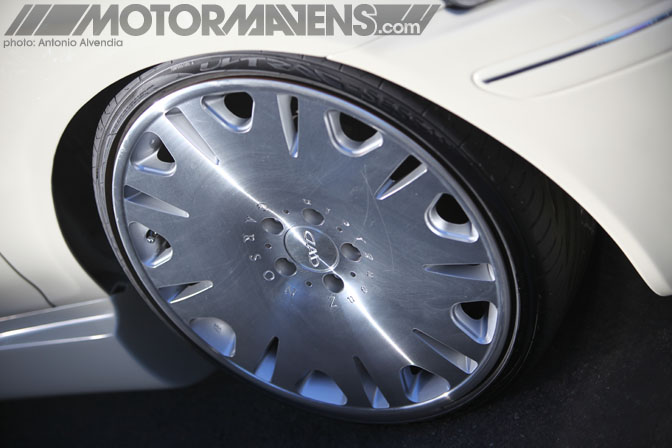 Mmmm… the VIP Odyssey is sitting on Garson Dolci 20×8.5 +35 wheels Front and Rear, wrapped in Vredestein Sensatrac 225/30/20 tires.
When I asked him about his interesting tire choice, James says that he read about Vredestein tires on different Corvette forums, so he thought he'd go a different route and give them a try. He didn't know too much about them before seeing them on the forums (See, tire companies! You need to advertise ONLINE!), but he thought he'd try them out. James says he likes the quiet ride that his Sensatracs offer.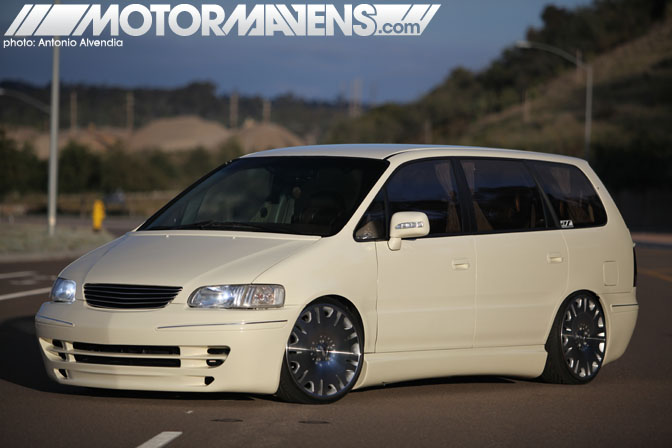 Here's a look at the overall front of the Odyssey. Check the Garson Premium Edition grill and Anceltion Bonnet Spoiler adding flavor to the front end.
For footwork, this RA1 is using Tein Basic Wagon Coilovers, with a bunch of supporting parts from Cusco – Rear Camber Arms, Rear Toe Adjuster, Engine Mounted Strut Tower Brace, and a Rear Lower Cabin Support.
Fancy footwork, creme brulee paint, Rocket Bunny kit, and Garson goodies round out this outstanding Odyssey build. In fact, I'd have to say that this is probably the best RA1 Odyssey build that I've seen stateside. Am I wrong, though? Is there an Odyssey that can top this, from an aesthetic standpoint? If so, let me know! I need to see it!
:: Antonio Alvendia
---