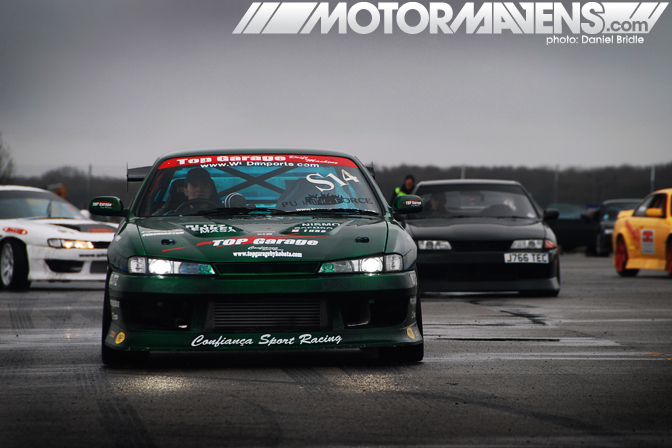 I think I can safely say it feels like the 2010 drift season has started, albeit in a typically British fashion, with plenty of rain and cups of tea.
While fellow MotorMavens Crew members Antonio Alvendia and Edward Uche were out baking in the Californian sunshine at the XDC event in Irwindale, I was getting soaked to my skin in Northamptonshire, England, at the home of British Motorsport, Silverstone Circuit. Here, JDM Allstars were holding an invitation-only driver search day to give the selected drivers a shot at gaining a provisional entry to compete in this year's series. Also, with only 26 days to go until JDM Allstars takes over Manchester City for Round 1, it gave some of the current competitors in the series a chance to give their updated and freshly built cars a good shakedown!
Silverstone has been a home for UK drifting since the early days. The OPT Drift Club used to hold practice days there and some of the old UK D1 rounds were also held there. It was even the stage for the D1GP Exhibition Rounds (one in October 2005 and the other in 2006) when the Japanese came over to show us what it was all about – pushing our drivers to become even better. Since then it's been home to various drift championships such as the European Drift Championship (EDC) and the defunct, D1GB. Back in 2009, it was JDM Allstars' turn and there they hosted the final round of the series on the famous GP Circuit. This year Silverstone will play host to the final round yet again and it will be bigger and even better. I'm seriously looking forward to it – just as long as it's not raining!
Anyway, on to the Driver Search…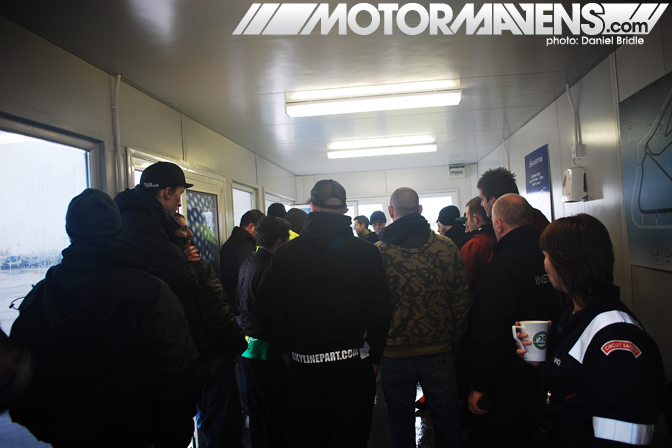 Out on the GP circuit a motorbike test day was being held, so the Licensing track was based on one of the nearby areas of land. I have to say, it was probably a good thing with the weather conditions as they were. I have a feeling there would have been a lot of drop-offs into the gravel if the cars were out there. Those bikers were either very skilled or completely insane – or both!
After the track layout was set up, the drivers were called into a small cabin for a briefing. Niall Gunn (the man behind JDM Allstars) gave a run-down of what the judges were looking for to the drivers trying out for their provisional licenses. The drivers were given a lot of track time to get used to the layout and to just relax. The judges wanted to see how they would perform when they weren't under pressure so that they could show their true potential.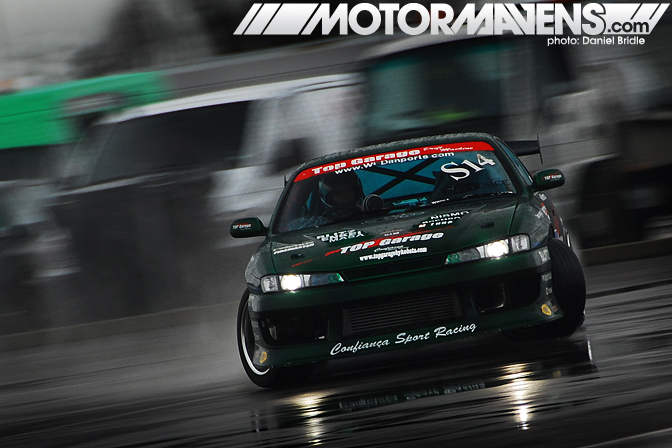 After the briefing I headed out onto the track to check out who was driving.
Danni Murphy seems to be getting to grips with her new S14A and is already driving it a lot better than her old 180sx. The car's looking great too, but I'm a sucker for any car running Work VS-KF's, possibly my most favorite wheel ever!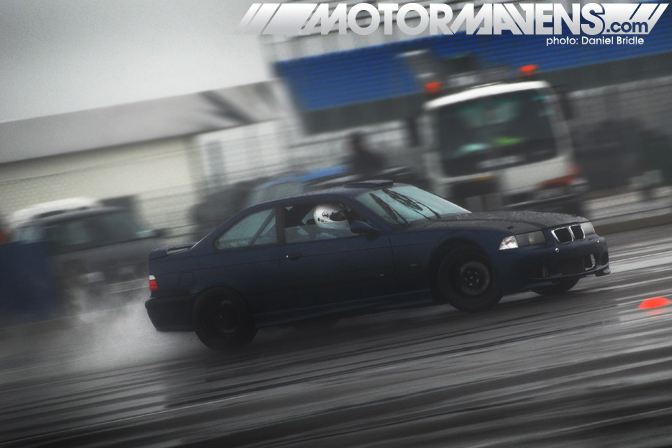 I'd seen photos of this turbocharged BMW M3 on the Internet when it looked fairly standard. Since then it has become an entirely different beast with almost 700BHP!? Crazy. I'm not a huge fan of the roof scoop, but the car sounded amazing and I'd love to see it lay down all that power in drier conditions!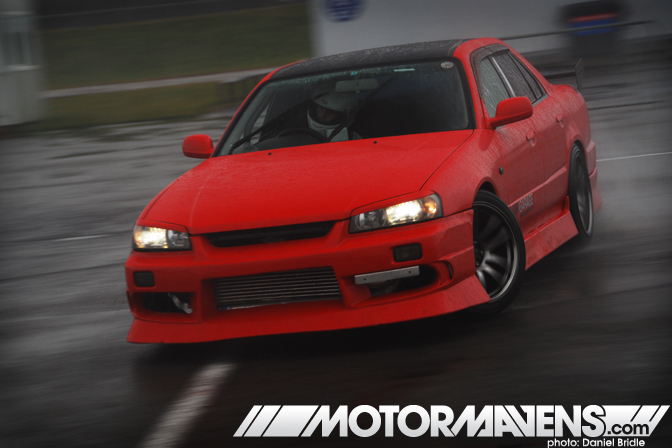 JDM Garage brought along two very nicely prepared 4-door Skylines. I'm loving the sudden boost in 4-door drift cars over here in the UK – there seem to be quite a few popping up all over the country.
As you can see, the weather wasn't really getting any better. In fact, a few minutes later, I couldn't even look through my lens, let alone take a picture of anything (thanks to the rain). So, I headed back inside and moaned about it in a truly English fashion.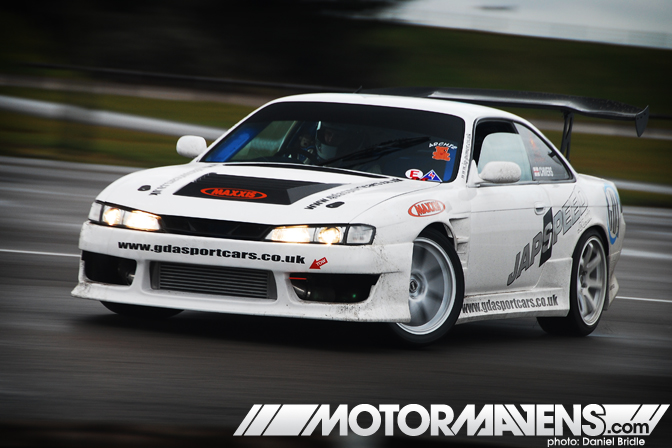 After the weather cleared up a little, I headed back out on the track where I was greeted by the gorgeous sound of twin turbos whistling away and the scream of an RB26 from Japspeed's latest creation. Along with this S14, Japspeed's Steve Biagioni will be driving a 2002 GD Subaru Impreza with a Cosworth built EJ25 engine. Something different to add to the already impressive line up of Japspeed cars!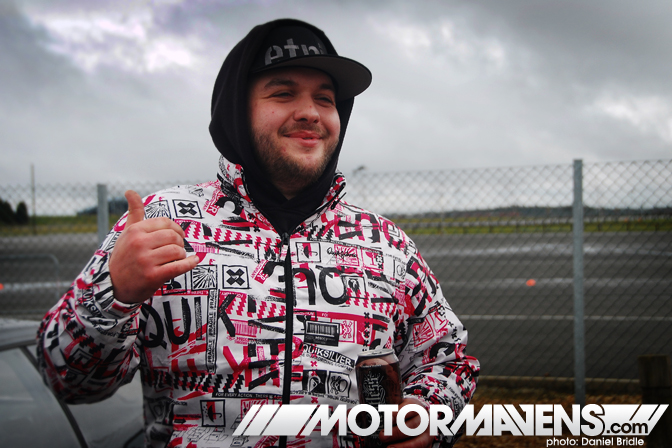 Driftworks driver Dan Chapman was there to give pointers to the newcomers and just chill. Dan always seems to be in a cheerful mood whenever I see him and it was no different on Saturday – despite the weather. I'm not sure what was going on when I took this photo – something to do with telephones, I think?
With new sponsors and a freshened-up car, Dan has his sights set on becoming champion this year. But, with so many highly skilled drivers in some of the most impressive cars Europe has ever seen, it's going to be a big challenge.
One to watch this year is 18 year old Irish driver, James Deane. He'll be piloting the Severnside Imports/Nexen Tyres PS13 this year and he's already made a big impact with his driving skills in the car. I don't think anyone was expecting the kind of entries he was pulling off!
It was hard to get a shot of just how much angle he had into the first corner, so it looks like he's spinning out in this photo. I assure you – he definitely was not. After a good bit of practice, James pretty much had it spot on! If he manages to keep up this level of driving, the guys at the top will have to watch out.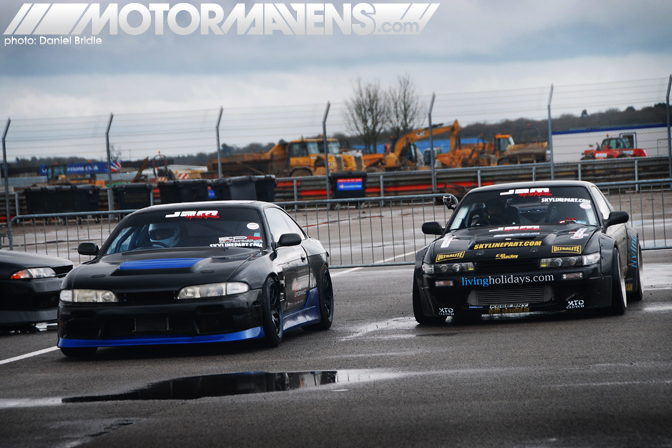 Here is Brad McQueen's freshly re-built S14 and Anthony Scott's famous RB30 powered Rocket Bunny Sileighty.
Brad's S14 has had a fair bit of work done to it over the winter months. Visually a D-Max bonnet has been added and the bodykit has been changed slightly with 40mm over fenders on the rear and 25mm on the front, giving the car a much wider stance. Engine-wise, a CR Turbos Hybrid Custom GT28R with WRC spec 360 roller bearings has been added, along with upgraded oil seals and catch tank. As Brad is no longer part of Team Green, the car's color scheme is in homage to his good friend and sponsor Tweenie Rob (one of the most respected Skyline tuners in the UK) who, sadly, passed away last year. The blue is the exact same color as Tweenie Rob's famous R32 GT-R drag car – I think it looks great on the S14!
Brad told me he would like to thank Toxic Rides, CR Turbos, Garage-D and EP Racing for their help with parts and getting the car sorted.
As one of the more grassroots drivers in the JDM Allstars series, Brad has been one of my favorites for a long time. I'm really looking forward to seeing him go out there and give the guys with more powerful cars a run for their money!
Scotty's Sileighty is looking better and better. With the continual development and fine tuning it's gone through over the years, it's now a beautifully set up car and I reckon Scotty has the potential to do very well in the championship this season.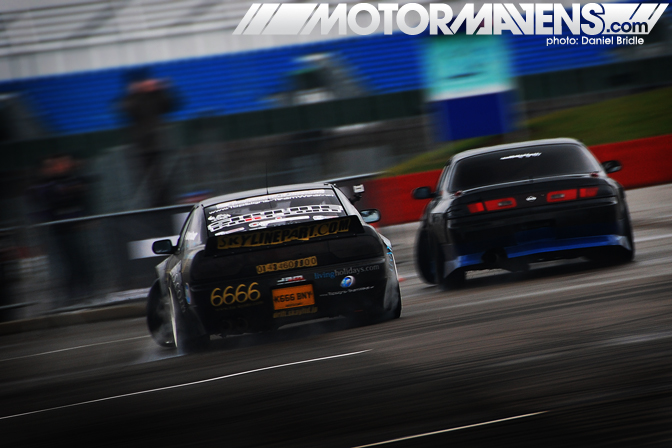 Brad and Scotty went out together on the track for a lot of their runs. I haven't seen any pro twin drifting since JDM Allstars Round 3 at Wembley last year. Even though they weren't going all out, it was great fun to watch.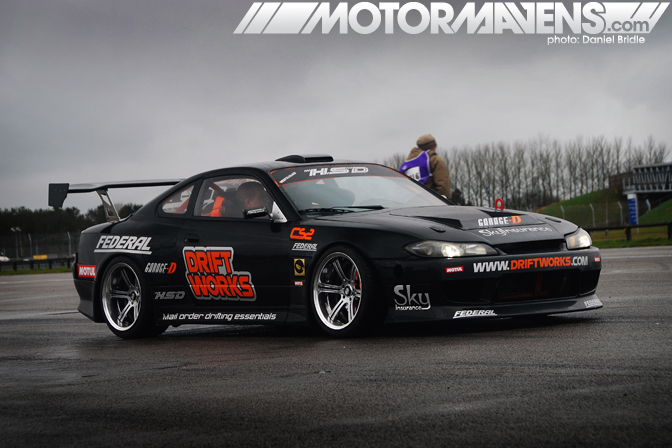 Unexpectedly, Phil Morrison and Ben Broke Smith aka Bon Bon rocked up in a van with the amazing Driftworks 2JZ powered S15 Silvia on the back of the trailer. There's always a little blip of excitement from the fanboy in me when I see this car. I've grown up following what Driftworks have done for the scene (they pretty much created it) and the amazing cars that they have built over the years, so needless to say, I'm always blown away by what they do.
I caught up with Phil the next day on the Driftworks Forum to find out why they were there and what changes had been made to the car on the off season. He told me, "Being there on Saturday was a surprise on our part too. We've been so caught up in the build and move into our newly purchased Driftworks HQ, the car hasn't run under it's own steam for 6 months. With the realization that the season is nearly upon us, we managed to put two days' work into brushing off the inches of dust, repairing some small damage from the last event last season, and sticking some fresh oil in from our new sponsor – Motul. The car was pretty much exactly as it was in 2009, we were just there having a little catch up to see if we remembered how to drive, and more importantly, have a pre-season laugh with all of our mates. Over the next couple of weeks we'll be making a few subtle changes to the car, but as always, you'll have to wait and see what we have up our sleeves."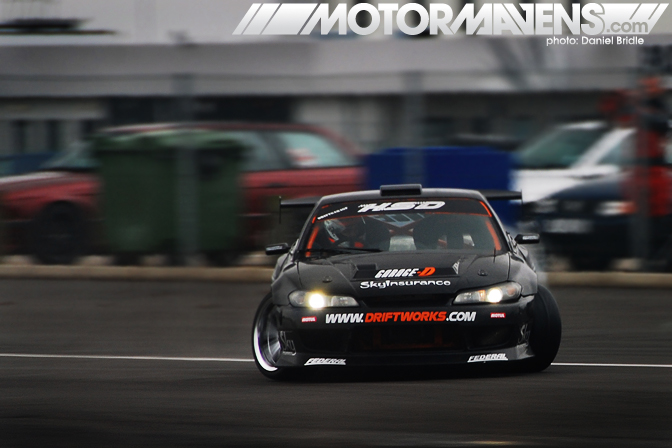 With a lot of "pro" cars looking so ugly these days I love how Driftworks have always built some of the best looking ones out there. You really have to see this car in person to feel the sort of presence it has!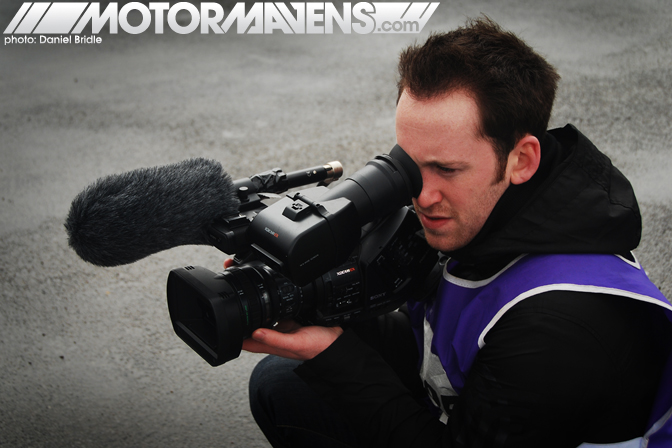 Videographer Josh Allen was also there starting work on a new JDM Allstars video project that he and I will be teaming up on to bring to MotorMavens! We're currently working on getting ideas down and organizing a few things but it should be pretty exciting. Keep your eyes peeled for more soon…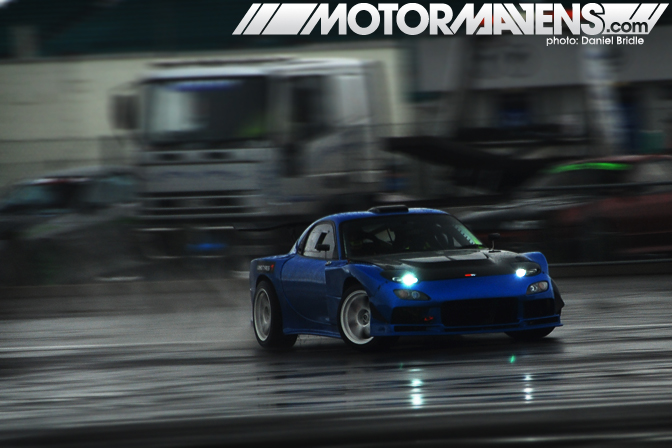 Out of the ten drivers trying out for their provisional entries, only five gained their chance. You might recognize Matthew Peter House's stunning FD3S RX-7 from my last feature about DWYB. Matt has been steadily getting better in his FD. The combination of an LS3 V8 with around 600BHp and the wet conditions must have been a daunting task but he drove well enough to impress the judges and gain his entry.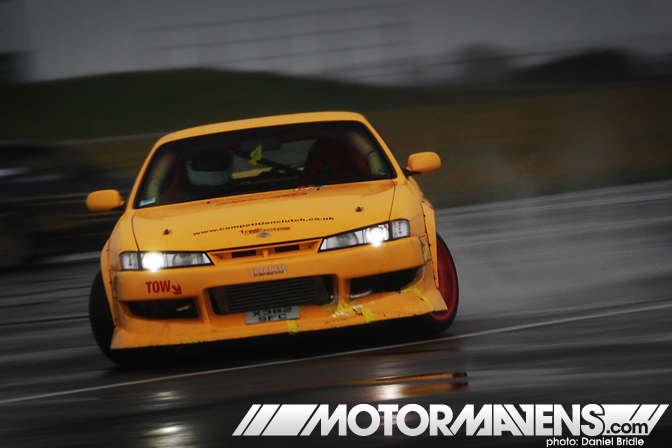 Dan O'Brien is another driver who's improved a lot over the past year! I think having the car finally converted to manual (he competed in the British Drift Championship while it was automatic!) has helped a ton. I'm looking forward to seeing how he drives at Manchester.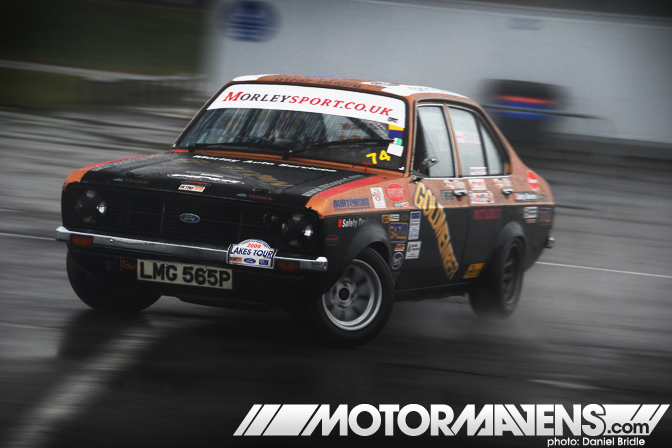 Now this is what I'm talking about! Ben Morley drove his MK2 Ford Escort hard and got an entry! Hell yeah! I love MK1 and MK2 Ford Escorts and this was no exception. What's even cooler is that this year a new team (which this car belongs to) has been announced. Drift Team Morleysport are a team made up of purely old school drift cars. There are three MK2 Escorts, a KP61 Toyota Starlet and an awesome KE70 Corolla. It's a retro take over for 2010!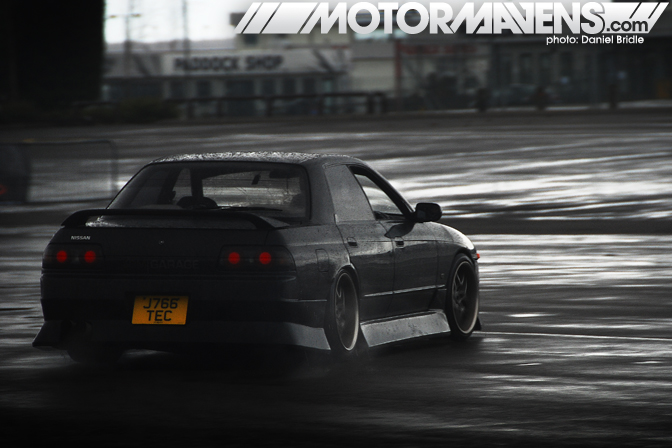 I'll leave you with this shot of Ken Wingate who was the fourth driver to gain his entry. He drove the other JDM Garage 4-Door Skyline. This R32 looked seriously dope with a full BN Sports kit, Blitz 03's and lots of slam!
My apologies to the fifth driver who gained his entry. His name is George Tilling and he drives the Mint Tyres R32. Unfortunately, I was unable to get any pictures of his car. Forgive me George. I'll get some next time!
Rain aside, it was a super chill day and it was awesome to see familiar faces and get just a tiny taste of some of the new cars that will be competing this year. We've seen nothing yet compared to what the first round on April 17th-18th will have to offer. I definitely recommend coming to it if you want to experience some of the best drifting Europe has to offer. It's going to be insane!
::Daniel Bridle
4-Door
,
Anthony Scott
,
Avon Bellamy
,
Ben Morley
,
BMW
,
Bon Bon
,
Brad McQueen
,
CR Turbos
,
Dan Chapman
,
Dan O'Brien
,
Daniel Bridle
,
Danni Murphy
,
drifting
,
Driftworks
,
EP Racing
,
FD
,
FD3S
,
Ford
,
Garage-D
,
Japspeed
,
JDM Allstars
,
JDM Garage
,
Josh Allen
,
Ken Wingate
,
Manchester
,
Matthew Peter House
,
MK2 Ford Escort
,
Morleysport
,
Nexen Tyres
,
Niall Gunn
,
Nissan
,
Phil Morrison
,
PS13
,
R32
,
R34
,
Rocket Bunny
,
RX-7
,
S14
,
s14a
,
S15
,
Severnside Imports
,
Sileighty
,
Silverstone
,
Silvia
,
Skyline
,
Skylinepart
,
Toxic Rides
,
Toyota
,
Tra-Kyoto
,
UK
---