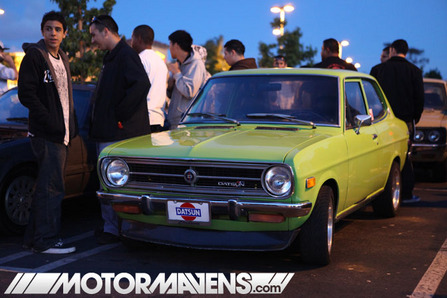 There's a popular SoCal meeting place in the "South Bay" that attracts all sorts of car nuts – the Torrance In & Out Burger on Crenshaw, just north of the Pacific Coast Highway. The parking lot is big enough to hold several little meets and everything from classic V-Dubs to American muscle shows up. Recently some members of Ratsun.net and Japanese Nostalgic Car forums have put the call out to old school Japanese cars to meet here on the first Friday of every month, and owners turned out en masse. This sublime Datsun 1200 is just one example of the kind of cars that rolled up.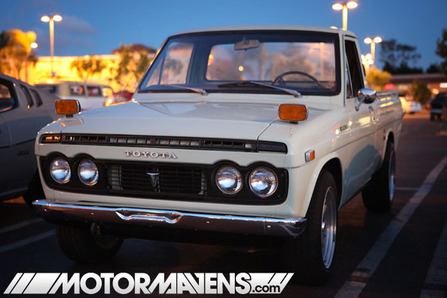 Here's an awesome, super-clean 1970 Toyota Hilux pickup. How about one of these as a Motor Mavens work truck? We're going to start saving our pennies for one of these! Those factory fender mounted turn signals are COOL! The shapely round headlights and grill are just a bonus – this Hilux had us at factory fender mounted turn signals.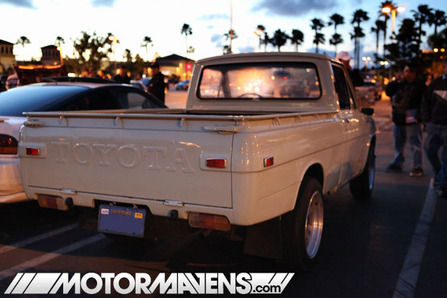 Seeing the old Toyota font in raised letters and the vintage latches on the tailgate is a terrific retro touch. See the lack of a rear bumper? Even COOLER!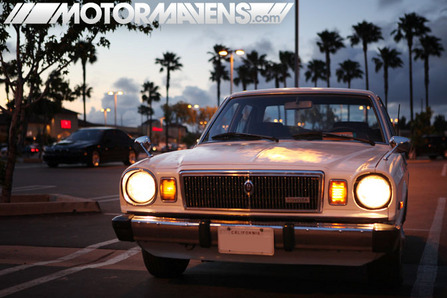 This 1980 Cressida looked practically brand new. Bow down to the top-of-the-line Toyota before the Lexus brand was introduced!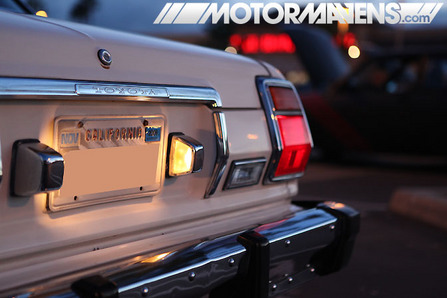 The detailing and copious amounts of chrome give this car a top-notch luxury feel. We love the taillights and rear bumper!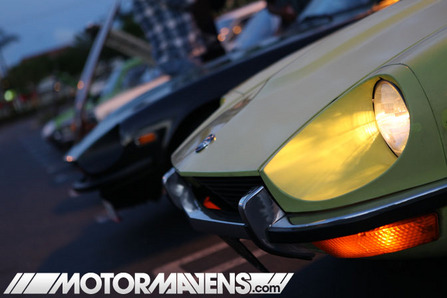 What would a Ratsun get-together be without a lineup of Z-cars?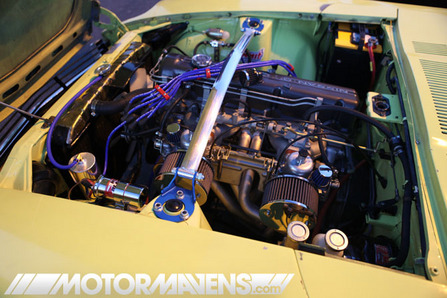 Have a peek under the hood of the yellow Z. This thing sounded pretty beefed up!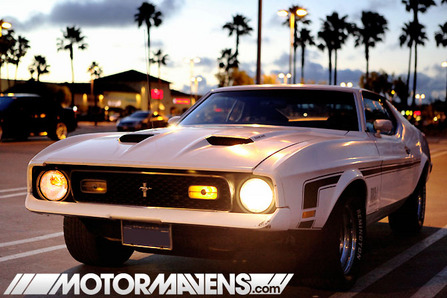 We know it isn't a Japanese nostalgic car, but a 1972(?) Mustang Mach 1 showed up for the muscle car fans. A truly under-appreciated design.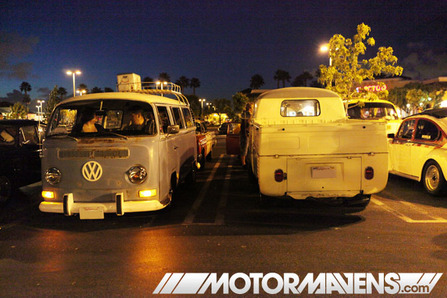 Nearby, a vintage V-Dub club, Classic Toys VW Club had a double-cab and a cool roof-rack wearing bus. For more photos of this meet, check out the Japanese Nostalgic Car site.
:: Ben Hsu
---