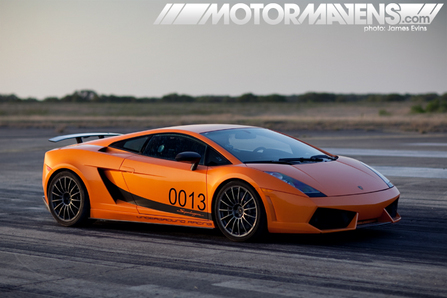 What's up, MotorMavens readers!  Before I proceed with the coverage, I'll go ahead and introduce myself.  My name is James Evins, and I'm a photographer from Houston, Texas.  Like many of you, I've always been a big fan of MotorMavens.  When Antonio first approached me about contributing to the site, I jumped at the opportunity.  I'm definitely excited to give you guys an inside look at whats going on here in Texas!
This past weekend, I found myself waking up to my alarm at 4:00 AM.  After hitting the snooze button about ten times, I finally woke up and dressed and packed my car.  I departed before sunrise, making my way out to I-59 and heading South.
Three hours later, I found the "exit" I was looking for – a small, country road with a sign nearby reading, "Goliad Airport."  I had arrived at The Texas Mile.  As I entered the airport and made my way around the small, rundown control tower I saw the venue sprawled out before me – hundreds of trailers, campers, cars, and bikes spread out across a mile long strip of runway!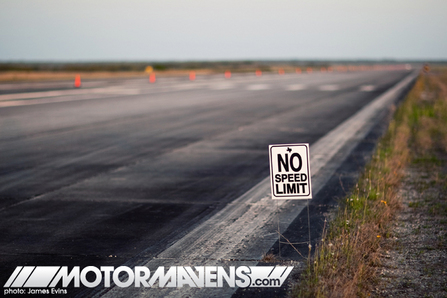 The Texas Mile is based around a mile and a half long runway.  The cars achieve their top speed in a standing mile on the runway, with a half mile shut down area to safely come to a stop.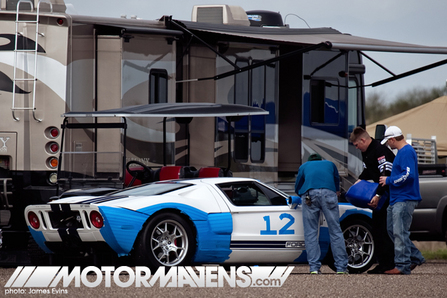 There is also a makeshift "pit" area – a taxi way that runs parallel to the runway.  It is littered with trailers and campers from end to end.  This Ford GT was having some fine tuning done in the pits, and proceeded to head out to the track shortly thereafter for another run.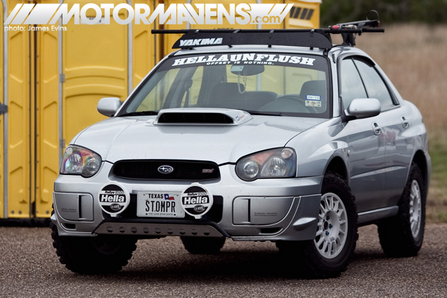 This spectator's car got quite a bit of attention due to the "Hella Unflush" sticker and mud tires.  I personally love aggressive wheel fitment and stance, but even I had to chuckle a bit when I saw it. I also like the "Hella" foglights, haha.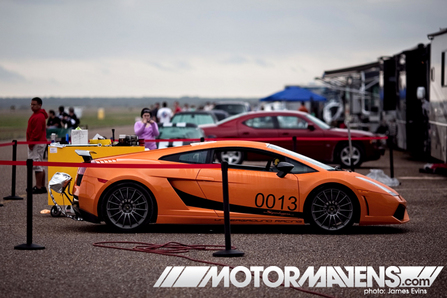 Although the Underground Racing Lamborghini Gallardo drew lots of attention while being displayed in the pits between runs, it definitely wasn't there for show.  Later in the day this car battled it out with the Heffner Ford GT to take the win for the event with a blazing fast 250.1 mph top speed!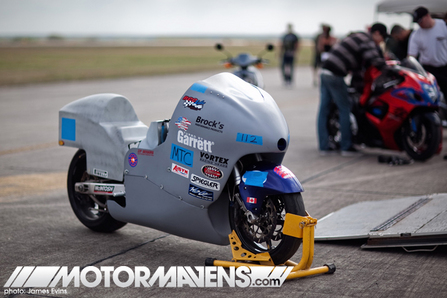 The spots closest to the staging area were set aside for bikes.  There were some pretty serious bikes, as well as serious riders (it takes a certain amount of cajones to push a two wheeled biked past 250 mph).  I was admiring the all business fairings on this bike when the "Turbo by Garrett" sticker caught my eye.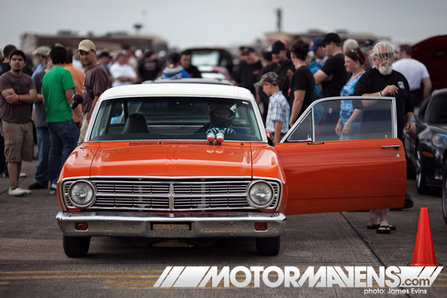 A small loop around that connects the taxi-way to the runway is used as a staging area to organize the hundreds of competitors.  The owner of the Ford Falcon awaits his turn in line as the crowd watches the action around him.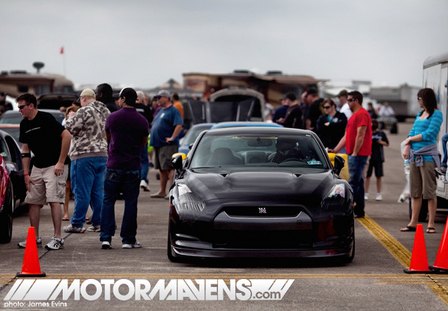 Boost Logic waits their turn in their R35 Nissan GTR.  This car was extremely impressive,  setting a record time for a Nissan GTR at 203 mph.  This was a big weekend for GTRs!  The AMS car had set the record for the first GTR in the 9s in the ¼ mile the weekend before.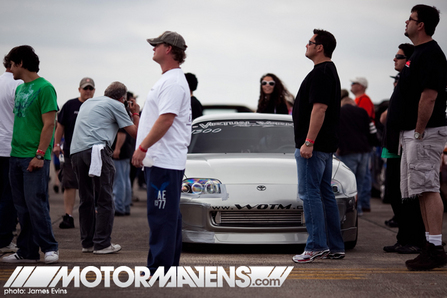 There were quite a few JZA80 Toyota Supras at the event, but less than I expected.  I was honestly surprised that a Supra didn't place in the top three fastest cars this year since they always seemed to be dominating at previous events!
The driver of this car noticed me just shortly before I clicked the shutter, giving him a slight distraction as he focused on the task ahead.  It was neat to be able to walk through the staging area and observe as drivers and crew members made last minute adjustments to their cars before their runs.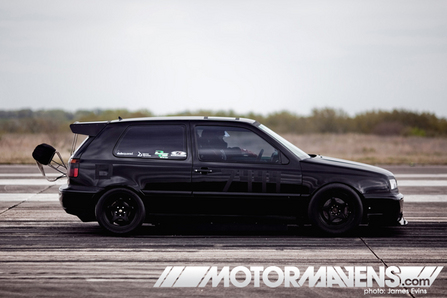 Murdered out!  I absolutely loved this Volkswagen Golf; I didn't happen to catch a time slip but it definitely looked pretty impressive!  I would have loved to have arranged a full shoot.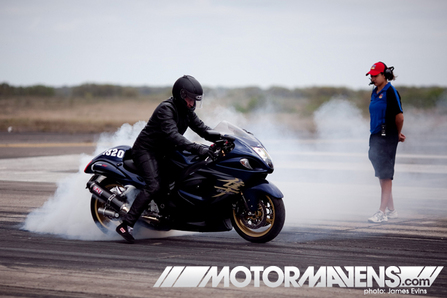 The track had set aside a burnout box a couple car lengths before the starting line.  Many of the vehicles ignored it, choosing to lightly launch their car and avoid breaking anything.  Luckily, this bike put on a show for us!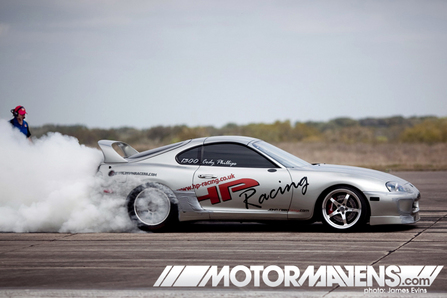 I was also pleased to see the HP Racing Toyota Supra from the UK lighting up the burnout box!  What an amazing car!!!  Unfortunately, it had a few issues at one point but finally settled down and made a few clean passes.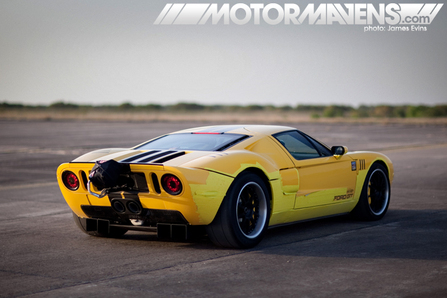 The Heffner Ford GT prepares to line up at the starting line.  This car ran a top speed of just under 250 mph, making it the fastest car of the weekend – at least, for a short time.  One or two cars later, the Underground Racing Gallardo broke the 250 mph mark and beat Heffner's top speed.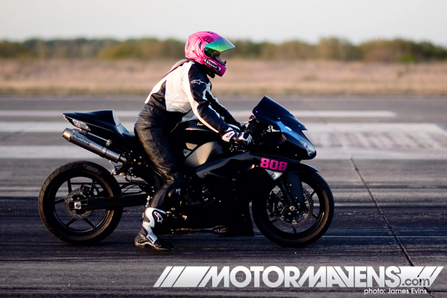 Women on Sport Bikes… super sexy!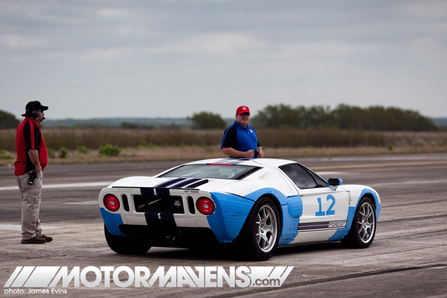 Another Ford GT lines up!  There were plenty of them out at the event, most of them putting down insanely fast times.  Obviously, they make a great platform for mile racers.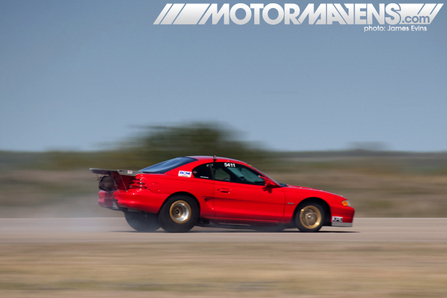 Check out this drag Mustang!  Just another run of the mill Ford Mustang, right? Wrong!  Believe it or not, it was pushed to 199 mph by a 6.6L Duramax Diesel engine!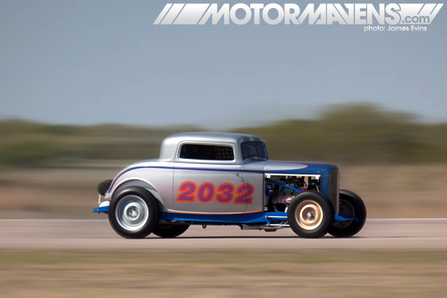 Loved the vintage mile racers out at the event!  This car didn't run the fastest times, but it definitely was fun watching it scream down the track.  It definitely added to the atmosphere to see old classics lined up next to new exotics and supercars.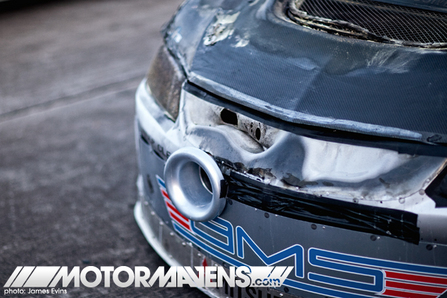 AMS Performance was also there with its Mitsubishi Lancer Evolution… but unfortunately, the famous AMS Evo didn't survive the event in one piece.  Look closely at the front bumper and the hood!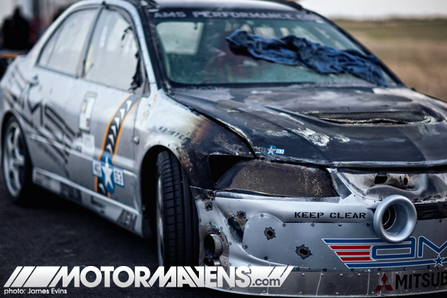 The car ran 228 mph, but threw a rod and caught fire just before the mile marker.  They were pushing the car in 4th to over 10,000 RPM to squeeze the most out of it!  It burned for just long enough to completely melt and warp the front end of the car. Sad.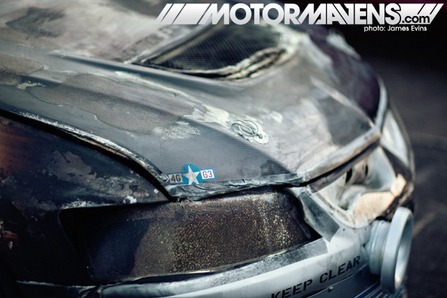 All in all, it was a great day with lots of high speed action.  Definitely an interesting mix of old school and new school, imports and domestics, economy cars and exotics, as well as some amazing bikes!  I heard a rumor that the Navy was interested in reclaiming the airfield, making this the last year for this venue.  I sure hope it was only a rumor… I'd love to shoot the Texas Mile again!
:: James Evins
---