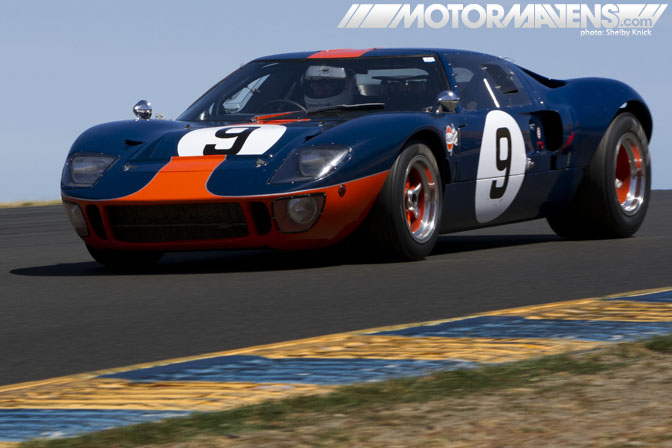 You Better Win. More demanding words have never been spoken in the history of racing. In an infamous three word memo to his engineers and executives prior to the 1966 LeMans 24 Hour endurance race, Henry Ford II would stand for nothing less than victory.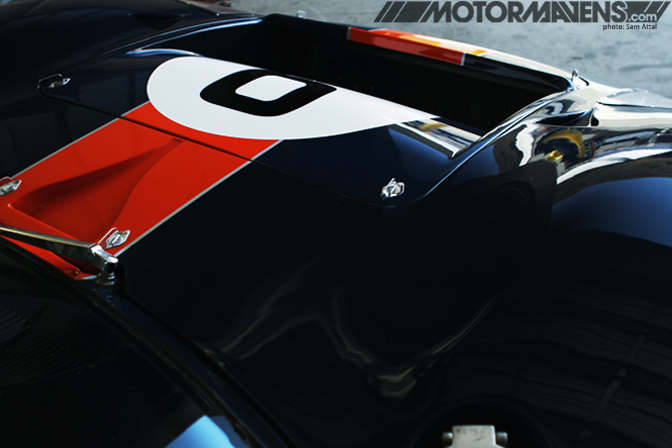 Henry Ford's grandson, and the third generation of Fords to run the behemoth motor company, had a score to settle.   The GT40 MkII needed to rise from the ashes of two years of struggle in World Endurance Racing and finally end the six-year dominance of Ferrari.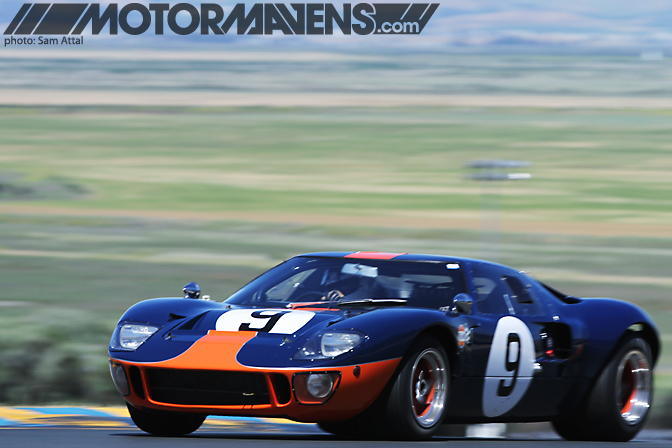 Spotted this past June amongst the beauty of Sonoma Raceway in the Napa Valley of California, we spied this historic GT40–chassis number 1051.  Manufactured in September 1966 as a customer car–sold in the UK–Ford had to make a series of road-going cars as part of FIA Endurance racing regulations.  To compete, a manufacturer had to produce a number of production versions of the race car.  Ford built just over 100.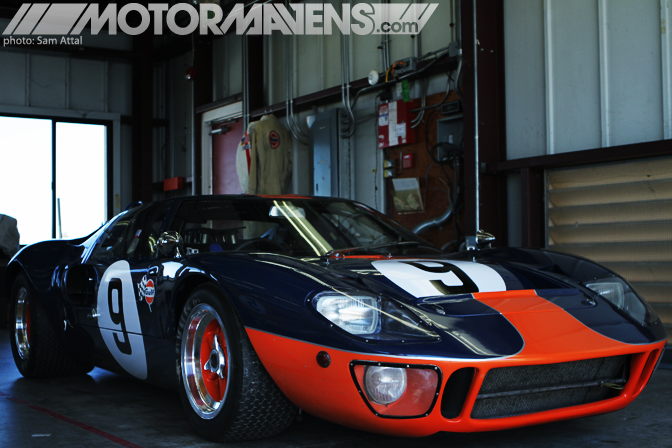 In the early 1960's, Ferrari was already an established marque.  It had won in Formula One, Sports car racing and had an enthusiastic following for their road cars.  Unlike most automotive companies who look to racing as a means to sell road cars, sales of Ferrari's road cars, enjoyed by a privileged few, was tuned specifically to finance its racing pursuits.  But hard financial times had befallen the Prancing Horse and Enzo Ferrari, the company's bold and eccentric founder and leader, considered selling the company.  Ford was contacted and reportedly spent $Millions auditing the assets of Ferrari.  During advanced negotiations, Enzo maliciously killed the deal, when he was denied the ability to continue overseeing Ferrari's motorsport operation–specifically in open wheel racing.  Ferrari would eventually sell to FIAT.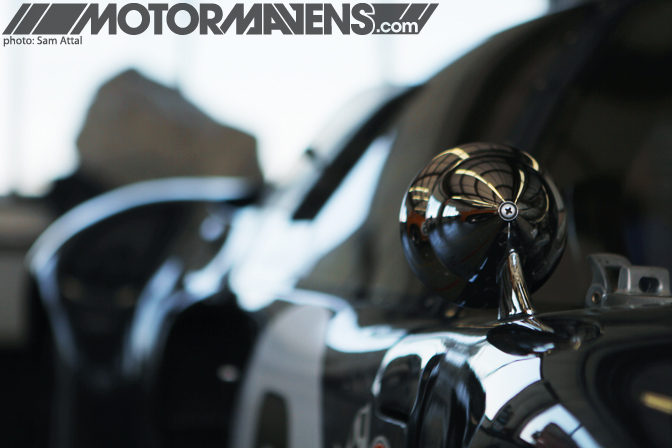 This left Henry Ford II seething.  Rarely had he ever lost in business–let alone be snubbed by some small-time European!  Two can play at that game!   Immediately Ford initiated what would become one of the most ambitious racing programs ever done in Detroit–ending a racing banning armistice by the big three automakers.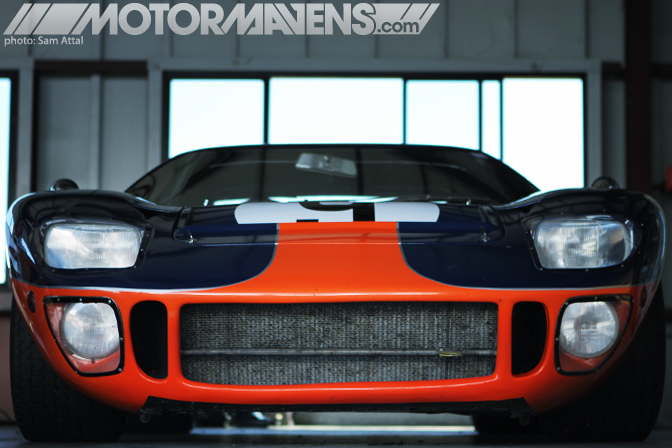 This particular GT40, as seen in Sonoma, was actually used for Ford's GT40 road car brochure.  In its original trim, it sported Malibu Gold paint with black trim.  UK magazine Motoring News used it as a road test car and for a promotion.  Once this "press car" did its duty, it was sold to David Benny in England who used it as a road car until 1970.  Chassis 1051 crossed the pond when it was then sold to William Rattey of Rhode Island in the USA.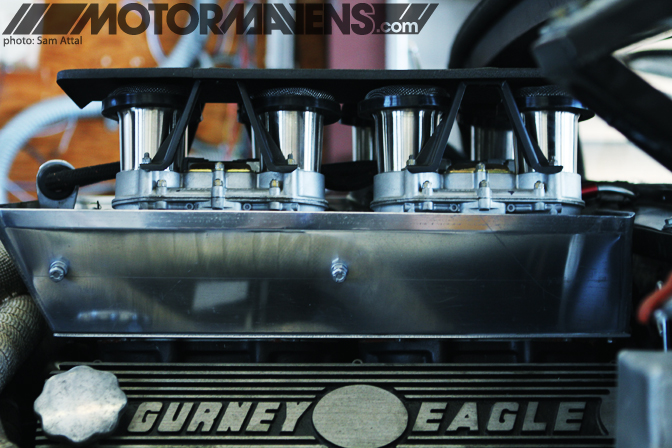 Ford had his racing division seek a partnership to develop a chassis–which was found in British race car manufacturer, Lola.  Led by founder/designer Eric Broadley, Lola was already a top competitor in sports car racing–and would go on to become one of the best known brands in most forms of motorsport worldwide.  In 1963 Lola's Mk 6 endurance racer ran the 24 Hours of LeMans with a V8 Ford and ran well despite not finishing the race.
Chassis 1051 was sold in 1983 to current owner Chris McAllister from Indianapolis Indiana who restored the car, adding the Gulf livery that the car had for a while during the 1970's.  Today with its original Gurney/Westlake 289 Ford powerplant, the car is on track in several vintage racing events annually.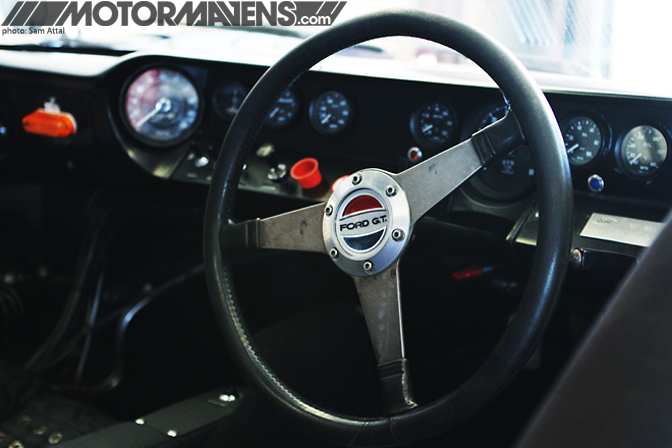 GT40 is a moniker meaning "Grand Turismo" and "forty inches tall."  GT40 was merely a working title for the car, that ultimately stuck.  John Wyer, who was the Aston Martin racing chief,  was hired by Ford to Manage the race team.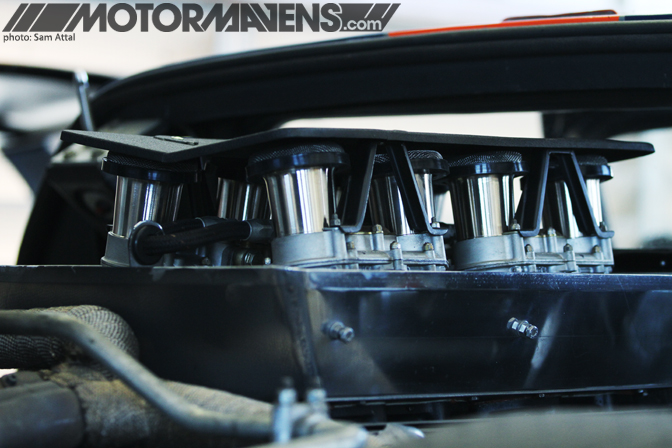 The First GT40 debuted, within a year of Ford's Ferrari debacle, at the Spa-Francorchamps 24 Hour Race.  It retired with suspension issues.  Three weeks later, Ferrari took its fourth 24 Hours of LeMans in a row, in the wake of three GT40's failing to finish.  Of note, the GT40 of Americans Ritchie Ginther and Masten Gregory was leading the race until the first round of pit stops.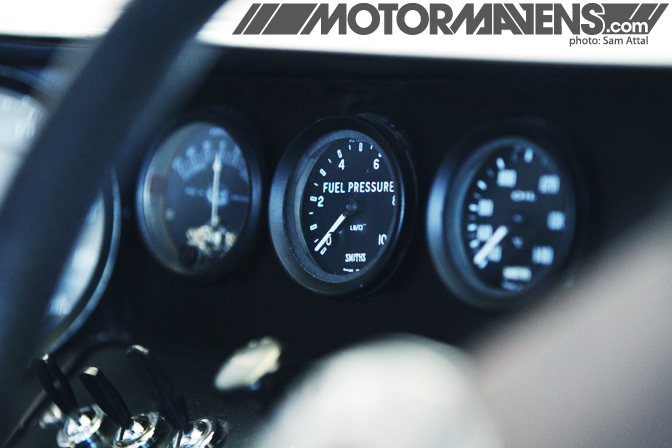 With a wretched 1964 season of DNFs and poor results behind them,  Wyer was fired and the GT40 program was handed over to Carroll Shelby.   Shelby who was already a golden-boy at Ford for his conversion of AC Bristol cars into the legendary Cobra and Shelby Daytona Coupes was viewed as the guy who could beat Ferrari at his own game.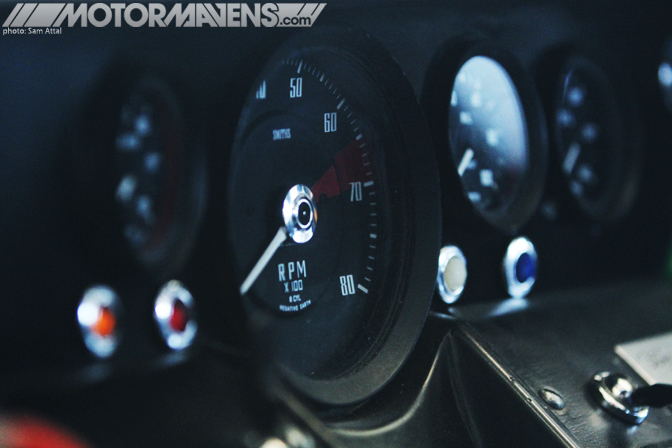 Shelby, seeking a more powerful engine to deal with the stress of the long race, immediately switched the 289 cid Ford small blocks with Ford Galaxie 7.0 liter V8s.  However powerful the big blocks were, they lacked fuel efficiency and the 1965 24 saw the GT40's of Bob Bondurant/Umberto Maglioli and Herbert Muller/Ronnie Bucknum stopping frequently for fuel.  The GT40s were fast but still faltered with mechanicals, allowing a Ferrari 1-2-3.  The overall win went to North American Racing Team (NART) with drivers Masten Gregory and Jochen Rindt in a Ferrari 250LM.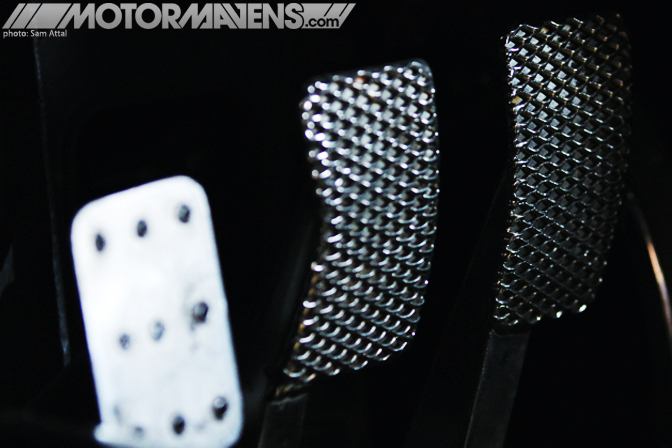 The infamous memo from Henry Ford II came previous to the 1966 Endurance classic.  Ford sent eight GT40 MkII with Shelby, Holman-Moody and Alan Mann Racing–spreading their bets across a roulette table of American teams.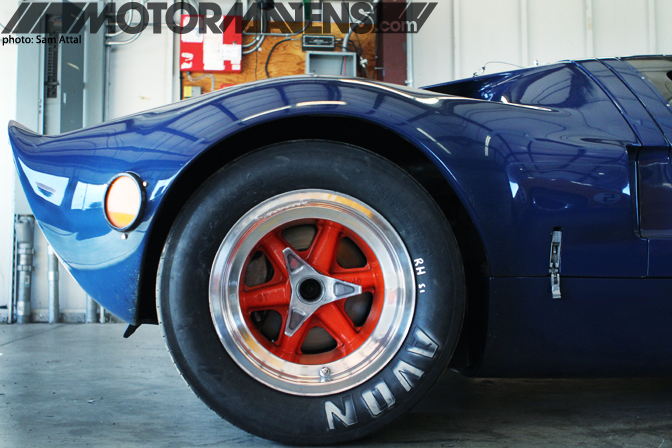 The big block Fords were made more adaptable and efficient.  Shelby Drivers Chris Amon and Bruce McLaren took the checker in their GT40 beating the next Shelby GT40 of Denny Hulme and Ken Miles by just 60 feet.  Sadly, Ken Miles would be killed testing the new GT40 J-Car at Riverside just two months later.  The Holman-Moody GT40 driven by Ronnie Bucknum and Dick Hutcherson rounded out a 1-2-3 for Ford.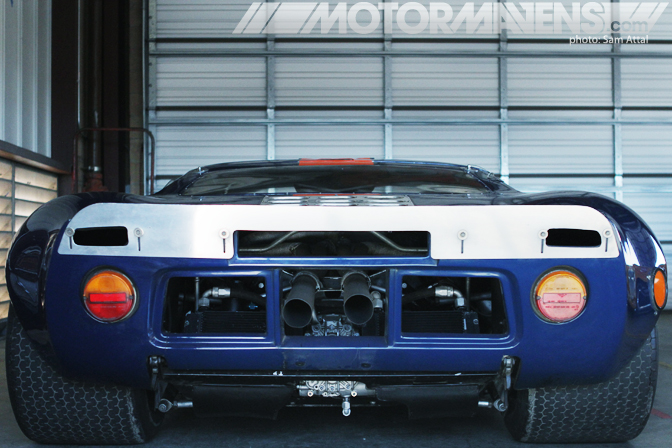 1966 would be Ford's year and Carroll Shelby secured his already legendary status as a car builder.  The GT40 would begin a four year dominance of the 24 until Porsche unveiled its world beating 917–rendering the GT40s obsolete.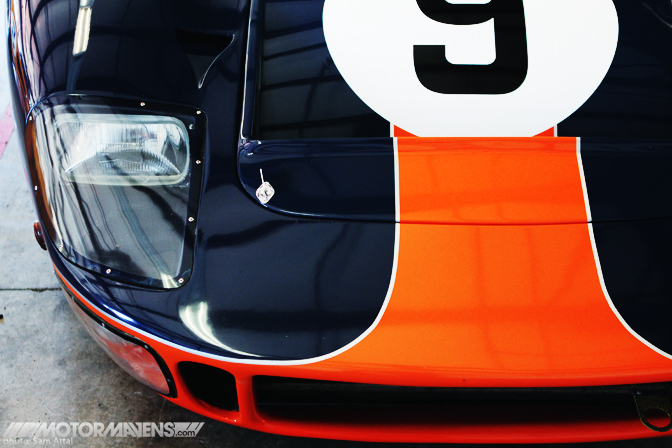 Getting a chance to look over the beauty of McAllister's Chassis 1051 is a glimpse of racing history like the blood, sweat and tears of the engineers, team managers, drivers and Henry Ford II himself and a vision to beat Enzo Ferrari at his own game.  Amazing!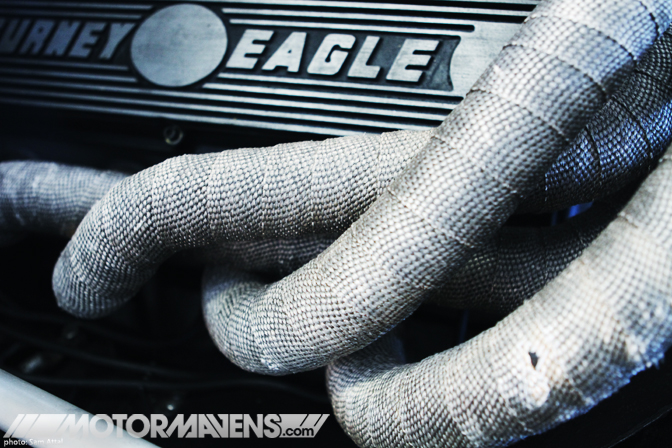 For further reading on the GT40 and its pedigree, Playboy Magazine Executive Editor, A.J. Baime wrote an awesome and very well researched account of the GT40 adventure called "Go Like Hell."  For the car guy or fan of a very dramatic look at history, it is a highly recommended story.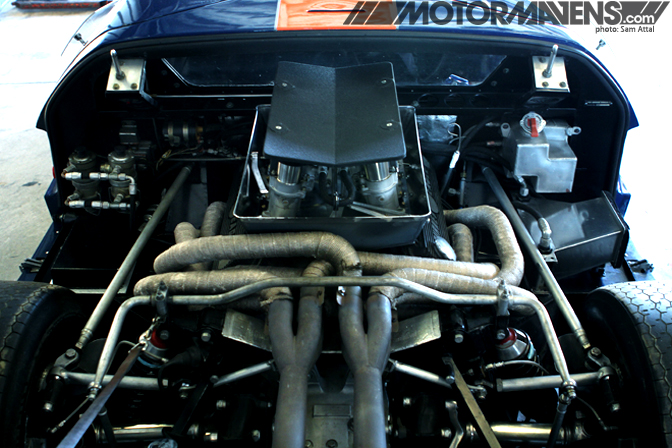 In the fictional realm, historian, humorist and novelist, Burt "BS" Levy, who's acclaimed series "The Last Open Road" won many hearts and awards, recently wrote "The 200 MPH Steamroller".  Somewhat satirical, 200 MPH Steamroller tells a fly on the wall tale of the monies and egos that made the GT40 (not called GT40 in the story) surefire legend.
From any angle, the GT40 looks racy and muscular, like the brute that it proved to be on the the endurance circuits between 1966-1969.  It remains forever legend, immortal, like the men who built and drove them.
:: Tom Stahler
---