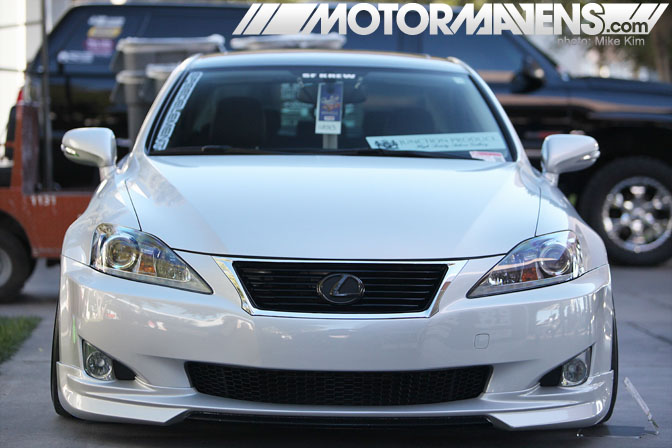 We're here at SEMA in Las Vegas! We once again arrived to the capital of customizations in the automotive world. From everything old school, to the latest in cutting edge automotive technology we'll bring you the latest and greatest in automotive aftermarket industry. Follow our @MOTORMAVENS Instagram, Twitter and Tumblr for our live feed with the latest photos from the show and the afterparties. We'll be posting photos of cars and models live in real time as we encounter them!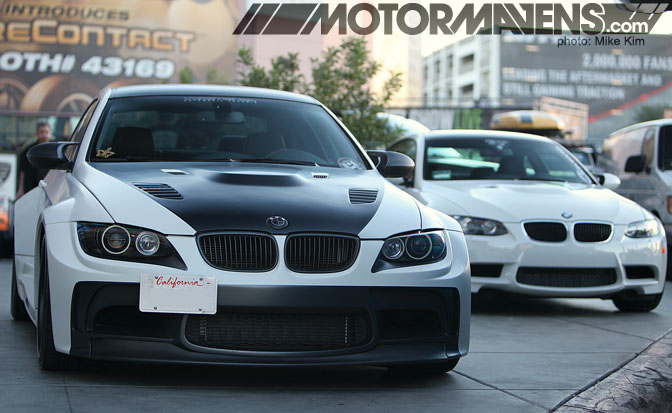 There are many European cars here at SEMA! We spotted this wide-body E92 BMW M3 with MFest logos next to a stock bodied M3.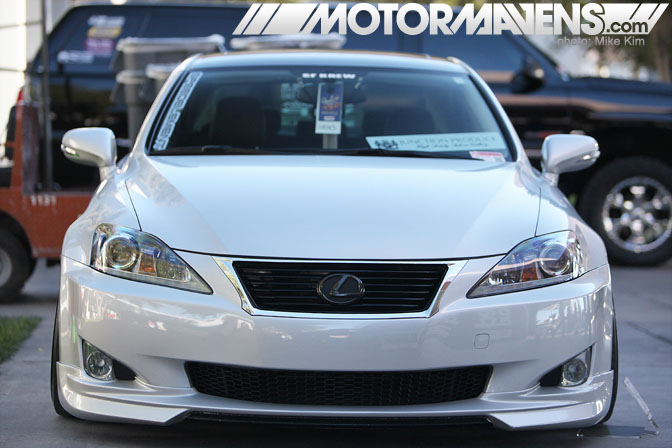 This Lexus IS with the Junction Produce lip kit was also riding on an AccuAir air ride setup. Sitting on the floor tucking tires it had a classic Japanese VIP stance.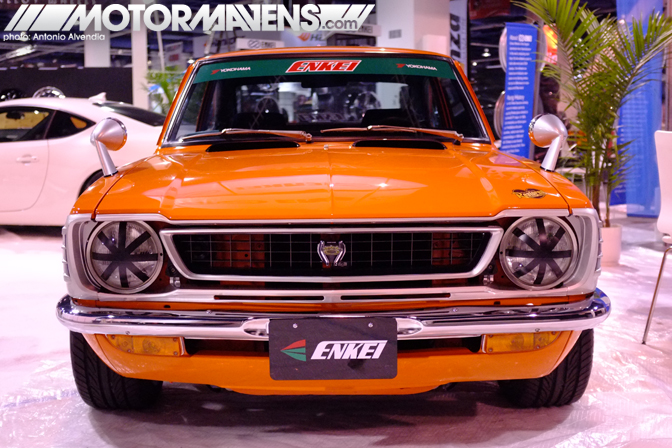 When's the last time you saw a 1974 TE27 Toyota Corolla SR5 at the SEMA Show? Never? Yep, pretty much. We really have to give it up to Alex Nunez from Enkei Wheels for having great taste in booth cars! Everyone has an FR-S or BRZ at their booths, but Alex decided to go a little different when displaying his brand new line of "old school" wheels from Enkei. He recruited our good friend Patrick Ng and his orange TE27 for the job. For those who don't know Patrick, we're not surprised. He pretty much keeps to himself… but undoubtedly you've seen his shiny orange mango at the Japanese Classic Car Show or Toyotafest.
Patrick has won top honors at JCCS about a million times, and in our opinion, this is the very best example of a restored Corolla SR-5. Speaking of restored, we were extremely surprised to see Patrick's TE27 rocking carbon fiber flares from Restored, because his car has original steel flares. Most people with non SR-5 TE27s attach fiberglass copies of the original SR5 flares to their cars, but real TE27 guys can spot those a mile away. The real steel flares that Patrick has in his garage are about 500% more rare and more sought after than the fiberglass copies, and I know Patrick is all about being period correct with the theme on his car! Maybe he's trying out that whole vintage/modern restomod theme with his TE27. We just hope he doesn't shoehorn an S2000 motor into his cream of the crop TE27!!! Haha… not to worry though. We don't think he'd ever do that. Would you, Patrick?! You better not. This car is too clean and too perfect for that!
We've seen a lot of TE27s all over the world, and Patrick's car is in our Top 3 that we've ever seen with our own eyes. In the entire world. And the world is a big place.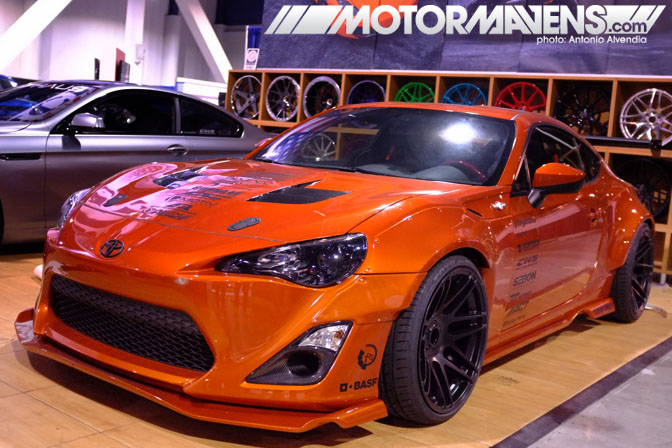 Everyone has been talking about all the Rocket Bunny Scion FRS showcars at SEMA. One of my friends, Phil Luis from Theory Communications, even told me last night, "You know why I can't find a Scion FR-S to buy?! They're all at SEMA dammit! All my local dealers in South Florida are out of stock!"
Although there are lots of Rocket Bunny FRSs at the show, this particular one at the iForged booth caught my eye. Look at the incredible concavity of those spokes!!! These wheels fill up the widebody overfenders very nicely!!! We'll definitely be getting more info on this car and these wheels in the near future. For all FR-S and BRZ related updates, follow 86FEST on Facebook, and also @86FEST on Instagram.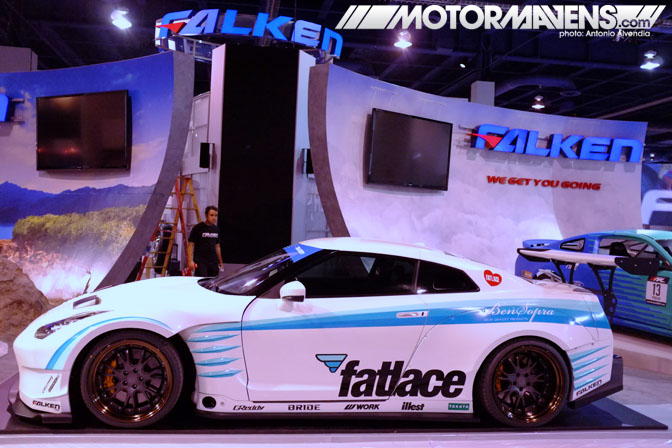 Last year, everyone was Tweeting and Facebooking about the Fatlace Rauh Welt Porsche 911! This year, Mark Arcenal and his team decided to change it up, with a fully kitted Ben Sopra R35 Nissan GTR! As most of our readers already know, the GTR features a huge one piece front end that flips up from the front! I saw Mark and Miura san flip up the front end of the car, and it looks nuts!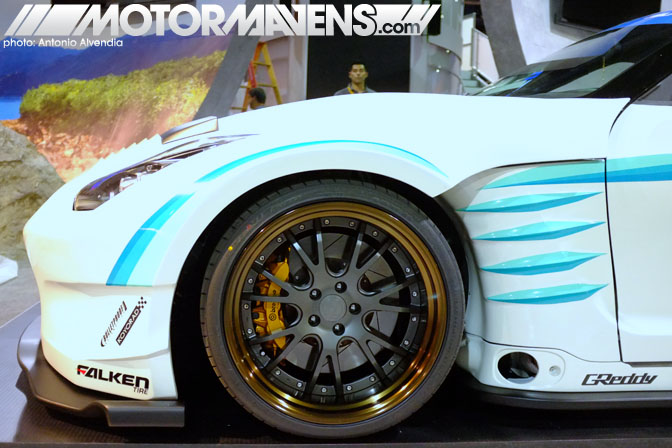 Check out this close up of the Brembo brakes filling up the Work Wheels! The car also features what looks like a side exit exhaust? Damnnn!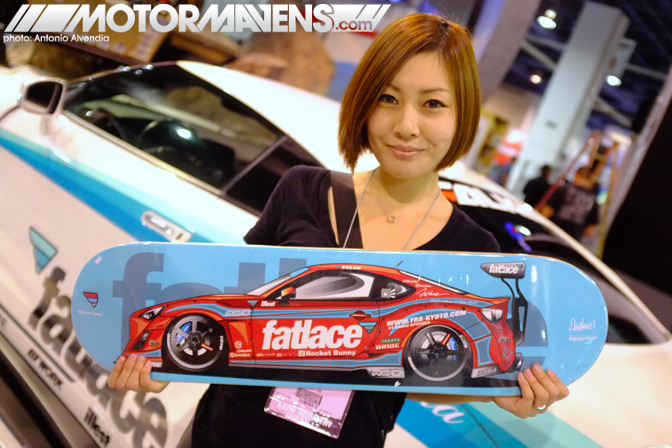 This is Mario from Rocket Bunny. At first when I saw her name tag, I thought she was wearing some Mexican guy's badge. However, her name really is Mario, and she is TRA Kyoto's promo bunny. Also, she doesn't speak Spanish!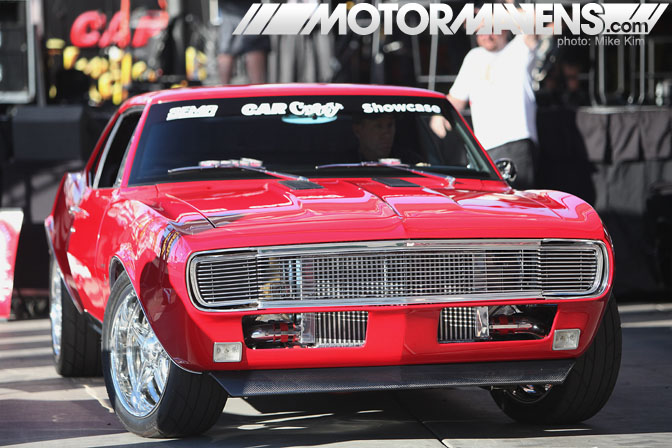 There are also many muscle cars in attendance such as this boosted Chevrolet Camaro. Once the owner parked the car he proceeded to open the hood from the inside which had its own mechanical opener.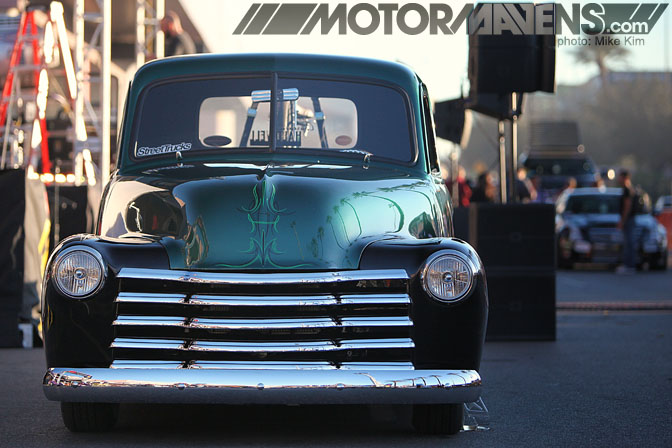 This 1950s Chevrolet pickup truck has a nice mix of old school with new school in the mix. It's riding on an AccuAir air ride setup while having old school pin-striping work on the hood.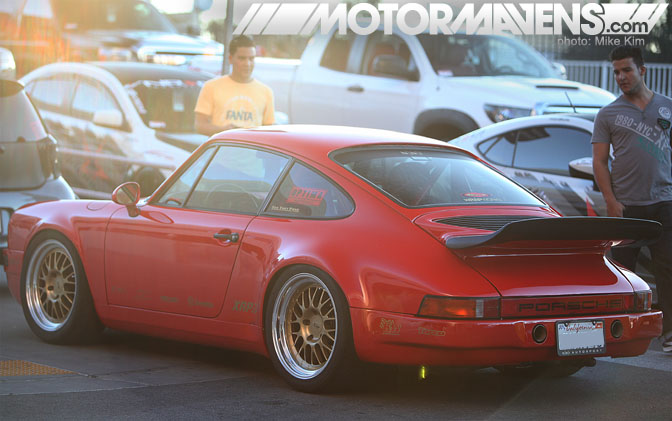 This clean 964 chassis Porsche 911 on gold wheels had a presence about it, which kept stopping passers by so they could get once more glance at the car. Gold wheels on a red car have always looked nice.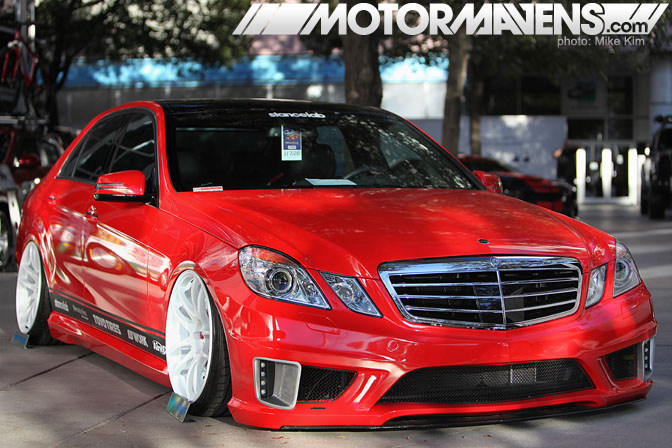 I've never though white Work Wheels would look good on a red Mercedes E-Class sedan. I was right…they look GREAT! Work Emotion CR-Kai Ultimates give this Benz the perfect finish. This makes me want to get some clean white work wheels on my red Scion FR-S.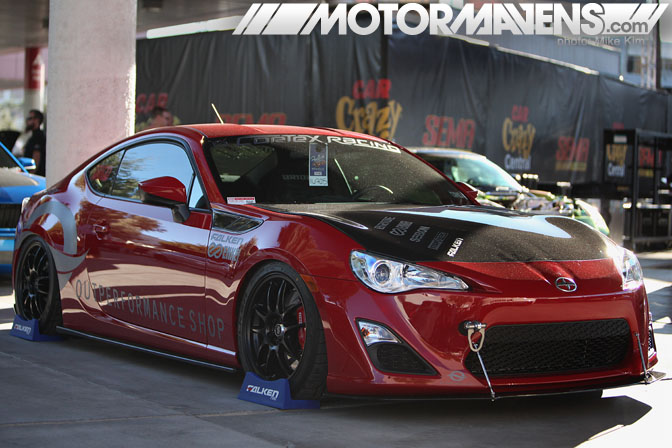 Speaking of FR-S there were definitely an insane amount of Scion FR-S builds at SEMA this year. Being the 'hot' car to have, there definitely wasn't a shortage of nicely modded FR-S builds. This one seen rocking some Enkei PF01SS wheels wrapped in Falken Azenis RT-615K tires, it tied in nicely with the Seibon carbon fiber hood and APR from splitter.
Okay! Time for us to get back to the show! Follow us on Instagram or Tumblr for more updates!
:: Mike Kim
Ben Sopra
,
BMW
,
BMW M3
,
Camaro
,
chevrolet
,
Corolla SR5
,
Enkei
,
Enkei Wheels
,
Falken
,
Falken Tire
,
Fatlace
,
Forgestar wheels
,
FRS
,
GReddy
,
iForged
,
junction produce
,
Kei Miura
,
Las Vegas
,
Lexus
,
lexus is350
,
M3
,
Mango
,
Mercedes
,
Mike Kim
,
Porsche
,
Robby Caballes
,
Rocket Bunny
,
Scion FR-S
,
SEMA
,
sema show
,
sema show 2012
,
TE27
,
Tra-Kyoto
,
Trust
,
work wheels
---