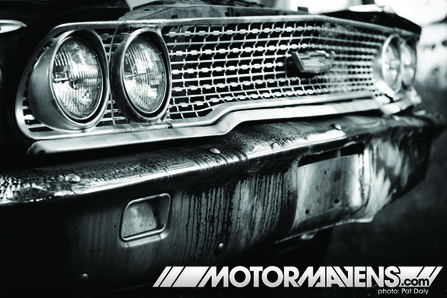 The 2009 Woodward Dream Cruise officially kicks off today but for many, the world's largest 1 day automotive culture event, has been on our minds for quite some time.  The Dream Cruise draws nearly 1 million visitors to the Detroit area, bringing with them upwards to 40,000 vehicles. Nearly every automotive segment is covered, from hot rods to muscle cars and everything else you can imagine. There was even a Hemi-powered BBQ one year, so it's not an exaggeration to say that there is nothing the Dream Cruise doesn't have. I'll be covering the event over the weekend but I thought I'd dive into the wheels I'll be "Cruisin" in.
At the beginning of the summer my buddy Tim O'Donnell, a designer at Gibbs Technology (this may ring a bell to some who remember the Aquada concept), found a 1963 Ford Galaxie in running condition for just $700 bucks on Craigslist. Now for those of you who aren't too keen on cars that have rusty floorboards or 40 years worth of beer cans laying in the trunk, I guess this isn't exactly your cup of tea but please stick around anyways. When Tim first brought the Galaxie home it was oozing with bad ass-ness ( is that a word?) along with a few other things it probably shouldn't be oozing. The engine bay had decades of grime on it, so much so that the 289 we thought was black was actually painted white with more than half an inch of grease covering the entire motor.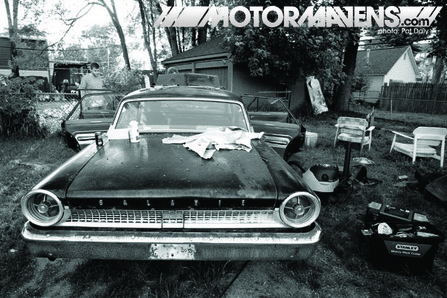 As you can see in the first two photos, the Galaxie isn't anywhere near trailer queen status, more like Trailer Park Queen. Tim's goal for the two months leading up to Dream Cruise was to just get the car in better running condition and capture the Rat Rod feel, while keeping the entire cost under $1,500 dollars including the price of the car. Tim enlisted the help of his roommate Joe, who's 1967 Buick Skylark you'll see more of soon, along with my friend Craig and I. All of us were friends at the  College for Creative Studies and have stuck around the Detroit area since graduating, now mostly working with the automotive or aftermarket industry in some way. With a near sleepless weekend of ripping out carpets and vaccumming up Tostito-sized chunks of rust, the old Galaxie was starting to look and smell a little bit better.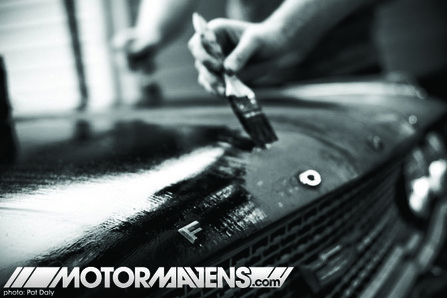 Now some of you may be thinking, are these morons really putting paint on a car with a house brush. And your answer is yes, but rest assure that the flat back Rust-Oleum dried flat and it looks like a brand new car. Okay, that's not true, but we opted against the rollers or a spray gun and took a hands on approach and with thinned flat-finish paint, the brush strokes aren't as atrocious looking as they appear in this photo. We went to an art school, can you blame us?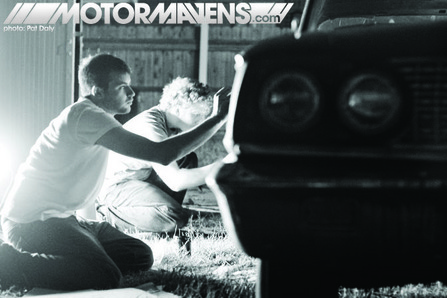 Here Craig and Tim are putting some more paint on the Galaxie in the early morning hours, hoping the shop light will fend off the nasty garage opossum that has made it's home under Joe's Skylark. You'll also make note of the embarrassing stance of the Galaxie in this photo which some people might accept since it's a classic but Tim has plans for that too. The bolt pattern is the same as the newer Mustangs and 350Z so the wheel options are really endless. The hope is to go very wide with a deep lip and preferably black or black chrome. The interior is all red so that also lends itself well to wheel choices but a $1500 budget doesn't leave much coin for new wheels. Nothing a jar of fire engine red paint can't fix.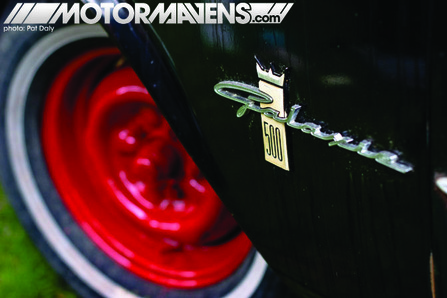 So I'll leave you with this teaser shot of the Galaxie and the direction we took it. The car is running much better now and the brakes work now too! I'll have some beauty shots coming soon with more about the project but for me and the rest of the crew, it has really been more about the experience and I wanted to share that with you first. I didn't grow up working on old cars with my dad or hanging around shops so the opportunity to turn a wrench on an old school ride and hit the Cruise with friends is something I won't soon forget.
Stay posted for Woodward Dream Cruise coverage and if you ever get the chance to come out to Detroit for the Dream Cruise, do it!
:: Pat Daly
---