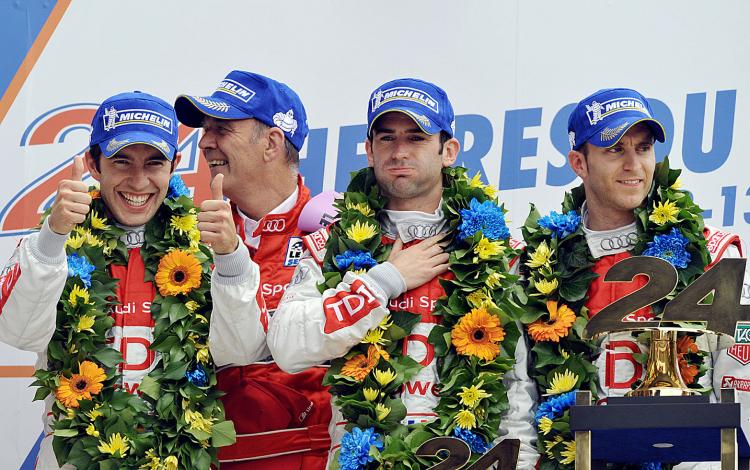 At this year's 78th running of the 24 Hours of Le Mans at the infamous high-speed Circuit De Sarthe in France, Audi R15 TDI Plus stood the test of time against their faster opponent – the Peugeot 908 HDI. It was the ultimate battle of the tortoise and the hare, where the tortoise came out triumphant in this modern take on an old fable. With a little patience and a lot of strategy, the Audis were able to capture their ninth Le Mans victory – placing Audi in 1st, 2nd, and 3rd place on the podium!
These past two days, I saw myself riding a roller coaster of emotions as I watched the Peugeots take the lead throughout the race; however, I was hopeful in seeing how everything would play out during the course of  the 24 hours. To those familiar with Le Mans, it's by far the ultimate endurance race; testing both man and machine. It has got to be one of the most exciting races in the world, as it's a battle of wits, not brawn. It's a challenge to see who can go the distance and last the longest, and Audi has proven itself time and time again.
This year, the Audi #9 car took first, Audi #8 car took second, and the # 7 car took third – driven by the Great Dane Tom Kristensen, who has been atop the podium during the past nine years at Le Mans, giving him a personal total of eight victories at 24H Le Mans! Truly a remarkable feat.
The picture above shows the drivers of the Audi #9 car (Mike Rockenfeller, Romain Dumas, and Timo Bernhard) celebrating with the head of Audi Sport, Director Wolfgang Ullrich. On behalf of the Motor Mavens Crew, I'd like to congratulate the Audi TDI team on their longstanding success and their win of this year's 2010 Le Mans. Audi has entered the history books with the ultimate 1-2-3 win.  Amazing!
:: Tamer Omran
---