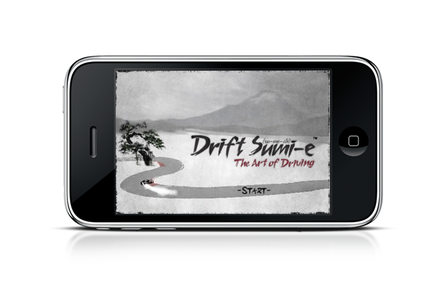 During this off-season I teamed up with Objectify, a start-up in the San Francisco Bay Area on an iPhone / iPod Touch App called Drift Sumi-e (su-me-eh).
We wanted to create an all-new game concept that incorporates authentic drifting dynamics with the beautiful art form of Sumi-e (that's "su-me-eh") brush painting. The game carries a calming Zen-like nature as you watch your art come to life, and a unique yet simple game play dynamic, specially designed for the touch controls.
Within the game, there is a garage section that showcases the car in 360 view. The car we currently have in the game is a custom car design. Stay tuned for updates on new car releases.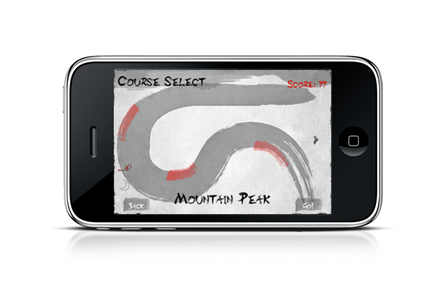 Drift Sumi-e features 8 unique tracks that I designed based on over 8 years of track drifting experience and setting up drift courses. The user goes on a scenic journey starting from the Mountain Peak down to Cherry Blossom Fields and ends up on an Island Paradise.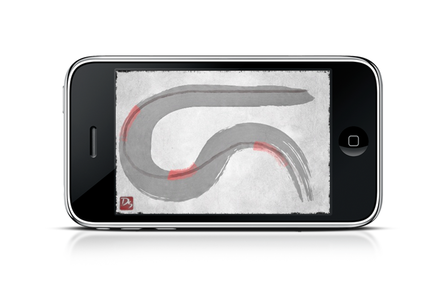 This "Canvas" portion of the game is where you see the track layout drawn out as a brush stroke. The user then draws his or her own "driving line" through the course. The goal is to connect as many red "Clipping Points" as you can on each track. The more clips you hit, the higher "line" score you get. If not drawn correctly, you may either spin or crash off course resulting in a DNF. You will notice that these tracks have both inner and outer clips which is very drifting specific. So all you road race guys will need to change up your race lines to drift lines. It's not just about speed, it's about style.
This playback view is where your art comes to life. Each one of these tracks feature unique backgrounds that take you on a scenic journey. Take the time to admire the art as it forms. If you're in a hurry, there is a speed up feature during these transitions scenes for those that are more into the game play.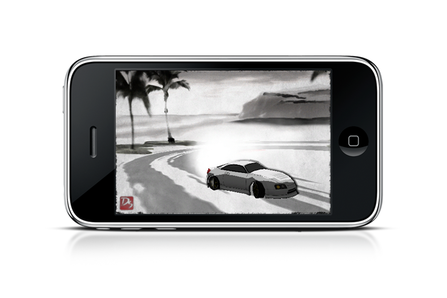 Each track has various camera angles that give different viewpoints. You can keep replaying your run while admiring the different angles. You can even unlock a feature in the game that let's you take snap shots during the replay.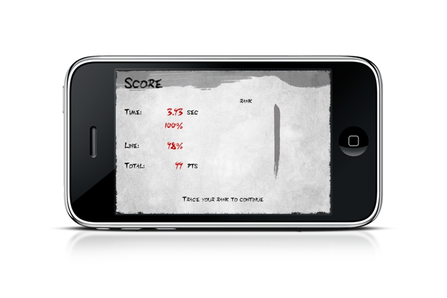 Your score is determined by how fast you draw your line. And how clean your drifting line is. Keep winning first place ranks to unlock tracks and other unlockable features.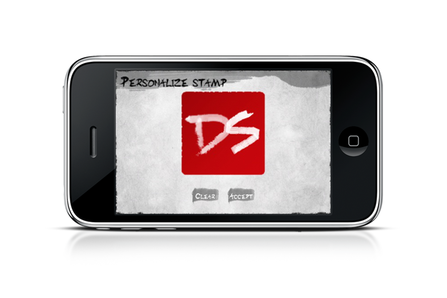 Getting a top score on a track will allow you to create your own customized stamp so you can sign your artwork.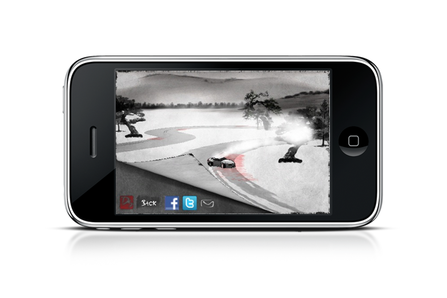 Back in the gallery section you can check out your pictures you took earlier. Select your favorite pics to send to Facebook, Twitter, or email off to friends to envy your art.
Drift Sumi-e launched today at App Stores worldwide.
As a special thank you to the gear heads, drift community, and MotorMavens, we're debuting the app at a great price – $0.99.  Download it at this price while you can.
We have ambitious plans for the app. Stay tuned to Drift Sumi-e.com for news and updates.
Drift Sumi-e (su-me-eh). Start with a raw canvas, finish with a real-world masterpiece.
:: Calvin Wan
app
,
App Store
,
Apple
,
Calvin Wan
,
drift
,
Drift Sumie
,
drifting
,
game
,
iPhone
,
iPod
,
iPod Touch
,
mac
,
MotorMavens
,
sumie
---