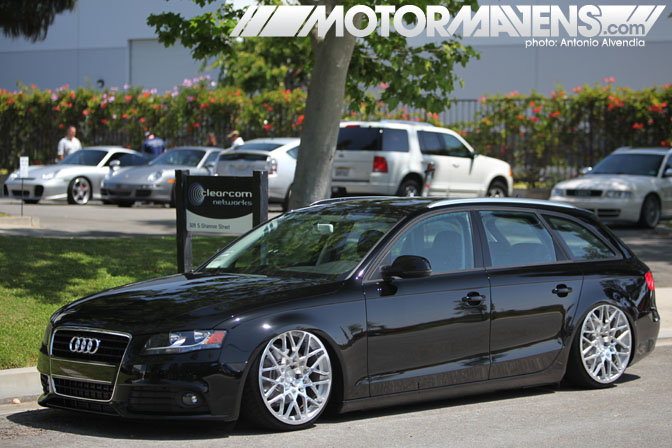 This past weekend, there were far too many events to cover, but I decided to make a quick stopover at the Global Motorsports Group (GMG) open house event. Antonio Alvendia, Edward Uche and I made the trek out to Santa Ana, California to check out some of the race-spec Porsches as well as the other customer cars that made it out on Saturday.
For you MotorMavens readers out there who aren't familiar with GMG (a Porsche tuning company), here's a little info. Founded in 2001 by James Sofronas and Fabryce Kutyba, GMG quickly rose up in the ranks as a premier tuning facility through racing in the SCCA World Challenge GT Series and ALMS race series. The guys were able to draw on their extensive racing background (with knowledge gained through painstaking R&D) to bring racing performance to their customers' street cars. GMG's primary focus is Porsches, but their shop doesn't shy away from Ferraris, Audis and Volkswagens – they cater to all German/Italian automobiles.
It was also quite nice to see James and Fabryce again, since the last time I saw them was when I participated in the Targa Trophy event a few years back. While we were walking up to the shop, even just seeing this black B8 Audi A4 Avant wagon alone made the trek out completely worthwhile. If you guys like this car as much as I do,  stay tuned to MotorMavens, as we have a full feature coming up.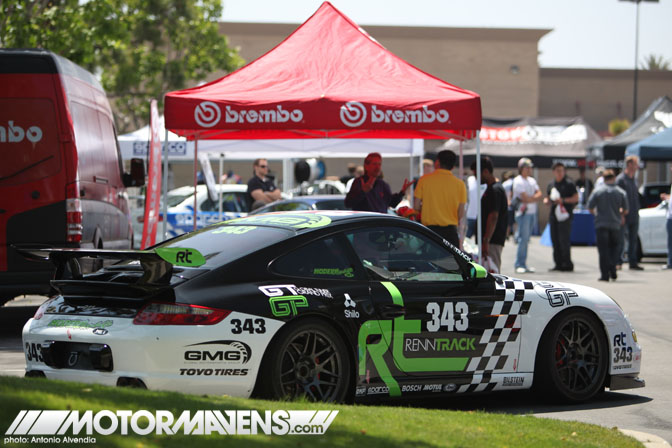 One of the first cars that caught my eye as we walked up was this Porsche GT3 race car. I soon after discovered it to be a fully race-built Renntrack 997 911 with a full GMG suspension setup, sitting on Forged Star 18 inch rims. This was the first time I've been fooled by a 997 conversion to a GT3. Trust me, it doesn't happen often. For those of you who are wondering how to tell them apart, there is one key feature that's a dead giveaway – the exhaust. A 911 has quad exhaust tips while the GT3 has twin exhaust pipes located in the center. Beyond all of the technical talk, it was the livery on this car that really caught my eye – the green really accents the highly contrasting black and white theme.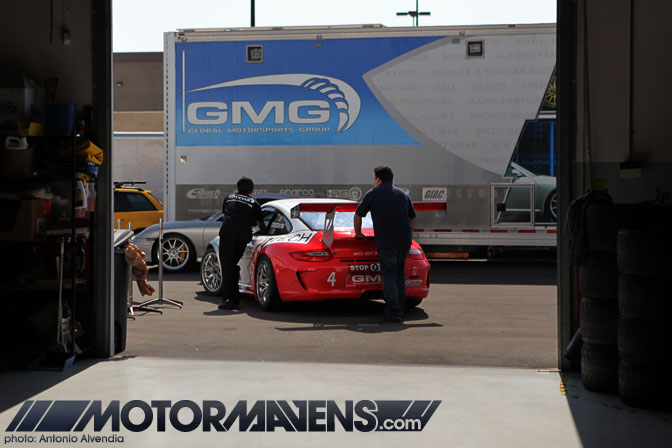 Here is one of James Sofronas' 997 GT series race cars being pushed out to be loaded onto the truck as he starts preparing for his race in the American LeMans Challenge series at Laguna Seca Raceway next weekend. If you're a fan, be sure to check him out and show some support next weekend while the race is being televised on Speed Television. Check your local network as times may vary.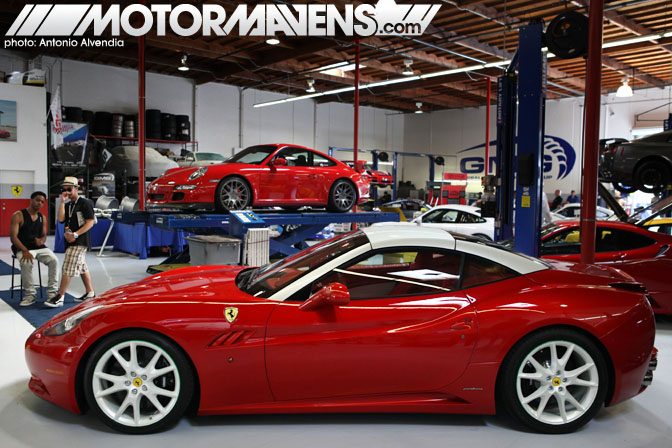 Before seeing this car in person, I had only seen it in car magazines and in photos. This was the first time I was up close and personal with a 2010 Ferrari California. Isn't she a beauty? I don't really prefer the two-tone white and red paint job but hey, if you like it, drive it. Who are those two ballers in the background? LOL!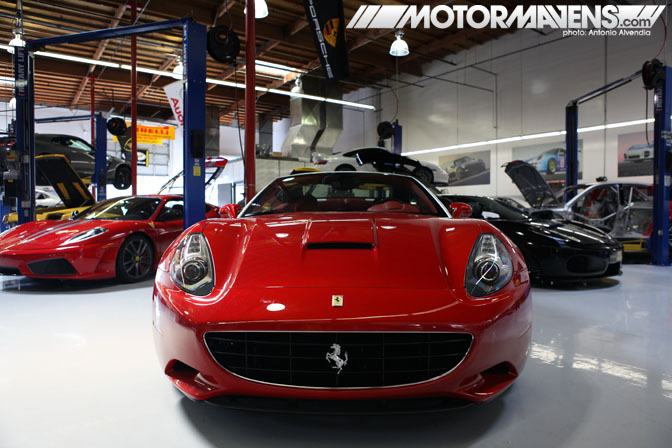 I am reminded of a statement made by the great Jeremy Clarkson of Top Gear not long ago, when Michael Schumacher unveiled himself as the Stig. Remember that one? I was so disappointed when they did that. However, my disappointment aside (as if the producers of Top Gear care what I think), Clarkson said that when Ferrari focuses on making new street cars, their race cars suffer. By the looks of it, Ferraris are not doing so well this year, which can mean only one thing – Ferrari isn't that great at multi-tasking.
You gotta admit though, the California (front and center with those two F430s peeking out on each side) actually looks quite grown up, compared to these two boy-racers. That's despite the fact that the black one on the right is a Novitec Rosso F430 with 700 horsepower. That's seat staining scary.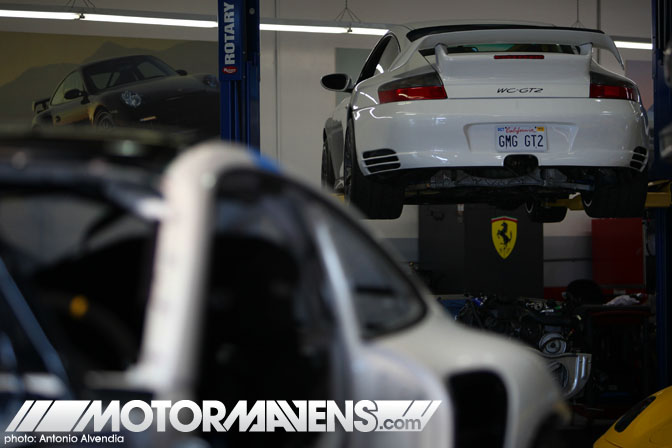 Walking around the shop, this white 996 World Challenge GT2 caught my eye.  As it was sitting on the lift with its engine out, I was able to get a glimpse underneath and an in-depth look at how compact these engines really are.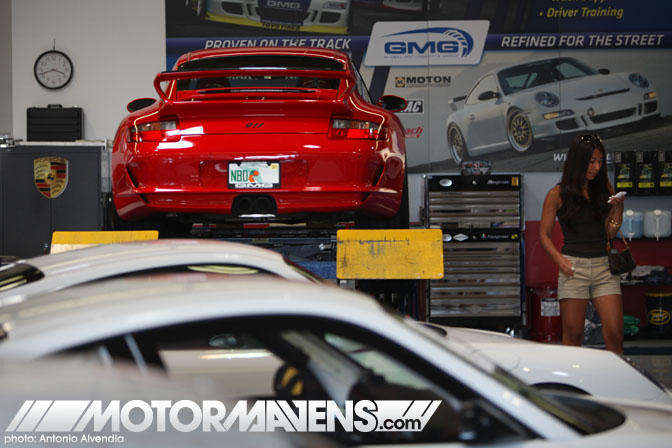 This 997 World Challenge looks lonely all by its self on that lift. I wonder if the woman on the phone cares at all about all of the fantastic cars surrounding her. She's probably checking her email, Facebook, or tweeting. Maybe she's on the phone with Porsche headquarters discussing a prototype engine that she'll be testing only to "misplace" her phone in some inconvenient public place (like TGI Fridays) where it will be discovered and have sensitive technological data leaked by some tech savvy blog. Of course, this will cause the police to kick in the doors and raid the headquarters and personal homes of the blog's authors while they're out to dinner with their wives/girlfriends. Why does that sound vaguely familiar? Or maybe she's just adding MotorMavens as a friend on Facebook right now…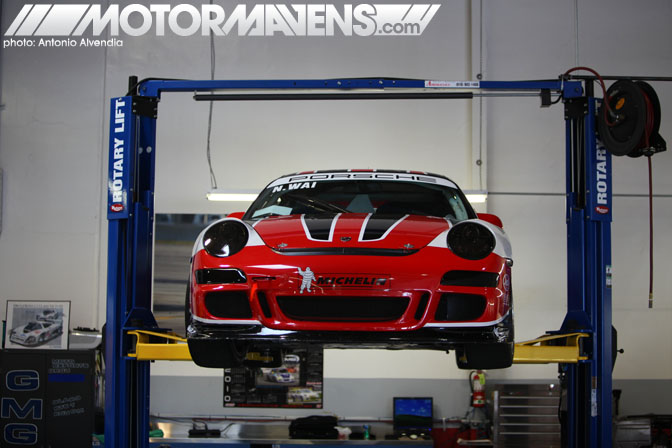 As of next weekend, GMG will be competing in two races – one in Monterey, California at Laguna Seca and the other in Toronto at the World Challenge race series at Mosport International Raceway. This 997 GT series racecar  is getting some prep time before it is thrown in the back of a truck and shipped off to Canada for the race. I'm guessing that this week, the GMG crew members are scrambling to get everything in order before the big race.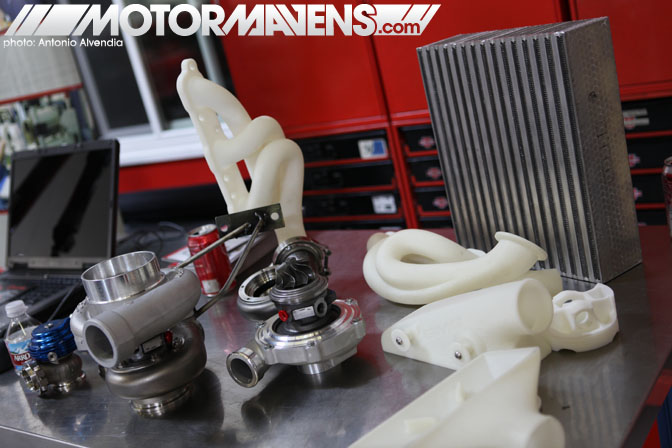 Here are a couple of examples of the extensive R&D work that GMG goes through to bring some of that extra horsepower out of a stock 997 and 996. The cast moldings are of the newer 997 GT2 intercooler cover that will more than likely be made out of carbon to reduce heat, compared to the stock units which are commonly known for getting heat soaked. The turbos are from a Nissan GT-R; they will be paired with a less-restrictive exhaust manifold to free up some untapped horsepower.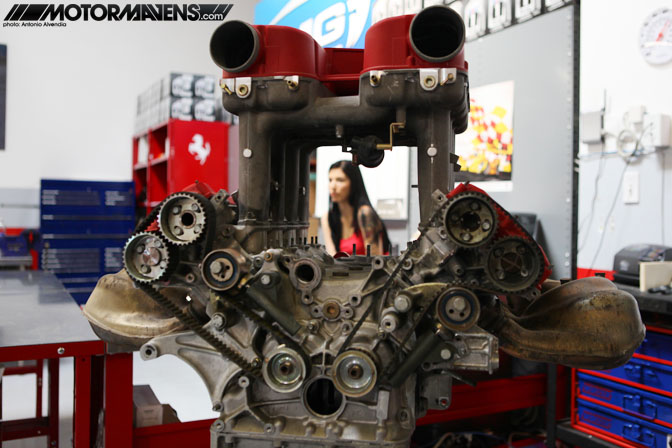 The V8 engine pictured here is used by a 3-D imaging tool that maps out the engine's components (from cams to lifters to inside the cylinder head)  to a computer which allows the engineer to modify it for other applications and create new products for GMG's cars.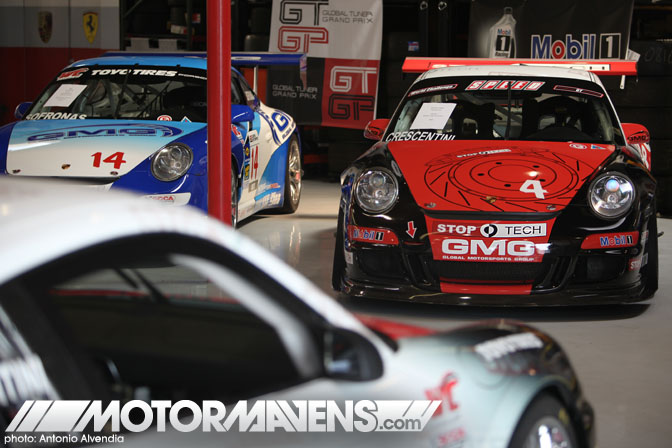 GMG's open house was a blast. As you can tell by this last picture, it's a Porsche lover's paradise – and I've always been a Porsche lover.
The open house was a great look inside one of the more well-known shops in Southern California – a shop that has played an influential part in Porsche Tuning and R&D. I'd like to thank GMG for their great hospitality and a personal thanks to James and Fabryce for being such great hosts. Stay tuned, as there's a lot more to come from this past weekend.
For more info on the cars in the story or the World Challenge series cars that GMG produces (or if you just wanna follow James' race schedule) click the link below.
:: Tamer Omran
16m scuderia
,
996 GT2
,
996 Turbo
,
997 911
,
997 GT3
,
A4
,
ALMS
,
Antonio Alvendia
,
Audi
,
Audi a4 avant wagon
,
Avon Bellamy
,
B8 Audi wagon
,
Brembo
,
california
,
canada
,
Costa Mesa
,
Edward Uche
,
Fabryce Kutyba
,
Ferrari
,
Global Motorsport group
,
GMG
,
Gmg open house
,
GMG Racing
,
GT2
,
GT3
,
GT3 Cup series
,
Huntington Beach
,
James Sofronas
,
lady friend
,
Laguna Seca
,
Mercedes
,
mosport international raceway
,
Novitec Rosso
,
open house
,
Orange County
,
Porsche
,
renntrack
,
Santa Ana
,
speed television
,
Tamer Omran
,
Targa Trophy
,
Top Gear
,
toronto
,
Westminster
,
World Challenge series
---