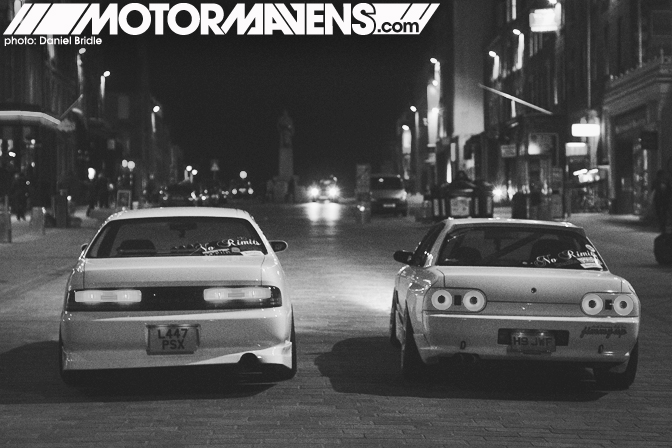 Scotland – a country that's home to some of the freshest street cars that I've seen in person since I've been shooting for MotorMavens. You may remember awhile back I did a feature (which you can check out here) on a crew of sweet drift cars in Scotland's capital city of Edinburgh.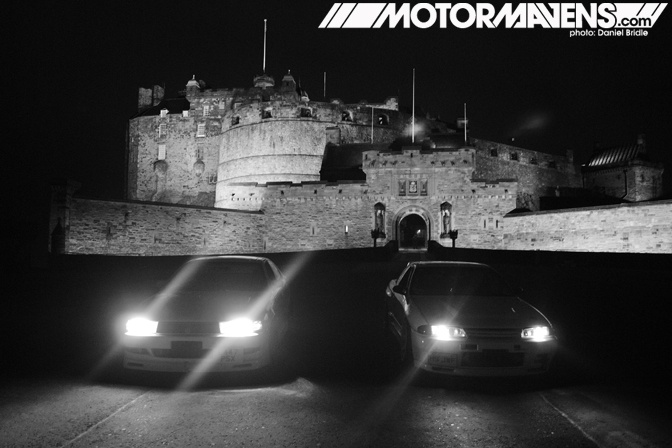 Well, once again, I happened to be in the land of the rising Haggis (click here if you're unfamiliar with Haggis), and thought it would be cool to catch up with some of the guys and see how their cars were getting on! I hope you enjoy the dramatic "black and white" theme – it seemed to go so well with the cars and the scenery of Edinburgh.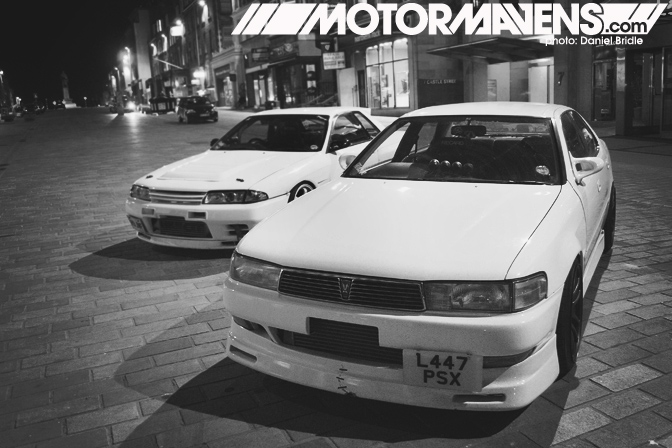 One evening, during my stay, I met up with drifters John Fallon and Barry Stevenson, and we headed off into the city center for a little urban photoshoot.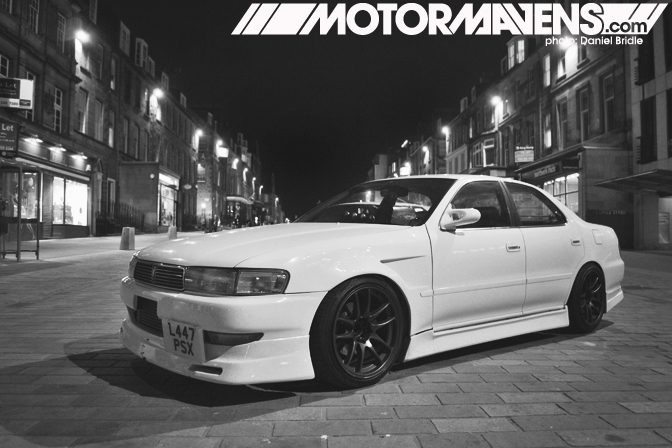 If you saw the previous feature, you already know that Barry was rolling in a pretty sweet Nissan RPS13 180SX, but since then he has picked up this seriously awesome Toyota JZX90 Cresta! Barry had seen the car in his comings and goings about Edinburgh since it had been imported over a few years ago by a company based in Japan called Powervehicles. He had owned a JZX90 in the past and loved it, so when this Cresta popped up for sale on the Driftworks forums, he just had to have it!
Initially, the car was meant to be a fun daily driver and the 180SX was to be kept as a more track-based drift car, but Barry ended up driving the Cresta more often. And, since the photoshoot, Barry has swapped his 180SX for a little Toyota AE86 Levin that caught his eye. Dammit Barry! A JZX90 as a daily driver and an AE86 for spirited weekend drives? I'm jealous!
You only have to look around the Cresta for a few minutes to realize it's a very well put-together car with all the right "bits and pieces" for a drift car on the road. The Toyota's 1JZ-GTE engine is pushing out around 350BHP thanks to a set of HKS cams, HKS 650cc injectors, an HKS air filter, a custom exhaust system, Blitz intercooler kit, 255 Walbro fuel pump and various other parts. The suspension and drivetrain have been taken care of by a set of HSD coilovers, front and rear strut braces, an aftermarket anti roll bar, uprated subframe bushes, a TRD two-way LSD and an ORC twin plate metal clutch.
The Cresta's looks haven't been overlooked either considering it has been fitted with a genuine Vertex T&E front lip, side skirts and rear lip. I'm not sure on the exact make but the FRP front fenders are sweet as well! Other additions include Ganador wing mirrors, clear front indicators, and the whole car rolls along on a set of genuine, 18″ Work Emotion CR Kais.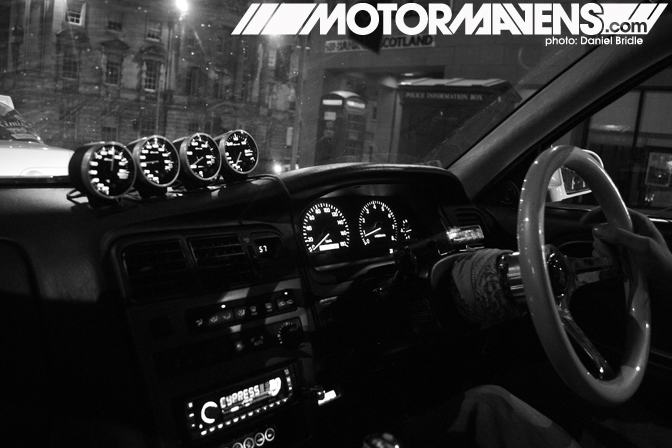 Inside the Cresta is a fantastic place to be! As I sank into the wonderfully comfortable (but supportive) Recaro recliner bucket seats, I noticed a few additions that make the inside of this big Toyota even nicer.
A sweet little Alpine audio headunit has been fitted. Since it's a street car, you might as well have some good music to go with it, right? The original JZX90 dash clocks have been taken out and replaced with later generation JZX100 ones, which help give the interior a slightly newer feel. Other additions include a white deep dish steering wheel and a rather cool shiftknob with dice from a casino inside it!
I'm so glad people are starting to keep full interiors in their drift cars more often these days. Call me an old man but, if you're using a car daily, I can't imagine having a stripped out interior and being deaf, cold, uncomfortable and sometimes (this is the UK, after all) even wet. That can't be much fun. You may as well have a nice place to sit in!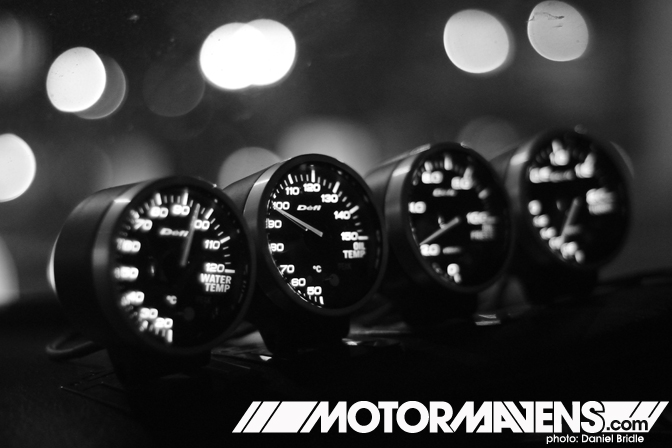 There's also a lashing of electronics in the cabin. A full set of Defi gauges and link controller help Barry keep an eye on things – as well as a Greddy Profec Boost Controller, HKS Turbo Timer and F-CON V Pro Type-A.
All in all, Barry's Cresta is a fantastic daily drifter. It's fast, powerful, balanced, comfortable, looks dope and I guess you could say it's even practical! Altogether, everything I've come to expect from Scotland.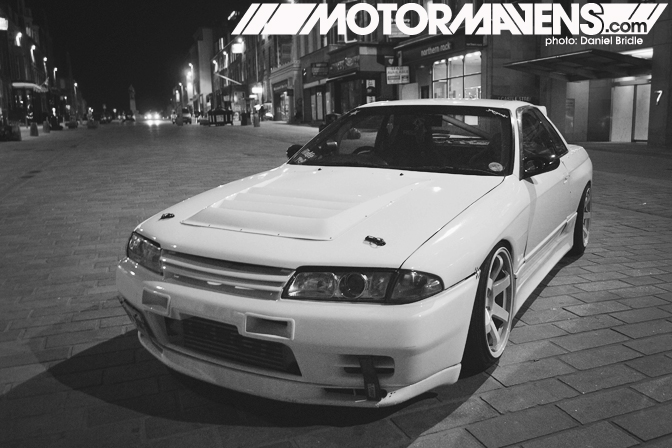 John Fallon's Nissan R32 Skyline has gone through a lot since I last saw it. John had an off day at a local Drift Day up at Crail Raceway and the car suffered some nasty damage! Fortunately, a bodywork repair company called JRM Coachworks stepped in and did a great job of repairing all the damage and even did a full re-spray. Looking at it now, you'd think nothing happened to it.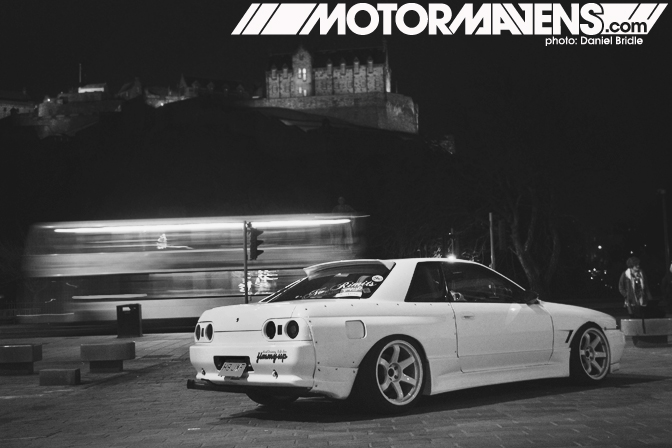 The car was also checked into Chizfab, an automotive fabrication company based in Scotland. They did some work cutting the original rear arches down to match up to the overfenders better. They also fabricated a custom set of straight pipes which look (and make the car sound) awesome! A few new aesthetic upgrades to the car have been a set of Vertex sideskirts, a URAS hood vent (which also helps with engine cooling) and what I think might be a D-Max roof spoiler.
Not only does the car look great, it also goes and handles even better than before thanks to a FULL Driftworks alignment kit and a re-map. The Skyline's RB25DET engine now pushes out around 330BHP – which may not sound like a huge amount but, with everything else that's been done to the car, John says the whole thing feels a lot faster and drives so much better!
John and Barry have great taste when it comes to cars and these two street weapons are a shining example of that taste. I love the attention to detail in them when it comes to choice of parts and modifications – and the end result is fantastic!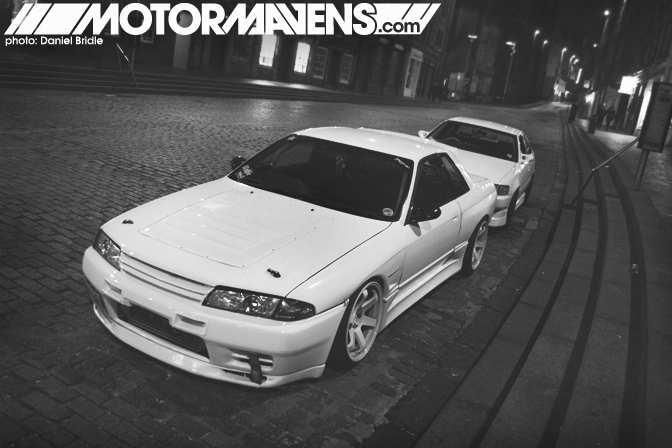 Anyway, I hope you've enjoyed this little showcase of these sweet drift cars as much as I enjoyed shooting it. As is always the case with cars like these, there's bound to be even more changes to come – and I'm looking forward to seeing what happens next!
:: Daniel Bridle
1JZ-GTE
,
Alpine
,
Barry Stevenson
,
Blitz
,
Chizfab
,
CR Kai
,
Crail Raceway
,
Cretsa
,
D-Max
,
Daniel Bridle
,
Defi
,
drift cars
,
Drift Day
,
drifting
,
Driftworks
,
Edinburgh
,
FRP
,
Ganador
,
GReddy
,
GTS-T
,
HKS
,
homepage
,
HSD
,
Japan
,
John Fallon
,
JRM Coachworks
,
JZX90
,
Nissan
,
Nissan R32 Skyline
,
Nissan RPS13 180SX
,
ORC
,
R32
,
RB25DET
,
Recaro
,
Rota Grids
,
Scotland
,
Skyline
,
T&E
,
Toyota
,
Toyota AE86 Levin
,
Toyota JZX90 Cresta
,
TRD
,
Uras
,
Vertex
,
Walbro
,
Work Emotion CR Kai
,
work wheels
---