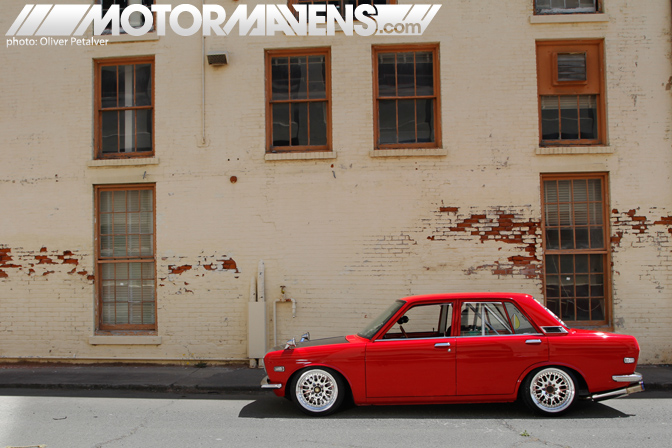 Once called the "poor man's BMW" by Autoweek's G.D. Levy, the Datsun 510 is a well-engineered and affordable car that has remained popular among automotive enthusiasts for many years. Avid collectors of this car can be found around the world and one in particular is John Paul "JP" Dagsaan from the San Francisco Bay area.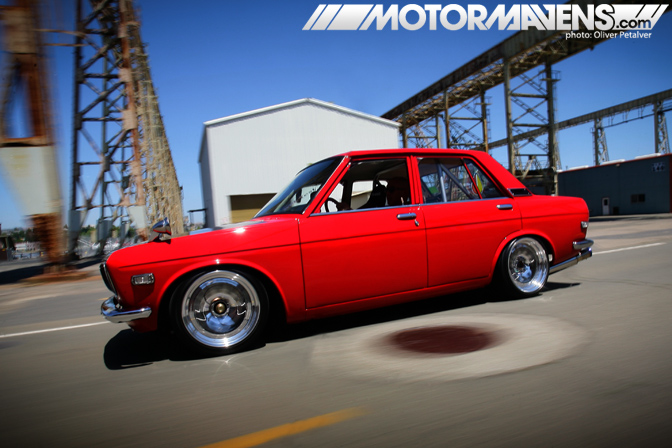 I first met JP at the Japanese Classic Car Show (JCCS) two years ago in Irvine. I expressed an interest in shooting the car; however, due to the fact that JP was planning on driving back to the Bay area that same night, we were unable to set anything up. Fast forward two years to the present and you all are witnesses that I sneaked away from my family reunion in the Bay to shoot the car – and, if you're reading this, Hi Mom! How's that for dedication?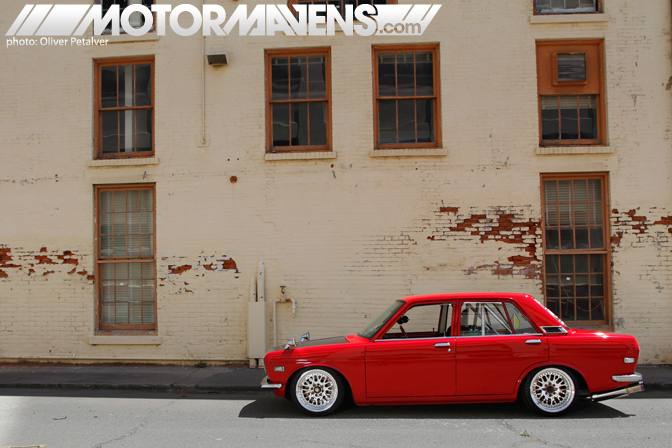 JP chose the 510 since it held sentimental value for him. It was the first car his family owned when they moved to the U.S. from the Philippines. Taking me on a trip down memory lane, JP recounted the happy times and memories associated with it – memories of watching drive-in movies from the open rear hatch of his Dad's 510 wagon.
The car you see here, however, is not JP's first 510. Initially, he had a 510 coupe, which, unfortunately, met its demise in a friendly disagreement with an 18 wheeler – "friendly" for the semi, that is. Fortunately, JP walked away unscathed. Like a true gearhead, he immediately decided to begin a new Datsun 510 project—this time with a 1970 Datsun 510 sedan.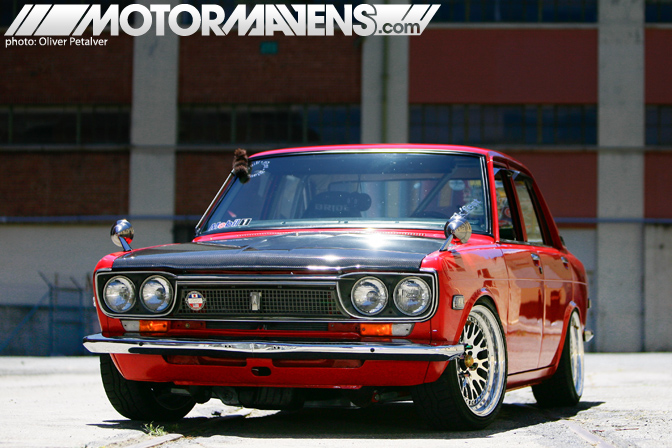 When JP first received his 510 sedan, it was nothing more than a shell with gaudy, hand-brushed, construction-orange paint. Many late nights and sleepless mornings later, the car is what you see today. It's refreshing to see such simplicity in car building. No crazy, over-the-top aero or fiberglass kits here – just the essentials.
The exterior has been sprayed in a Honda Milano Red. The factory hood has been replaced with a lighter custom fiber one. Euro-spec turn signal assemblies have been used and, as a security precaution, Solex door locks have been installed. JDM window visors have been installed on all four doors.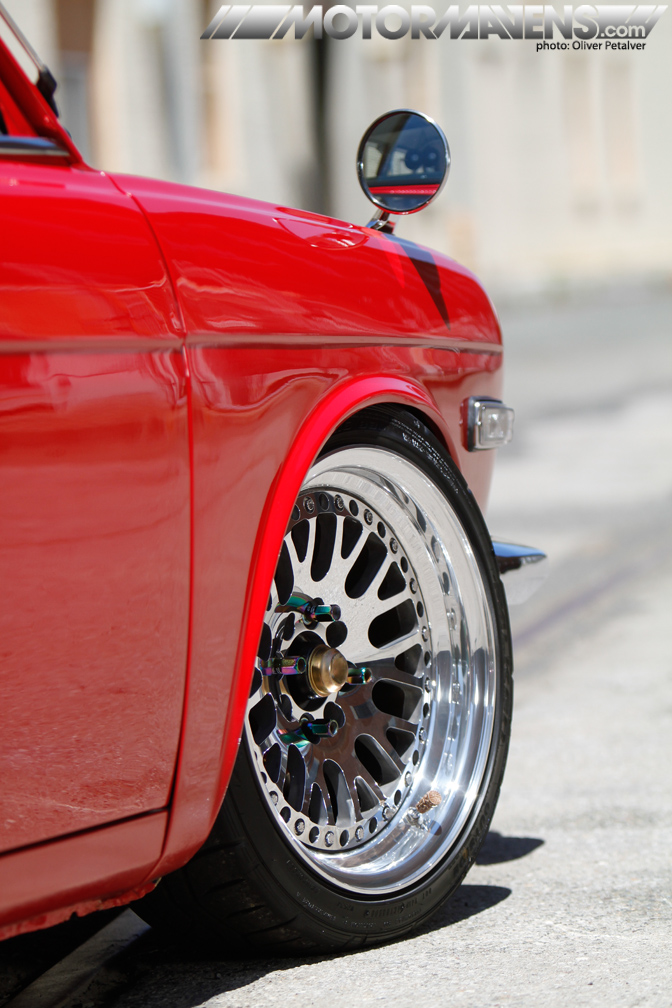 To continue this clean build, JP went with CCW Classics 16×7 wheels in the front and 16×8 in the rear. Look closely and you'll see Tiki valve stem caps. Behind the wheels are Wilwood 4-piston calipers with full-floating cross drilled rotors in the front and Wilwood Dynalite calipers with cross drilled rotors in the rear. Steel-braided brake lines were used all around. A big bore brake master cylinder was sourced from a Nissan 280ZX.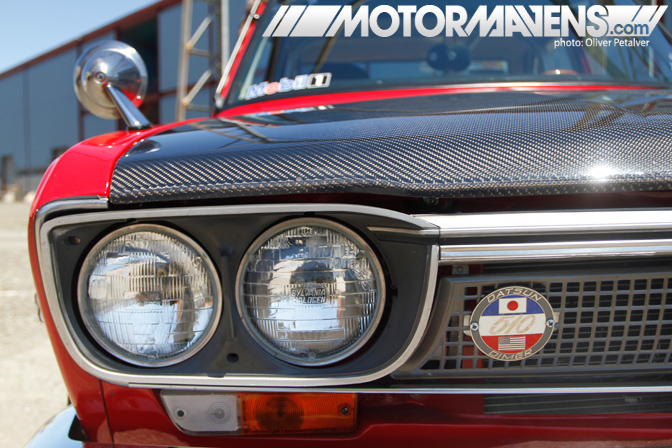 If you're not sure what you're seeing here, it's a very rare 1973 JDM Bluebird grill with the Supersonic badge adorning the front.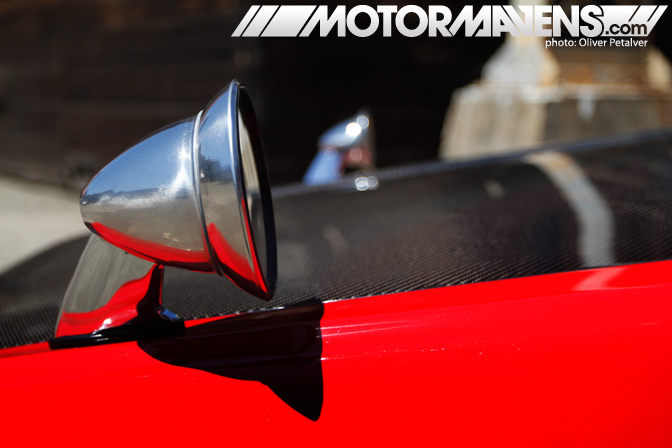 These JDM Bluebird fender mirrors have more "soul" than James Brown! Cars from earlier periods in automotive history seem to have so much personality. Of course, function is extremely important, but automotive designers of past eras seemed to think it was just as important to  incorporate aesthetically pleasing "form" to accompany function. The two are not mutually exclusive.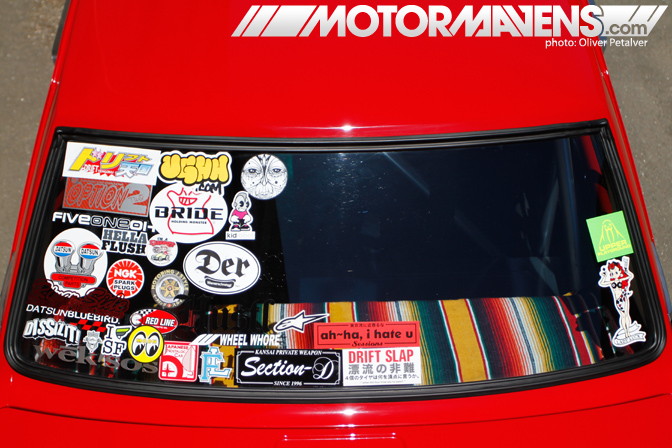 Who doesn't love a media wall? Except…yo, JP!! Where's the MotorMavens logo? Other than that, I would love to have these stickers on my Pelican case.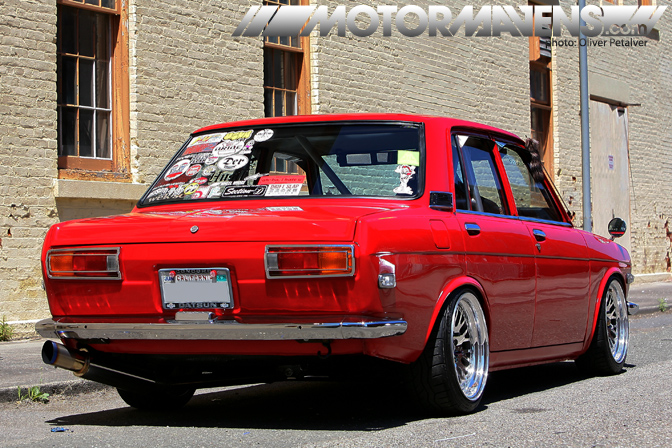 The rear of the car has a rare 1968 rear bumper with bumper license plate lights and Euro-spec complete tailight assemblies.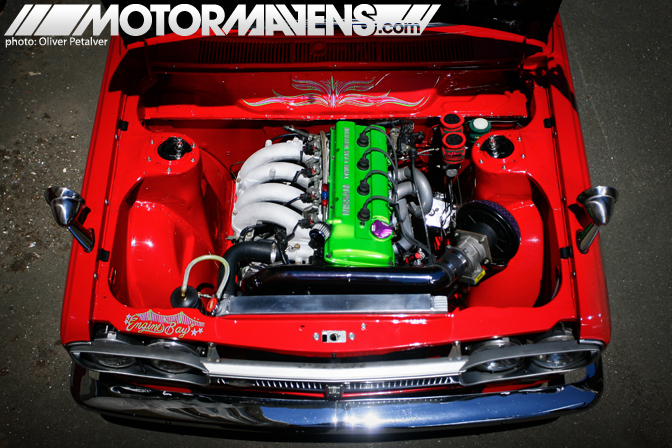 The 510s were originally mated to a 96hp carbureted L-series engine. Pop the hood and instead of the popular SR20DET found in the "Nickel-Dime" community, a 2.4L DOHC KA24DE 16-Valve motor with matching 5-speed transmission sits. This is mated to an Exedy Stage 1 clutch with a Fidanza lightened flywheel. For a quicker throttle response, an Agency Power throttle pulley was used. Troy Ermish Racing CV axles with Subaru 3.70 LSD differential were used as well. A psycho lime green valve cover and a rare HKS purple anodized oil cap also complement the engine bay.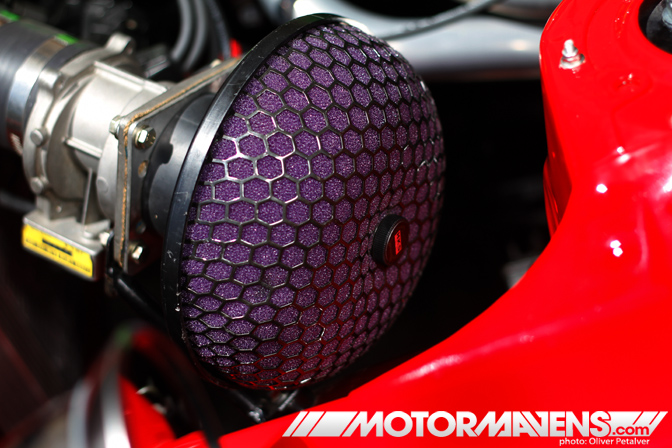 A custom black chrome air-intake with HKS air filter has this 510 breathing like a Shaolin monk.
A DGR fabrication header is used to help the engine efficiently expel exhaust gasses.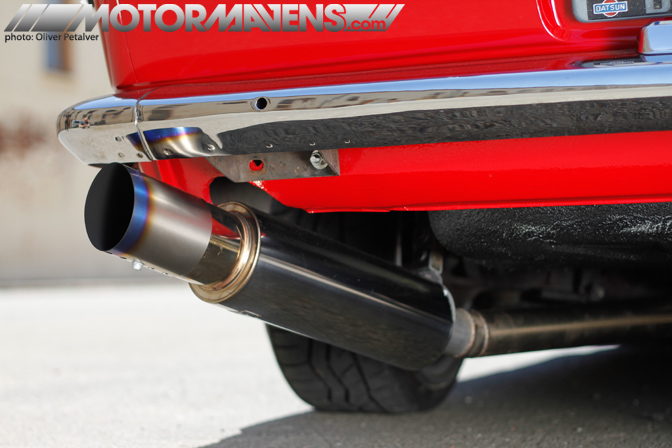 The hot exhaust gasses then pass through a Samberg full stainless steel exhaust with Apex-i N1 muffler with titanium adjustable tip – not period-correct, but sexy nonetheless.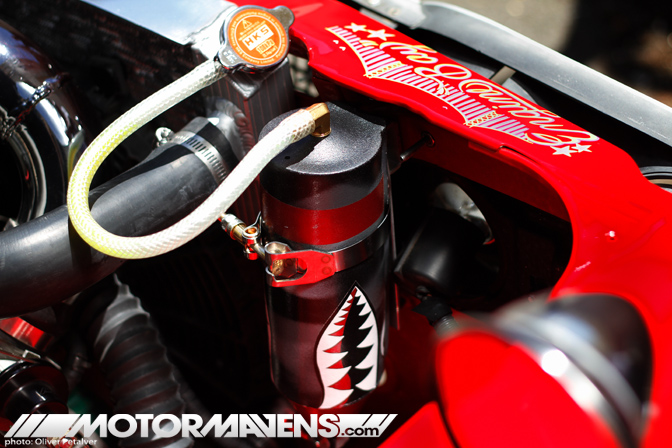 The custom pin-striping in the engine bay and artwork on the radiator overflow tank were done by JP's buddy, Dre. If Dre continues doing work of this caliber, I'm sure he'll be awarded an honorary doctorate in commercial art – at which time, I will be legally obligated to call him Dr. Dre and get him to sign my copy of The Chronic.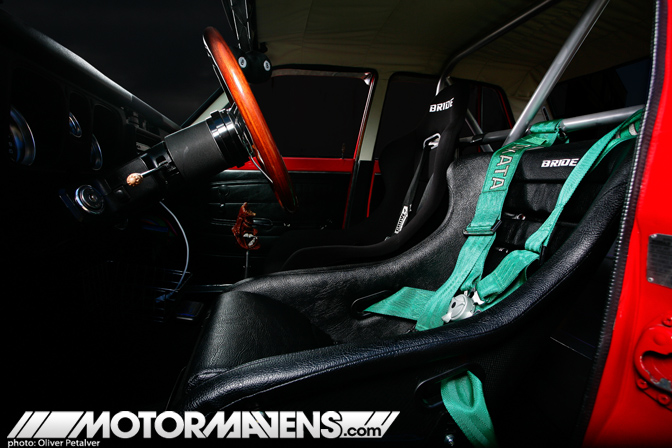 Aside from a DGR Fabrications custom 4-point roll cage, JP kept the 510's interior functionally basic: a Bride Histrix seat with Takata racing harness hugs the driver. The Histrix is a low-backed, hardshell motorsport seat that definitely does not look out of place in this 510. The round vent-holes in the seat are reminiscent of competition seats from the 1960s and early 70s. A Bride Zeta seat with Crow harness keeps the passenger in place.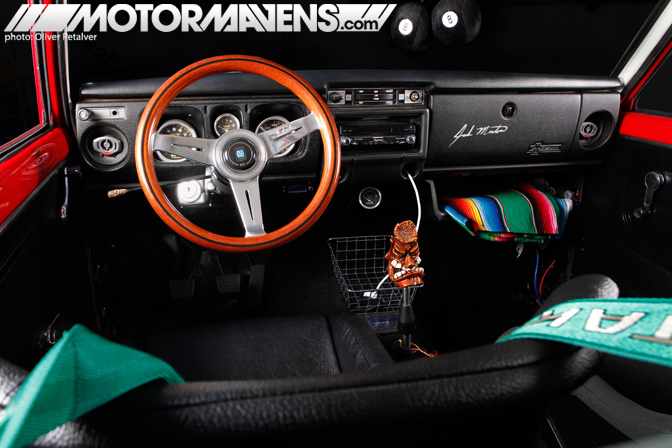 The stock steering wheel was swapped in favor of a genuine Nardi wooden steering wheel with NRG quick release hub. A Greddy multi-switching system is utilized for water temperature and fan control. The driver information center is filled with Autometer carbon fiber tach, speedo, volt, and fuel gauges. Providing the entertainment is a Pioneer AVIC-N1 with Boston Acoustic speakers. Its 6.5″ motorized, touch-screen display puts everything from navigation to entertainment at JP's fingertips. Finally, bringing color and comfort are the Hecho en Mexico blankets.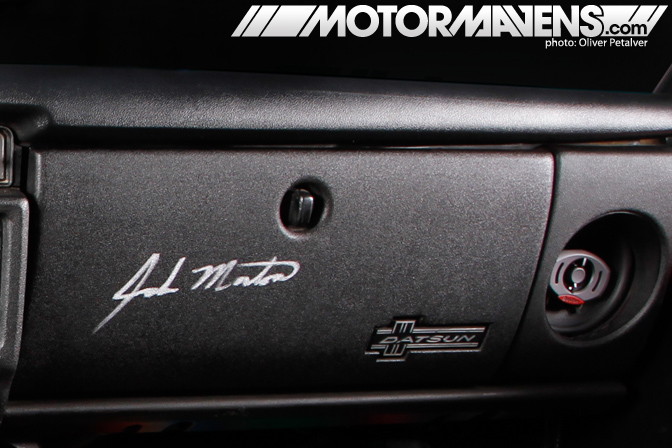 JP had the opportunity to have ace driver John Morton autograph the glove box. Nostalgic car fans know he piloted the Brock Racing Enterprises (BRE) tuned Datsun 510 to two 2.5 Trans-Am Championships in 1971 & 1972 and the  BRE Datsun 240Z to two C Production National Championships in 1970 & 1971. Not to get sidetracked but check out this commercial of John & the Z when you get a chance.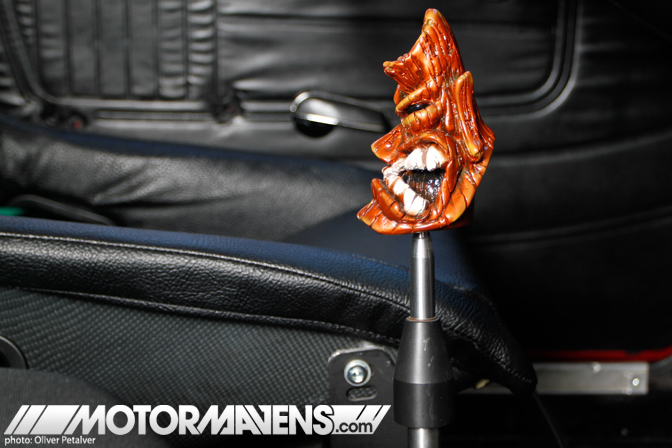 Shortening the throw is a B&M short shifter mated to a Mooneyes Tiki shift knob. BADASS! Another popular Tiki item in the car are Tiki door locks.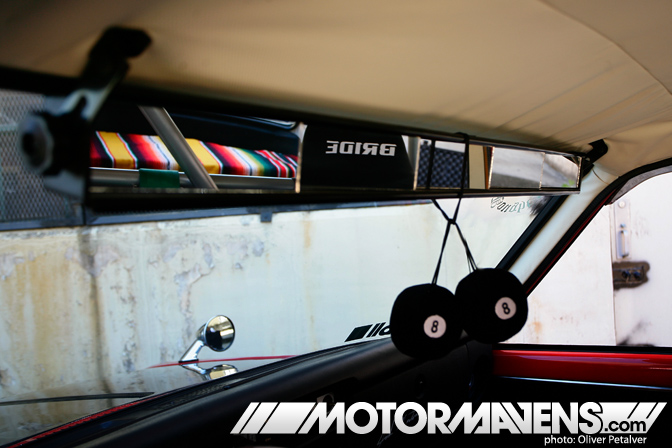 A super long rear-view mirror helps JP view his blind spots. The rear seats were tossed in favor of an aluminum rear panel. It was powdercoated and he had the custom pin-striping done (again) by his buddy Dre.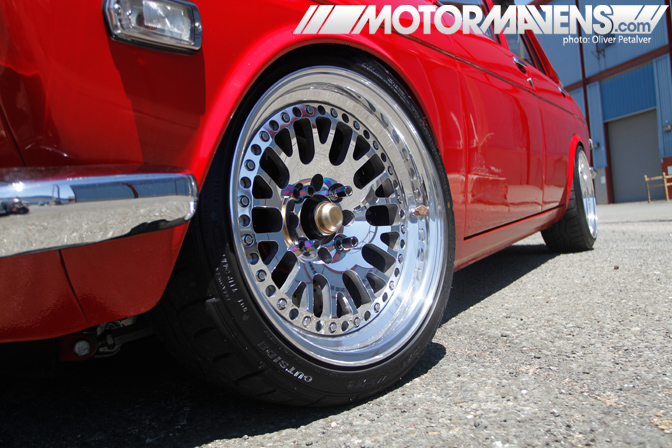 Up front are 280ZX front shocks with Qa1 coilover sleeves, Tokico Illumina MR-2 adjustable strut inserts, and a DGR front sway bar. In the rear are Qa1 fully adjustable rear coilovers and a Racetep rear sway bar. In addition, Troy Ermish Racing camber plates and solid End-linked steering linkage, Techno Toy Tuning adjustable TC rods with bumpsteer spacers, and a Maddat steering box re-enforcement bracket were installed. All of these ensure that this car has a racecar feel to match its look. Form and Function.
A classic old-school car with the power of new-school. After devoting countless hours and sacrificing sleepless nights, JP says that he is very proud to be an owner of a car that was "built not bought." His exact words were: "I am proud to own this beautiful car!" Who wouldn't be proud to own such a beauty?
JP would like to thank friends & family for their support in building this project.
And, I would like to thank my cousins Taylor & Francis and my brother Wil for their extra hands during this shoot. They, too, sacrificed family reunion time to make this shoot possible and it was all for the higher purpose of enriching the lives of Mavens everywhere! OK, Mom?
::Oliver Petalver
1970 Datsun 510 sedan
,
Agency Power
,
Apex-I N1
,
B&M short shifter
,
Bluebird Grill
,
Boston Acoustic
,
BRE
,
Bride
,
Bride Histrix
,
Bride Zeta
,
Brock Racing Enterprises
,
C Production National Championship
,
CCW Classics
,
Crow
,
Datsun 510
,
DRG Fabrications
,
Exedy
,
Fidanza
,
Five-Ten
,
GReddy
,
Hecho en Mexico
,
HKS
,
Honda Milano
,
Japanese Classic Car Show (JCCS)
,
John Morton
,
John Paul "JP" Dagsaan
,
KA24DE
,
Maddat steering box
,
Mooneyes
,
MotorMavens
,
MR-2
,
Nardi
,
Nickel-Dime
,
Nissan 280ZX
,
NRG
,
Oliver Petalver
,
Pioneer
,
Pioneer AVIC-N1
,
Qa1
,
Racetep
,
Samberg
,
Solex
,
SR20DET
,
Subaru
,
Supersonic Badge
,
Tiki
,
Tokico Illumina
,
Trans-Am Championship
,
Trans-Am Championships
,
Troy Ermish Racing
,
Wilwood
---