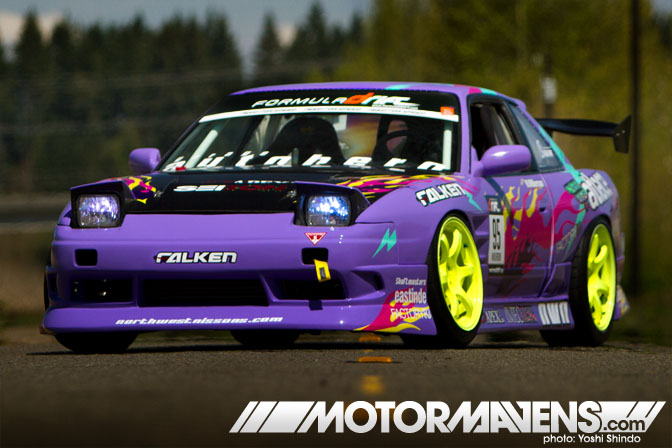 If you dont know who Walker Wilkerson is by now – you will soon enough. From seemingly out of nowhere, he showed up to the first event of the 2011 Formula Drift season and had an incredibly strong showing. Walker outscored many Formula D veterans in qualifying, moving forward to wow the crowd with exciting tandem performances, much like fan favorite Fredric Aasbo did with his JZA80 Supra last year.
As kids we all have big dreams about what we want to do when we grow up. The common things were probably something about becoming either a rock-star, maybe a pilot, or even a race car driver. If you are reading this then you probably have an interest in automobiles in most any capacity, and at one point have thought about being on that line – waiting for the signal. The rush of competition, and although there are others with you on the track; its really only yourself you have to worry about. Its all between the car and you. Making the right decisions, the correct movements – keeping the adrenaline in check. I cant say I know for certain how professional drivers feel on the start line cause I can only imagine, but for Formula Drift rookie Walker Wilkerson to be lined up with people he had previously watched and cheered for; it must have been a surreal experience.
With limited seat time he wowed the judges in his purple widebody Nissan S13 240SX coupe, equipped with a stroked 480hp monster SR20DET, during qualifying. Eventually landing high at 7th place, deep within veteran territory. And with that explosive entrance in the pro arena – he secured his spot in the big show on Saturday in the Top 32. Not bad for a first timer in, well, pretty much everything for the day.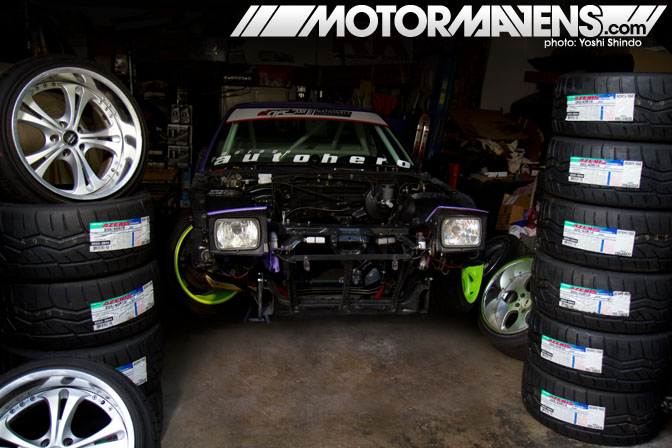 I met Walker about 3 years ago when he was about 18; Washington was just starting to develop for drifting. Infact the first time I met him was at an event at Evergreen Speedway where a lot of the Pro drivers from Washington got their start. I had to turn him away at that first meeting because he was missing a wheel stud and wouldn't pass tech, haha, I always have to give him crap for that! Since then he as evolved as a person, a drifter, and as a meticulous car builder. People started to take notice of Walkers agressive style when he was a part of Team Instant Party, the infamous NW drift team that rocked on and off the track. During that time the crew refined their skills together, regularly tandeming together at events and on the street. From there the natural progression began when the competition aspect blew up in Washington due to the Pro-Am program that was being put together. His goal to compete in the series was cut a little short due to car problems and the fact that he was going to stay in Japan for an extended period of time; he was only able to compete in two events for the series. That didnt mean he was letting his skills get dull though. He was drifting at Ebisu circuit during his time over there – something i know that many of us would love to do!
After the series was over he was awarded the wild card invitation to the Pro-AM Nationals at Toyota Speedway in Irwindale, CA. During the event he qualified 8th and was narrowly defeated by fellow FD rookie Pat Cyr to take 2nd overall to earn his 2011 Formula Drift license. Getting to where Walker and other FD rookies are is no easy task, but from here on out its an absolute battle. Being a privateer in a pro series can get very stressful; mentally and financially.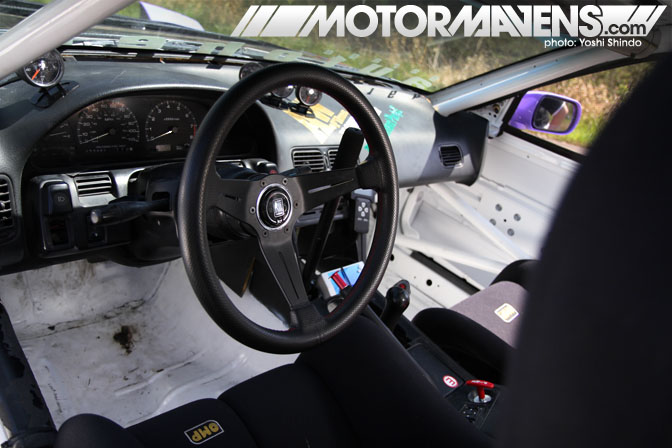 During the off season plans were in motion to get his S13 competition worthy – a new crazy SR20DET engine built by Ray Stonehocker at Garage Autohero tuned by Lawrence at Intec Racing making 480WHP and 436TQ. Intec Racing super angle knuckles, and awesome Apexi S1 coilovers allowed him to put down some amazing speed and angle. To handle the dragon under the hood a 350Z transmission paired with a Skyline R32 GTR rear end was installed. To make all that power useful lighter Rays Gramlight 57D wheels were swapped in favor of the large lipped boat anchors he had on before and Falken RT615K tires provied the plums of smokoe coming from underneath. But of course even the best laid plans can go awry. I'll let Walker tell his story about what he had to go through leading up to Long Beach:
"Well, basically I have worked on my car non stop for about the last 2 months. I honestly have worked on it about 8-12 hours per day just getting prepared for Long Beach. I try to plan everything out so I am not last minute about it, but I kept running into issues; which made everything have to happen last minute. Two days before I had planned to leave for Long Beach we went to go test my car, and about 5 laps later I had no clutch. Long story short my 350z conversion was not made to accommodate an Exedy twin disc clutch. This caused the input shaft to shear off all the splines on the clutch disc. I had to over night new discs, and then troubleshoot the issue. Luckily Lawrence from Intec Racing was kind enough to let me use the lift for a few days so we could get everything figured out. So after about 3 days of no sleep, and a day late leaving for Long Beach; my dad and I were finally on the road. After the clutch incident my stress level skyrocketed, and I did not think I could handle it anymore. But I just stayed motivated and continued to work even harder knowing that it would pay off in the end. I am very thankful that we did not run into any major issues at the track!"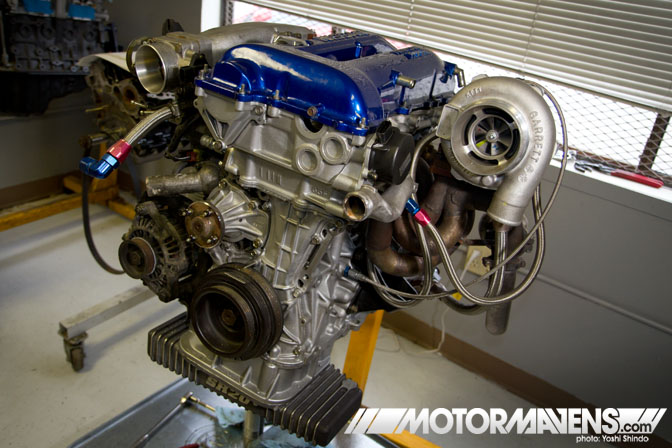 After the awe of actually being a professional was drowned out by the adrenaline of straight competition; Walker got down to business when it came down to the top 32. He was first paired up with Otto Graven from South Africa -this battle was a hard fought series of epic driving. Eventually after a one more time, the judges called it in favor of Walker. As each step forward is even tougher than that last, all the way from driving in local Pro-Ams, to lining up with Ryan Tuerck in the top 16 battle battle for his first event as a pro. Unfortunately for Walker, the veteran driver got the victory and he was back to the pits. Always pushing himself he went through the whole thing in his head knowing where he has to improve and working on them. Despite the loss he is incredibly happy to be currently sitting in 11th place in over all points for the series after the first event.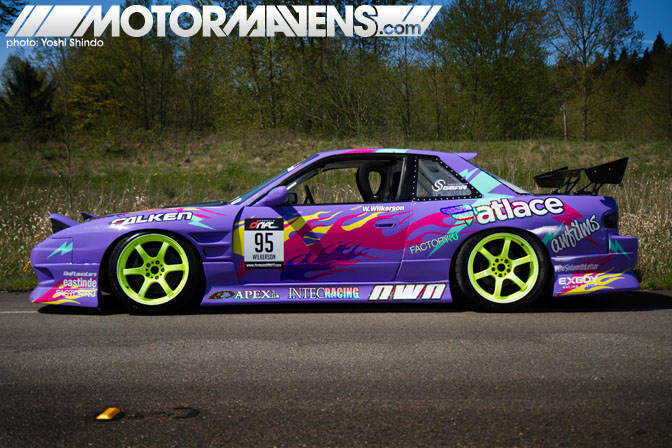 After the event Walker had a little bit of time to breath and finish up a few things he didnt have time for before the first event. Some engine issues were buttoned up along with a new tune. The widebody kit was ditched and a new sleeker kit was chosen. The whole car was repainted the same color to freshen it up. To top it all off an all new livery was designed and applied by Ian Dillon and Ashley Jordan from Factory83. It gives me chills when I look at it because its reminiscent of Team Burst to me, so rad!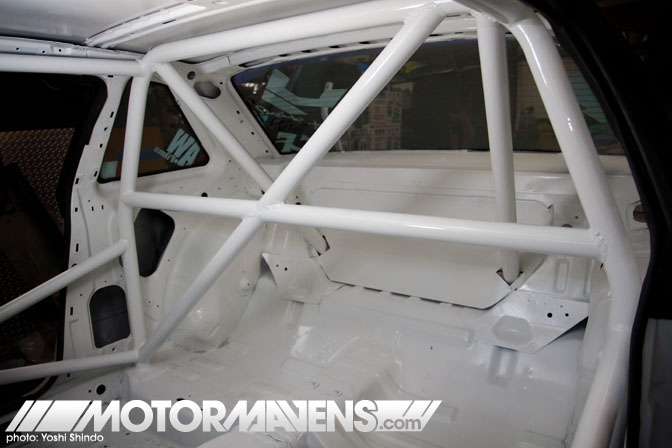 Walker's S13 is all dressed up and ready to dance in Atlanta; where he hopes to continue his aggressive driving on a track that is fast, and allows for some mega angle entries in the first turn – something Walker is used to doing already. With help from some of his sponsers he will be able to make it to the rest of of the east coast events and then back home to the west coast to finish the series; a huge feat for a rookie.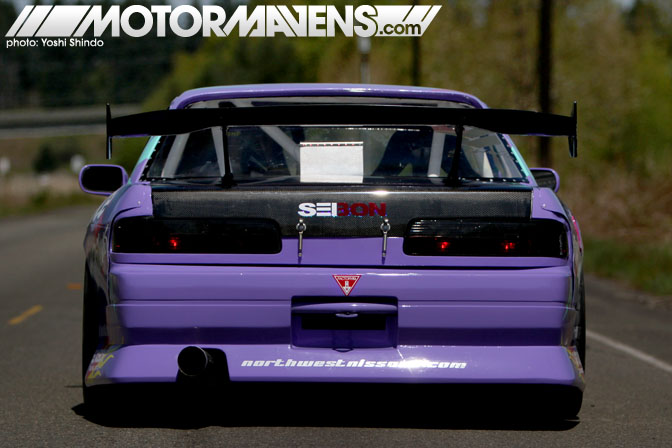 It seems like I get more excited for Formula D each year and this is looking to not disappoint – new rookies looking good, JR missing the mark in the first event opening the door for anything to happen, Aasbo in a new car, and of course Walker ripping it up amongst veterans he previously looked up to. We here at MotorMavens wish him the best of luck and will be there watching every step of the way.
If you are in the stands – chant like we do here in the NW for him!
WakaWakaWaka!!!!
Special thanks from Walker:
I'd like to give a big thank you to my dad Rick Wilkerson, Ray at Garage Autohero for doing last minute prep on my car before Atlanta, Lawrence at Intec Racing for the fresh new tune, Ian and Ashley at Factory83 for doing the crazy new graphics, Jun Kurihara of 326 Power for setting my alignment up for Atlanta, Masaki at APEXi for all the help/advice, Roman at Falken Tire, Mark at Fatlace for getting me to the east coast, Yoshi Shindo for taking these great photos!
Sponsors:
Fatlace, Garage Autohero, Intec Racing, APEXi, NorthwestNissans.com, Falken Tires, AW Films, Seibon, EastInde Records, SGear Gauges, ShaftMasters, SPL, Exedy, 326 Power, Factory83, YAER Productions, KAAZ and DOC Race.
For you piston heads keeping score – a break down of the engine:
2.3L stroker S14 SR20DET built by Ray at Garage Autohero. The engine has a Brian Crower stroker crankshaft, CP pistons, Carillo rods, ACL race bearings, custom port and polished head, APEXi headgasket, BC valves/springs/retainers, BC 272 camshafts, DOC Race turbo manifold, Garrett GT3076R turbo, Tial 44mm MVR wastegate, Tial BOV, Garage Autohero custom intercooler piping, APEXi Power FC D-Jetro and APEXi AVC-R. The car is tuned by Lawrence at Intec Racing making 480WHP and 436TQ.
::Lucas Perez
Photos by:
Yoshi Shindo
240SX
,
326 Power
,
Apex'i
,
AW Films
,
Brian Crower
,
EastInde Records
,
Exedy
,
Factory 83
,
Falken Tires
,
Fatlace
,
Garage Autohero
,
homepage
,
Intec Racing
,
KAAZ and DOC Race.
,
Lucas Perez
,
niassan
,
NorthwestNissans.com
,
Ray Stonehocker
,
Rick Wilkerson
,
Seibon
,
SGear Gauges
,
ShaftMasters
,
SPL
,
SR20DET
,
Team Instant Party
,
Walker Wilkerson
,
YAER Productions
,
Yoshi Shindo
---