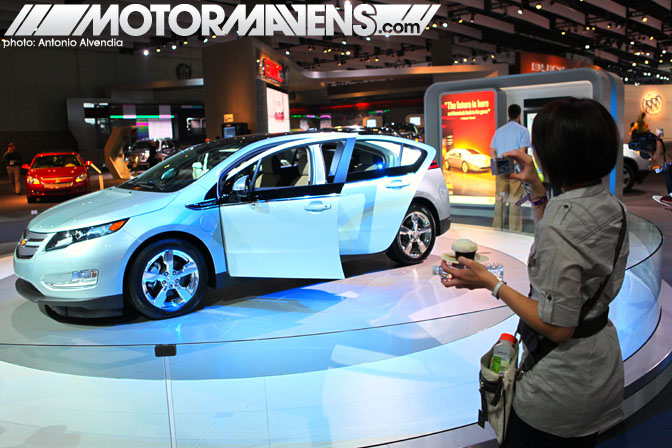 The 2010 LA Auto Show is currently in full swing; and just in case you didn't get a chance to attend the show yourself, I should clue you in on the hot topic that all the manufacturers seem to be extremely excited about – hybrid technology and electric cars.
While not all of the hybrids and electrics looked extremely exciting, there were some manufacturers that had project cars that caught my eye. Let's have a look!
For most people in attendance, the new car models were certainly intriguing. There were quite a few people giving attention to GM's new Volt; the electric 4-door hatchback seemed to be drawing interest from random groups of drivers that I don't normally see taking interest in GM products… for example, I spotted this stylish young lady shooting a photo of the Volt with her camera. Five points to anyone who can guess what kind of camera she's holding!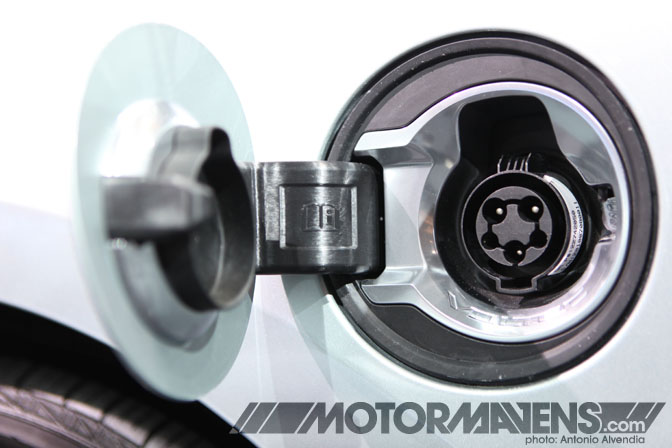 This might be something we'll all have to get used to pretty soon. This is the charger plug for the GM Volt. I spotted quite a few other vehicles at the show with similar recharging plugs. I wonder… is this the beginning of the end for the fuel consuming, impractical, high performance vehicles that we all seem to be drawn to as performance-minded car owners?
On one hand, I think it's extremely exciting to witness big changes and technological breakthroughs. It's hard to believe how far technology has come sometimes. There are many aspects of the "future" that we're living in right now that I would have never imagined as a young kid – just think… with products like iPhones, you can actually see the person you're talking to on the phone now… and if your phone is jailbroken, you can have a video chat session with that special someone while you're riding in a car that's completely powered by electricity. Cars nowadays have air conditioned and heated seats with massagers, touch screen monitors, and some can even brake and parallel park themselves now. Who woulda thunk it?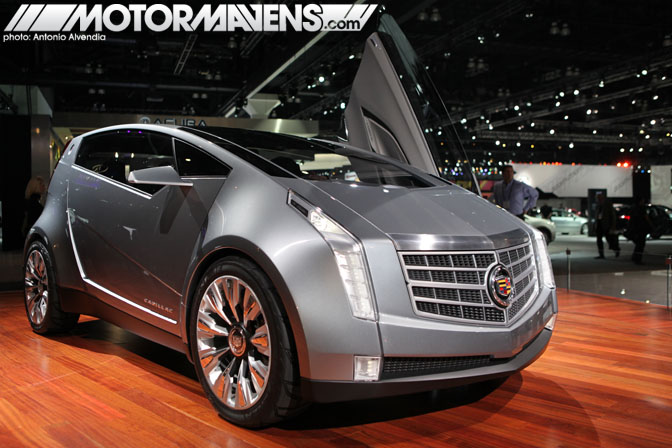 One of the more interesting vehicles at the Cadillac booth was their new ULC (Urban Luxury Concept); it was quite the attention getter. Some people may or may not like the ultra angular lines on the wedge-shaped vehicle, but I think it looks crazy, which makes it pretty interesting in my eyes. It looks sort of like a real life toy car in my opinion – I like it. I could personally do without the Lambo-style doors, but I'm sure there are people out there that would find them pretty cool.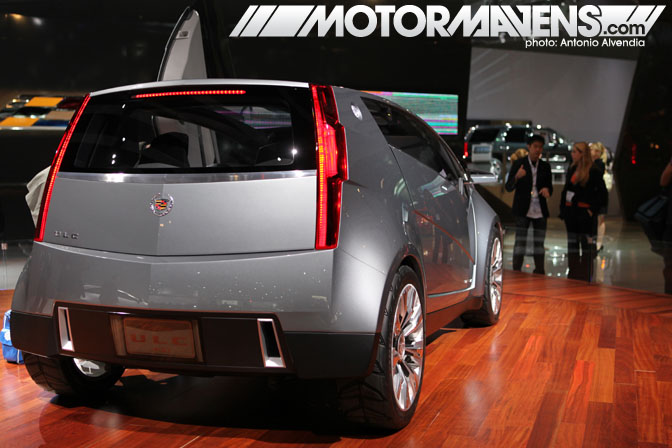 The Cadillac ULC looks pretty good from the rear. The rear hatch and taillights look very Cadillac-esque to me, which I like. I also dig the vertically oriented exhaust tips that are integrated into the rear bumper, too.
For a more in-depth look at the ULC, check out this video that Cadillac uploaded onto their YouTube page. It's pretty interesting! If only companies would produce real production cars that would live up to the hype of their concept cars…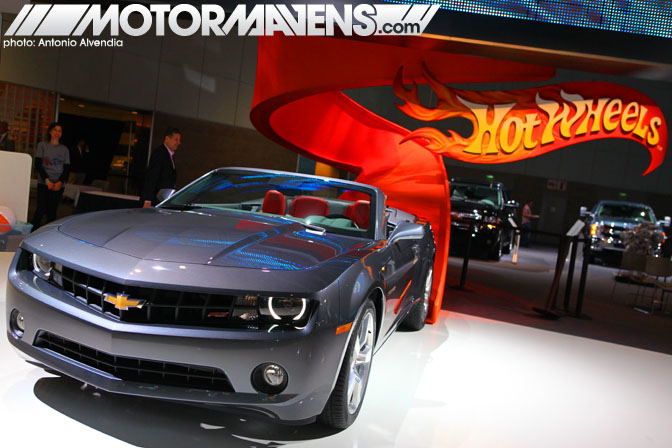 There was a 2011 Camaro RS convertible in the GM booth also, but to be honest, I was more excited about the full size, full-scale Hot Wheels slot car track in the background! What an awesome usage of collaborative co-branding – cool display!
It's cool to see this Camaro RS finally released to the public. I think the very first time I laid eyes on a Camaro convertible (concept) was back in 2007, when I was doing a special photo shoot for GM. It was a privilege to see a car so many years in advance of its actual release date!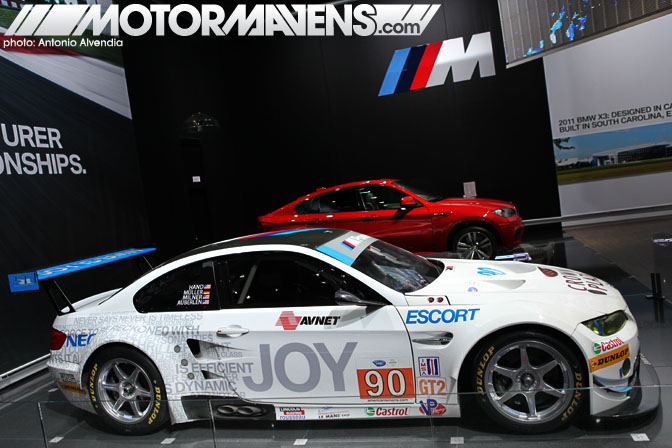 In the BMW booth, the widebody ALMS E92 BMW M3 from Rahal Letterman Racing was making jaws drop. I wish more car companies brought their race cars out for display next to the new cars they were trying to sell. It goes back to the old racing slogan from the 1960s… "Win on Sunday, sell on Monday."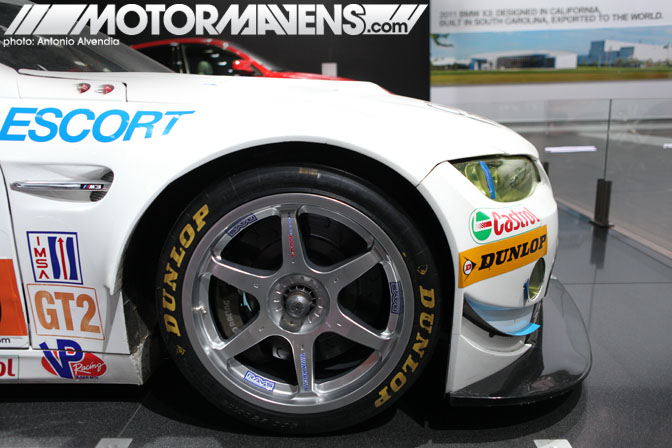 One of the more impressive aspects of Rahal Letterman's IMSA GT2 E92 M3 would have to be its wheel and brake combo. Check out the massive AP Racing brake calipers filling the inside of the single-lug Rays Forged Mag wheels, which are wrapped in Dunlop slicks. AWESOME.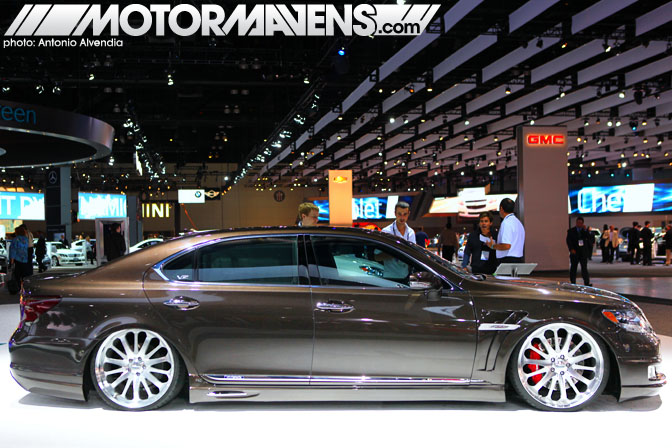 Next to the BMW booth was one of my favorite car brands… Lexus. VIP Auto Salon brought out this modified Lexus LS460h for display at the show. I like the metallic brown color. I know that a car like this might have people debating on whether or not they like the aftermarket pieces like the fenders and aero kit. I wonder what some of our readers would prefer if they owned an LS460 – aero kit or stock body?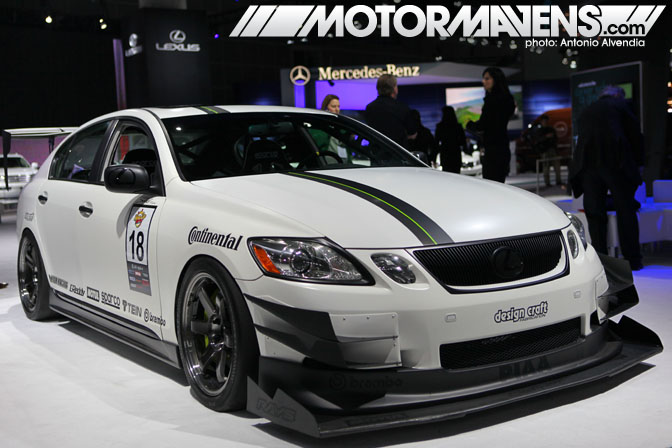 Reinforcing the fact that the Lexus GS is sportier than the LS models, Lexus worked with Orange County based fabrication shop Design Craft to create this GS Time Attack version. It's super hard not to notice the huge front chin spoiler and massive canards. Apparently the car also has a headlight upgrade from PIAA, Tein suspension, GReddy performance items, huge Brembo brakes, Sparco seats, and Rays TE37 wheels wrapped in Continental Tires. I haven't seen much Continental involvement in aftermarket modified demo vehicles, but they do make some really high end tires. I wonder if we'll be seeing more of a push from Conti in the near future?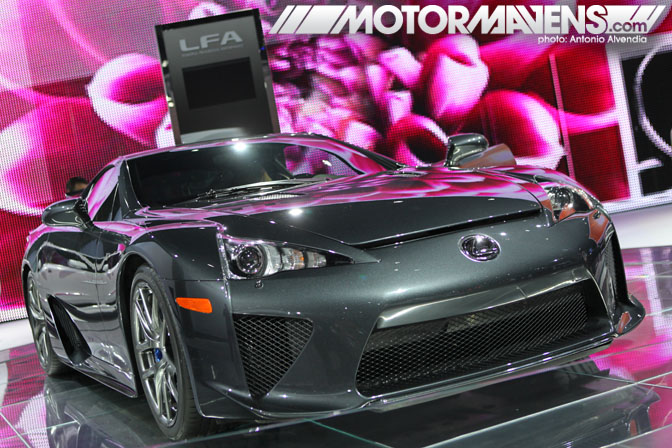 Ahhh… remember this car? Ah yes, who can forget the Lexus LF-A? When I saw this car at the CEC Wheels booth at SEMA, I was told that this was the same exact car that I had the pleasure of manhandling in the Lexus warehouse about a year ago when we first started the MotorMavens site… it was just completely taken apart and repainted, with an all new interior as well. It's always nice to see old friends at Auto Shows.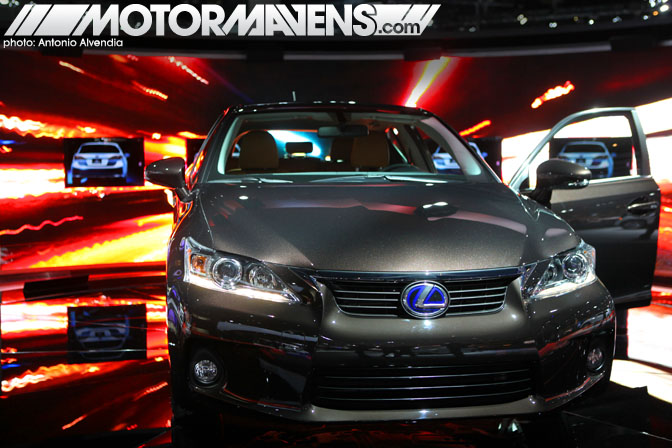 Another new vehicle in the Lexus hybrid lineup… the Lexus CT200h. This new hybrid boasts 42 miles per gallon, but other than that, I don't have much experience with this new car. Maybe we should do a test drive and check it out sometime?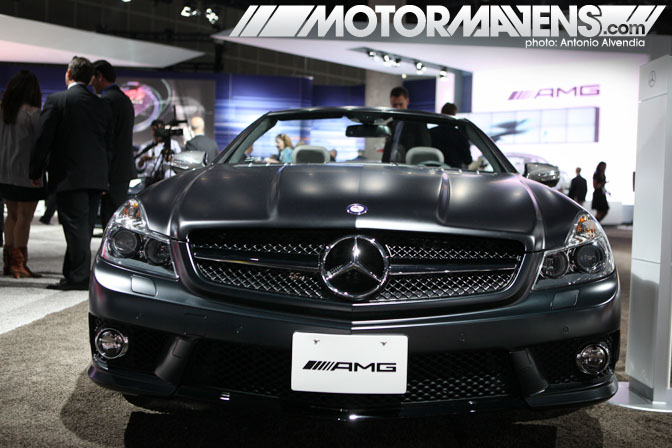 Right next to the Lexus booth was none other than Mercedes Benz. While there were certainly a lot of good looking cars and attractive women floating around the Mercedes booth, I was particularly attracted to this satin black AMG SL63 roadster. Damn, now that is one good looking car! Just imagine how bad ass it would look if Mercedes decided to up it's cool image with younger people and work with the legendary Nakai-san of Rauh Welt to build one? Can you just imagine a satin black AMG SL63 slammed to the ground with flat bronze Work wheels filling the fenders?! Rauh Welt x AMG = OMG!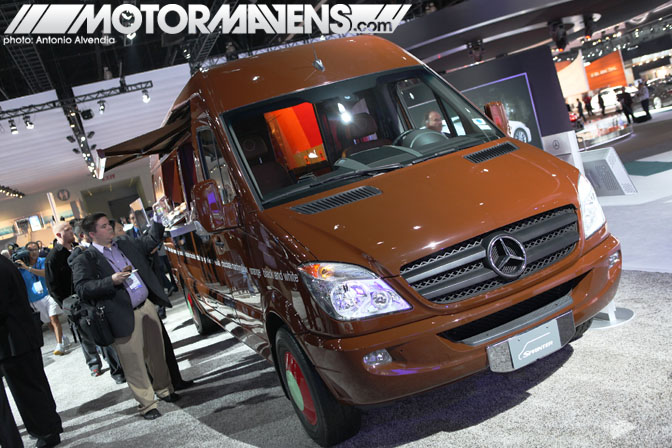 Another Mercedes vehicle that drew quite a crowd was this brown Mercedes Sprinter van. These are very common in Europe, but not seen as much in the United States, unfortunately. I think the good people at Mercedes might get upset at me for saying this, but it seems as if they expanded on an idea that the Scion marketing folks introduced – teaming up with gourmet food trucks (Scion/Kogi bbq tacos, anyone?) on a customized vehicle, which would attract cool points to both brands.
In this case, Mercedes teamed up with Sprinkles Cupcakes, which is obviously extremely popular with young ladies! (Gents, buy your special lady some Sprinkles Cupcakes for extra points!) Since I was extremely busy working on other projects, I was only able to spend about an hour TOTAL at the LA Auto Show, so I didn't have time to wait in the super long line to try out Sprinkles for myself. I probably don't need any cupcakes as part of my diet anyway, but if I had more time, I certainly would have waited, as there were quite a few lovely looking ladies in line that looked like they were interested some cupcakin…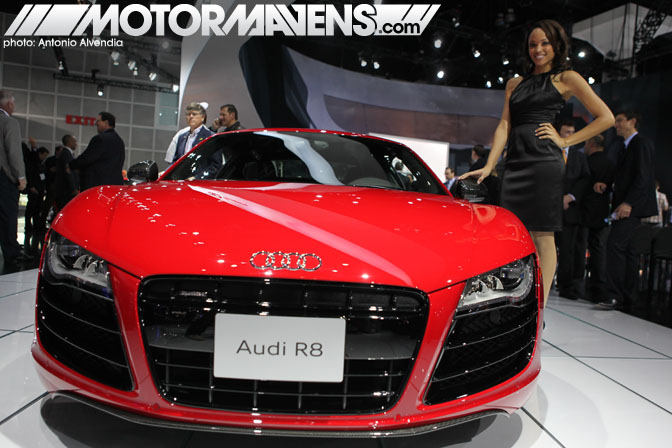 There were certainly a lot of cool looking vehicles at the Audi booth this year… they introduced the new Audi R8 GT 5.2 quattro, which obviously looked incredibly gorgeous. I have more photos from the LA Auto Show, but I'll have to stop here for now, and publish those in another post later!
Keep your browsers locked to MotorMavens.com, and make sure to register for the MotorMavens Mass Appeal Show coming up on December 4th in conjunction with the Ken Block Gymkhana Grid Invitational!
:: Antonio Alvendia
AMG
,
Audi
,
Audi R8 GT 5.2 quattro
,
BMW
,
Brembo
,
Cadillac
,
Camaro
,
Camaro convertible
,
Camaro RS
,
Concept
,
Continental Tires
,
CT200h
,
Design Craft
,
E92
,
Electric Car
,
Fisker
,
Forged Mag
,
GM
,
GReddy
,
GT2
,
Hot Wheels
,
Hybrid
,
IMS
,
LA Auto Show
,
Lexus
,
LF-A
,
LFA
,
Mercedes
,
PIAA
,
R8
,
R8 GT
,
Rahal Letterman
,
Rays
,
roadster
,
SL63
,
Sparco
,
TE37
,
Tein
,
ULC
,
VIP Auto Salon
,
Volt
,
work wheels
---