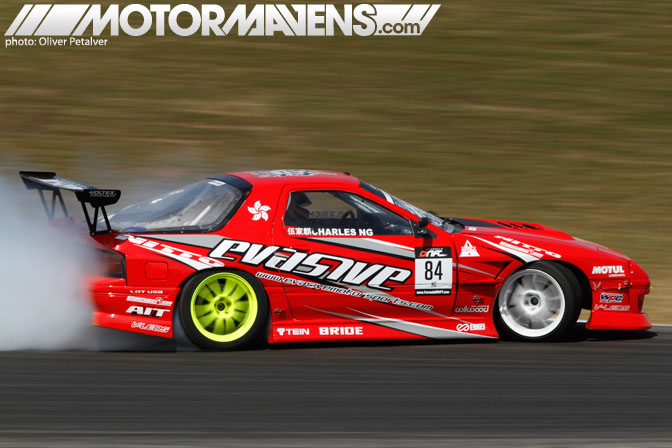 Keeping our coverage of Round 2 of Formula Drift at Road Atlanta coming, we bring you more photos of the Pro Am rounds as well as the main event. Road Atlanta is a unique venue in that it is a world class road course that sees everything from the likes of Le Mans prototype cars to your neighbor who enjoys exercising his right foot every now and again.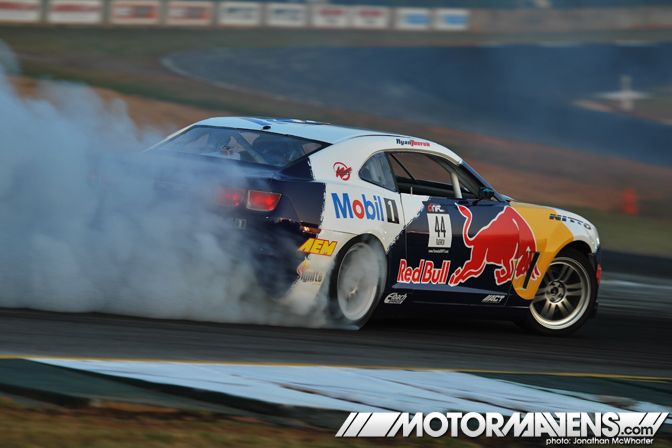 The Formula Drift weekend is no different – you get a mix of high-dollar, corporate-backed monster machines competing door to door with a backyard creation that you saw built from the ground up on your local forum.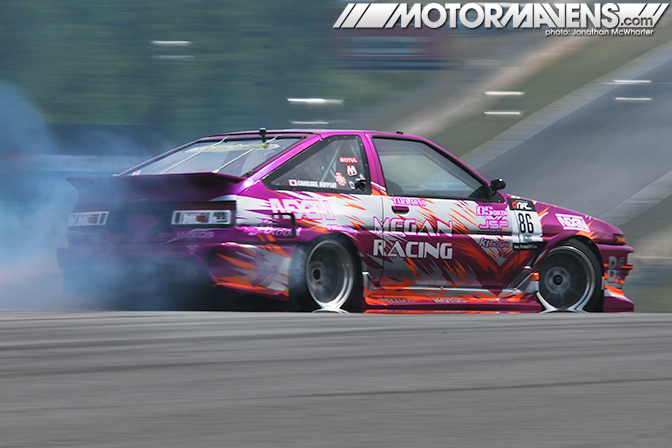 The AE86 Corolla GT-S is an icon in itself in the sport of drifting. I love how in the midst of the development of new chassis, massive power, and other technological improvements, some teams stick to the classics. Taka Aono's still competitive hachiroku is a testament to both the platform that Toyota created over 20 years ago and his driving skill when he drives it against the 700hp rocketships of today.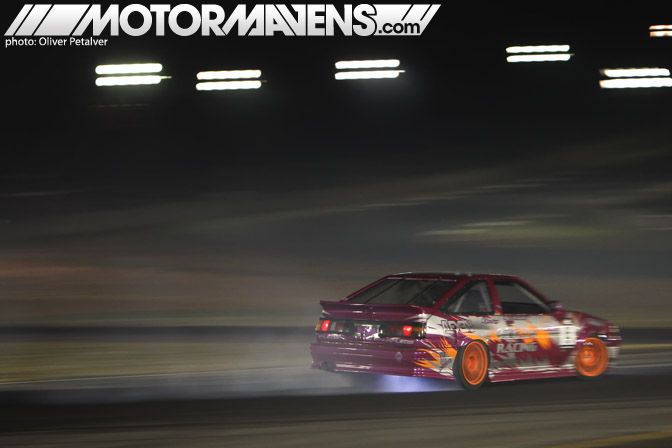 John Russakoff is another AE86 Bro (thanks, Team Rowdy) holding it down at the pro level.  Now that he has been picked up by Megan Racing, it's going to take more than a quick glance to be able to tell who is driving the pink Corolla on track. Affectionately nicknamed "Whiteboy John" by his teammates, Russakoff made it all the way to FOURTH PLACE! We haven't seen an AE86 get that close to the podium since Toshiki Yoshioka won First Place at Formula Drift Las Vegas in 2008. GREAT JOB, John! Congratulations to you and to all your sponsors! We were all so proud of you as we cheered from the sidelines (and online)! Way to Live The 86 Life!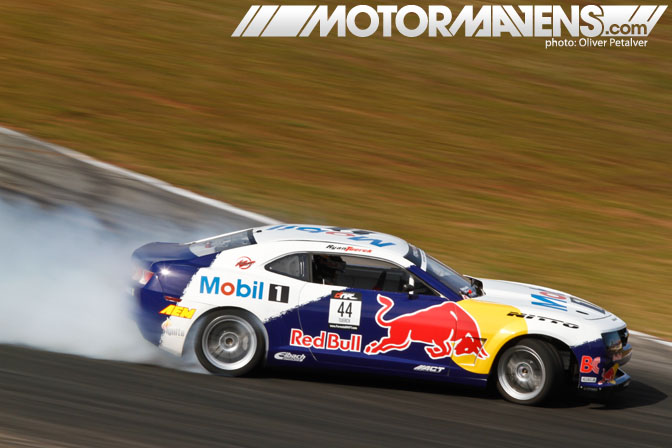 Ryan Tuerck and Gardella Racing introduced their Chevrolet Camaro this weekend at Road Atlanta.  I wonder what it was like going from driving a tiny Solstice for a few years to the decidedly much larger Camaro.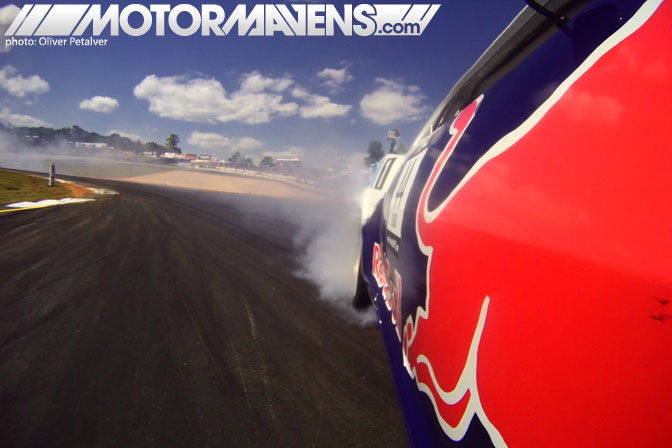 Ryan Tuerck blasts back up the hill in this awesome shot from Oliver Petalver. Looking back towards the horseshoe you can see the grandstands and just how great of a course this is for spectators. I have yet to find a bad seat here.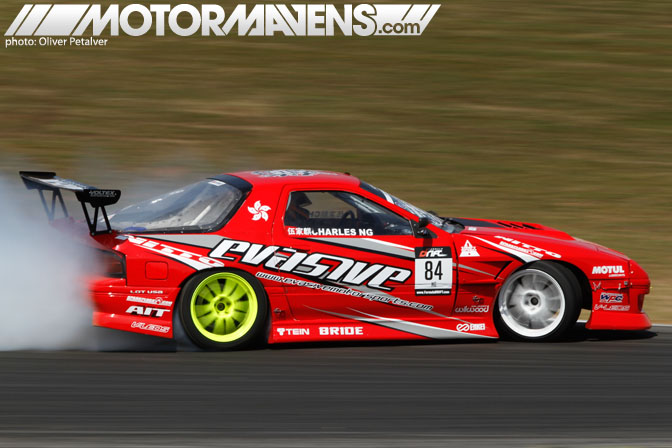 Charles Ng's FC RX7 looks great with its new livery.  The red definitely makes the car pop more than the original white paint scheme.  Keep an eye on MotorMavens for a closer look at this car in the coming weeks.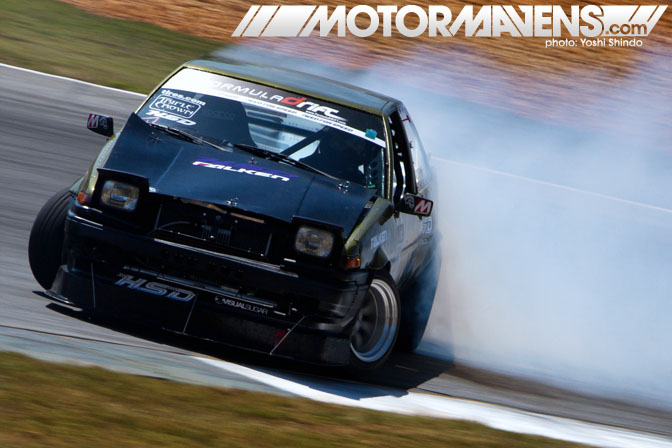 Pat Cyr was killing it during practice and qualifying.  Hanging with the seasoned Formula D pros on a difficult track was an impressive sight to see.  However, he and Toronto's own Drift Posse had to make some adjustments along the way to adjust to the course.  First, you can see that the front portion of the hood has been trimmed away.  The high speeds caused that little section to play hop scotch as Pat slid around.  Even with that modification made, his hood was still very lively atop the front of his car, as you can see from the way it flexes in this photo.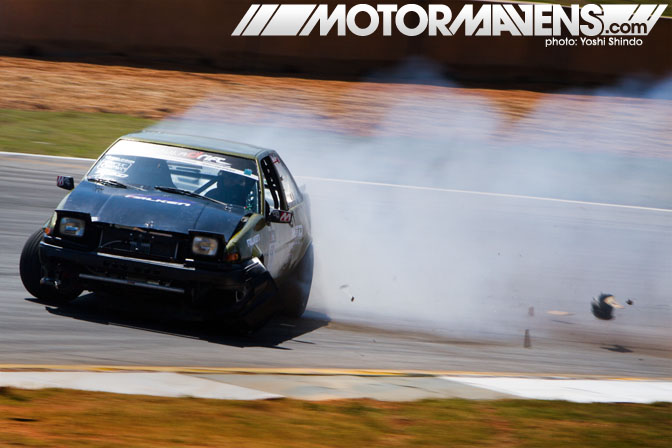 The second adjustment to the menacing looking AE86 was made by the rumble strip, and not Pat.  When coming back down from the horseshoe, the rumble strips go from being relatively gentle bumps into harsh, bumper annihilating weapons of mass destruction.  A close look at these photos of him and you can see the difference a foot or two makes when choosing your line.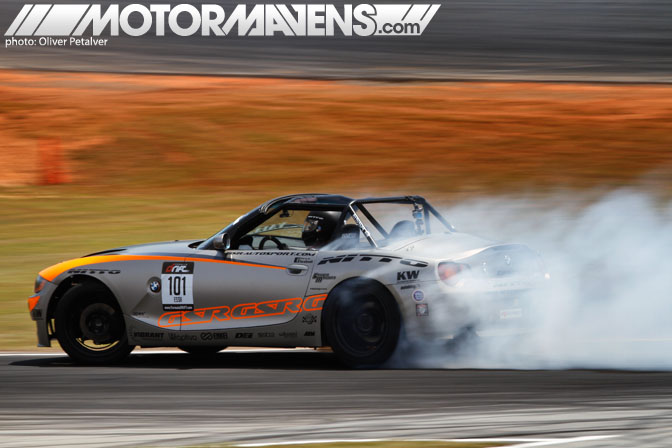 Even though drifting is a sport based on being flashy and doing things with as much style as possible, there's just something about the clean, simple look on Mike Essa's BMW Z4 that gives it a certain presence. Maybe it is exactly that? Since a lot of cars have bright paint schemes, flashy wheels, and even strobe lights, OEM body work with matte gray paint and black wheels look like an interesting way to differentiate from the field. Or maybe this is the way of the future? As bigger sponsors get interested in the sport, are flashy cars out and more professional-looking cars the way to go? What do you think?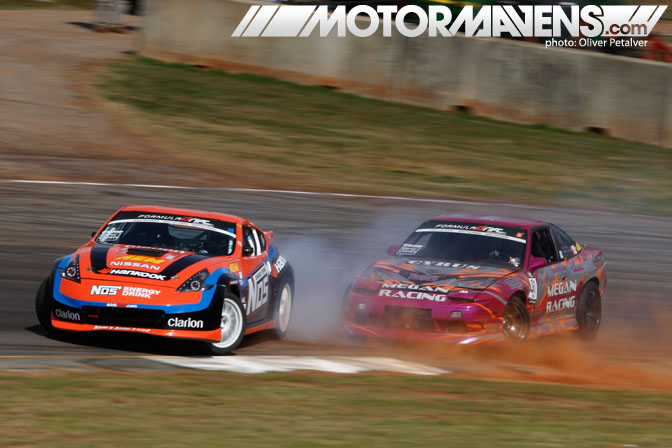 Skimming the dirt at the bottom of the hill, Chris Forsberg leads Cyrus Martinez in a new school versus old school battle. However, this shot can prove to you that you don't always need the newest and greatest equipment to keep up.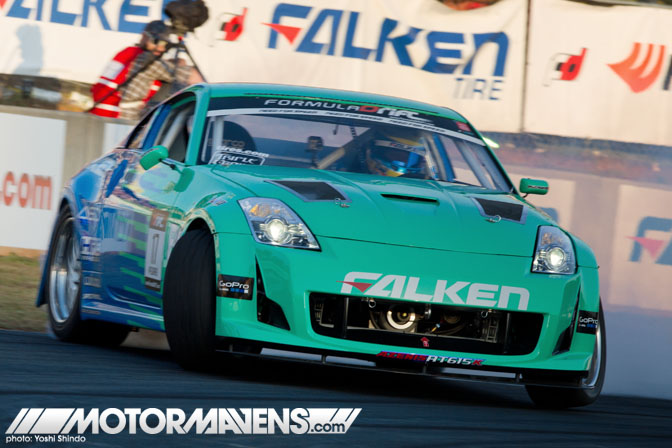 Tyler McQuarrie skillfully directs his 350Z, now in the hardtop flavor, around the horseshoe. Aside from the changes in the body style, McQuarrie's car underwent some adjustments under the hood. The Roush Yates motor has been further tweaked and tuned by ASD to squeeze out all the available power and make it even easier for McQuarrie to put his Z car exactly where he wants it. You can see the crankshaft pulley peeking out through the wide-mouth bumper.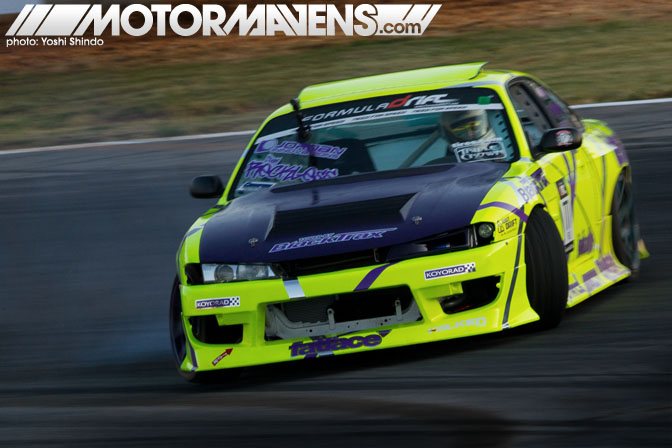 While some cars used external lighting to brighten up the night, Matt Field's car did so with even LESS lighting than would be usual (note the missing headlight). His chartreuse and purple paint job made it look like his car was glowing in the dark (or during the day time). I guess that might explain why he was always wearing sunglasses.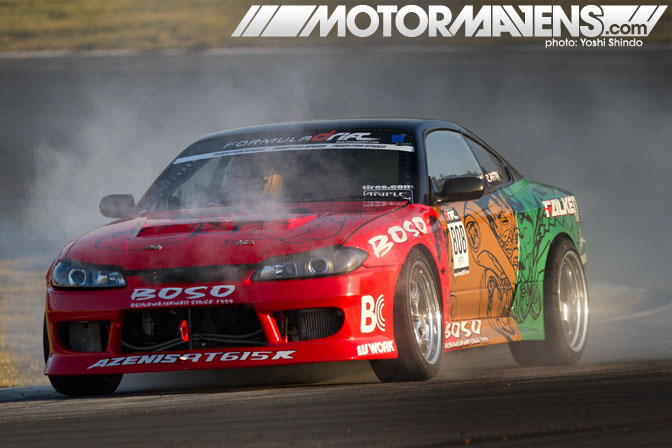 Another casualty of Road Atlanta was Ross Petty's S15.  During his second run of qualifying his new LS motor decided that it was time to call it a day and take it to the house.  This didn't stop Ross from enjoying the weekend though.  Every time I saw him around the paddock he had a smile on his face and looked like he was just having a good time.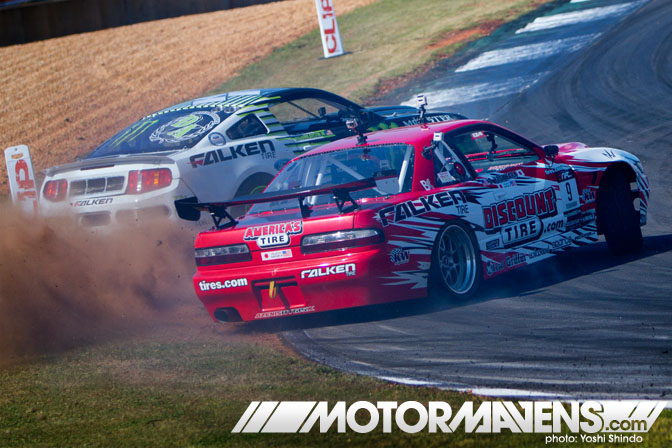 JR probably just had his eye on the clipping point off in the grass and just had to get to it during this qualifying run with Dai Yoshihara.  That's determination right there.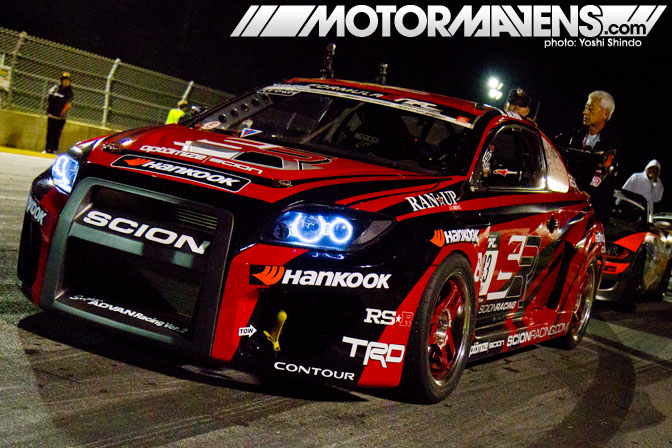 Ask any photographer and they will tell you that the starting grid at Road Atlanta is the place to be. You can feel the power in the air as tension builds for each run. All of the cars revving their engines and lighting up the tires at a moments notice is unlike anywhere else.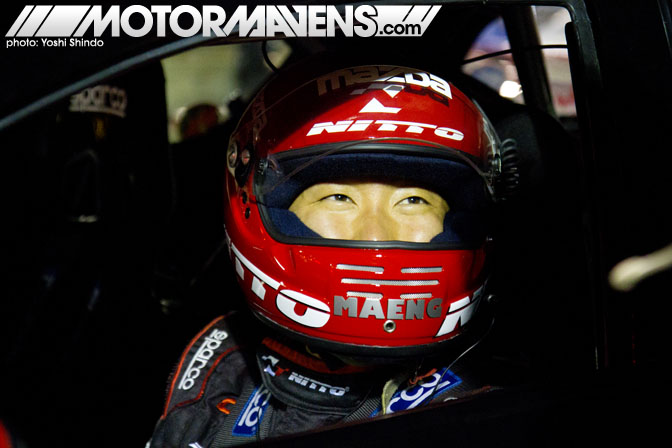 Everyone knows Joon is one of the happiest people that you will ever meet, and while that fact needs no proof, this photo is a clear illustration. I've noticed Joon psyching himself up before a run and ,admittedly, he's really intense when he gets behind the wheel. This shows a more placid Joon at the "handle", the Japanese term for steering wheel.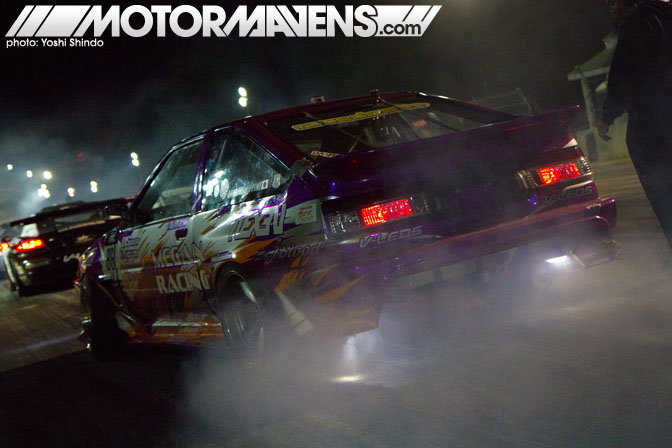 More cars this year are starting to rock aftermarket lighting on their cars for night time drifting. These lights under the bumper of Taka Aono's car would light up the smoke behind him as he attacked the course.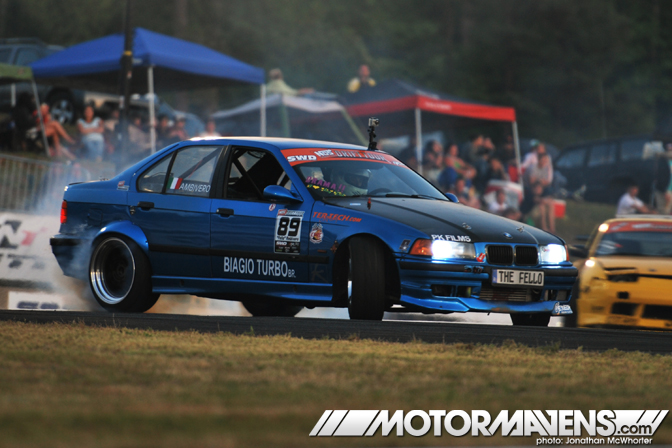 During the pro/am rounds, this E36 sedan driven by Fello Ambivero stood out to me.  In the usual field of 240SX's and other classic drift-mobiles, a BMW sedan (painted bright blue or not) definitely makes a statement. On Friday, during the competition, Ambivero and Jason Jiovani put on a show when they battled each other.  Not only did their blue and yellow cars look excellent as the sun set, but they ended up getting very close to each other at some points.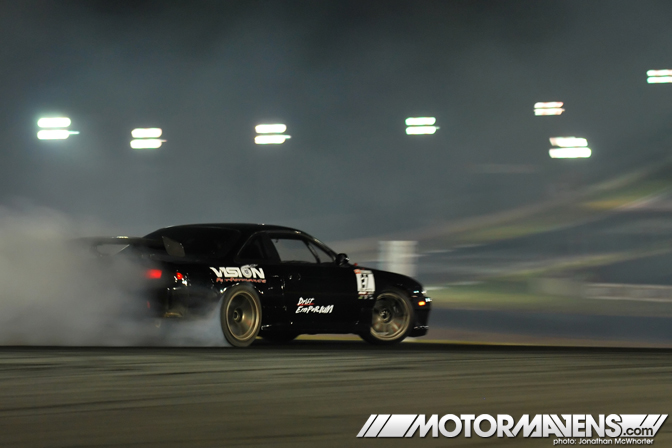 One of my personal favorites competing under the lights during pro-am was this Kouki S14 driven by Ron Ewerth of Vision Performance.  I had seen this car growing up around the drifting scene in Atlanta and was one the most powerful cars I had seen up to that point.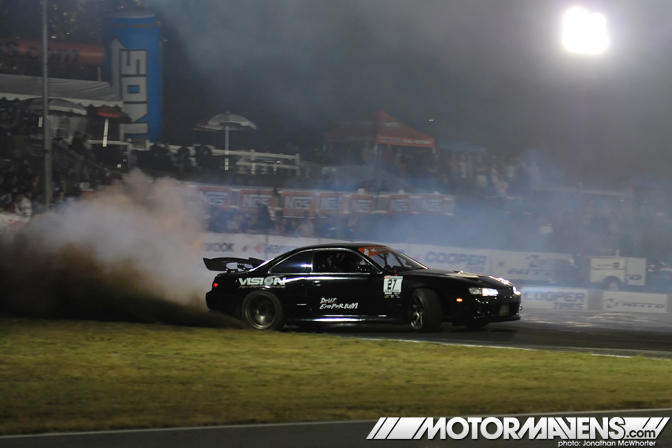 For the Formula Drift judges, dirt drops are usually a call for negative points; which is unfortunate, I think.  Drifting is about style and drama, what better way to create some drama by dipping a wheel into the grass and throwing up dirt all over the place?  I wouldn't consider it 'losing control' or 'straying off of the prescribed line.'  But that's just my opinion, what do our readers think about dirt drops?
Formula Drift at Road Atlanta was an extremely fun time for me this year.  Last year it was my first time being media, this time I was given a little bit more responsibility.  I got to meet tons of new people, see others I had not been able to hang with for a while.  Nonstop days from 8am until 4am may sound like a questionable practice, but when you pack so much awesome into one weekend, it's the only worthwhile way to experience it all.
:: Jonathan McWhorter
Photos by: Oliver Petalver, Yoshi Shindo, and Jonathan McWhorter
350Z
,
370Z
,
AE86
,
BMW
,
Charles Ng
,
Chevrolet Camaro
,
Chris Forsberg
,
Corolla
,
Cyrus Martinez
,
Dai Yoshihara
,
darren mcnamara
,
Drift Posse
,
drifting
,
E36
,
Eric O' Sullivan
,
Falken Tire
,
Fatlace
,
FC RX7
,
Fello Ambivero
,
Formula Drift
,
Formula Drift 2011
,
Garage Boso
,
Gardella Racing
,
Hankook Tire
,
homepage
,
Jason Jiovani
,
John Russakoff
,
Jonathan McWhorter
,
Joon Maeng
,
Ken Gushi
,
Kouki
,
Matt Field
,
Mazda
,
Megan Racing
,
Mike Essa
,
Mobil 1
,
Nexen Tire
,
Nissan
,
Nitto Tire
,
nos energy drink
,
Oliver Petalver
,
Pat Cyr
,
Pontiac Solstice
,
Red Bull
,
Road Atlanta
,
Ross Petty
,
Roush Yates
,
Ryan Tuerck
,
S13
,
S15
,
Scion tC
,
Taka Aono
,
Team Rowdy
,
Tyler McQuarrie
,
Vaughn Gittin Jr
,
Vision Performance
,
Yoshi Shindo
,
Z4
---